Abstract
Carbon-fiber-reinforced polyetheretherketone (CFR-PEEK) orthopedic implants are gaining popularity in oncologic applications as they offer many potential advantages over traditional metallic implants. From an imaging perspective, this instrumentation allows for improved evaluation of adjacent anatomic structures during radiography, computed tomography (CT), and magnetic resonance imaging (MRI). This results in improved postoperative surveillance imaging quality as well as easier visualization of anatomy for potential image-guided percutaneous interventions (e.g., pain palliation injections, or ablative procedures for local disease control). CFR-PEEK devices are also advantageous in radiation oncology treatment due to their decreased imaging artifact during treatment planning imaging and decreased dose perturbation during radiotherapy delivery. As manufacturing processes for CFR-PEEK materials continue to evolve and improve, potential orthopedic applications in the spine and appendicular skeleton increase. An understanding of the unique properties of CFR-PEEK devices and their impact on imaging is valuable to radiologists delivering care to orthopedic oncology patients in both the diagnostic and interventional settings. This multidisciplinary review aims to provide a comprehensive insight into the radiologic, surgical, and radiation oncology impact of these innovative devices.
This is a preview of subscription content,
to check access.
Access this article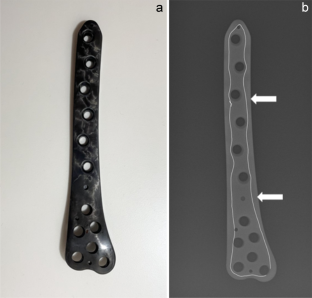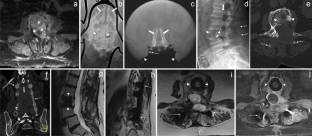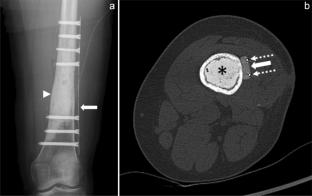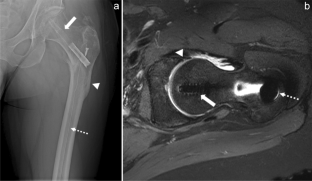 References
Hak DJ, Fader R, Baldini T, Chadayammuri VBS. Locking screw-plate interface stability in carbon-fibre reinforced polyetheretherketone proximal humerus plates. Int Orthop. 2017;41(9):1735–9.

Hillock R, Howard S. Utility of carbon fiber implants in orthopedic surgery: literature review. Reconstr Rev. 2014;4(1).

Van Nortwick SS, Yao J, Ladd AL. Titanium integration with bone, welding, and screw head destruction complicating hardware removal of the distal radius: report of 2 cases. J Hand Surg Am. 2012;37(7):1388–92.

Vles GF, Brodermann MH, Roussot MA, Youngman J. Carbon-fiber-reinforced PEEK intramedullary nails defining the niche. Case Rep Orthop. 2019;2019:1538158.

Potter BK. From bench to bedside: radiolucent implants-better visualization or camouflaged gimmick? Clin Orthop Relat Res. 2022;480(3):461–3.

Hsissou R, Seghiri R, Benzekri Z, et al. Polymer composite materials: a comprehensive review. Compos Struct. 2021;262: 113640.

Steinberg EL, Rath E, Shlaifer A, Ofir C, et al. Carbon fiber reinforced PEEK Optima–a composite material biomechanical properties and wear/debris characteristics of CF-PEEK composites for orthopedic trauma implants. J Mech Behav Biomed Mater. 2013;17:221–8.

Zimel MN, Hwang S, Riedel ER, Healey JH. Carbon fiber intramedullary nails reduce artifact in postoperative advanced imaging. Skelet Radiol. 2015;44(9):1317–25.

Spratt DE, Beeler WH, de Moraes FY, et al. An integrated multidisciplinary algorithm for the management of spinal metastases: an International Spine Oncology Consortium report. Lancet Oncol. 2017;18(12):e720–30.

Charest-Morin R, Fisher CG, Sahgal A, et al. Primary bone tumor of the spine-an evolving field: what a general spine surgeon should know. Glob Spine J. 2019;9(1 Suppl):108S-116S.

Jia Y, Zhao L, Cheng C, et al. Dose perturbation effect of metallic spinal implants in proton beam therapy. J Appl Clin Med Phys. 2015;16(5):333–43.

Boriani S, Tedesco G, Ming L, et al. Carbon-fiber-reinforced PEEK fixation system in the treatment of spine tumors: a preliminary report. Eur Spine J. 2018;27(4):874–81.

Tedesco G, Gasbarrini A, Bandiera, et al. Composite PEEK/Carbon fiber implants can increase the effectiveness of radiotherapy in the management of spine tumors. J Spine Surg. 2017;3(3):323–9.

Boriani S, Pipola V, Cecchinato R, et al. Composite PEEK/carbon fiber rods in the treatment for bone tumors of the cervical spine: a case series. Eur Spine J. 2020;29(12):3229–36.

Cofano F, Di Perna G, Monticelli M, et al. Carbon fiber reinforced vs titanium implants for fixation in spinal metastases: a comparative clinical study about safety and effectiveness of the new "carbon-strategy." J Clin Neurosci. 2020;75:106–11.

Adler D, Akbar M, Spicher A, et al. Biomechanical study of a novel, expandable, non-metallic and radiolucent CF/PEEK vertebral body replacement (VBR). Materials (Basel). 2019;12(17):2732.

Milavec H, Kellner C, Ravikumar N, et al. First clinical experience with a carbon fibre reinforced PEEK composite plating system for anterior cervical discectomy and fusion. J Funct Biomater. 2019;10(3):29.

Bruner HJ, Guan Y, Yoganandan N, et al. Biomechanics of polyaryletherketone rod composites and titanium rods for posterior lumbosacral instrumentation. Presented at the 2010 Joint Spine Section Meeting. Laboratory investigation. J Neurosurg Spine. 2010;13(6):766–72.

Uri O, Folman Y, Laufer G, Behrbalk E. A novel spine fixation system made entirely of carbon-fiber-reinforced PEEK composite: an in vitro mechanical evaluation. Adv Orthop. 2020;2020:4796136.

Lindtner RA, Schmid R, Nydegger T, et al. Pedicle screw anchorage of carbon fiber-reinforced PEEK screws under cyclic loading. Eur Spine J. 2018;27(8):1775–84.

Oikonomidis S, Greven J, Bredow J, et al. Biomechanical effects of posterior pedicle screw-based instrumentation using titanium versus carbon fiber reinforced PEEK in an osteoporotic spine human cadaver model. Clin Biomech (Bristol, Avon). 2020;80: 105153.

Neal MT, Richards AE, Curley KL, et al. Carbon fiber-reinforced PEEK instrumentation in the spinal oncology population: a retrospective series demonstrating technique, feasibility, and clinical outcomes. Neurosurg Focus. 2021;50(5):E13.

Di Perna G, Cofano F, Mantovani C, Badellino S, et al. Separation surgery for metastatic epidural spinal cord compression: a qualitative review. J Bone Oncol. 2020;25: 100320.

Shen FH, Gasbarrini A, Lui DF, Reynolds J, et al. Integrated custom composite polyetheretherketone/carbon fiber (PEEK/CF) vertebral body replacement (VBR) in the treatment of bone tumors of the spine: a preliminary report from a multicenter study. Spine (Phila Pa 1976). 2022;47(3):252–60.

Laux CJ, Hodel SM, Farshad M, Muller DA. Carbon fibre/polyether ether ketone (CF/PEEK) implants in orthopaedic oncology. World J Surg Oncol. 2018;16(1):241.

ESMO/European Sarcoma Network Working Group. Bone sarcomas: ESMO Clinical Practice Guidelines for diagnosis, treatment and follow-up. Ann Oncol. 2014;25(Suppl 3):iii113-2.

ESMO/European Sarcoma Network Working Group. Soft tissue and visceral sarcomas: ESMO Clinical Practice Guidelines for diagnosis, treatment and follow-up. Ann Oncol. 2014;25(Suppl 3):iii102-12.

Greenberg DD, Crawford B. Surveillance strategies for sarcoma: results of a survey of Members of the Musculoskeletal Tumor Society. Sarcoma. 2016;2016:8289509.

Puri A, Ranganathan P, Gulia A, Crasto S, et al. Does a less intensive surveillance protocol affect the survival of patients after treatment of a sarcoma of the limb? Updated results of the randomized TOSS study. Bone Joint J. 2018;100-B(2):262–8.

Weeden S, Grimer RJ, Cannon SR, Taminiau AH, et al. The effect of local recurrence on survival in resected osteosarcoma. Eur J Cancer. 2001;37(1):39–46.

Grimer RJ, Aydin BK, Wafa H, Carter SR, et al. Very long-term outcomes after endoprosthetic replacement for malignant tumours of bone. Bone Joint J. 2016;98-B(6):857–64.

Joo MW, Kang YK, Ogura K, Iwata S, et al. Post-radiation sarcoma: a study by the Eastern Asian Musculoskeletal Oncology Group. PLoS ONE. 2018;13(10): e0204927.

Amendola BE, Amendola MA, McClatchey KD, Miller CH Jr. Radiation-associated sarcoma: a review of 23 patients with postradiation sarcoma over a 50-year period. Am J Clin Oncol. 1989;12(5):411–5.

Erel E, Vlachou E, Athanasiadou M, Hassan S, et al. Management of radiation-induced sarcomas in a tertiary referral centre: a review of 25 cases. Breast. 2010;19(5):424–7.

Gladdy RA, Quin L, Moraco N, Edgar MA, et al. Do radiation-associated soft tissue sarcomas have the same prognosis as sporadic soft tissue sarcomas? J Clin Oncol. 2010;28(12):2064–9.

Chapelier AR, Bacha EA, de Montpreville VT, Dulmet EM, et al. Radical resection of radiation-induced sarcoma of the chest wall: report of 15 cases. Ann Thorac Surg. 1997;63(1):214–9.

Neuhaus SJ, Pinnock N, Giblin V, Fisher C, et al. Treatment and outcome of radiation-induced soft-tissue sarcomas at a specialist institution. Eur J Surg Oncol. 2009;35(6):654–9.

Goudriaan WA, Tordoir RL, Broekhuis D, van der Wal RJP. Early failure of a carbon-fiber-reinforced polyetheretherketone distal femur plate: a case report. JBJS Case Connect. 2020;10(3):e20.00041.

Mellon MB. Late recognition of an early catastrophic failure of a carbon fiber reinforced distal femoral plate: a case report. Trauma Case Rep. 2021;34: 100493.

Loeb AE, Mitchell SL, Osgood GM, Shafiq B. Catastrophic failure of a carbon-fiber-reinforced polyetheretherketone tibial intramedullary nail: a case report. JBJS Case Connect. 2018;8(4): e83.

Collis PN, Clegg TE, Seligson D. The invisible nail: a technique report of treatment of a pathological humerus fracture with a radiolucent intramedullary nail. Injury. 2011;42(4):424–6.

Tarallo L, Mugnai R, Adani R, Zambianchi F, Catani F. A new volar plate made of carbon-fiber-reinforced polyetheretherketon for distal radius fracture: analysis of 40 cases. J Orthop Traumatol. 2014;15(4):277–83.

Di Maggio B, Sessa P, Mantelli P, Maniscalco P, et al. PEEK radiolucent plate for distal radius fractures: multicentre clinical results at 12 months follow up. Injury. 2017;48(Suppl 3):S34–8.

Perugia D, Guzzini M, Mazza D, Iorio C, et al. Comparison between carbon-PEEK volar locking plates and titanium volar locking plates in the treatment of distal radius fractures. Injury. 2017;48(Suppl 3):S24–9.

Pinter ZW, Smith KS, Hudson PW, Jones CW, et al. A retrospective case series of carbon fiber plate fixation of ankle fractures. Foot Ankle Spec. 2018;11(3):223–9.

Gallagher EA, Lamoriniere S, McGarry P. Finite element investigation into the use of carbon fibre reinforced PEEK laminated composites for distal radius fracture fixation implants. Med Eng Phys. 2019;67:22–32.

Takashima K, Nakahara I, Uemura K, Hamada H, et al. Clinical outcomes of proximal femoral fractures treated with a novel carbon fiber-reinforced polyetheretherketone intramedullary nail. Injury. 2020;51(3):678–82.

Hak DJ, McElvany M. Removal of broken hardware. J Am Acad Orthop Surg. 2008;16(2):113–20.

Takayanagi A, Siddiqi I, Ghanchi H, Lischalk J, et al. Radiolucent carbon fiber-reinforced implants for treatment of spinal tumors-clinical, radiographic, and dosimetric considerations. World Neurosurg. 2021;152:61–70.

Ringel F, Ryang Y, Krischke JS, Muller BS, et al. Radiolucent carbon fiber-reinforced pedicle screws for treatment of spinal tumors: advantages for radiation planning and follow-up imaging. World Neurosurg. 2017;105:294–301.

Kratzig T, Mende KC, Mohme M, Kniep H, et al. Carbon fiber-reinforced PEEK versus titanium implants: an in vitro comparison of susceptibility artifacts in CT and MR imaging. Neurosurg Rev. 2021;44(4):2163–70.

Caforio M, Perugia D, Colombo M, Calori GM, et al. Preliminary experience with Piccolo Composite™, a radiolucent distal fibula plate, in ankle fractures. Injury. 2014;45(Suppl 6):S36–8.

Kojic N, Rangger C, Ozgun C, Lojpur, et al. Carbon-fibre-reinforced PEEK radiolucent intramedullary nail for humeral shaft fracture fixation: technical features and a pilot clinical study. Injury. 2017;48(Suppl 5):S8–11.

Brantigan JW, Steffee AD, Lewis ML, Quinn LM, Persenaire JM. Lumbar interbody fusion using the Brantigan I/F cage for posterior lumbar interbody fusion and the variable pedicle screw placement system: two-year results from a Food and Drug Administration investigational device exemption clinical trial. Spine (Phila Pa 1976). 2000;25(11):1437–46.

Delaney FT, Denton H, Dodds M, Kavanaugh EC. Multimodal imaging of composite carbon fiber-based implants for orthopedic spinal fixation. Skelet Radiol. 2021;50(5):1039–45.

Huber FA, Sprengel K, Muller L, Graf LC, et al. Comparison of different CT metal artifact reduction strategies for standard titanium and carbon-fiber reinforced polymer implants in sheep cadavers. BMC Med Imaging. 2021;21(1):29.

Zoccali C, Soriana A, Rossi B, Salducca N, et al. The Carbofix™ "Piccolo proximal femur nail": a new perspective for treating proximal femur lesion. A technique report. J Orthop. 2016;13(4):343–6.

Hargreaves BA, Worters PW, Pauly KB, Pauly JM, et al. Metal-induced artifacts in MRI. AJR Am J Roentgenol. 2011;197(3):547–55.

Fleege C, Makowski M, Rauschmann M, Fraunhoffer KL, et al. Carbon fiber-reinforced pedicle screws reduce artifacts in magnetic resonance imaging of patients with lumbar spondylodesis. Sci Rep. 2020;10(1):16094.

Rutz HP, Weber DC, Sugahara S, Timmermann B, et al. Extracranial chordoma: outcome in patients treated with function-preserving surgery followed by spot-scanning proton beam irradiation. Int J Radiat Oncol Biol Phys. 2007;67(2):512–20.

Xin-ye N, Xiao-bin T, Chang-ran G, Da C. The prospect of carbon fiber implants in radiotherapy. J Appl Clin Med Phys. 2012;13(4):3821.

Nevelsky A, Borzov E, Daniel S, Bar-Deroma R. Perturbation effects of the carbon fiber-PEEK screws on radiotherapy dose distribution. J Appl Clin Med Phys. 2017;18(2):62–8.

Soriani A, Strigari L, Petrongari MG, Anelli V, et al. The advantages of carbon fiber based orthopedic devices in patients who have to undergo radiotherapy. Acta Biomed. 2020;91(3): e2020057.

Laux CJ, Villefort C, Ehrbar S, Wilke L, et al. Carbon fiber/polyether ether ketone (CF/PEEK) implants allow for more effective radiation in long bones. Materials (Basel). 2020;13(7):1754.
Ethics declarations
Conflict of interest
MAK is a consultant for Carbofix, NuVasive, and Medtronic. The remaining authors declare they have no conflict of interest.
Additional information
Publisher's note
Springer Nature remains neutral with regard to jurisdictional claims in published maps and institutional affiliations.
Key Points
• Carbon-fiber-reinforced polyetheretherketone orthopedic implants have substantially less imaging artifact than metal implants and are available for spine and appendicular applications.
• Implants made from carbon-fiber-reinforced polyetheretherketone may be advantageous for postoperative imaging surveillance and radiation therapy in the oncologic population.
• Familiarity with the physical properties, clinical applications, and imaging appearances of carbon-fiber-reinforced polyetheretherketone implants is valuable for radiologists providing care to oncology patients.
About this article
Cite this article
Long, J.R., Kalani, M.A., Goulding, K.A. et al. Carbon-fiber-reinforced polyetheretherketone orthopedic implants in musculoskeletal and spinal tumors: imaging and clinical features. Skeletal Radiol 52, 393–404 (2023). https://doi.org/10.1007/s00256-022-04069-7
Received:

Revised:

Accepted:

Published:

Issue Date:

DOI: https://doi.org/10.1007/s00256-022-04069-7
Keywords