Abstract
Objective
To evaluate the proportion of extraskeletal, periosteal, and intramedullary Ewing sarcomas among musculoskeletal Ewing sarcomas.
Material and method
Our single-center retrospective study included patients with musculoskeletal Ewing sarcoma diagnosed between 2005 and 2019 in our pathology center (cases from our adult bone tumor referral center and adult and pediatric cases referred for review). Recurrences, metastases, and visceral Ewing sarcomas were excluded. Intramedullary Ewing sarcomas were defined by involvement of the medullary cavity. Periosteal cases were defined by involvement of the subperiosteal area without extension to the medullary cavity. Extraskeletal cases were defined by the absence of involvement of the bone tissue and the subperiosteal area.
Results
Our series included 126 patients with musculoskeletal Ewing sarcoma, including 118 skeletal Ewing sarcomas (93.7%) and 8 extraskeletal Ewing sarcomas (6.3%). Of the 118 skeletal Ewing sarcomas 112 were intramedullary (88.9%) and 6 were periosteal (4.8%). Extraskeletal Ewing sarcomas were more common in women and in patients older than 40 (p < 0.05).
Discussion
The 6.3% proportion of extraskeletal Ewing sarcoma is lower than the median of 30% estimated from the literature. This difference could be explained by an overestimation of extraskeletal Ewing sarcomas of the chest wall (Askin tumors), an underestimation of periosteal cases confused with extraskeletal cases, and the presence of "Ewing-like" soft tissue sarcomas in previous series. Because of its prognostic and therapeutic impact, the distinction of morphologic subtypes requires the cooperation of experienced radiologists and pathologists.
Access options
Buy single article
Instant access to the full article PDF.
USD 39.95
Price excludes VAT (USA)
Tax calculation will be finalised during checkout.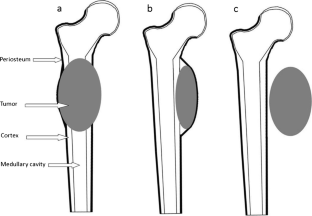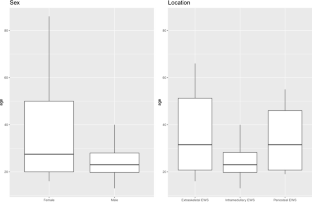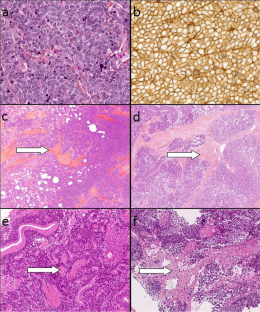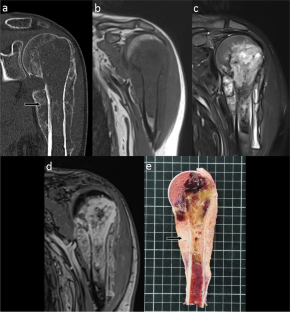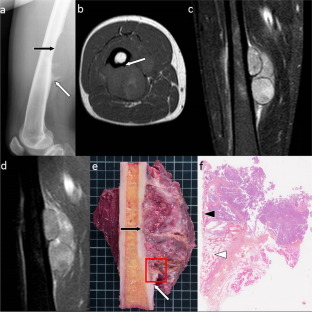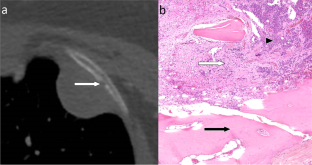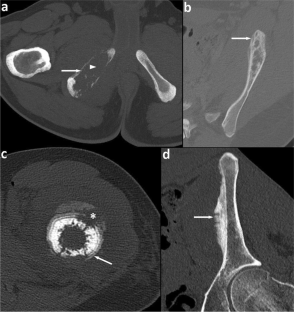 References
Grünewald TGP, Cidre-Aranaz F, Surdez D, et al. Ewing sarcoma. Nat Rev Dis Primers. 2018;4:5.

Potratz J, Dirksen U, Jürgens H, Craft A. Ewing Sarcoma: Clinical State-of-the-Art. Pediatr Hematol Oncol. 2012;29:1–11.

Riggi N, Suvà ML, Stamenkovic I. Ewing Sarcoma. Longo DL, editor. N Engl J Med. 2021;384:154–64.

Jawad MU, Cheung MC, Min ES, Schneiderbauer MM, Koniaris LG, Scully SP. Ewing sarcoma demonstrates racial disparities in incidence-related and sex-related differences in outcome: An analysis of 1631 cases from the SEER database, 1973–2005. Cancer. 2009;115:3526–36.

Eyre R, Feltbower RG, James PW, et al. The epidemiology of bone cancer in 0–39 year olds in northern England, 1981–2002. BMC Cancer. 2010;10:357.

Murphey MD, Senchak LT, Mambalam PK, Logie CI, Klassen-Fischer MK, Kransdorf MJ. From the Radiologic Pathology Archives: Ewing Sarcoma Family of Tumors: Radiologic-Pathologic Correlation. Radiographics. 2013;33:803–31.

Anfinsen KP, Devesa SS, Bray F, et al. Age-Period-Cohort Analysis of Primary Bone Cancer Incidence Rates in the United States (1976–2005). Cancer Epidemiol Biomarkers Prev. 2011;20:1770–7.

Fukushima T, Ogura K, Akiyama T, Takeshita K, Kawai A. Descriptive epidemiology and outcomes of bone sarcomas in adolescent and young adult patients in Japan. BMC Musculoskelet Disord. 2018;19:297.

Bator SM, Bauer TW, Marks KE, Norris DG. Periosteal Ewing sarcoma. Cancer. 1986;58:4.

Shapeero LG, Vanel D, Sundaram M, et al. Periosteal Ewing sarcoma. Radiology. 1994;191:825–31.

Erlemann R, Starker M. Juxtakortikaler Tumor am distalen Humerus. Radiologe. 2002;42:125–9.

Patnaik S, Yarlagadda J, Susarla R. Imaging features of Ewing sarcoma: Special reference to uncommon features and rare sites of presentation. J Cancer Res Ther. 2018;14(5):1014–22.

Hakozaki M, Hojo H, Tajino T, et al. Periosteal Ewing Sarcoma Family of Tumors of the Femur Confirmed by Molecular Detection of EWS-FLI1 Fusion Gene Transcripts: A Case Re. J Pediat Hematol Oncol. 2007;29:561–5.

Herzog CE. Overview of Sarcomas in the Adolescent and Young Adult Population. J Pediatr Hematol Oncol. 2005;27:215–8.

Bacci G, Balladelli A, Forni C, et al. Adjuvant and neoadjuvant chemotherapy for Ewing sarcoma family tumors in patients aged between 40 and 60: Report of 35 cases and comparison of results with 586 younger patients treated with the same protocols in the same years. Cancer. 2007;109:780–6.

Van den Berg H, Heinen RC, van der Pal HJ, Merks JHM. Extra-Osseous Ewing Sarcoma. Pediatr Hematol Oncol. 2009;26:175–85.

Lee JA, Kim DH, Lim JS, et al. Soft-Tissue Ewing Sarcoma in a Low-incidence Population: Comparison to Skeletal Ewing Sarcoma for Clinical Characteristics and Treatment Outcome. Jpn J Clin Oncol. 2010;40:1060–7.

Applebaum MA, Worch J, Matthay KK, et al. Clinical features and outcomes in patients with extraskeletal ewing sarcoma. Cancer. 2011;117:3027–32.

Karski EE, Matthay KK, Neuhaus JM, Goldsby RE, DuBois SG. Characteristics and outcomes of patients with Ewing sarcoma over 40 years of age at diagnosis. Cancer Epidemiol. 2013;37:29–33.

Cesari M, Righi A, Cevolani L, et al. Ewing Sarcoma in Patients over 40 Years of Age: A Prospective Analysis of 31 Patients Treated at a Single Institution. Tumori. 2016;102:481–7.

Cash T, McIlvaine E, Krailo MD, et al. Comparison of Clinical Features and Outcomes in Patients with Extraskeletal Versus Skeletal Localized Ewing Sarcoma: A Report from the Children's Oncology Group. Pediatr Blood Cancer. 2016;63:1771–9.

Takenaka S, Naka N, Obata H, et al. Treatment outcomes of Japanese patients with Ewing sarcoma: differences between skeletal and extraskeletal Ewing sarcoma. Jpn J Clin Oncol. 2016;46:522–8.

Chakraborty D, Rangamani S, Kulothungan V, et al. Trends in incidence of Ewing sarcoma of bone in India – Evidence from the National Cancer Registry Programme (1982–2011). J Bone Oncol. 2018;12:49–53.

Jiang S, Wang G, Chen J, Dong Y. Comparison of clinical features and outcomes in patients with extraskeletal vs skeletal Ewing sarcoma: an SEER database analysis of 3,178 cases. CMAR. 2018;10:6227–36.

Lynch AD. Extraskeletal versus Skeletal Ewing Sarcoma in the adult population: Controversies in care. Surg Oncol. 2018;27:373–9.

Murthy SS, Challa S, Raju K, et al. Ewing Sarcoma With Emphasis on Extra-skeletal Ewing Sarcoma: A Decade's Experience From a Single Centre in India. Clin Pathol. 2020;13:2632010X2097021.

Salah S, Abuhijla F, Ismail T, et al. Outcomes of extraskeletal vs. skeletal Ewing sarcoma patients treated with standard chemotherapy protocol. Clin Transl Oncol. 2020;22:878–83.

Esen. A Comparison of Osseous and Extraosseous Ewing Sarcoma. J Coll Physicians Surg Pak. 2021;27–33.

Akeyson EW, McCutcheon IE, Pershouse MA, Steck PA, Fuller GN. Primitive neuroectodermal tumor of the median nerve Case report with cytogenetic analysis. J Neurosurg. 1996;85:163–9.

Chung C-H, Wang C-H, Wang T-Y, Huang J-K, Leu Y-S. Extraskeletal Ewing Sarcoma Mimicking a Thyroid Nodule. Thyroid. 2006;16:1065–6.

Fergany AF, Dhar N, Budd GT, Skacel M, Garcia JA. Primary Extraosseous Ewing Sarcoma of the Kidney With Level III Inferior Vena Cava Thrombus. Clini Genitourin Cancer. 2009;7:E95–7.

Mohan AT, Park DH, Jalgaonkar A, Alorjani M, Aston W, Briggs T. Intra-neural Ewing sarcoma of the upper limb mimicking a peripheral nerve tumour. A report of 2 cases. J Plast Reconstr Aesthet Surg. 2011;64:e153-6.

Kallala R, Nikkhah D, Nix P, Woodhead C. Primary extraskeletal Ewing sarcoma involving the carotid artery: a case report and review of the current literature. Ann R Coll Surg Engl. 2012;94:e141–3.

Kelling K, Noack F, Altgassen C, Kujath P, Bohlmann MK, Hoellen F. Primary metastasized extraskeletal Ewing sarcoma of the vulva: report of a case and review of the literature. Arch Gynecol Obstet. 2012;285:785–9.

Taşli F, Özkök G. An Unusual Tumor of the Breast - Extraskeletal Ewing Sarcoma. Curr Health Sci J. 2014;40:75–7.

Yoon JH, Park HJ, Park JD, Park S-H. Ewing Sarcoma/Peripheral Primitive Neuroectodermal Tumor in the Adrenal Gland of an Adolescent: A Case Report and Review of the Literature. J Pediatr Hematol Oncol. 2014;36:4.

Kim JW, Chae JY, Yoon CY, Oh MM, Park HS, Moon DG. Wunderlich syndrome as the first manifestation of an extraskeletal Ewing sarcoma. CUAJ. 2015;9:648.

Maxwell AWP, Wood S, Dupuy DE. Primary extraskeletal Ewing sarcoma of the stomach: a rare disease in an uncommon location. Clin Imaging. 2016;40:843–5.

Cantu C, Bressler E, Dermawan J, Paral K. Extraskeletal Ewing Sarcoma of the Jejunum: A Case Report. Perm J. 2019;23:18–255.

Gazula S, Rani VL, Jonathan GT, Kumar NN. Extraskeletal Ewing Sarcoma Masquerading as Infantile Benign Neck Mass. J Indian Assoc Pediatr Surg. 2019;24:209–11.

Gulsen S, Vicdan H. Primary Extraskeletal Ewing Sarcoma of the Parotid Gland. Ear Nose Throat J. 2021;100:147–9.

Hopp A, Nguyen B. Gastrointestinal: Multi-modality imaging of extraskeletal Ewing sarcoma of the stomach. J Gastroenterol Hepatol. 2019;34:1273.

Angervall L, Enzinger FM. Extraskeletal neoplasm resembling Ewing sarcoma. Cancer. 1975;36:240–51.

Meister P, Gokel JM. Extraskeletal Ewing sarcoma. Virchows Arch A Path Anat and Histol. 1978;378:173–9.

Rose JS, Hermann G, Mendelson DS, Ambinder EP. Extraskeletal Ewing sarcoma with computed tomography correlation. Skeletal Radiol. 1983;9:234–7.

Saran S, Kharbanda A, Malik S. Large extraskeletal ewing sarcoma of the hand: A rare entity. Ann Afr Med. 2019;18:177.

Eroğlu A, Kürkçüoğlu İC, Karaoğlanoğlu N, Alper F, Gündoğdu C. Extraskeletal Ewing sarcoma of the diaphragm presenting with hemothorax. Ann Thorac Surg. 2004;78:715–7.

Athanassiadou F, Tragiannidis A, Kourti M, et al. Spinal Epidural Extraskeletal Ewing Sarcoma In An Adolescent Boy: A Case Report. Pediatr Hematol Oncol. 2006;23:263–7.

Javery O, Krajewski K, O'Regan K, et al. A to Z of Extraskeletal Ewing Sarcoma Family of Tumors in Adults: Imaging Features of Primary Disease, Metastatic Patterns, and Treatment Responses. AJR Am J Roentgenol. 2011;197:W1015–22.

Askin FB, Rosai J, Sibley RK, Dehner LP, McAlister WH. Malignant small cell tumor of the thoracopulmonary region in childhood. A distinctive clinicopathologic entity of uncertain histogenesis. Cancer. 1979;43:2438–51.

Kapur S, Bhalla AS, Jana M. Pediatric Chest MRI: A Review. Indian J Pediatr. 2019;86:842–53.

Bueno J, Lichtenberger JP, Rauch G, Carter BW. MR Imaging of Primary Chest Wall Neoplasms. Top Magn Reson Imaging. 2018;27:83–93.

Laredo J-D, Wybier M, Petrover D. Imagerie rhumatologique et orthopédique. Tome 4, Tome 4,. Montpellier: Sauramps médical; 2015. 2477–2498.

Brady EJ, Hameed M, Tap WD, Hwang S. Imaging features and clinical course of undifferentiated round cell sarcomas with CIC-DUX4 and BCOR-CCNB3 translocations. Skeletal Radiol. 2021;50:521–9.

Bedard J, Burns J, de Comas A. Periosteal Ewing Sarcoma in. JBJS Case Connect. 2017;7:e27–e27.

Sadiq M, Ahmad I, Shuja J, Ahmad K. Primary Ewing sarcoma of the kidney: a case report and treatment review. CEN Case Rep. 2017;6:132–5.
Ethics declarations
Ethics approval
Approval from the local ethic comity (registration number #AAA-2020–08040) and the local data protection office (registration number #20210215115018) was obtained and in keeping with the policies for a retrospective review, informed consent was not required.
Additional information
Publisher's note
Springer Nature remains neutral with regard to jurisdictional claims in published maps and institutional affiliations.
About this article
Cite this article
Violon, F., Burns, R., Mihoubi, F. et al. Intramedullary, periosteal, and extraskeletal Ewing sarcomas: retrospective study of a series of 126 cases in a reference center. Skeletal Radiol 51, 1659–1670 (2022). https://doi.org/10.1007/s00256-021-03983-6
Received:

Revised:

Accepted:

Published:

Issue Date:

DOI: https://doi.org/10.1007/s00256-021-03983-6
Keywords