Abstract
Purpose
To assess the association between 4, 5, or 6 lumbar spine vertebrae and the presence of lumbar spinal pathologies.
Methods
We reviewed all MRI reports and images performed between August 1st, 2018 and July 31st, 2019. Lumbar spine pathologies such as disc herniation, lytic spondylolisthesis, and spinal stenosis were recorded. The reviewer studied the T2 sagittal screening of the entire spine and counted down manually from C2 to T12 on the assumption that there are seven cervical and twelve dorsal vertebrae. We then recorded whether there were four, five, or six lumbar vertebrae.
Results
Our work incorporated a total of 1985 patients for whom T2-weighted entire spine sagittal MR images were obtainable. The study cohort's average age was 52.2 ± 15.9 years, comprising 944 males and 1041 females. One hundred and thirty-three patients (6.7%) had 4 lumbar-type vertebrae; 1799 (90.6%) had 5 lumbar-type vertebrae; and 53 (2.7%) had 6 lumbar-type vertebrae. There was a statistically significant difference between the rates of 6 lumbar-type vertebrae in males versus females (p < 0.05). There was a statistically significant difference with more spinal stenosis patients in the 6 lumbar-type vertebrae compared to the 4 or 5 lumbar-type vertebrae groups (p < 0.001).
Conclusion
Our study shows that spinal stenosis is significantly more common in patients with 6 lumbar-type vertebrae.
Access options
Buy single article
Instant access to the full article PDF.
USD 39.95
Price excludes VAT (USA)
Tax calculation will be finalised during checkout.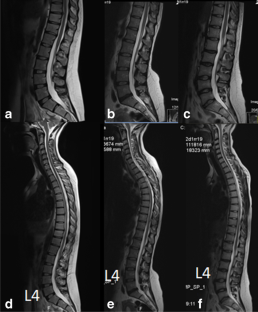 References
Luoma K, et al. Lumbosacral transitional vertebra: relation to disc degeneration and low back pain. Spine (Phila Pa 1976). 2004;29(2):200–5.

Aihara T, et al. Intervertebral disc degeneration associated with lumbosacral transitional vertebrae: a clinical and anatomical study. J Bone Jt Surg Br. 2005;87(5):687–91.

Smorgick Y, Mirovsky Y, Fischgrund JS, Baker KC, Gelfer Y, Anekstein Y. Radiographic predisposing factors for degenerative spondylolisthesis. Orthopedics. 2014;37(3):e260–4.

Castellvi AE, Goldstein LA, Chan DP. Lumbosacral transitional vertebrae and their relationship with lumbar extradural defects. Spine (Phila Pa 1976). 1984;9(5):493–5.

Wigh RE. Anthony HF Jr Transitional lumbosacral discs: probability of herniation. Spine (Phila Pa 1976). 1981;6(2):168–71.

Tang M, Yang X-F, Yang S-W, Han P, Ma Y-M, Hui Yu, Zhu B. Lumbosacral transitional vertebra in a population-based study of 5860 individuals: prevalence and relationship to low back pain. Eur J Radiol. 2014;83(9):1679–82.

Nardo L, Alizai H, Virayavanich W, Liu F, Hernandez A, Lynch JA, Nevitt MC, McCulloch CE, Lane NE, Link TM. Lumbosacral transitional vertebrae: association with low back pain. Radiology. 2012;265(2):497–503.

Vergauwen S, Parizel PM, van Breusegem L, Van Goethem JW, Nackaerts Y, Van den Hauwe L, De Schepper AM. Distribution and incidence of degenerative spine changes in patients with a lumbo-sacral transitional vertebra. Eur Spine J. 1997;6(3):168–72.

Hanhivaara J, Määttä JH, Niinimäki J, Nevalainen MT. Lumbosacral transitional vertebrae are associated with lumbar degeneration: retrospective evaluation of 3855 consecutive abdominal CT scans. Eur Radiol. 2020;30(6):3409–16.

Tini PG, Wieser C, Zinn WM. The transitional vertebra of the lumbosacral spine: its radiological classification, incidence, prevalence, and clinical significance. Rheumatol Rehabil. 1977;16:180–5.

Otani K, Konno S, Kikuchi S. Lumbosacral transitional vertebrae and nerve-root symptoms. J Bone Joint Surg Br. 2001;83(8):1137–40.

Apazidis A, Ricart PA, Diefenbach CM, Spivak JM. The prevalence of transitional vertebrae in the lumbar spine. Spine J. 2011;11(9):858–62.

Paik NC, Lim CS, Jang HS. Numeric and morphological verification of lumbosacral segments in 8280 consecutive patients. Spine (Phila Pa 1976). 2013;38(10):E573-8.

Schmitz A, Jaeger UE, Koenig R, Kandyba J, Wagner UA, Giesecke J, et al. A new MRI technique for imaging scoliosis in the sagittal plane. Eur Spine J. 2001;10:114–7.

Lian J, Levine N, Cho W. A review of lumbosacral transitional vertebrae and associated vertebral numeration. Eur Spine J. 2018;27:995–1004.

Weisz GM, Lee P. Spinal canal stenosis. Concept of spinal reserve capacity: radiologic measurements and clinical applications. Clin Orthop Relat Res. 1983;179:134–40.

Andreisek G, Deyo RA, Jarvik JG, Porchet F, Winklhofer SF, Steurer J, LSOS working group. Consensus conference on core radiological parameters to describe lumbar stenosis-an initiative for structured reporting. Eur Radiol. 2014;24:3224–32.

Fardon DF, Williams AL, Dohring EJ, Murtagh FR, Gabriel Rothman SL, Sze GK. Lumbar disc nomenclature: version 2.0: recommendations of the combined task forces of the North American Spine Society, the American Society of Spine Radiology and the American Society of Neuroradiology. Spine J. 2014;14:2525–45.

Benditz A, Boluki D, Weber M, et al. Comparison of lumbar lordosis in lateral radiographs in standing position with supine MR imaging in consideration of the sacral slope. Fortschr Röntgenstr. 2017;189:233–9.

Brinjikji W, Luetmer PH, Comstock B, Bresnahan BW, Chen LE, Deyo RA, Halabi S, Turner JA, Avins AL, James K, Wald JT, Kallmes DF, Jarvik JG. Systematic literature review of imaging features of spinal degeneration in asymptomatic populations. AJNR Am J Neuroradiol. 2015;36:811–6. https://doi.org/10.3174/ajnr.A4173.

Brinjikji W, Diehn FE, Jarvik JG, Carr CM, Kallmes DF, Murad MH, Luetmer PH. MRI findings of disc degeneration are more prevalent in adults with low back pain than in asymptomatic controls: a systematic review and meta-analysis. AJNR Am J Neuroradiol. 2015;36:2394–9. https://doi.org/10.3174/ajnr.A4498.

Abbas J, Peled N, Hershkovitz I, Hamoud K. Is lumbosacral transitional vertebra associated with degenerative lumbar spinal stenosis? Biomed Res Int. 2019. https://doi.org/10.1155/2019/3871819.

Vergauwen S, et al. Distribution and incidence of degenerative spine changes in patients with a lumbo-sacral transitional vertebra. Eur Spine J. 1997;6(3):168–72.

Roussouly P, Gollogly S, Berthonnaud E, Dimnet J. Classification of the normal variation in the sagittal alignment of the human lumbar spine and pelvis in the standing position. Spine (Phila Pa 1976). 2005;30(3):346–53.

Hanson EH, Mishra RK, Chang DS, Perkins TG, Bonifield DR, Tandy RD, Cartwright PE, Peoples RR, Orrison WW Jr. Sagittal whole-spine magnetic resonance imaging in 750 consecutive outpatients: accurate determination of the number of lumbar vertebral bodies. J Neurosurg Spine. 2010;12:47–55. https://doi.org/10.3171/2009.7.SPINE09326
Ethics declarations
Ethical approval
This article does not contain any studies with human participants or animals performed by any of the authors.
Informed consent
Due to the retrospective nature of the study, the IRB waived the need for informed consent from all individual participants included in the study.
Conflict of interest
The authors declare no competing interests.
Additional information
Publisher's note
Springer Nature remains neutral with regard to jurisdictional claims in published maps and institutional affiliations.
About this article
Cite this article
Rabau, O., Smorgick, Y., Tal, S. et al. Association between lumbosacral transitional vertebrae and spinal pathologies based on T2 whole-spine sagittal magnetic resonance imaging. Skeletal Radiol 50, 2503–2508 (2021). https://doi.org/10.1007/s00256-021-03809-5
Received:

Revised:

Accepted:

Published:

Issue Date:

DOI: https://doi.org/10.1007/s00256-021-03809-5
Keywords