Abstract
Many soft tissue masses have an indeterminate appearance on MRI, often displaying varying degrees and extent of T2 hyperintensity. However, a subset of neoplasms and tumor-like lesions may exhibit prominent areas of T2 hypointensity relative to skeletal muscle. The hypointensity observed on T2-weighted MRI can be caused by a variety of substances, including evolving blood products, calcifications or other inorganic crystals, or fibrous tissue. Carefully evaluating the presence and pattern of T2 hypointensity in soft tissue masses and considering potential causes in their associated clinical contexts can help to narrow the differential diagnosis among neoplastic and non-neoplastic possibilities. These include endometriosis, aneurysmal bone cysts, tenosynovial giant cell tumor, arteriovenous malformation and pseudoaneurysm, calcium pyrophosphate and hydroxyapatite deposition diseases, tumoral calcinosis, gout, amyloidosis, hemangiomas with phleboliths, low-grade fibromyxoid sarcoma, ossifying fibromyxoid tumor, collagenous fibroma, desmoid-type fibromatosis, myxofibrosarcoma, peripheral nerve sheath tumors, dedifferentiated liposarcoma, and treated sarcoma.
Access options
Buy single article
Instant access to the full article PDF.
US$ 39.95
Tax calculation will be finalised during checkout.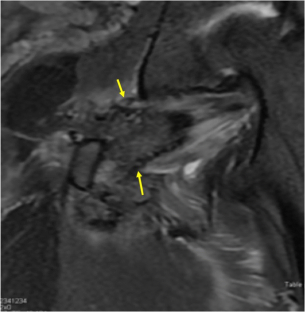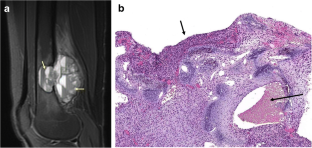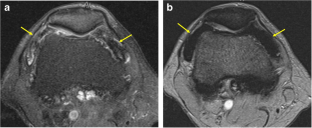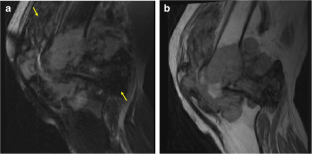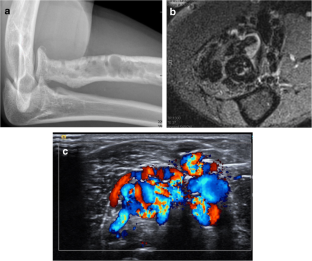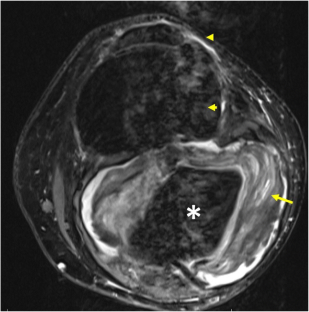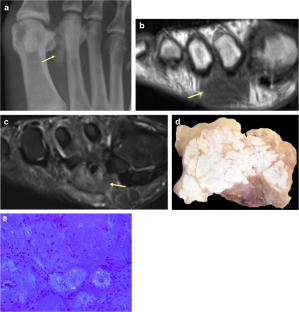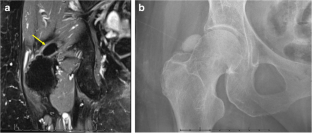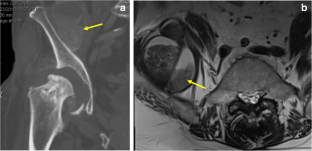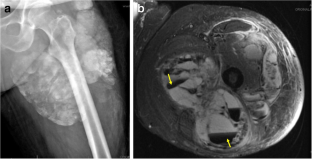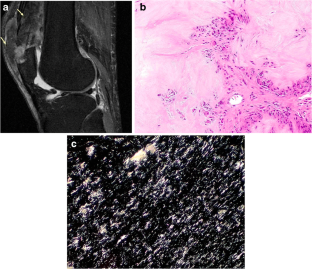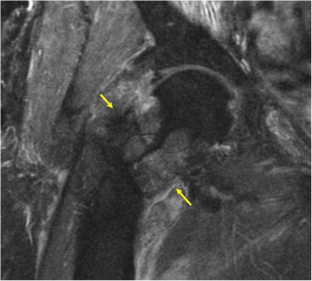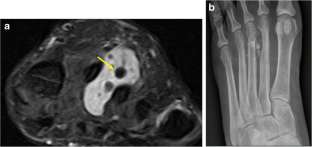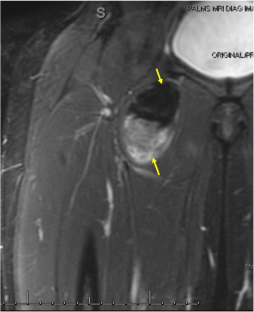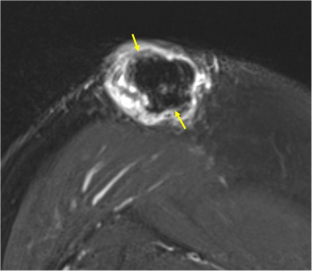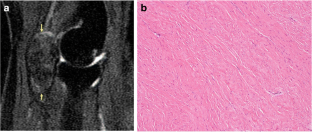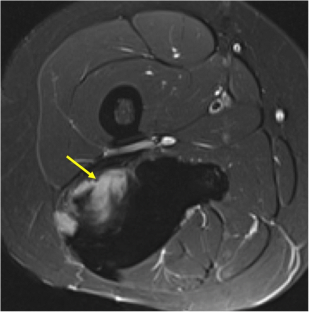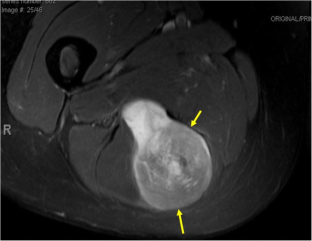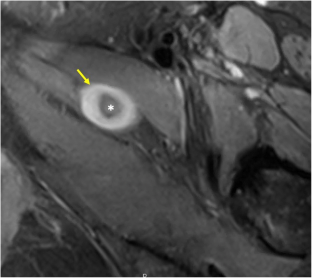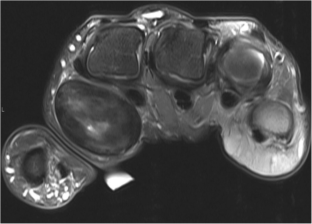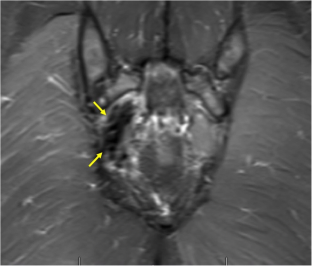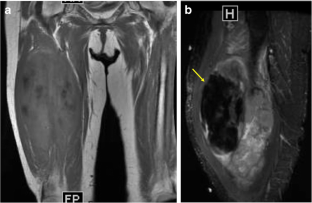 References
1.

Wadhwa V, Cho G, Moore D, Pezeshk P, Coyner K, Chhabra A. T2 black lesions on routine knee MRI: differential considerations. Eur Radiol. 2016;26(7):2387–99.

2.

Zhao F, Ahlawat S, Farahani SJ, Weber KL, Montgomery EA, Carrino JA, et al. Can MR imaging be used to predict tumor grade in soft-tissue sarcoma? Radiology. 2014;272(1):192–201.

3.

Narváez JA, Narváez J, Ortega R, De Lama E, Roca Y, Vidal N. Hypointense synovial lesions on T2-weighted images: differential diagnosis with pathologic correlation. AJR Am J Roentgenol. 2003;181(3):761–9.

4.

Papakonstantinou O, Isaac A, Dalili D, Noebauer-Huhmann I-M. T2-weighted hypointense tumors and tumor-like lesions. Semin Musculoskelet Radiol. 2019;23(1):58–75.

5.

Bitar R, Leung G, Perng R, Tadros S, Moody AR, Sarrazin J, et al. MR pulse sequences: what every radiologist wants to know but is afraid to ask. Radiogr Rev Publ Radiol Soc N Am Inc. 2006;26(2):513–37.

6.

Liu S, Buch S, Chen Y, Choi H-S, Dai Y, Habib C, et al. Susceptibility-weighted imaging: current status and future directions. NMR Biomed. 2017;30(4):e3552.

7.

Marinis A, Vassiliou J, Kannas D, Theodosopoulos TK, Kondi-Pafiti A, Kairi E, et al. Endometriosis mimicking soft tissue tumors: diagnosis and treatment. Eur J Gynaecol Oncol. 2006;27(2):168–70.

8.

Woertler K, Brinkschmidt C. Imaging features of subperiosteal aneurysmal bone cyst. Acta Radiol Stockh Swed 1987. 2002;43(3):336–9.

9.

Nielsen GP, Fletcher CDM, Smith MA, Rybak L, Rosenberg AE. Soft tissue aneurysmal bone cyst: a clinicopathologic study of five cases. Am J Surg Pathol. 2002;26(1):64–9.

10.

Song W, Suurmeijer AJH, Bollen SM, Cleton-Jansen A-M, Bovée JVMG, Kroon HM. Soft tissue aneurysmal bone cyst: six new cases with imaging details, molecular pathology, and review of the literature. Skelet Radiol. 2019;48(7):1059–67.

11.

Mankin HJ, Hornicek FJ, Ortiz-Cruz E, Villafuerte J, Gebhardt MC. Aneurysmal bone cyst: a review of 150 patients. J Clin Oncol Off J Am Soc Clin Oncol. 2005;23(27):6756–62.

12.

Kransdorf MJ, Sweet DE. Aneurysmal bone cyst: concept, controversy, clinical presentation, and imaging. AJR Am J Roentgenol. 1995;164(3):573–80.

13.

Ilaslan H, Sundaram M, Unni KK. Solid variant of aneurysmal bone cysts in long tubular bones: giant cell reparative granuloma. AJR Am J Roentgenol. 2003;180(6):1681–7.

14.

Tap WD, Gelderblom H, Palmerini E, Desai J, Bauer S, Blay J-Y, et al. Pexidartinib versus placebo for advanced tenosynovial giant cell tumour (ENLIVEN): a randomised phase 3 trial. Lancet Lond Engl. 2019;19.

15.

Becce F, Federau C, Letovanec I, Grandjean A, So AK, Rüdiger HA. Dual-energy computed tomography molecular imaging of pigmented villonodular synovitis. Rheumatol Oxf Engl. 2015;54(3):457.

16.

Li C-F, Wang J-W, Huang W-W, Hou C-C, Chou S-C, Eng H-L, et al. Malignant diffuse-type tenosynovial giant cell tumors: a series of 7 cases comparing with 24 benign lesions with review of the literature. Am J Surg Pathol. 2008;32(4):587–99.

17.

Richman DM, Bresler SC, Rosenthal MH, Howard SAH. Malignant tenosynovial giant cell tumor of the leg: a radiologic-pathologic correlation and review of the literature. J Clin Imaging Sci. 2015;5:13.

18.

Madani H, Farrant J, Chhaya N, Anwar I, Marmery H, Platts A, et al. Peripheral limb vascular malformations: an update of appropriate imaging and treatment options of a challenging condition. Br J Radiol. 2015;88(1047):20140406.

19.

Kwee RM, Kwee TC. Calcified or ossified benign soft tissue lesions that may simulate malignancy. Skelet Radiol. 2019;48(12):1875–90.

20.

McCarthy GM, Dunne A. Calcium crystal deposition diseases—beyond gout. Nat Rev Rheumatol. 2018;14(10):592–602.

21.

Finkenstaedt T, Biswas R, Abeydeera NA, Siriwanarangsun P, Healey R, Statum S, et al. Ultrashort time to echo magnetic resonance evaluation of calcium pyrophosphate crystal deposition in human menisci. Investig Radiol. 2019;54(6):349–55.

22.

Bahk W-J, Chang E-D, Lee A-H, Kang Y-K, Park J-M, Chung Y-G. Huge tophaceous pseudogout associated with tenosynovial chondromatosis arising from flexor digitorum tendon sheaths of the foot: a case report. Skelet Radiol. 2013;42(12):1755–9.

23.

DE Carli A, Pulcinelli F, Rose GD, Pitino D, Ferretti A. Calcific tendinitis of the shoulder. Joints. 2014;2(3):130–6.

24.

Hongsmatip P, Cheng KY, Kim C, Lawrence DA, Rivera R, Smitaman E. Calcium hydroxyapatite deposition disease: imaging features and presentations mimicking other pathologies. Eur J Radiol. 2019;120:108653.

25.

Malghem J, Omoumi P, Lecouvet F, Vande BB. Intraosseous migration of tendinous calcifications: cortical erosions, subcortical migration and extensive intramedullary diffusion, a SIMS series. Skelet Radiol. 2015;44(10):1403–12.

26.

Freire V, Moser TP, Lepage-Saucier M. Radiological identification and analysis of soft tissue musculoskeletal calcifications. Insights Imaging. 2018;9(4):477–92.

27.

Goshima K, Kitaoka K, Nakase J, Tsuchiya H. Rapid destruction of the humeral head caused by subchondral insufficiency fracture: a report of two cases. Case Rep Orthop. 2015;2015:251696.

28.

Yamamoto T, Bullough PG. The role of subchondral insufficiency fracture in rapid destruction of the hip joint: a preliminary report. Arthritis Rheum. 2000;43(11):2423–7.

29.

Olsen KM, Chew FS. Tumoral calcinosis: pearls, polemics, and alternative possibilities1. Radiographics. 2006;26(3):871–85.

30.

Ea H-K, Gauffenic A, Nguyen QD, Pham NG, Olivier O, Frochot V, et al. Calcium pyrophosphate dihydrate crystal deposition in gouty tophi. Arthritis Rheumatol Hoboken NJ. 2020.

31.

Christiansen SN, Müller FC, Østergaard M, Slot O, Møller JM, Børgesen HF, et al. Dual-energy CT in gout patients: do all colour-coded lesions actually represent monosodium urate crystals? Arthritis Res Ther. 2020;22(1):212.

32.

Baker KR, Rice L. The amyloidoses: clinical features, diagnosis and treatment. Methodist DeBakey Cardiovasc J. 2012;8(3):3–7.

33.

Maheshwari AV, Muro-Cacho CA, Kransdorf MJ, Temple HT. Soft-tissue amyloidoma of the extremities: a case report and review of literature. Skelet Radiol. 2009;38(3):287–92.

34.

Desai SS, Rizzo MG, Rush AJ, Rosenberg AE, Al MM. Amyloidoma: a review and case report. Skelet Radiol. 2021;50(2):437–44.

35.

Luk ACO, Cleaveland P, Olson L, Neilson D, Srirangam SJ. Pelvic Phlebolith: a trivial pursuit for the urologist? J Endourol. 2017;31(4):342–7.

36.

Koo KSH, Dowd CF, Mathes EF, Rosbe KW, Hoffman WY, Frieden IJ, et al. MRI phenotypes of localized intravascular coagulopathy in venous malformations. Pediatr Radiol. 2015;45(11):1690–5.

37.

Olivieri B, White CL, Restrepo R, McKeon B, Karakas SP, Lee EY. Low-flow vascular malformation pitfalls: from clinical examination to practical imaging evaluation—part 2, venous malformation mimickers. AJR Am J Roentgenol. 2016;206(5):952–62.

38.

Lee B-J, Park W-S, Jin J-M, Ha C-W, Lee S-H. Low grade fibromyxoid sarcoma in thigh. Clin Orthop Surg. 2009;1(4):240–3.

39.

Evans HL. Low-grade fibromyxoid sarcoma: a clinicopathologic study of 33 cases with long-term follow-up. Am J Surg Pathol. 2011;35(10):1450–62.

40.

Hwang S, Kelliher E, Hameed M. Imaging features of low-grade fibromyxoid sarcoma (Evans tumor). Skelet Radiol. 2012;41(10):1263–72.

41.

Linos K, Kerr DA, Baker M, Wong S, Henderson E, Sumegi J, et al. Superficial malignant ossifying fibromyxoid tumors harboring the rare and recently described ZC3H7B-BCOR and PHF1-TFE3 fusions. J Cutan Pathol. 2020;47(10):934–45.

42.

Folpe AL, Weiss SW. Ossifying fibromyxoid tumor of soft parts: a clinicopathologic study of 70 cases with emphasis on atypical and malignant variants. Am J Surg Pathol. 2003;27(4):421–31.

43.

Kresse ME, Kransdorf MJ, Fox MG, Flug JA, Long JR, Murphey MD. Desmoplastic fibroblastoma: an uncommon tumor with a relatively characteristic MRI appearance. AJR Am J Roentgenol. 2020;215(1):178–83.

44.

Lazar AJF, Tuvin D, Hajibashi S, Habeeb S, Bolshakov S, Mayordomo-Aranda E, et al. Specific mutations in the beta-catenin gene (CTNNB1) correlate with local recurrence in sporadic desmoid tumors. Am J Pathol. 2008;173(5):1518–27.

45.

Gounder MM, Mahoney MR, Van Tine BA, Ravi V, Attia S, Deshpande HA, et al. Sorafenib for advanced and refractory desmoid tumors. N Engl J Med. 2018;379(25):2417–28.

46.

Desmoid Tumor Working Group. The management of desmoid tumours: a joint global consensus-based guideline approach for adult and paediatric patients. Eur J Cancer Oxf Engl 1990. 2020;127:96–107.

47.

Saltiel S, Bize PE, Goetti P, Gallusser N, Cherix S, Denys A, et al. Cryoablation of extra-abdominal desmoid tumors: a single-center experience with literature review. Diagn Basel Switz. 2020;10(8).

48.

Kujak JL, Liu PT, Johnson GB, Callstrom MR. Early experience with percutaneous cryoablation of extra-abdominal desmoid tumors. Skelet Radiol. 2010;39(2):175–82.

49.

Toulmonde M, Pulido M, Ray-Coquard I, Andre T, Isambert N, Chevreau C, et al. Pazopanib or methotrexate-vinblastine combination chemotherapy in adult patients with progressive desmoid tumours (DESMOPAZ): a non-comparative, randomised, open-label, multicentre, phase 2 study. Lancet Oncol. 2019;20(9):1263–72.

50.

Sheth PJ, Del Moral S, Wilky BA, Trent JC, Cohen J, Rosenberg AE, et al. Desmoid fibromatosis: MRI features of response to systemic therapy. Skelet Radiol. 2016;45(10):1365–73.

51.

Look Hong NJ, Hornicek FJ, Raskin KA, Yoon SS, Szymonifka J, Yeap B, et al. Prognostic factors and outcomes of patients with myxofibrosarcoma. Ann Surg Oncol. 2013;20(1):80–6.

52.

Martin-Carreras T, Li H, Cooper K, Fan Y, Sebro R. Radiomic features from MRI distinguish myxomas from myxofibrosarcomas. BMC Med Imaging. 2019;19(1):67.

53.

Soldatos T, Fisher S, Karri S, Ramzi A, Sharma R, Chhabra A. Advanced MR imaging of peripheral nerve sheath tumors including diffusion imaging. Semin Musculoskelet Radiol. 2015;19(2):179–90.

54.

Fetsch JF, Miettinen M. Sclerosing perineurioma: a clinicopathologic study of 19 cases of a distinctive soft tissue lesion with a predilection for the fingers and palms of young adults. Am J Surg Pathol. 1997;21(12):1433–42.

55.

Miyake M, Tateishi U, Maeda T, Arai Y, Seki K, Hasegawa T, et al. Sclerosing perineurioma: tumor of the hand with a short T2. Skelet Radiol. 2006;35(7):543–6.

56.

Crombé A, Périer C, Kind M, De Senneville BD, Le Loarer F, Italiano A, et al. T2 -based MRI Delta-radiomics improve response prediction in soft-tissue sarcomas treated by neoadjuvant chemotherapy. J Magn Reson Imaging. 2018.

57.

Roberge D, Skamene T, Nahal A, Turcotte RE, Powell T, Freeman C. Radiological and pathological response following pre-operative radiotherapy for soft-tissue sarcoma. Radiother Oncol J Eur Soc Ther Radiol Oncol. 2010;97(3):404–7.

58.

Taylor K, Kransdorf MJ, Schwartz AJ, O'Connor MI, Zarka MA. Mosaic-pattern dedifferentiation in liposarcoma and chondrosarcoma: imaging features of an uncommon form of dedifferentiation. Skelet Radiol. 2018;47(6):877–82.

59.

Asano N, Yoshida A, Mitani S, Kobayashi E, Shiotani B, Komiyama M, et al. Frequent amplification of receptor tyrosine kinase genes in welldifferentiated/ dedifferentiated liposarcoma. Oncotarget. 2017;8(8):12941–52.

60.

Shim EJ, Yoon MA, Yoo HJ, Chee CG, Lee MH, Lee SH, et al. An MRI-based decision tree to distinguish lipomas and lipoma variants from well-differentiated liposarcoma of the extremity and superficial trunk: classification and regression tree (CART) analysis. Eur J Radiol. 2020;127:109012.
Funding
Ty K. Subhawong MD has received honoraria from iiCME for speaking activities unrelated to preparation of this manuscript; he has served as a consultant for Arog Pharmaceuticals and Imaging Law, but has received no funding for preparation of this manuscript.
Ethics declarations
Conflict of interest
The authors declare that they have no conflicts of interest.
Additional information
Publisher's note
Springer Nature remains neutral with regard to jurisdictional claims in published maps and institutional affiliations.
About this article
Cite this article
Finkelstein, D., Foremny, G., Singer, A. et al. Differential diagnosis of T2 hypointense masses in musculoskeletal MRI. Skeletal Radiol 50, 1981–1994 (2021). https://doi.org/10.1007/s00256-021-03711-0
Received:

Revised:

Accepted:

Published:

Issue Date:
Keywords
Musculoskeletal

MRI

Hypointense

T2

Tumor

Lesion