Abstract
Objective
To assess the degree of fluid–fluid levels on MRI in spinal tumours compared with final diagnosis, and the outcome of needle biopsy in such cases.
Materials and methods
Retrospective review of patients with a spinal tumour that contained fluid–fluid levels. Data collected included age, sex, spinal location, and final diagnosis. The outcome of needle biopsy was investigated.
Results
Forty-two patients were included (19 males; 24 females; mean age 27.5 years, range 5–80 years), the commonest diagnoses being aneurysmal bone cyst (n = 25; 59.5%) and metastasis (n = 5; 11.9%). All patients with a malignant diagnosis were > 50 years of age apart from 2 who had metastases from a known primary cancer, while all patients apart from 1 with aneurysmal bone cyst were < 35 years of age. Needle biopsy was undertaken in 29 cases (69%) and diagnostic in 18 (62%). Patients with FFL occupying > 2/3 of the lesion were significantly more likely to have an aneurysmal bone cyst (p = 0.008) while those with FFL occupying < 2/3 of the lesion were more likely to have a malignant tumour (p = 0.001). The sensitivity, specificity, positive predictive value, negative predictive value, and diagnostic accuracy of > 2/3 FFLs occupying the lesion were 97.1%, 75%, 94.3%, 85.7%, and 92.9% respectively for differentiating a benign from a malignant spinal tumour.
Conclusions
Children and younger adults with spinal lesions containing > 2/3 FFLs were very unlikely to have malignancy. However, in patients > 50 years of age or those with lesions containing < 2/3 FFLs, a malignant lesion is much more likely.
Access options
Buy single article
Instant access to the full article PDF.
USD 39.95
Price excludes VAT (USA)
Tax calculation will be finalised during checkout.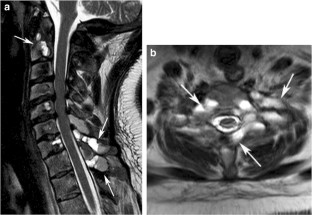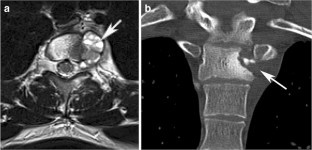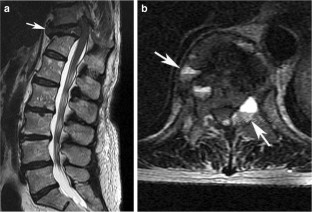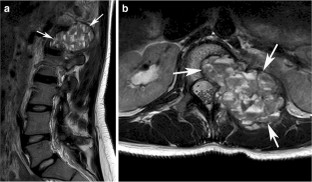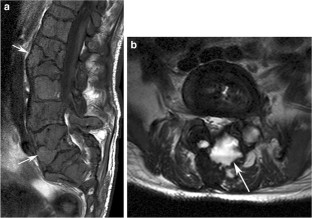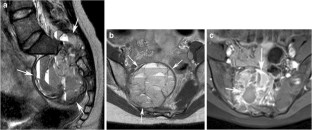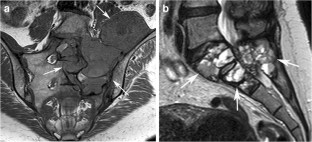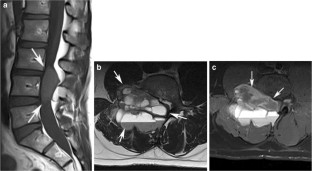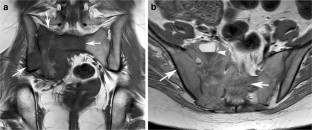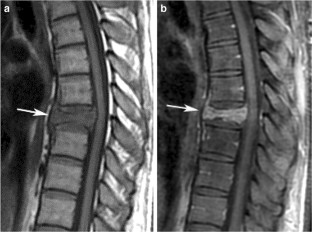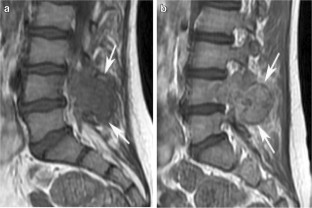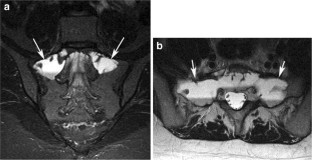 References
Davies AM, Cassar-Pullicino VN, Grimer RJ. The incidence and significance of fluid-fluid levels on computed tomography of osseous lesions. Br J Radiol. 1992;65:193–8.

Tsai JC, Dalinka MK, Fallon MD, Zlatkin MB, Kressel HY. Fluid-fluid level: a nonspecific finding in tumors of bone and soft tissue. Radiology. 1990;175:779–82.

O'Donnell P, Saifuddin A. The prevalence and diagnostic significance of fluid-fluid levels in focal lesions of bone. Skelet Radiol. 2004;33:330–6.

Van Dyck P, Vanhoenacker FM, Vogel J, Venstermans C, Kroon HM, Gielen J, et al. Prevalence, extension and characteristics of fluid-fluid levels in bone and soft tissue tumors. Eur Radiol. 2006;16:2644–51.

Keenan S, Bui-Mansfield LT. Musculoskeletal lesions with fluid-fluid level: a pictorial essay. J Comput Assist Tomogr. 2006;30:517–24.

Alyas F, Saifuddin A. Fluid-fluid levels in bone neoplasms: variation of T1-weighted signal intensity of the superior to inferior layers—diagnostic significance on magnetic resonance imaging. Eur Radiol. 2008;18:2642–51.

Papagelopoulos PJ, Currier BL, Shaughnessy WJ, Sim FH, Ebsersold MJ, Bond JR, et al. Aneurysmal bone cyst of the spine. Management and outcome. Spine (Phila Pa 1976). 1998;23:621–8.

Novais EN, Rose PS, Yaszemski MJ, Sim FH. Aneurysmal bone cyst of the cervical spine in children. J Bone Joint Surg Am. 2011;93:1534–43.

Zenonos G, Jamil O, Governale LS, Jernigan S, Hedequist D, Proctor MR. Surgical treatment for primary spinal aneurysmal bone cysts: experience from Children's Hospital Boston. J Neurosurg Pediatr. 2012;9:305–15.

Zileli M, Isik HS, Ogut FE, Is M, Cagli S, Calli C. Aneurysmal bone cysts of the spine. Eur Spine J. 2013;22:593–601.

Wu Z, Yang X, Xiao J, Feng D, Huang Q, Zheng W, et al. Aneurysmal bone cyst secondary to giant cell tumor of the mobile spine: a report of 11 cases. Spine (Phila Pa 1976). 2011;36:E1385–90.

Frenzel L, Javier R-M, Eichler F, Zollner G, Sibilia J. Multiple fluid-filled bone metastases. Joint Bone Spine. 2010;77:171–3.

Colangeli S, Rossi G, Ghermandi R, Rimondi E. Fluid-fluid levels detected on MRI and mimicking primary aneurismal bone cysts in a case of spinal bone metastasis. Eur Rev Med Pharmacol Sci. 2014;18:41–3.

Gundogdu F, Okur A, Atalay T, Tanik N, Karacavus S. Multiple vertebral metastasis with fluid-fluid level from a pleomorphic lobular breast carcinoma. Spine J. 2016;16:e303–4.

Chen M, Yuan H. Bone metastases with multiple fluid-fluid levels from gastric cancer: a case report and review of literature. Skelet Radiol. 2019;48:813–7.

Rajeswaran G, Malik Q, Saifuddin A. The role of needle biopsy for focal bone lesions with complete fluid-fluid levels on magnetic resonance imaging. Skelet Radiol. 2013;42:765–9.

Lu VM, Snyder KA, Ahn ES, Daniels DJ. Validating the management paradigm for pediatric spinal aneurysmal bone cysts to optimize long-term outcomes: an institutional experience. Child's Nerv Syst ChNS Germany; 2020.

Wang T, Jia Q, Gao X, Fan R, Wu Z, Guo W, et al. Secondary aneurysmal bone cyst of the spine: Clinicopathological features, surgical modalities and outcomes. Clin Neurol Neurosurg. 2020;188:105595.

Ilaslan H, Sundaram M, Unni KK, Shives TC. Primary vertebral osteosarcoma: imaging findings. Radiology. 2004;230:697–702.

Amritanand R, Venkatesh K, Cherian R, Shah A, Sundararaj GD. Telangiectatic osteosarcoma of the spine: a case report. Eur Spine J. 2008;17(Suppl 2):S342–6.

Turel MK, Joseph V, Singh V, Moses V, Rajshekhar V. Primary telangiectatic osteosarcoma of the cervical spine. J Neurosurg Spine. 2012;16:373–8.

Ito K, Ando K, Kobayashi K, Tsushima M, Machino M, Ota K, et al. Natural reduction in acute intratumoral hemorrhage of spinal schwannoma in the cauda equina. Nagoya J Med Sci. 2019:701–5.

Santhosh K, Kesavadas C, Thomas B, Gupta AK, Kapilamoorthy TR, Radhakrishnan VV. Fluid-fluid levels in cystic lumbosacral schwannomas: a report of three cases. Singap Med J. 2009;50:e16–21.

Cho D-Y, Hur J-W, Shim J-H, Kim J-S. Cystic giant sacral schwannoma mimicking aneurysmal bone cyst: a case report and review of literatures. J Korean Neurosurg Soc. 2013:350–4.

Summers S, Jose J, Barrera CM, Pretell-Mazzini J, Subhawong T, Nguyen NV, et al. Intraosseous schwannomas involving the sacrum: characteristic imaging findings and review of the literature. Neuroradiol J. 2018;31:531–40.

Razek AAKA, Sherif FM. Diagnostic accuracy of diffusion tensor imaging in differentiating malignant from benign compressed vertebrae. Neuroradiology. 2019;61:1291–6.

Suh CH, Yun SJ, Jin W, Lee SH, Park SY, Ryu C-W. ADC as a useful diagnostic tool for differentiating benign and malignant vertebral bone marrow lesions and compression fractures: a systematic review and meta-analysis. Eur Radiol. 2018;28:2890–902.

Albano D, Messina C, Gitto S, Papakonstantinou O, Sconfienza LM. Differential diagnosis of spine tumors: my favorite mistake. Semin Musculoskelet Radiol. 2019;23:26–35.

Suh CH, Yun SJ, Jin W, Park SY, Ryu C-W, Lee SH. Diagnostic performance of in-phase and opposed-phase chemical-shift imaging for differentiating benign and malignant vertebral marrow lesions: a meta-analysis. AJR Am J Roentgenol. 2018;211:W188–97.
Ethics declarations
Conflict of interest
The authors declare that they have no conflict of interest.
Additional information
Publisher's note
Springer Nature remains neutral with regard to jurisdictional claims in published maps and institutional affiliations.
About this article
Cite this article
Singla, N., Junaid, S.E., Siddiqui, M. et al. An assessment of fluid–fluid levels on magnetic resonance imaging of spinal tumours. Skeletal Radiol 50, 771–780 (2021). https://doi.org/10.1007/s00256-020-03621-7
Received:

Revised:

Accepted:

Published:

Issue Date:

DOI: https://doi.org/10.1007/s00256-020-03621-7
Keywords