Abstract
Objective
To evaluate the role of pre-biopsy MRI for management planning in patients with atypical cartilaginous tumours (ACT) diagnosed on image-guided core needle biopsy (IGCNB).
Materials and methods
Retrospective review of patients diagnosed with ACT of the appendicular skeleton based on IGCNB who subsequently underwent surgical curettage or resection. Data collected included age, sex, skeletal location and surgical histology classified as ACT, high-grade chondrosarcoma (HG-CS) and dedifferentiated chondrosarcoma (DD-CS). Pre-biopsy MRI studies were reviewed independently by 2 radiologists blinded to surgical histology results and graded as ACT, HG-CS and DD-CS based on MRI features.
Results
The study included 24 males and 28 females (mean age 42.1 years; range 9–76 years). One patient had 2 lesions treated, making a total of 53 lesions. Tumours were located in the femur in 21 cases, humerus in 17, tibia in 9, radius in 4 and ulna and fibula in 1 each. Surgical histology was ACT in 41 cases, HG-CS in 10 and DD-CS in 2, indicating mismatch between IGCNB and surgical histology in 12/53 cases (22.6%). Predicted MRI grade for the 2 readers was ACT in 39 cases each, HG-CS in 13 and 14 cases and DD-CS in 1 and 0 cases. Sensitivity, specificity and accuracy of MRI for predicting HG-CS/DD-CS were 91%, 93% and 92%, respectively. Inter-observer correlation was very good (kappa = 0.94).
Discussion
Review of MRI findings in patients with ACT diagnosed on IGCNB is vital for identifying patients with a HG-CS/DD-CS and is recommended when planning surgical management or considering repeat IGCNB.
Access options
Buy single article
Instant access to the full article PDF.
USD 39.95
Price includes VAT (USA)
Tax calculation will be finalised during checkout.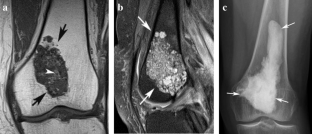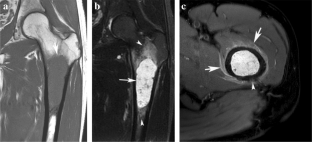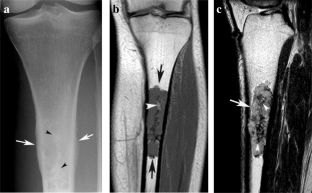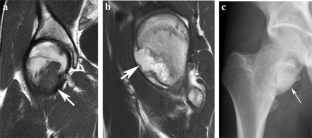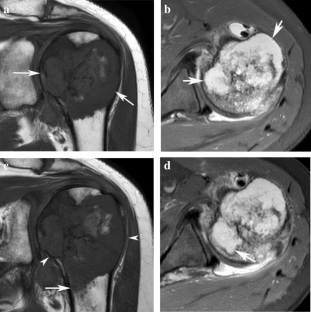 References
1.

Whelan JS, Davis LE. Osteosarcoma, chondrosarcoma, and chordoma. J Clin Oncol Off J Am Soc Clin Oncol. 2018;36:188–93.

2.

Francis M, Dennis N, Charman J, Lawrence G, Grimer R. Bone and soft tissue sarcomas. UK incidence and survival: 1996 to 2010. [Internet]. National Cancer Intelligence Network; 2013. Available from: http://www.ncin.org.uk/view?rid=2353.

3.

Rozeman LB, Cleton-Jansen AM, Hogendoorn PCW. Pathology of primary malignant bone and cartilage tumours. Int Orthop. 2006;30:437–44.

4.

Shemesh SS, Acevedo-Nieves JD, Pretell-Mazzini J. Treatment strategies for central low-grade chondrosarcoma of long bones: a systematic review of the literature and meta-analysis. Musculoskelet Surg. 2018;102:95–109.

5.

Nota SPFT, Braun Y, Schwab JH, van Dijk CN, Bramer JAM. The identification of prognostic factors and survival statistics of conventional central chondrosarcoma. Sarcoma. 2015;2015:623746.

6.

Fromm J, Klein A, Baur-Melnyk A, Knösel T, Lindner L, Birkenmaier C, et al. Survival and prognostic factors in conventional central chondrosarcoma. BMC Cancer. 2018;18:849.

7.

Miao R, Choy E, Raskin KA, Schwab JH, Nielsen GP, Deshpande V, et al. Prognostic factors in dedifferentiated chondrosarcoma: a retrospective analysis of a large series treated at a single institution. Sarcoma. 2019;2019:9069272.

8.

Dierselhuis EF, Goulding KA, Stevens M, Jutte PC. Intralesional treatment versus wide resection for central low-grade chondrosarcoma of the long bones. Cochrane Database Syst Rev. 2019;3:CD010778.

9.

Laitinen MK, Stevenson JD, Parry MC, Sumathi V, Grimer RJ, Jeys LM. The role of grade in local recurrence and the disease-specific survival in chondrosarcomas. Bone Joint J. 2018;100-B:662–6.

10.

Dickey ID, Rose PS, Fuchs B, Wold LE, Okuno SH, Sim FH, et al. Dedifferentiated chondrosarcoma: the role of chemotherapy with updated outcomes. J Bone Joint Surg Am. 2004;86:2412–8.

11.

Gerrand C, Athanasou N, Brennan B, Grimer R, Judson I, Morland B, et al. UK guidelines for the management of bone sarcomas. Clin Sarcoma Res. 2016;6:7.

12.

Jennings R, Riley N, Rose B, Rossi R, Skinner JA, Cannon SR, et al. An evaluation of the diagnostic accuracy of the grade of preoperative biopsy compared to surgical excision in chondrosarcoma of the long bones. Int J Surg Oncol. 2010;2010:270195.

13.

Roitman PD, Farfalli GL, Ayerza MA, Múscolo DL, Milano FE, Aponte-Tinao LA. Is needle biopsy clinically useful in preoperative grading of central chondrosarcoma of the pelvis and long bones? Clin Orthop Relat Res. 2017;475:808–14.

14.

Stevenson JD, Laitinen MK, Parry MC, Sumathi V, Grimer RJ, Jeys LM. The role of surgical margins in chondrosarcoma. Eur J Surg Oncol. 2018;44:1412–8.

15.

Oliveira I, Chavda A, Rajakulasingam R, Saifuddin A. Chondral tumours: discrepancy rate between needle biopsy and surgical histology. Skelet Radiol. 2020;49:1115–25.

16.

Skeletal Lesions Interobserver Correlation among Expert Diagnosticians (SLICED) Study Group. Reliability of histopathologic and radiologic grading of cartilaginous neoplasms in long bones. J Bone Joint Surg Am. 2007;89:2113–23.

17.

Yoshimura Y, Isobe K, Arai H, Aoki K, Kito M, Kato H. Preoperative radiographic and histopathologic evaluation of central chondrosarcoma. Arch Orthop Trauma Surg. 2013;133:1225–31.

18.

Logie CI, Walker EA, Forsberg JA, Potter BK, Murphey MD. Chondrosarcoma: a diagnostic imager's guide to decision making and patient management. Semin Musculoskelet Radiol. 2013;17:101–15.

19.

Yoo HJ, Hong SH, Choi J-Y, Moon KC, Kim H-S, Choi J-A, et al. Differentiating high-grade from low-grade chondrosarcoma with MR imaging. Eur Radiol. 2009;19:3008–14.

20.

Douis H, Singh L, Saifuddin A. MRI differentiation of low-grade from high-grade appendicular chondrosarcoma. Eur Radiol. 2014;24:232–40.

21.

Fritz B, Müller DA, Sutter R, Wurnig MC, Wagner MW, Pfirrmann CWA, et al. Magnetic resonance imaging-based grading of cartilaginous bone tumors: added value of quantitative texture analysis. Investig Radiol. 2018;53:663–72.

22.

Deckers C, Steyvers MJ, Hannink G, Schreuder HWB, de Rooy JWJ, Van Der Geest ICM. Can MRI differentiate between atypical cartilaginous tumors and high-grade chondrosarcoma? A systematic review. Acta Orthop. 2020:1–8. https://doi.org/10.1080/17453674.2020.1763717.

23.

MacSweeney F, Darby A, Saifuddin A. Dedifferentiated chondrosarcoma of the appendicular skeleton: MRI-pathological correlation. Skelet Radiol. 2003;32:671–8.

24.

Littrell LA, Wenger DE, Wold LE, Bertoni F, Unni KK, White LM, et al. Radiographic, CT, and MR imaging features of dedifferentiated chondrosarcomas: a retrospective review of 174 de novo cases. Radiographics. 2004;24:1397–409.

25.

Saifuddin A, Mann BS, Mahroof S, Pringle JAS, Briggs TWR, Cannon SR. Dedifferentiated chondrosarcoma: use of MRI to guide needle biopsy. Clin Radiol. 2004;59:268–72.

26.

Ryzewicz M, Manaster BJ, Naar E, Lindeque B. Low-grade cartilage tumors: diagnosis and treatment. Orthopedics. 2007;30:35–46 quiz 47–8.

27.

Shemesh SS, Pretell-Mazzini J, Quartin PAJ, Rutenberg TF, Conway SA. Surgical treatment of low-grade chondrosarcoma involving the appendicular skeleton: long-term functional and oncological outcomes. Arch Orthop Trauma Surg. 2019;139:1659–66.

28.

Campanacci DA, Scoccianti G, Franchi A, Roselli G, Beltrami G, Ippolito M, et al. Surgical treatment of central grade 1 chondrosarcoma of the appendicular skeleton. J Orthop Traumatol. 2013;14:101–7.

29.

Donati D, Colangeli S, Colangeli M, Di Bella C, Bertoni F. Surgical treatment of grade I central chondrosarcoma. Clin Orthop Relat Res. 2010;468:581–9.

30.

Berber O, Datta G, Sabharwal S, Aston W, Saifuddin A, Briggs T. The safety of direct primary excision of low-grade chondral lesions based on radiological diagnosis alone. Acta Orthop Belg. 2012;78:254–62.

31.

Brown MT, Gikas PD, Bhamra JS, Skinner JA, Aston WJS, Pollock RC, et al. How safe is curettage of low-grade cartilaginous neoplasms diagnosed by imaging with or without pre-operative needle biopsy? Bone Joint J. 2014;96-B:1098–105.

32.

Reith JD, Horodyski MB, Scarborough MT. Grade 2 chondrosarcoma: stage I or stage II tumor? Clin Orthop Relat Res. 2003:45–51.

33.

Cho WH, Song WS, Jeon D-G, Kong C-B, Koh J-S, Kim JI, et al. Oncologic impact of the curettage of grade 2 central chondrosarcoma of the extremity. Ann Surg Oncol. 2011;18:3755–61. https://doi.org/10.1245/s10434-011-1792-2.
Acknowledgements
The authors would like to acknowledge Mr. Paul Bassett for statistical input.
Ethics declarations
The study was approved by the local Research and Innovation Centre of The Institute of Orthopaedics under the Integrated Research Application System number 262826, with no requirement for informed patient consent.
Conflict of interest
The authors declare that they have no conflict of interest.
Additional information
Publisher's note
Springer Nature remains neutral with regard to jurisdictional claims in published maps and institutional affiliations.
About this article
Cite this article
Saifuddin, A., Oliveira, I., Singla, N. et al. The importance of MRI review following the diagnosis of atypical cartilaginous tumour using image-guided needle biopsy. Skeletal Radiol 50, 407–415 (2021). https://doi.org/10.1007/s00256-020-03578-7
Received:

Revised:

Accepted:

Published:

Issue Date:
Keywords
MRI

Bone neoplasms

Chondrosarcoma

Biopsy