Abstract
Objective
To investigate the correlation of patellar tendon-lateral femoral condyle friction syndrome (PTLFCFS) with subtle patellofemoral instability to explore its pathogenesis.
Materials and methods
One hundred knees of 80 patients with PTLFCFS were analyzed retrospectively by retrieving magnetic resonance imaging (MRI) data over a 3-year period from our database. Seven quantitative parameters for evaluating patellofemoral stability were measured on MR images, including the Insall–Salvati ratio, tibial tuberosity–trochlear groove (TT–TG) distance, trochlear groove depth, medial trochlear/lateral trochlear length (MT/LT) ratio, medial trochlear/lateral trochlear height (MH/LH) ratio, lateral patellofemoral angle (LPA), and lateral trochlear inclination (LTI) angle. These patellofemoral parameters of the PTLFCFS group and the normal control group were compared (n = 88), and receiving-operator characteristic (ROC) curve analysis was conducted to determine the specificity and sensitivity of these parameters.
Results
The trochlear depth, MT/LT, LPA, and LTI angle were significantly lower (p < 0.001) and the Insall–Salvati ratio was significantly higher (p < 0.001) in the PTLFCFS group. However, the TT–TG distance and MH/LH ratio showed no significant difference (p = 0.231 and 0.073 respectively). The area under the ROC curve of the Insall–Salvati ratio, trochlear depth, MT/LT, LPA, and LTI angle were 0.925, 0.784, 0.8, 0.731, and 0.675 respectively. The efficiency of the Insall–Salvati ratio was the highest among those five parameters.
Conclusion
This study verified the presence of subtle patellofemoral instability by measuring various patellofemoral parameters in patients with PTLFCFS. It confirmed that PTLFCFS is associated with subtle patellofemoral instability and could largely explain the pathogenesis of PTLFCFS.
This is a preview of subscription content, log in to check access.
Access options
Buy single article
Instant access to the full article PDF.
US$ 39.95
Price includes VAT for USA
Subscribe to journal
Immediate online access to all issues from 2019. Subscription will auto renew annually.
US$ 199
This is the net price. Taxes to be calculated in checkout.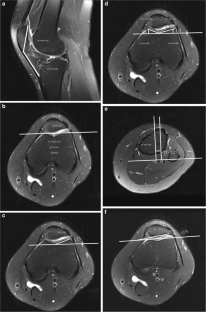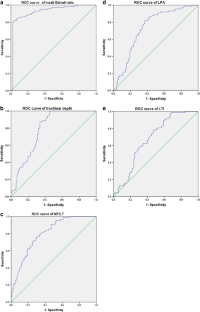 References
1.

Senavongse W, Amis AA. The effects of articular, retinacular, or muscular deficiencies on patellofemoral joint stability: a biomechanical study in vitro. J Bone Joint Surg Br. 2005;87(4):577–82.

2.

Dragoo JL, Johnson C, McConnell J. Evaluation and treatment of disorders of the infrapatellar fat pad. Sports Med. 2012;42(1):51–67.

3.

Mehta K, Wissman R, Englang E, D'heurle A, Newton K, Kenter K. Superolateral Hoffa's fat pad edema in collegiate volleyball players. J Comput Assist Tomogr. 2015;39(6):945–50.

4.

Fontanella CG, Carniel EL, Frigo A, Macchi V, Porzionato A, Sarasin G, et al. Investigation of biomechanical response of Hoffa's fat pad and comparative characterization. J Mech Behav Biomed Mater. 2017;67:1–9.

5.

Biedert RM, Sanchis-Alfonso V. Sources of anterior knee pain. Clin Sports Med. 2002;21(3):335–47.

6.

Clockaerts S, Bastiaansen-Jenniskens YM, Runhaar J, Van Osch GJ, Van Offel JF, Verhaar JA, et al. The infrapatellar fat pad should be considered as an active osteoarthritic joint tissue: a narrative review. Osteoarthritis Cartilage. 2010;18(7):876–82.

7.

Subhawong TK, Eng J, Carrino JA, Chhabra A. Superolateral Hoffa's fat pad edema: association with patellofemoral maltracking and impingement. AJR Am J Roentgenol. 2010;195(6):1367–73.

8.

Barbier-Brion B, Lerais JM, Aubry S, Lepage D, Vidal C, Delabrousse E, et al. Magnetic resonance imaging in patellar lateral femoral friction syndrome (PLFFS): prospective case-control study. Diagn Interv Imaging. 2012;93:e171–82.

9.

Chhabra A, Subhawong TK, Carrino JA. A systematised MRI approach to evaluating the patellofemoral joint. Skeletal Radiol. 2011;40(4):375–87.

10.

Chung CB, Skaf A, Roger B, Campos J, Stump X, Resnick D. Patellar tendon-lateral femoral condyle friction syndrome: MR imaging in 42 patients. Skeletal Radiol. 2001;30(12):694–7.

11.

Jibri Z, Martin D, Mansour R, Kamath S. The association of infrapatellar fat pad oedema with patellar maltracking: a case–control study. Skeletal Radiol. 2012;41(8):925–31.

12.

Campagna R, Pessis E, Biau DJ, Guerini H, Feydy A, Thevenin FS, et al. Is superolateral Hoffa fat pad edema a consequence of impingement between lateral femoral condyle and patellar ligament? Radiology. 2012;263(2):469–74.

13.

Matcuk GR Jr, Cen SY, Keyfes V, Patel DB, Gottsegen CJ, White EA. Supero-lateral Hoffa fat pad edema and patellofemoral maltracking: predictive modeling. AJR Am J Roentgenol. 2014;203(2):207–12.

14.

Insall J, Salvati E. Patella position in the normal knee joint. Radiology. 1971;101(1):101–4.

15.

Carrillon Y, Abidi H, Dejour D, Fantino O, Moyen B, Tran-Minh VA. Patellar instability: assessment on MR images by measuring the lateral trochlear inclination—initial experience. Radiology. 2000;216(2):582–5.

16.

Duchman K, Mellecker C, Thedens DR, Albright JP. Quantifying the effects of extensor mechanism medialization procedures using MRI: a cadaver-based study. Iowa Orthop J. 2011;31:90–8.

17.

Schoettle PB, Zanetti M, Seifert B, Pfirrmann CW, Fucentese SF, Romero J. The tibial tuberosity-trochlear groove distance; a comparative study between CT and MRI scanning. Knee. 2006;13(1):26–31.

18.

Song EK, Seon JK, Kim MC, Seol YJ, Lee SH. Radiologic measurement of Tibial tuberosity-trochlear groove (TT-TG) distance by lower extremity rotational profile computed tomography in Koreans. Clin Orthop Surg. 2016;8(1):45–8.

19.

Wittstein JR, Bartlett EC, Easterbrook J, Byrd JC. Magnetic resonance imaging evaluation of patellofemoral malalignment. Arthroscopy. 2006;22(6):643–9.

20.

Lake DA, Wofford NH. Effect of therapeutic modalities on patients with patellofemoral pain syndrome: a systematic review. Sports Health. 2011;3(2):182–9.

21.

AL-Sayyad MJ, Cameron JC. Functional outcome after tibial tubercle transfer for the painful patella alta. Clin Orthop. 2002;396:152–62.

22.

Munch JL, Sullivan JP, Nguyen JT, Mintz D, Green DW, Shubin Stein BE, et al. Patellar articular overlap on MRI is a simple alternative to conventional measurements of patellar height. Orthop J Sports Med. 2016;4(7):2325967116656328.

23.

Bonadio MB, Helito CP, do Prado Torres JA, Gobbi RG, Pecora JR, Camanho GL, et al. Plateau–patella angle: an option for the evaluation of patellar height in patients with patellar instability. Knee. 2017;24:340–4.

24.

Harbaugh CM, Wilson NA, Sheehan FT. Correlating femoral shape with patellar kinematics in patients with patellofemoral pain. J Orthop Res. 2010;28(7):865–72.

25.

Keser S, Savranlar A, Bayar A, Ege A, Turhan E. Is there a relationship between anterior knee pain and femoral trochlear dysplasia? Assessment of lateral trochlear inclination by magnetic resonance imaging. Knee Surg Sports Traumatol Arthrosc. 2008;16(10):911–5.

26.

Balcarek P, Jung K, Ammon J, Walde TA, Frosch S, Schüttrumpf JP, et al. Anatomy of lateral patellar instability: trochlear dysplasia and tibial tubercle-trochlear groove distance is more pronounced in women who dislocate the patella. Am J Sports Med. 2010;38(11):2320–7.

27.

Balcarek P, Jung K, Frosch KH, Stürmer KM. Value of the tibial tuberosity-trochlear groove distance in patellar instability in the young athlete. Am J Sports Med. 2011;39(8):1756–61.
Ethics declarations
Conflicts of interest
The authors declare that they have no conflicts of interest.
Ethical approval
All procedures performed in studies involving human participants were in accordance with the ethical standards of the institutional and/or national research committee and with the 1964 Declaration of Helsinki and its later amendments or comparable ethical standards.
Additional information
Publisher's note
Springer Nature remains neutral with regard to jurisdictional claims in published maps and institutional affiliations.
About this article
Cite this article
Li, J., Sheng, B., Yu, F. et al. Quantitative magnetic resonance imaging in patellar tendon-lateral femoral condyle friction syndrome: relationship with subtle patellofemoral instability. Skeletal Radiol 48, 1251–1259 (2019). https://doi.org/10.1007/s00256-019-3163-1
Received:

Revised:

Accepted:

Published:

Issue Date:
Keywords
Knee joint

Magnetic resonance imaging

Patellar tendon

Hoffa's fat-pad edema

Patellofemoral instability