Abstract
Objective
The present study aims to provide orientation for clinicians and radiologists to recognize the most prevalent findings leading to diagnosis in mucolipidosis from a description of the natural history of five Brazilian cases.
Materials and methods
We conducted an observational and retrospective study of five patients with clinical and radiological diagnosis of mucolipidosis. Clinical evaluation consisted of information obtained from records and including physical, neurologic, and dysmorphic evaluations. Radiologic studies consisted of complete skeletal radiographs of all patients. Enzyme assessment was performed for confirmation of the diagnosis.
Results
The five patients were referred for genetic evaluation due to disproportionate short stature with short trunk accompanied by waddling gait. Age at referral varied from 11 months to 28 years. The most prevalent findings were joint restriction (4/5 patients), neuropsychomotor developmental delay (3/5), coarse facies (2/5), hypertrophic cardiomyopathy (2/5), and mental retardation (1/4 patients). The most common radiological findings were anterior beaking of the vertebral bodies (5/5), shallow acetabular fossae (5/5), epiphyseal dysplasia (5/5), platyspondyly (4/5), pelvic dysplasia (4/5), decreased bone mineralization (4/5), scoliosis (3/5), wide and oar-shaped ribs (3/5), generalized epiphyseal ossification delay (3/5), and hypoplasia of basilar portions of ilea (3/5). Enzyme assessment showed α-iduronidase, α-mannosidase, β-glucuronidase, hexosaminidase A, and total hexosaminidase increased in plasma and normal glycosaminoglycans concentration. One patient was clinically classified as ML II and four patients as ML III.
Conclusions
The follow-up of five patients showed the typical clinical and radiological findings allowing the diagnosis, thus improving clinical management and providing adequate genetic counseling. Clinicians and radiologists can take advantage of the information from this work, enhancing their differential diagnosis ability.
This is a preview of subscription content, log in to check access.
Access options
Buy single article
Instant access to the full article PDF.
US$ 39.95
Price includes VAT for USA
Subscribe to journal
Immediate online access to all issues from 2019. Subscription will auto renew annually.
US$ 199
This is the net price. Taxes to be calculated in checkout.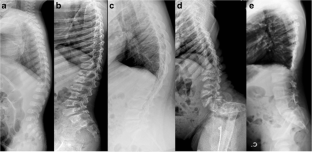 References
1.

Fuller M, Meikle PJ, Hopwood JJ. Epidemiology of lysosomal storage diseases: an overview. In: Mehta A, Beck M, Sunder-Plassmann G, editors. Fabry disease: perspectives from 5 years of FOS. Oxford: Oxford PharmaGenesis; 2006. Chapter 2. Available from: https://www.ncbi.nlm.nih.gov/books/NBK11603/.

2.

Singh A, Prasad R, Gupta AK, et al. I cell disease (mucolipidosis II alpha/beta): from screening to molecular diagnosis. Indian J Pediatr. 2016;84(2):144–6.

3.

Leroy JG, Ho MW, MacBrinn MC, et al. I-cell disease: biochemical studies. Pediatr Res. 1972;6(1):752–7.

4.

Saudubray JM, Baumgartner MR, Walter J. Inborn metabolic disease diagnosis and treatment. 6th ed. New York: Springer-Verlag Berlin Heidelberg; 2016. p. 587–8.

5.

Hennekam RCM, Krantz ID, Allason JE. Metabolic disorders. Gorlin's syndromes of the head and neck. 5th ed. Oxford: New York; 2010. p. 177–81.

6.

Spranger JW. Bone Dysplasias—an atlas of genetic disorders of skeletal development. 3rd ed. Oxford: New York; 2012. p. 595–604.

7.

Nyhan WL, Barshop BA, Ozand PT. Atlas of metabolic diseases. 2nd ed. New York: Oxford; 2005. p. 553–65.

8.

Maroteaux P, Lamy M. Hurler's pseudo-polydystrophy. Presse Med. 1966;74(55):2889–92.

9.

Robinson C, Baker N, Noble J, et al. The osteodystrophy of mucolipidosis type III and the effects of intravenous pamidronate treatment. J Inherit Metab Dis. 2002;25(8):681–93.

10.

Lai LM, Lachman RS. Early characteristic radiographic changes in mucolipidosis II. Pediatr Radiol. 2016;46(12):1713–20.

11.

Kollmann K, Pestka JM, Kühn SC, et al. Decreased bone formation and increased osteoclastogenesis cause bone loss in mucolipidosis II. EMBO Mol Med. 2013;5(12):1871–86.
Acknowledgements
We thank the patients and their respective families for the participation in this study.
Ethics declarations
Conflict of interest
The authors declare that they have no conflicts of interest.
Informed consent
Informed consent was obtained from all individual participants included in the study.
Ethical approval
All procedures performed in studies involving human participants were in accordance with the ethical standards of the institutional and/or national research committee and with the 1964 Helsinki Declaration and its later amendments or comparable ethical standards.
Additional information
Publisher's note
Springer Nature remains neutral with regard to jurisdictional claims in published maps and institutional affiliations.
About this article
Cite this article
Ceroni, J.R.M., Spolador, G.M., Bermeo, D.S. et al. Clinical and radiological findings in Brazilian patients with mucolipidosis types II/III. Skeletal Radiol 48, 1201–1207 (2019). https://doi.org/10.1007/s00256-019-3159-x
Received:

Revised:

Accepted:

Published:

Issue Date:
Keywords
Lysosomal storage disease

Mucolipidosis II

Mucolipidosis III

I-cell disease

Skeletal dysplasia

Dysostosis multiplex