Abstract
Objective
To evaluate anatomical variations in the lateral ankle and their relationships with pathological conditions of the peroneal tendon on magnetic resonance imaging (MRI) in symptomatic patients.
Materials and methods
Sixty-nine ankles MRIs of 60 adult patients with symptomatic ankles were included. The presence and sizes of peroneal tubercle and retrotrochlear eminence (RTE), the prevalence of peroneus quartus (PQ), os peroneum, and boomerang-shaped peroneus brevis (PB) tendon, the shape of the retromalleolar fibular groove (RMFG), and the location of the PB muscle–tendon junction were evaluated. The relationships of these variations with peroneal tendinopathies were assessed. The correlations between pathological peroneal conditions on MRI and clinical findings were evaluated.
Results
Peroneal tubercle (mean size, 3.2 mm) and RTE (mean size, 4.5 mm) were identified in 58 (84%) and 69 (100%) ankles respectively. PQ muscle, os peroneum, and boomerang-shaped PB tendon were found in 9 (13%), 7 (10%), and 24 (34.8%) ankles respectively. The RMFG was concave, flat, convex, and irregular in 14 (20.3%), 40 (58%), 13 (18.8%), and 2 (2.9%) ankles respectively. Sixteen (23.2%) patients had low-lying PB muscle belly. Only boomerang-shaped PB tendons showed a significant relationship with peroneal tendinopathies. MRI and clinical findings had a poor correlation in pathological peroneal conditions and both had low sensitivity in diagnosis.
Conclusion
Lateral ankle anatomical variations are common and cannot be attributed to pathological conditions of the peroneal tendon, except for boomerang-shaped PB tendons. Both clinical and MRI findings have low sensitivity in the diagnosis of peroneal tendinopathies, which are often incidental findings on MRI.
This is a preview of subscription content, log in to check access.
Access options
Buy single article
Instant access to the full article PDF.
US$ 39.95
Price includes VAT for USA
Subscribe to journal
Immediate online access to all issues from 2019. Subscription will auto renew annually.
US$ 199
This is the net price. Taxes to be calculated in checkout.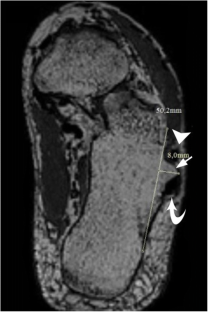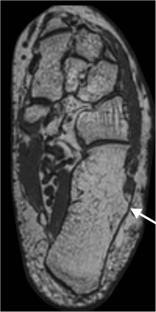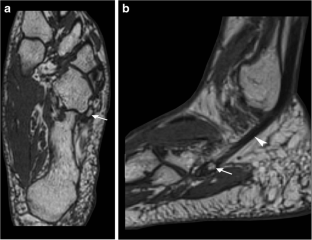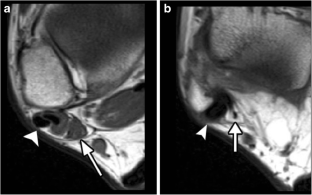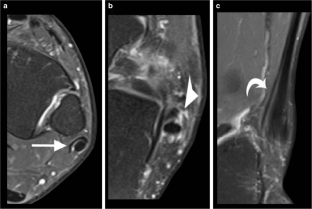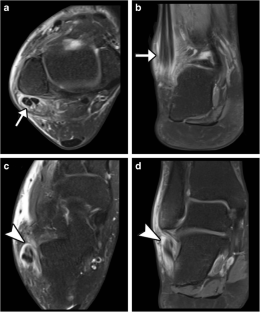 References
1.

Wang XT, Rosenberg ZS, Mechlin MB, Schweitzer ME. Normal variants and diseases of the peroneal tendons and superior peroneal retinaculum: MR imaging features. Radiographics. 2005;25:587–602.

2.

Galli MM, Protzman NM, Mandelker EM, Malhotra AD, Schwartz E, Brigido SA. An examination of anatomic variants and incidental peroneal tendon pathologic features: a comprehensive MRI review of asymptomatic lateral ankles. J Foot Ankle Surg. 2015;54:164–72.

3.

Hammerschlag WA, Goldner JL. Chronic peroneal tendon subluxation produced by an anomalous peroneus brevis: case report and literature review. Foot Ankle. 1989;10:45–7.

4.

Geller J, Lin S, Cordas D, Vieira P. Relationship of a low-lying muscle belly to tears of the peroneus brevis tendon. Am J Orthop (Belle Mead NJ). 2003;32:541–4.

5.

Buschmann WR, Cheung Y, Jahss MH. Magnetic resonance imaging of anomalous leg muscles: accessory soleus, peroneus quartus and the flexor digitorum longus accessorius. Foot Ankle. 1991;12:109–16.

6.

Boles MA, Lomasney LM, Demos TC, Sage RA. Enlarged peroneal process with peroneus longus tendon entrapment. Skeletal Radiol. 1997;26:313–5.

7.

Zammit J, Singh D. The peroneus quartus muscle: anatomy and clinical relevance. J Bone Joint Surg Br. 2003;85:1134–7.

8.

Rosenberg ZS, Bencardino J, Astion D, Schweitzer ME, Rokito A, Sheskier S. MRI features of chronic injuries of the superior peroneal retinaculum. AJR Am J Roentgenol. 2003;181:1551–7.

9.

Sobel M, Levy ME, Bohne WH. Congenital variations of the peroneus quartus muscle: an anatomic study. Foot Ankle. 1990;11:81–9.

10.

Saupe N, Mengiardi B, Pfirrmann CW, Vienne P, Seifert B, Zanetti M. Anatomic variants associated with peroneal tendon disorders: MR imaging findings in volunteers with asymptomatic ankles. Radiology. 2007;242:509–17.

11.

Saxena A, Luhadiya A, Ewen B, Goumas C. Magnetic resonance imaging and incidental findings of lateral ankle pathologic features with asymptomatic ankles. J Foot Ankle Surg. 2011;50:413–5.

12.

O'Neil JT, Pedowitz D, Kerbel YE, Codding JL, Zoga AC, Raikin SM. Peroneal tendon abnormalities on routine magnetic resonance imaging of the foot and ankle. Foot Ankle Int. 2016;37(7):743–7.

13.

Rademaker J, Rosenberg ZS, Beltran J, Colon E. Alterations in the distal extension of the musculus peroneus brevis with foot movement. AJR Am J Roentgenol. 1997;168:787–9.

14.

Agarwal AK, Jeyasingh P, Gupta SC, Gupta CD, Sahai A. Peroneal tubercle and its variations in the Indian calcanei. Anat Anz. 1984;156:241–4.

15.

Hyer CF, Dawson JM, Philbin TM, et al. The peroneal tubercle: description, classification, and relevance to peroneus longus tendon pathology. Foot Ankle Int. 2005;26:947–50.

16.

Mirmiran R, Squire C, Wassell D. The prevalence and role of low lying peroneus brevis muscle belly in patients with peroneal tendon pathologies: a potential source for tendon subluxation. J Foot Ankle Surg. 2015;54(5):872–5.

17.

Muehleman C, Williams J, Bareither ML. A radiologic and histologic study of the os peroneum: prevalence, morphology, and relationship to degenerative joint disease of the foot and ankle in a cadaveric sample. Clin Anat. 2009;22(6):747–54.

18.

Sobel M, Pavlov H, Geppert MJ, Thompson FM, DiCarlo EF, Davis WH. Painful os peroneum syndrome: a spectrum of conditions responsible for plantar lateral foot pain. Foot Ankle Int. 1994;15(3):112–24.

19.

Cheung Y, Rosenberg ZS. MR imaging of the accessory muscles around the ankle. Magn Reson Imaging Clin N Am. 2001;9:465–73.

20.

Cheung YY, Rosenberg ZS, Ramsinghani R, Beltran J, Jahss MH. Peroneus quartus muscle: MR imaging features. Radiology. 1997;202:745–50.

21.

Cecava ND, Campbell SE. Peroneus brevis tendon variant insertion on the calcaneus. J Radiol Case Rep. 2015;9(5):22–9.

22.

Diaz GC, van Holsbeeck M, Jacobson JA. Longitudinal split of the peroneus longus and peroneus brevis tendons with disruption of the superior peroneal retinaculum. J Ultrasound Med. 1998;17(8):525–9.

23.

Giza E, Mak W, Wong SE, Roper G. A clinical and radiological study of peroneal tendon pathology. Foot Ankle Spec. 2013;6(6):417–21.

24.

Kuwada GT. Surgical correlation of preoperative MRI findings of trauma to tendons and ligaments of the foot and ankle. J Am Podiatr Med Assoc. 2008;98:370–3.

25.

Park HJ, Lee SY, Park NH, et al. Accuracy of MR findings in characterizing peroneal tendon disorders in comparison with surgery. Acta Radiol. 2012;53:795–801.
Ethics declarations
Conflicts of interest
The authors declare that they have no conflicts of interest.
Additional information
Publisher's note
Springer Nature remains neutral with regard to jurisdictional claims in published maps and institutional affiliations.
About this article
Cite this article
Ersoz, E., Tokgoz, N., Kaptan, A.Y. et al. Anatomical variations related to pathological conditions of the peroneal tendon: evaluation of ankle MRI with a 3D SPACE sequence in symptomatic patients. Skeletal Radiol 48, 1221–1231 (2019). https://doi.org/10.1007/s00256-019-3151-5
Received:

Revised:

Accepted:

Published:

Issue Date:
Keywords
Magnetic resonance imaging

Ankle

Foot

Pathological conditions of the peroneal tendon

Anatomical variations