Abstract
Infection of costal cartilage is a rare observation. We report the case of a 43-year-old male patient without relevant history who presented with a progressive painful swelling of the left chest wall since 4 months. Computed tomography (CT) and magnetic resonance imaging (MRI) demonstrated an abscess within the left ninth costal cartilage with surrounding reactive changes. A CT-guided biopsy was performed and the culture of the sample revealed the presence of Prevotella nigrescens. Musculoskeletal infections by Prevotella are rarely described in the literature, Prevotella oralis and Prevotella bivia being the most frequently observed pathogens. These infections usually originate from a hematogenous spread after thoracic surgery or dental procedure. In our patient, conservative treatment was chosen. A clinical improvement was noted after 1-month antibiotherapy, confirmed by short-term and 6-month imaging follow-up showing the complete disappearance of all previously observed abnormalities.
This is a preview of subscription content, log in to check access.
Access options
Buy single article
Instant access to the full article PDF.
US$ 39.95
Price includes VAT for USA
Subscribe to journal
Immediate online access to all issues from 2019. Subscription will auto renew annually.
US$ 199
This is the net price. Taxes to be calculated in checkout.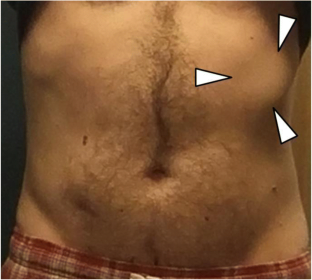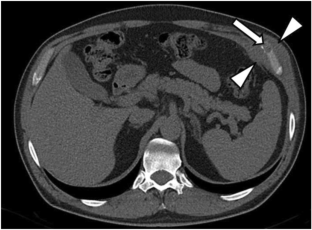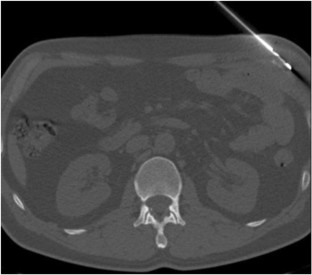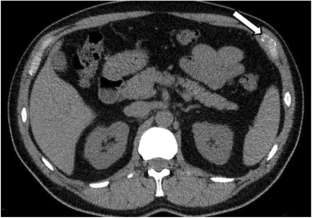 References
1.

Zapatero J, Lopez Longo J, Monteagudo I, Carreno J. Costal chondritis in heroin addicts: a comparative study with post-surgical chondritis. Br J Dis Chest. 1988;82:342–6.

2.

Chicarilli ZN, Ariyan S, Stahl RS. Costochondritis: pathogenesis, diagnosis, and management considerations. Plast Reconstr Surg. 1986;77:50–9.

3.

Heckenkamp J, Helling HJ, Reim KE. Post-traumatic costochondritis caused by Candida albicans. Aetiology, diagnosis and treatment. Scand Cardiovasc J. 1997;31:165–7.

4.

Bishara J, Gartman-Israel D, Weinberger M, Maimon S, Tamir G, Pitlik S. Osteomyelitis of the ribs in the antibiotic era. Scand J Infect Dis. 2000;32:223–7.

5.

Sakran W, Bisharat N. Primary chest wall abscess caused by Escherichia coli costochondritis. Am J Med Sci. 2011;342(3):241–6.

6.

Shah HN, Collins MD. Prevotella, a new genus to include Bacteroides melaninogenicus and related species formerly classified in the genus Bacteroides. Int J Syst Bacteriol. 1990;40:205–8.

7.

Shah HN, Gharbia SE. Biochemical and chemical studies on strains designated Prevotella intermedia and proposal of a new pigmented species, Prevotella nigrescens sp. nov. Int J Syst Bacteriol. 1992;42:542–6.

8.

Finegold SM. Overview of clinically important anaerobes. Clin Infect Dis. 1995;20(suppl 2):S205–7.

9.

Matto J, Asikainen S, Vaisanen ML, Rautio M, Saarela M, Summanen P, et al. Role of Porphyromonas gingivitis, Prevotella intermedia, and Prevotella nigrescens in extraoral and some odontogenic infections. Clin Infect Dis. 1997;25(suppl 2):S194–8.

10.

Wexlter HM, Finegold SM. Current susceptibility patterns of anaerobic bacteria. Yonsei Med J. 1998;39:495–501.

11.

Goyal H, Arora S, Mishra S, Syed J, Shah U. Vertebral osteomyelitis and epidural abscesses caused by Prevotella oralis: a case report. Braz J Infect Dis. 2010;16(6):594–6.

12.

Williams A, Kerkering T. Prevotella osteomyelitis after dental capping procedure. IDCases. 2017;8:32–3.

13.

Hsu GJ, Chen CR, Lai MC, Luh SP. Chest wall abscess due to Prevotella bivia. J Zhejiand Univ Sci B. 2009;10(3):233–6.

14.

Riesbeck K. Paronychia due to Prevotella bivia that resulted in amputation: fast and correct bacteriological diagnosis is crucial. J Clin Microbiol. 2003:4901–3.

15.

Karabinas PK, Stergios ED, Athanasopoulou MG, Vlamis J. Hematogenous long bone osteomyelitis by Prevotella (Bacteroides) melaninogenicus. J Clin Med Res. 2010;2(6):277–80.

16.

Frandsen EVG, Poulsen K, Kilian M. Confirmation of the species Prevotella intermedia and Prevotella nigrescens. Int J Syst Bacteriol. 1995;45:429–35.

17.

Júnior EGJ, Fardin AC, Gaetti-Jardim EC, Lima de Castro A, Schweitzer CM, Avila-Campos MJ. Microbiota associated with chronic osteomyelitis of the jaws. Braz J Microbiol. 2010;41(4):1056–64.

18.

Falagas ME, Siakavellas E. Bacteroides, Prevotella, and Porphyromonas species: a review of antibiotic resistance and therapeutic options. Int J Antimicrob Agents. 2000;15:1–9.

19.

Proulx AM, Tw Z. Costochondritis: diagnosis and treatment. Am Fam Phys. 2009;80(6):617–20.

20.

Magano R, Cortez J, Ramos E, Trindade L. Candida albinas osteomyelitis as a cause of chest pain and visual loss. BMJ Case Rep Published online. https://doi.org/10.1136/bcr-2015-211327.

21.

Crawford SJ, Swan CD, Boutlis CS, Reid AB. Candida costochondritis associated with recent intravenous drug use. IDCases. 2016:59–61.

22.

Miro JM, Brancos MA, Lomena F, Bisbe J, Ribalta T, Rotes-Querol J. Costochondritis involvement in systemic candidiasis in heroin addicts: clinical, scintigraphic, and histologic features in 26 patients. Arthritis Rheumatism. 1988;3:793–7.

23.

Alvarez F, Chocarro A, Garcia I, De Castro M, Gonzales A. Primary costochondritis due to Escherichia coli. Scand J Infect Dis. 2000;32:430–1.

24.

Emiley PJ, Kendall JL, Bellows JW. Acute hematogenous osteomyelitis of the rib identified on bedside ultrasound. J Emerg Med. 2015;48(1):e15–7.

25.

Pineda C, Vargas A, Rodriguez AV. Imaging of osteomyelitis: current concepts. Infect Dis Clin North Am. 2006;20:789–825.

26.

Pineda C, Espinosa R, Pena A. Radiographic imaging in osteomyelitis: the role of plain radiography, computed tomography, ultrasonography, magnetic resonance imaging, and scintigraphy. Semin Plast Surg. 2009;23:80–9.
Acknowledgements
Heartfelt thanks are expressed to Hector RODRIGUEZ-VILLALOBOS, MD, and Christine GALANT, MD, PhD, for clinical collaboration and stimulating discussions.
Ethics declarations
Conflict of interest
The authors declare that they have no conflict of interest.
Additional information
Publisher's note
Springer Nature remains neutral with regard to jurisdictional claims in published maps and institutional affiliations.
About this article
Cite this article
Derouane, F., Lambert, M., De Greef, J. et al. Primary infectious costochondritis due to Prevotella nigrescens in an immunocompetent patient: clinical and imaging findings. Skeletal Radiol 48, 1305–1309 (2019). https://doi.org/10.1007/s00256-019-3148-0
Received:

Revised:

Accepted:

Published:

Issue Date:
Keywords
Infection

Skeleton

Chest

Cartilage

CT

MRI

Prevotella

Costochondritis