Abstract
Objective
To prospectively evaluate the accuracy of ultrasound in defining the specific nature of superficial soft tissue masses as well as determining malignancy.
Materials and method
Eight hundred twenty-three superficial soft tissue masses were prospectively evaluated with ultrasound by one of five experienced musculoskeletal radiologists. The radiologist at the time of examination provided one to three specific differential diagnoses and the perceived level of confidence with regard to each diagnosis. Clinical and ultrasound diagnoses were compared with the histological diagnosis to determine accuracy. Tumor malignancy was determined by histology or clinical/imaging follow-up.
Results
Histological correlation was present for 219 (26.6%) of the 823 masses. Compared with histology, the accuracy of clinical and ultrasound examination for determining specific tumor type was 25.6% and 81.2% respectively considering all differential diagnoses provided. Radiologists were "fully confident" with the ultrasound diagnosis in 585 (71.1%) of 823 masses overall. In this setting, when compared with histology, the diagnostic accuracy of ultrasound was 95.5%. When the radiologist was "not fully confident," accuracy was 41.3% for the first differential diagnosis and 60.9% for all differential diagnoses. Diagnostic accuracy improved with increasing radiologist experience. Sensitivity, specificity, positive predictive value, and negative predictive value of ultrasound for identifying malignant tumor were 93.3%, 97.9%, 45.2%, and 99.9% respectively.
Conclusions
One can be "fully confident" at characterizing over two-thirds of superficial soft tissue masses based on ultrasound appearances and, in this setting, diagnostic accuracy is very high. Ultrasound examination is also highly accurate at discriminating benign from malignant superficial soft tissue masses.
This is a preview of subscription content, log in to check access.
Access options
Buy single article
Instant access to the full article PDF.
US$ 39.95
Tax calculation will be finalised during checkout.
Subscribe to journal
Immediate online access to all issues from 2019. Subscription will auto renew annually.
US$ 199
Tax calculation will be finalised during checkout.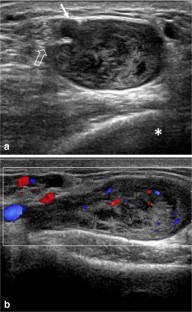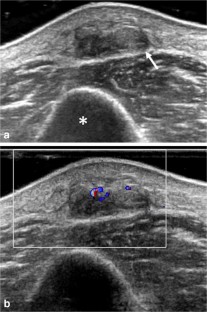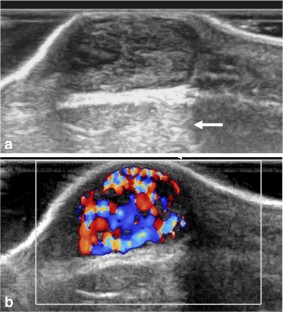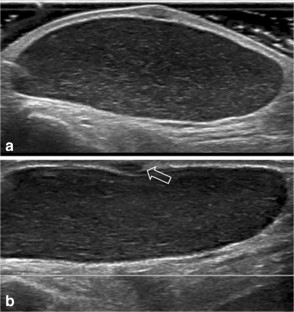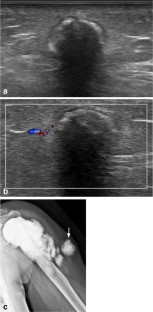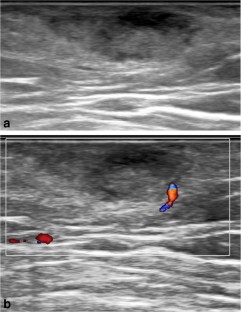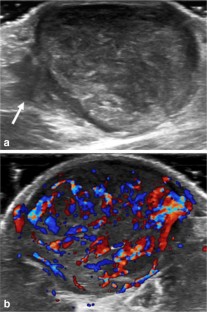 References
1.

Shin YS, Kim YJ, Park IS, Chu YC, Kim JH, Lee HY, et al. Sonographic differentiation between angiolipomas and superficial lipomas. J Ultrasound Med. 2016;35(11):2421–9.

2.

Taljanovic MS, Gimber LH, Klauser AS, Porrino JA, Chadaz TS. Omar IM ultrasound in the evaluation of musculoskeletal soft-tissue masses. Semin Roentgenol. 2017;52(4):241–54.

3.

Wortsman X, Wortsman J. Clinical usefulness of variable-frequency ultrasound in localized lesions of the skin. J Am Acad Dermatol. 2010;62(2):247–56.

4.

Widmann G, Riedl A, Schoepf D, Glodny B, Peer S, Gruber H. State-of-the-art HR-US imaging findings of the most frequent musculoskeletal soft-tissue masses. Skelet Radiol. 2009;38(7):637–49.

5.

Doyle AJ, Miller MV, French JG. Ultrasound of soft-tissue masses: pitfalls in interpretation. Australas Radiol. 2000;44(3):275–80.

6.

Hung EH, Griffith JF. Pitfalls in ultrasonography of soft tissue masses. Semin Musculoskelet Radiol. 2014;18(1):79–85.

7.

Ritchie DA. Commentary on ultrasound for initial evaluation and triage of clinically suspicious soft-tissue masses. Clin Radiol. 2009;64(6):622–3.

8.

Hwang EJ, Yoon HS, Cho S, Park HS. The diagnostic value of ultrasonography with 5-15-MHz probes in benign subcutaneous lesions. Int J Dermatol. 2015;54(11):e469–75.

9.

Hung EH, Griffith JF, Ng AW, Lee RK, Lau DT, Leung JC. Ultrasound of musculoskeletal soft-tissue masses superficial to the investing fascia. AJR Am J Roentgenol. 2014;202(6):W532–40.

10.

Ahuja A, Ying M, Yang WT, Evans R, King W, Metreweli C. The use of sonography in differentiating cervical lymphomatous lymph nodes from cervical metastatic lymph nodes. Clin Radiol. 1996;51(3):186–90.

11.

Bedi DG, Krishnamurthy R, Krishnamurthy S, Edeiken BS, Le-Petross H, Fornage BD, et al. Cortical morphologic features of axillary lymph nodes as a predictor of metastasis in breast cancer: in vitro sonographic study. AJR Am J Roentgenol. 2008;191(3):646–52.

12.

Abe H, Schmidt RA, Kulkarni K, Sennett CA, Mueller JS, Newstead GM. Axillary lymph nodes suspicious for breast cancer metastasis: sampling with US-guided 14-gauge core-needle biopsy—clinical experience in 100 patients. Radiology. 2009;250(1):41–9.

13.

Bialek EJ, Jakubowski W, Szczepanik AB, Maryniak RK, Prochorec-Sobieszek M, Bilski R, et al. Vascular patterns in superficial lymphomatous lymph nodes: a detailed sonographic analysis. J Ultrasound. 2007;10(3):128–34.

14.

Ying M, Ahuja AT, Evans R, King W, Metreweli C. Cervical lymphadenopathy: sonographic differentiation between tuberculous nodes and nodal metastases from non-head and neck carcinomas. J Clin Ultrasound. 1998;26(8):383–9.

15.

Ahuja AT, Ying M, Yuen HY, Metreweli C. 'Pseudocystic' appearance of non-Hodgkin's lymphomatous nodes: an infrequent finding with high-resolution transducers. Clin Radiol. 2001;56(2):111–5.

16.

Tregnaghi A, De Candia A, Calderone M, Cellini L, Rossi CR, Talenti E, et al. Ultrasonographic evaluation of superficial lymph node metastases in melanoma. Eur J Radiol. 1997;24(3):216–21.

17.

Griffith JF, Chan DP, Kumta SM, Chow LT, Ahuja AT. Does Doppler analysis of musculoskeletal soft-tissue tumours help predict tumour malignancy? Clin Radiol. 2004;59(4):369–75.

18.

Bodner G, Schocke MF, Rachbauer F, Seppi K, Peer S, Fierlinger A, et al. Differentiation of malignant and benign musculoskeletal masses: combined color and power Doppler US and spectral wave analysis. Radiology. 2002;223(2):410–6.

19.

Morii T, Kishino T, Shimamori N, Motohashi M, Ohnishi H, Honya K, et al. Differential diagnosis between benign and malignant soft tissue masses utilizing ultrasound parameters. J Med Ultrason (2001). 2018;45(1):113–9.

20.

Fletcher CD. The evolving classification of soft tissue tumours - an update based on the new 2013 WHO classification. Histopathology. 2014;64(1):2–11.

21.

Wassef M, Blei F, Adams D, Alomari A, Baselga E, Berenstein A, et al. Vascular anomalies classification: recommendations from the International Society for the Study of Vascular Anomalies. Pediatrics. 2015;136(1):e203–14.

22.

Wagner JM, Lee KS, Rosas H, Kliewer MA. Accuracy of sonographic diagnosis of superficial masses. J Ultrasound Med. 2013;32(8):1443–50.

23.

Kim SY, Chung HW. Small musculoskeletal soft-tissue lesions: US-guided core needle biopsy—comparative study of diagnostic yields according to lesion size. Radiology. 2016;278(1):156–63.

24.

Clark TC, Kimbrell B, Girard N, Hansford BG. Bilateral multifocal lower extremity localized soft tissue amyloidomas: case report with ultrasonographic characterization. Skelet Radiol. 2017;46(12):1783–9.

25.

Rahmani G, McCarthy P, Bergin D. The diagnostic accuracy of ultrasonography for soft tissue lipomas: a systematic review. Acta Radiol. 2017;6(6):1–6.

26.

Wortsman X. Sonography of dermatologic emergencies. J Ultrasound Med. 2017;36(9):1905–14.

27.

Zhang JZ, Zhou J, Zhang ZC. Subcutaneous angioleiomyoma: clinical and sonographic features with histopathologic correlation. J Ultrasound Med. 2016;35(8):1669–73.

28.

Catalano O, Alfageme Roldan F, Scotto di Santolo M, Solivetti FM, Wortsman X. Color Doppler sonography of merkel cell carcinoma. J Ultrasound Med. 2018;37(1):285–92.

29.

Catalano O, Alfageme Roldan F, Solivetti FM, Scotto di Santolo M, Bouer M, Wortsman X. Color Doppler sonography of extradigital glomus masses. J Ultrasound Med. 2017;36(1):231–8.

30.

Preell-Mazzini J, Barton MD Jr, Conway SA, Temple HT. Unplanned excision of soft-tissue sarcomas: current concepts for management and prognosis. J Bone Joint Surg Am. 2015;97(7):597–603.

31.

Chiou HJ, Chou YH, Chiu SY, Wang HK, Chen WM, Chen TH, et al. Differentiation of benign and malignant superficial soft-tissue masses using grayscale and color doppler ultrasonography. J Chin Med Assoc. 2009;72(6):307–15.

32.

Lakkaraju A, Sinha R, Garikipati R, Edward S, Robinson P. Ultrasound for initial evaluation and triage of clinically suspicious soft-tissue masses. Clin Radiol. 2009;64(6):615–21.

33.

Belli P, Costantini M, Mirk P, Maresca G, Priolo F, Marano P. Role of color Doppler sonography in the assessment of musculoskeletal soft tissue masses. J Ultrasound Med. 2000;19(12):823–30.
Ethics declarations
Conflict of interest
The authors declare that they have no conflict of interest.
Ethics statement
The study was approved by institutional review board.
Additional information
Publisher's note
Springer Nature remains neutral with regard to jurisdictional claims in published maps and institutional affiliations.
About this article
Cite this article
Hung, E.H.Y., Griffith, J.F., Yip, S.W.Y. et al. Accuracy of ultrasound in the characterization of superficial soft tissue tumors: a prospective study. Skeletal Radiol 49, 883–892 (2020). https://doi.org/10.1007/s00256-019-03365-z
Received:

Revised:

Accepted:

Published:

Issue Date:
Keywords
Soft tissue masses

Superficial masses

Subcutaneous tumor

Ultrasound

Accuracy