Abstract
Objective
To illustrate an advanced imaging parameter that describes the course of the iliopsoas tendon, and evaluate its correlations with iliopsoas internal hip snapping syndrome.
Methods
This retrospective cohort study reviewed hip MRI images of all patients seen by a single surgeon between January 2015 and March 2016. The comparison group included all patients with clinical internal hip snapping, versus the control group that did not. MRI images were processed using minimum intensity projection. Measurements obtained of the pelvis and course of the iliopsoas tendon included: pelvic incidence, coronal angle, and sagittal opening angle (SOA). Comparison of measurements between the groups was performed with Mann–Whitney U analysis and receiver operator curve (ROC) plotting, with a significance cutoff of p = 0.05.
Results
The control group (n = 85) and comparison group (n = 48) demonstrated no difference in age or gender. Pelvic incidence was similar [51.3 (± 10.7) degrees control versus 52.2 (± 7.7) degrees comparison (p = 0.36)], as was coronal angle [13.9 (± 4.6) degrees control versus 14.8 (±4.8) degrees comparison (p = 0.15)]. There was a significant difference in SOA [137.0 (± 5.9) degrees control versus 141.9 (± 6.5) degrees comparison (p < 0.01)]. ROC analysis revealed SOA threshold of 140 degrees for clinical IP hip snapping (p < 0.01), with odds ratio 5.2 (2.4–11.3) for SOA > 140 degrees.
Conclusions
Iliopsoas hip snapping is often part of a more complex disease process. While challenging to diagnose, advanced imaging parameters, like the sagittal opening angle, relate with clinical pathology. The SOA offers diagnostic value, with a threshold of greater than 140 degrees significantly correlating with clinical presentation.
Access options
Buy single article
Instant access to the full article PDF.
USD 39.95
Price includes VAT (USA)
Tax calculation will be finalised during checkout.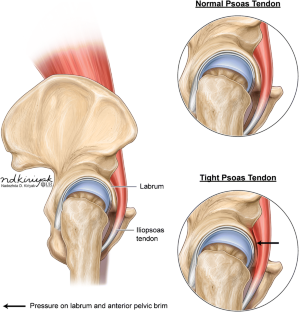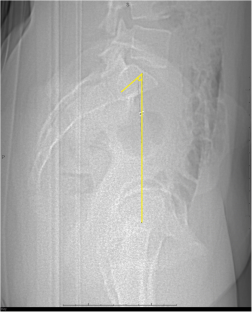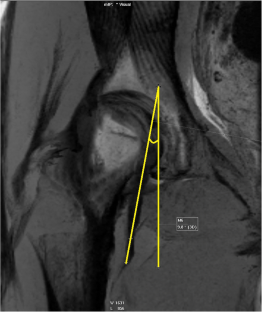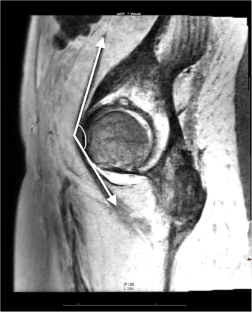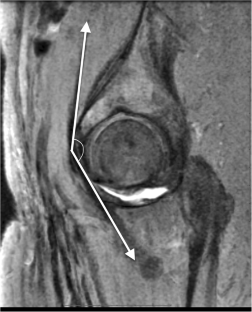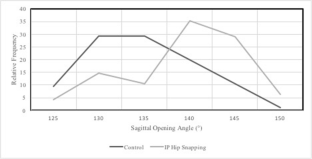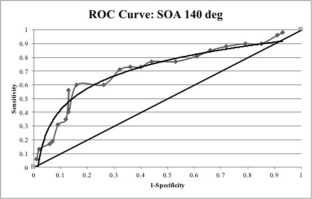 References
1.

Piechota M, Maczuch J, Skupiński J, Kukawska-Sysio K, Wawrzynek W. Internal snapping hip syndrome in dynamic ultrasonography. J Ultrason. 2016;16(66):296–303.

2.

Ilizaliturri VM Jr, Villalobos FE Jr, Chaidez PA, Valero FS, Aguilera JM. Internal snapping hip syndrome: treatment by endoscopic release of the iliopsoas tendon. Arthroscopy. 2005;21(11):1375–80.

3.

Byrd JW. Snapping hip. Oper Tech Sports Med. 2005;13:46–54.

4.

Winston P, Awan R, Cassidy JD, Bleakney RK. Clinical examination and ultrasound of self-reported snapping hip syndrome in elite ballet dancers. Am J Sports Med. 2007;35(1):118–26.

5.

Flanum ME, Keene JS, Blankenbaker DG, Desmet AA. Arthroscopic treatment of the painful "internal" snapping hip: results of a new endoscopic technique and imaging protocol. Am J Sports Med. 2007;35(5):770–9.

6.

Wettstein M, Jung J, Dienst M. Arthroscopic psoas tenotomy. Arthroscopy. 2006;22(8):907.

7.

Dobbs MB, Gordon JE, Luhmann SJ, Szymanski DA, Schoenecker PL. Surgical correction of the snapping iliopsoas tendon in adolescents. J Bone Joint Surg Am. 2002;84(3):420–4.

8.

Hoskins JS, Burd TA, Allen WC. Surgical correction of internal coxa saltans: a 20-year consecutive study. Am J Sports Med. 2004;32(4):998–1001.

9.

Czerny C, Hofmann S, Neuhold A, et al. Lesions of the acetabular labrum: accuracy of MR imaging and MR arthrography in detection and staging. Radiology. 1996;200(1):225–30.

10.

Lewis CL. Extra-articular snapping hip: a literature review. Sports Health. 2010;2(3):186–90.

11.

Spiker AM, Degen RM, Camp CL, Coleman SH. Arthroscopic psoas management: techniques for psoas preservation and psoas tenotomy. Arthrosc Tech. 2016;5(6):e1487–92.

12.

Yoshio M, Murakami G, Sato T, Sato S, Noriyasu S. The function of the psoas major muscle: passive kinetics and morphological studies using donated cadavers. J Orthop Sci. 2002;7:199–207.

13.

Philippon MJ, Warth RJ, Briggs KK. Traumatic and atraumatic hip instability. In: Brockmeier S, editor. MRI-arthroscopy correlations. New York: Springer; 2015.

14.

Mulroy RD. The iliopsoas muscle complex: iliacus muscle, psoas tendon release. Clin Orthop Relat Res. 1965;38:81–5.

15.

Larsen E, Johansen J. Snapping hip. Acta Orthop Scand. 1986;57(2):168–70.

16.

Polster JM, Elgabaly M, Lee H, Klika A, Drake R, Barsoum W. MRI and gross anatomy of the iliopsoas tendon complex. Skelet Radiol. 2008;37(1):55–8.

17.

Deslandes M, Guillin R, Cardinal E, Hobden R, Bureau NJ. The snapping iliopsoas tendon: new mechanisms using dynamic sonography. AJR Am J Roentgenol. 2008;190(3):576–81.

18.

Choi YS, Lee SM, Song BY, Paik SH, Yoon YK. Dynamic sonography of external snapping hip syndrome. J Ultrasound Med. 2002;21(7):753–8.

19.

Pelsser V, Cardinal E, Hobden R, Aubin B, Lafortune M. Extraarticular snapping hip: sonographic findings. AJR Am J Roentgenol. 2001;176(1):67–73.

20.

Lazennec J-Y, Brusson A, Rousseau M-A. Hip-spine relations and sagittal balance clinical consequences. Eur Spine J. 2011;20:686–98.

21.

Weinberg DS, Gebhart JJ, Liu RW, Salata MJ. Radiographic signs of femoroacetabular impingement are associated with decreased pelvic incidence. Arthroscopy. 2016;32(5):806–13.

22.

Hellman MD, Haughom BD, Brown NM, Fillingham YA, Philippon MJ, Nho SJ. Femoroacetabular impingement and pelvic incidence: radiographic comparison to an asymptomatic control. Arthroscopy. 2017;33(3):545–50.

23.

Blankenbaker DG, De Smet AA, Keene JS. Sonography of the iliopsoas tendon and injection of the iliopsoas bursa for diagnosis and management of the painful snapping hip. Skelet Radiol. 2006;35(8):565–71.

24.

Wahl CJ, Warren RF, Adler RS, Hannafin JA, Hansen B. Internal coxa saltans (snapping hip) as a result of overtraining: a report of 3 cases in professional athletes with a review of causes and the role of ultrasound in early diagnosis and management. Am J Sports Med. 2004;32(5):1302–9.

25.

Eshed I, Inbar Y, Hertz M, Apter S. Checkmark: a sign for the detection of iliopsoas pathology on MRI of the hip. Acta Radiol. 2010;51(5):539–42.

26.

Caramella D, Neri E. Advanced image processing. In: Bartolozzi C, Lencioni R, editors. Liver malignancies. Medical Radiology (Diagnostic Imaging and Radiation Oncology). Berlin: Springer; 1999.

27.

Tongdee R, Narra VR, Oliveira EP, Chapman W, Elsayes KM, Brown JJ. Utility of 3D magnetic resonance imaging in preoperative evaluation of hepatobiliary diseases. HPB (Oxford). 2006;8(4):311–7.

28.

Saltychev M, Pernaa K, Seppänen M, Mäkelä K, Laimi K. Pelvic incidence and hip disorders. Acta Orthop. 2018;89(1):66–70.

29.

Jacobson T, Allen WC. Surgical correction of the snapping iliopsoas tendon. Am J Sports Med. 1990;18:470–4.

30.

Laible C, Swanson D, Garofolo G, Rose DJ. Iliopsoas syndrome in dancers. Orthop J Sports Med. 2013;1(3):2325967113500638.

31.

Spina AA. External coxa saltans (snapping hip) treated with active release techniques: a case report. J Can Chiropr Assoc. 2007;51(1):23–9.
Ethics declarations
Conflict of interest
None.
About this article
Cite this article
Bakhsh, W., Childs, S., Kenney, R. et al. Iliopsoas snapping hip: improving the diagnostic value of magnetic resonance imaging with a novel parameter. Skeletal Radiol 48, 889–896 (2019). https://doi.org/10.1007/s00256-018-3083-5
Received:

Revised:

Accepted:

Published:

Issue Date:
Keywords
Iliopsoas

Hip snapping

MRI

MIP

Sagittal opening angle