Abstract
Objective
To compare the incidence of rotator cuff tears on shoulder MRI in patients who have rotator cuff calcific tendinopathy with that in patients without calcific tendinopathy in a frequency-matched case–control study.
Materials and methods
Retrospective review shoulder MRIs of 86 patients with rotator cuff calcific tendinopathy and an 86-patient age-, gender-, and laterality-matched control group using frequency matching.
Results
No statistically significant difference (odds ratio: 0.72, 95% confidence interval: 0.38–1.38, p = 0.32) was found in the incidence of rotator cuff tear in the calcific tendinopathy (27.9%) and control groups (34.9%). A significant (p < 0.001) difference in the size of rotator cuff tear was seen between the two groups, with 12.5% of tears being full-thickness in the calcific tendinopathy group and 63.3% of tears being full-thickness in the control group. Only 3 of the 24 (12.5%) rotator cuff tears present in the calcific tendinopathy group occurred at the site of tendon calcification.
Conclusion
Patients presenting with indeterminate shoulder pain and rotator cuff calcific tendinopathy are not at increased risk for having a rotator cuff tear compared with similar demographic patients without calcific tendinopathy presenting with shoulder pain. Calcific tendinopathy and rotator cuff tears likely arise from different pathological processes.
Access options
Buy single article
Instant access to the full article PDF.
USD 39.95
Price excludes VAT (USA)
Tax calculation will be finalised during checkout.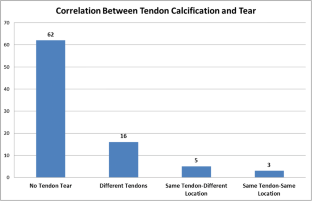 References
Friedman MS. Calcified tendinitis of the shoulder. Am J Surg. 1957;94(1):56–61.

Louwerens JKG, Siervevelt IN, van Hove RP, van den Bekerom MPJ, van Noort A. Prevalence of calcific deposits within the rotator cuff tendons in adults with and without subacromial pain syndrome: clinical and radiologic analysis of 1219 patients. J Shoulder Elbow Surg. 2015;24(10):1588–93.

Bosworth B. Calcium deposits in the shoulder and subacromial bursitis: a survey of 12,122 shoulders. J Am Med Assoc. 1941;116:2477–82.

Harmon PH, Francisco S. Methods and results in the treatment of 2580 painful shoulders with special reference to calcific tendinitis and the frozen shoulder. Am J Surg. 1958;95:527–44.

Clavert P, Sirveaux F, Societe francaise d'arthroscopie. "Shoulder calcifying tendinitis". Rev Chir Orthop Reparatrice Appar Mot. 2008;94(8):336–55.

ElShewy MT. Calcific tendinitis of the rotator cuff. World J Orthop. 2016;7(1):55–60.

Greis AC, Derrington SM, McAuliffe M. Evaluation and nonsurgical management of rotator cuff calcific tendinopathy. Orthop Clin North Am. 2015;46(2):293–302.

Jim YF, Hsu HC, Chang CY, Wu JJ, Chang T. Coexistence of calcific tendinitis and rotator cuff tear: an arthrographic study. Skeletal Radiol. 1993;22:183–5.

Wolfgang GL. Surgical repair of tears of the rotator cuff of the shoulder: factors influencing the result. J Bone Joint Surg Am. 1974;56(1):14–26.

McLaughlin HL, Asherman EG. Lesions of the musculotendinous cuff of the shoulder. IV. Some observations based upon the results of surgical repair. J Bone Joint Surg Am. 1951;33(1):76–86.

Chiou HJ, Chou YH, Wu JJ, Hsu CC. Evaluation of calcific tendonitis of the rotator cuff: role of color doppler ultrasonography. J Ultrasound Med. 2002;21(3):289–95.

McLaughlin HL. Lesions of the musculotendinous cuff of the shoulder. III. Observations on the pathology, course and treatment of calcific deposits. Ann Surg. 1946;124(2):354–62.

Codman EA. The shoulder: rupture of the supraspinatus tendon and other lesions in or about the subacromial bursa. Boston: Thomas Todd. 1934.

Lippmann RK. Observations concerning the calcific cuff deposit. Clin Orthop. 1961;20:49–60.

Uhthoff HK, Sarkar K, Maynard JA. Calcifying tendinitis: a new concept of its pathogenesis. Clin Orthop Relat Res. 1976;118:164–8.

Uhthoff HK. Calcifying tendinitis, an active cell-mediated calcification. Virchows Arch A Pathol Anat Histol. 1975;366:51–8.

Archer RS, Bayley JI, Archer CW, Ali SY. Cell and matrix changes associated with pathological calcification of the human rotator cuff tendons. J Anat. 1993;182:1–11.

Kannus P, Józsa L. Histopathological changes preceding spontaneous rupture of a tendon. A controlled study of 891 patients. J Bone Joint Surg Am. 1991;73(10):1507–25.

Rathbun JB, Macnab I. The microvascular pattern of the rotator cuff. J Bone Joint Surg Br. 1970;52(3):540–53.

Moseley HF, Goldie I. The arterial pattern of the rotator cuff of the shoulder. J Bone Joint Surg. 1963;48:780.

Sakamoto K, Kozuki K. Calcific tendinitis at the biceps brachii insertion of a child: a case report. J Shoulder Elbow Surg. 2002;11(1):88–91.

Sher JS, Uribe JW, Posada A, Murphy BJ, Zlatkin MB. Abnormal findings on magnetic resonance images of asymptomatic shoulders. J Bone Joint Surg Am. 1995;77(1):10–5.

Jozsa L, Balint BJ, Reffy A. Calcifying tendinopathy. Arch Orthop Trauma Surg. 1980;97:305–7.

Kernwein GA. Roentgenographic diagnosis of shoulder dysfunction. JAMA. 1965;194(10):179–83.

Riley GP, Harrall RL, Constant CR, Cawston TE, Hazleman BL. Prevalence and possible pathological significance of calcium phosphate salt accumulation in tendon matrix degeneration. Ann Rheum Dis. 1996;55(2):109–15.

Magee T. 3-T MRI of the shoulder: is MR arthrography necessary? AJR Am J Roentgenol. 2009;192(1):86–92.
Acknowledgements
1. Memorial Hospital System in Houston.
2. We acknowledge the support provided by the Biostatistics/Epidemiology/Research Design (BERD) component of the Center for Clinical and Translational Sciences (CCTS) for this project. CCTS is mainly funded by a grant (UL1 TR000371) from the National Center for Advancing Translational Sciences (NCATS), awarded to the University of Texas Health Science Center at Houston. The content is solely the responsibility of the authors and does not necessarily represent the official views of the NCATS.
Ethics declarations
Conflicts of interest
The authors declare that they have no conflicts of interest.
About this article
Cite this article
Beckmann, N.M., Tran, M.Q. & Cai, C. Incidence of rotator cuff tears in the setting of calcific tendinopathy on MRI: a case controlled comparison. Skeletal Radiol 48, 245–250 (2019). https://doi.org/10.1007/s00256-018-3018-1
Received:

Revised:

Accepted:

Published:

Issue Date:

DOI: https://doi.org/10.1007/s00256-018-3018-1
Keywords