Abstract
Objective
To analyze full-thickness rotator cuff tears, compare retraction patterns in delaminated and nondelaminated tendons, and correlate retraction distances with anteroposterior tear lengths.
Materials and methods
In 483 MR examinations reported as showing full-thickness cuff tear, two musculoskeletal radiologists independently characterized tendons as delaminated or nondelaminated. Tendon delamination was defined as either horizontal intra-substance splitting of bursal and articular layers by an intervening plane of fluid, or differential retraction of bursal and articular layers. In a subset of 144 shoulders with surgically proven full-thickness cuff tears (45 delaminated, 99 nondelaminated tendons), matched cohorts (n = 45) were further analyzed to compare tendon retraction distance, anteroposterior tear length and retraction ratios (retraction distance/anteroposterior length).
Results
Delamination was present in 13% of 483 total tears, and 31% of 144 operated tears (p = 0.001). In nondelamination and delamination cohorts, mean anteroposterior tear length measured 30.0 and 31.5 mm respectively (p = 0.6). Although nondelaminated tendons showed mean retraction 31.5 mm, articular and bursal layers of delaminated tendons showed mean retractions 36.3 mm and 21 mm respectively (p < 0.0001). Anteroposterior tear length and retraction distance were significantly associated in all cuff tears (p < 0.0001). Retraction ratio for nondelaminated tendons (1.05) was significantly different from retraction ratios for articular (1.21) and bursal (0.70) layers of delaminated tendons (p < 0.0001).
Conclusion
In full-thickness rotator cuff tear, delaminated and nondelaminated tendons show significant differences in retraction distances, despite similarities in anteroposterior dimensions. Delaminated tendons are important to identify and report because they are more likely to fail conservative treatments and undergo operative repairs.
Access options
Buy single article
Instant access to the full article PDF.
USD 39.95
Price excludes VAT (USA)
Tax calculation will be finalised during checkout.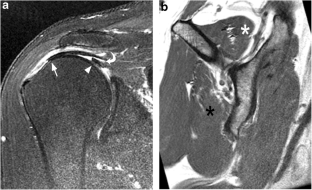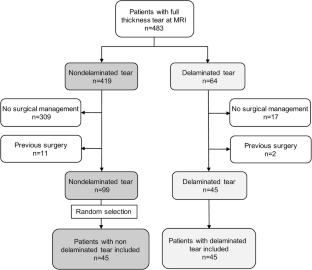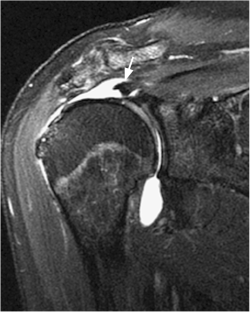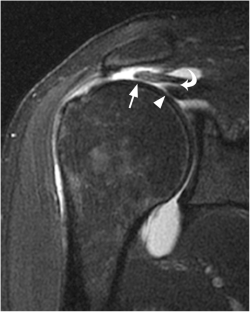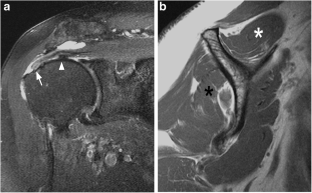 References
Clark JM, Harryman DT 2nd. Tendons, ligaments, and capsule of the rotator cuff. Gross and microscopic anatomy. J Bone Joint Surg Am. 1992;74(5):713–25.

Nakagaki K, Ozaki J, Tomita Y, Tamai S. Fatty degeneration in the supraspinatus muscle after rotator cuff tear. J Shoulder Elbow Surg. 1996;5(3):194–200.

Reilly P, Amis AA, Wallace AL, Emery RJ. Supraspinatus tears: propagation and strain alteration. J Shoulder Elbow Surg. 2003;12(2):134–8.

Boileau P, Brassart N, Watkinson DJ, Carles M, Hatzidakis AM, Krishnan SG. Arthroscopic repair of full-thickness tears of the supraspinatus: does the tendon really heal? J Bone Joint Surg Am. 2005;87(6):1229–40.

Flurin P-H, Landreau P, Gregory T, Boileau P, Lafosse L, Guillo S, et al. Cuff integrity after arthroscopic rotator cuff repair: correlation with clinical results in 576 cases. Arthroscopy. 2007;23(4):340–6.

MacDougal GA, Todhunter CR. Delamination tearing of the rotator cuff: prospective analysis of the influence of delamination tearing on the outcome of arthroscopically assisted mini open rotator cuff repair. J Shoulder Elbow Surg. 2010;19(7):1063–9.

Sonnabend DH, Watson EM. Structural factors affecting the outcome of rotator cuff repair. J Shoulder Elbow Surg. 2002;11(3):212–8.

Brockmeier SF, Dodson CC, Gamradt SC, Coleman SH, Altchek DW. Arthroscopic intratendinous repair of the delaminated partial-thickness rotator cuff tear in overhead athletes. Arthroscopy. 2008;24(8):961–5.

Sonnabend DH, Yu Y, Howlett CR, Harper GD, Walsh WR. Laminated tears of the human rotator cuff: a histologic and immunochemical study. J Shoulder Elbow Surg. 2001;10(2):109–15.

Adams CR, Schoolfield JD, Burkhart SS. Accuracy of preoperative magnetic resonance imaging in predicting a subscapularis tendon tear based on arthroscopy. Arthroscopy. 2010;26(11):1427–33.

Fuchs B, Weishaupt D, Zanetti M, Hodler J, Gerber C. Fatty degeneration of the muscles of the rotator cuff: assessment by computed tomography versus magnetic resonance imaging. J Shoulder Elbow Surg. 1999;8(6):599–605.

Gerber C, Schneeberger AG, Hoppeler H, Meyer DC. Correlation of atrophy and fatty infiltration on strength and integrity of rotator cuff repairs: a study in thirteen patients. J Shoulder Elbow Surg. 2007;16(6):691–6.

Kassarjian A, Bencardino JT, Palmer WE. MR imaging of the rotator cuff. Radiol Clin N Am. 2006;44(4):503–23.

Morag Y, Jacobson JA, Miller B, De Maeseneer M, Girish G, Jamadar D. MR imaging of rotator cuff injury: what the clinician needs to know. Radiographics. 2006;26(4):1045–65.

Yamaguchi K, Ditsios K, Middleton WD, Hildebolt CF, Galatz LM, Teefey SA. The demographic and morphological features of rotator cuff disease. A comparison of asymptomatic and symptomatic shoulders. J Bone Joint Surg Am. 2006;88(8):1699–704.

Walz DM, Miller TT, Chen S, Hofman J. MR imaging of delamination tears of the rotator cuff tendons. Skeletal Radiol. 2007;36(5):411–6.

Kassarjian A, Torriani M, Ouellette H, Palmer WE. Intramuscular rotator cuff cysts: association with tendon tears on MRI and arthroscopy. AJR Am J Roentgenol. 2005;185(1):160–5.

Lee SY, Lee JK. Horizontal component of partial-thickness tears of rotator cuff: imaging characteristics and comparison of ABER view with oblique coronal view at MR arthrography initial results. Radiology. 2002;224(2):470–6.

Sheah K, Bredella MA, Warner JJ, Halpern EF, Palmer WE. Transverse thickening along the articular surface of the rotator cuff consistent with the rotator cable: identification with MR arthrography and relevance in rotator cuff evaluation. AJR Am J Roentgenol. 2009;193(3):679–86.

Tirman PF, Bost FW, Steinbach LS, Mall JC, Peterfy CG, Sampson TG, et al. MR arthrographic depiction of tears of the rotator cuff: benefit of abduction and external rotation of the arm. Radiology. 1994;192(3):851–6.

Huang BK, Chang EY. Delaminating infraspinatus tendon tears with differential retraction: imaging features and surgical relevance. Skeletal Radiol. 2017;46(1):41–50.

Davidson J, Burkhart SS. The geometric classification of rotator cuff tears: a system linking tear pattern to treatment and prognosis. Arthroscopy. 2010;26(3):417–24.

Ellman H. Diagnosis and treatment of incomplete rotator cuff tears. Clin Orthop Relat Res. 1990;254:64–74.

Goutallier D, Postel JM, Bernageau J, Lavau L, Voisin MC. Fatty muscle degeneration in cuff ruptures. Pre- and postoperative evaluation by CT scan. Clin Orthop Relat Res. 1994;304:78–83.

Schisterman EF, Perkins NJ, Liu A, Bondell H. Optimal cut-point and its corresponding Youden index to discriminate individuals using pooled blood samples. Epidemiology. 2005;16(1):73–81.

Kim YJ, Choi J-A, Oh JH, Hwang SI, Hong SH, Kang HS. Superior labral anteroposterior tears: accuracy and interobserver reliability of multidetector CT arthrography for diagnosis. Radiology. 2011;260(1):207–15.

Gwak HC, Kim CW, Kim JH, Choo HJ, Sagong SY, Shin J. Delaminated rotator cuff tear: extension of delamination and cuff integrity after arthroscopic rotator cuff repair. J Shoulder Elbow Surg. 2015;24(5):719–26.

Matsuki K, Murate R, Ochiai N, Ogino S. Delamination observed in full-thickness rotator cuff tears. Katakansetsu. 2005;29:603–6.

Kandemir U, Allaire RB, Debski RE, Lee TQ, McMahon PJ. Quantification of rotator cuff tear geometry: the repair ratio as a guide for surgical repair in crescent and U-shaped tears. Arch Orthop Trauma Surg. 2010;130(3):369–73.

Fukuda H. Partial-thickness rotator cuff tears: a modern view on Codman's classic. J Shoulder Elbow Surg. 2000;9(2):163–8.

Reilly P, Amis AA, Wallace AL, Emery RJ. Mechanical factors in the initiation and propagation of tears of the rotator cuff. Quantification of strains of the supraspinatus tendon in vitro. J Bone Joint Surg Br. 2003;85(4):594–9.

Mochizuki T, Nimura A, Miyamoto T, Koga H, Akita K, Muneta T. Repair of rotator cuff tear with delamination: independent repairs of the infraspinatus and articular capsule. Arthrosc Tech. 2016;5(5):e1129–34.

Han Y, Shin JH, Seok CW, Lee CH, Kim SH. Is posterior delamination in arthroscopic rotator cuff repair hidden to the posterior viewing portal? Arthroscopy. 2013;29(11):1740–7.
Acknowledgements
We acknowledge the expert statistical assistance provided by Elkan F. Halpern, PhD.
Ethics declarations
Conflicts of interest
The authors declare that they have no conflicts of interest.
About this article
Cite this article
Bierry, G., Palmer, W.E. Patterns of tendon retraction in full-thickness rotator cuff tear: comparison of delaminated and nondelaminated tendons. Skeletal Radiol 48, 109–117 (2019). https://doi.org/10.1007/s00256-018-3013-6
Received:

Revised:

Accepted:

Published:

Issue Date:

DOI: https://doi.org/10.1007/s00256-018-3013-6
Keywords