Abstract
Although bicipitoradial bursitis is not commonly seen, when it does occur, it can frequently lead to diagnostic difficulty, mimicking either a soft-tissue tumor or infection. Lack of awareness of this uncommon entity can lead to unnecessary anxiety or tissue biopsy. This pictorial essay discusses the normal anatomy of the bicipitoradial bursa and the spectrum of imaging findings of bicipital bursitis.
This is a preview of subscription content, log in to check access.
Access options
Buy single article
Instant access to the full article PDF.
US$ 39.95
Tax calculation will be finalised during checkout.
Subscribe to journal
Immediate online access to all issues from 2019. Subscription will auto renew annually.
US$ 199
Tax calculation will be finalised during checkout.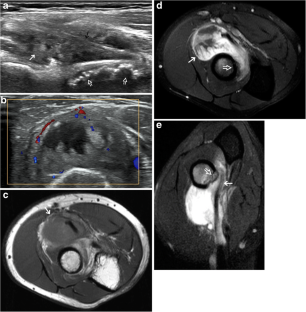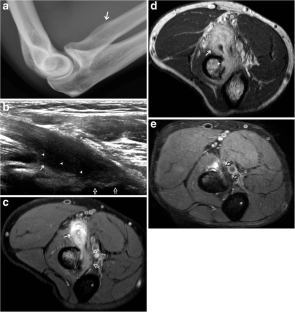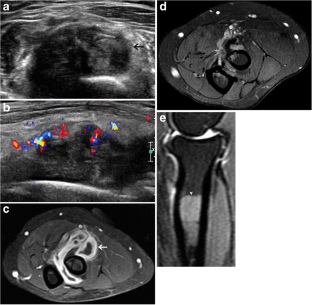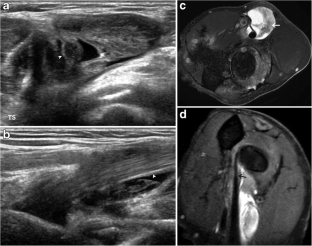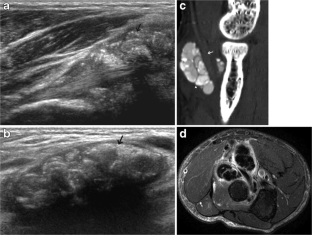 References
1.

Sofka CM, Adler RS. Sonography of cubital fossa. Am J Roentgenol. 2004;183(1):51–3.

2.

Espiga X, Alentorn-Geli E, Lozano C, Cebamanos J. Symptomatic bicipitoradial bursitis: a report of two cases and review of the literature. J Shoulder Elbow Surg. 2011;20(2):e5–9.

3.

Karanjia ND, Stiles PJ. Cubital bursitis. J Bone Joint Surg Br. 1988;70(5):832–3.

4.

Skaf A, Boutin R, Dantas R, Hooper A, Muhle C, Chou D, et al. Bicipitoradial bursitis: MR imaging findings in eight patients and anatomic data from contrast material opacification of bursae followed by routine radiography and MR imaging in cadavers. Radiology. 1999;212(1):111–6.

5.

Liessi G, Cesari S, Spaliviero B, Dell'Antonio C, Avventi P. The US, CT and MR findings of cubital bursitis: a report of five cases. Skeletal Radiol. 1996;25(5):471–5.

6.

Draghi F, Gregoli B, Sileo C. Sonography of the bicipitoradial bursa. J Ultrasound. 2012;15(1):39–41.

7.

Chew M, Giuffrè B. Disorders of the distal biceps brachii tendon. Radiographics. 2005;25(5):1227–37.

8.

Kegels L, Van Oyen J, Siemons W, Verdonk R. Bicipitoradial bursitis. A case report. Acta Orthop Belg. 2006;72:362–5.

9.

Vanhoenacker FM, De Beukeleer FM, De Schepper FM. Images in clinical radiology. Bicipitoradial bursitis. JBR-BTR. 2000;83:130.

10.

Wenzke D. MR imaging of the elbow in the injured athlete. Radiol Clin N Am. 2013;51(2):195–213.

11.

Nishida J, Furumachi K, Ehara S, Satoh T, Okada K, Shimamura T. Tuberculous bicipitoradial bursitis: a case report. Skeletal Radiol. 2006;36(5):445–8.

12.

Matsumoto K, Hukuda S, Fujita M, Kakimoto A, Tachibana S. Cubital bursitis caused by localized synovial chondromatosis of the elbow. A case report. J Bone Joint Surg. 1996;78(2):275–7.

13.

Martinoli C, Bianchi S, Giovagnorio F, Pugliese F. Ultrasound of the elbow. Skeletal Radiol. 2001;30(11):605–14.
Ethics declarations
Conflicts of interest
The authors declare that they have no conflicts of interests.
About this article
Cite this article
Yap, S.H., Griffith, J.F. & Lee, R.K.L. Imaging bicipitoradial bursitis: a pictorial essay. Skeletal Radiol 48, 5–10 (2019). https://doi.org/10.1007/s00256-018-2970-0
Received:

Revised:

Accepted:

Published:

Issue Date:
Keywords
Bicipitoradial

Bursitis

Imaging