Abstract
Metaphyseal chondromatosis with D-2-hydroxyglutaric aciduria (MC-HGA) (OMIM 614875) is a severe chondrodysplasia combined with a urinary excretion of D-2-hydroxyglutaric acid. Here, we reported the tenth case of this disease. A 15-year-old boy had symmetric radiolulencies in the metaphyses of the long bones suggesting enchondromatosis and platyspondyly. Remarkably, he manifested widespread cavernous hemangiomas including scalp, lips, tongue, larynx, and prepuce, with the onset of 3 years of age. Hemangiomas at the larynx had caused dyspnea and those in the oral cavity led to recurrent bleeding, requiring several surgical removals. These multiple and debilitating hemangiomas have never been previously reported in patients with MC-HGA. Mutation analyses including Sanger sequencing of genes involving in enchondromatosis and the metabolic pathway of D-2-hydroxyglutarate including PTHR1, D2HGDH, HOT, and IDH1, as well as whole-exome sequencing for proband-parent trio analysis and paired blood versus hemangioma studies showed no pathogenic variants. In summary, we reported the tenth patient with MC-HGA who manifested widespread and debilitating hemangiomas in several organs, expanding the clinical spectrum of MC-HGA.
This is a preview of subscription content, log in to check access.
Access options
Buy single article
Instant access to the full article PDF.
US$ 39.95
Price includes VAT for USA
Subscribe to journal
Immediate online access to all issues from 2019. Subscription will auto renew annually.
US$ 199
This is the net price. Taxes to be calculated in checkout.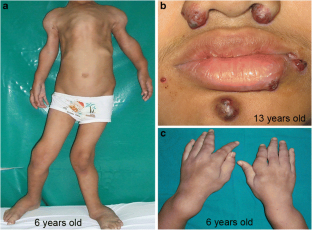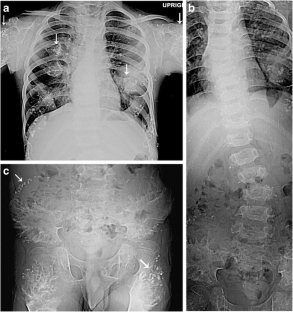 References
1.

Vissers LE, Fano V, Martinelli D, Campos-Xavier B, Barbuti D, Cho TJ, et al. Whole-exome sequencing detects somatic mutations of IDH1 in metaphyseal chondromatosis with D-2-hydroxyglutaric aciduria (MC-HGA). Am J Med Genet A. 2011;155A(11):2609–16.

2.

Bayar A, Acun C, Dursun A, Verhoeven N, Bonafe L, Keser S, et al. Metaphyseal enchondrodysplasia with 2-hydroxy-glutaric aciduria: observation of a third case and further delineation. Clin Dysmorphol. 2005;14(1):7–11.

3.

Choo HJ, Cho TJ, Song J, Tiller GE, Lee SH, Park G, et al. Metaphyseal chondromatosis combined with D-2-hydroxyglutaric aciduria in four patients. Skelet Radiol. 2012;41(11):1479–87.

4.

Honey EM, van Rensburg M, Knoll DP, Mienie LJ, van de Werke I, Beighton P. Spondyloenchondromatosis with D-2-hydroxyglutaric aciduria: a report of a second patient with this unusual combination. Clin Dysmorphol. 2003;12(2):95–9.

5.

Talkhani IS, Saklatvala J, Dwyer J. D-2-hydroxyglutaric aciduria in association with spondyloenchondromatosis. Skelet Radiol. 2000;29(5):289–92.

6.

Pansuriya TC, Kroon HM, Bovee JV. Enchondromatosis: insights on the different subtypes. Int J Clin Exp Pathol. 2010;3(6):557–69.

7.

Kardon T, Noel G, Vertommen D, Schaftingen EV. Identification of the gene encoding hydroxyacid-oxoacid transhydrogenase, an enzyme that metabolizes 4-hydroxybutyrate. FEBS Lett. 2006;580(9):2347–50.

8.

Heberle H, Meirelles GV, da Silva FR, Telles GP, Minghim R. InteractiVenn: a web-based tool for the analysis of sets through Venn diagrams. BMC Bioinforma. 2015;16:169.

9.

Hopyan S, Gokgoz N, Poon R, Gensure RC, Yu C, Cole WG, et al. A mutant PTH/PTHrP type I receptor in enchondromatosis. Nat Genet. 2002;30(3):306–10.

10.

Struys EA, Salomons GS, Achouri Y, Van Schaftingen E, Grosso S, Craigen WJ, et al. Mutations in the D-2-hydroxyglutarate dehydrogenase gene cause D-2-hydroxyglutaric aciduria. Am J Hum Genet. 2005;76(2):358–60.
Acknowledgements
We are grateful to Professor Dr. Cornelis Jakobs from the VU University Medical Center, Amsterdam, The Netherlands, for the D-2-HGA analyses. This study was supported by Royal Golden Jubilee Advanced Program under Grant No. RAP59K0008, Thailand Research Fund (DPG6180001) and the Chulalongkorn Academic Advancement into Its 2nd Century Project.
Ethics declarations
Conflict of interest
The authors declare that they have no conflicts of interest.
About this article
Cite this article
Yeetong, P., Phewplung, T., Kamolvisit, W. et al. Widespread and debilitating hemangiomas in a patient with enchondromatosis and D-2-hydroxyglutaric aciduria. Skeletal Radiol 47, 1577–1582 (2018). https://doi.org/10.1007/s00256-018-2963-z
Received:

Revised:

Accepted:

Published:

Issue Date:
Keywords
Metaphyseal chondromatosis

D-2-Hydroxyglutaric aciduria