Abstract
Gout is a common inflammatory crystal deposition disease that occurs in many joints throughout the body. Active gout is most often associated with painful synovitis causing searing joint pains, but gout can also produce large masses of space-occupying deposits called tophi. Tophi are most frequently seen in juxta-articular locations with or without bony erosion and are often misdiagnosed as degenerative joint disease. Soft tissue deposits and tendon involvement are also known manifestations of gout, but can present with indeterminate and alarming findings on imaging. We present three cases of tophaceous gout mimicking aggressive neoplasms in the extensor mechanism of the knee. All cases presented as extensor tendon masses eroding into the patella, with imaging findings initially concerning for primary musculoskeletal malignancy.
Access options
Buy single article
Instant access to the full article PDF.
US$ 39.95
Tax calculation will be finalised during checkout.
Subscribe to journal
Immediate online access to all issues from 2019. Subscription will auto renew annually.
US$ 119
Tax calculation will be finalised during checkout.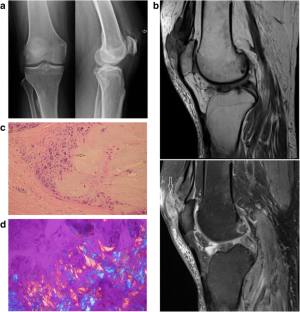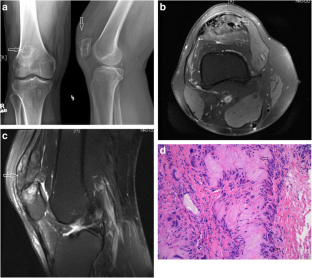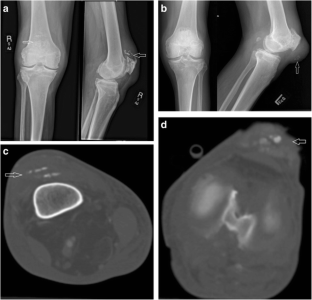 References
1.

Aboulafia, A., MD, Prickett, B., BS, & Giltman, L., MD. (1999). Displaced pathological patellar fracture due to gout. Orthopedics, 22(5), 543-545.

2.

Jabour P, Masrouha K, Gailey M. Masses in the extensor mechanism of the knee. Lebanese Med J. 2013;61(3):183–6.

3.

Upadhyay N. The radiographic and MRI features of gout referred as suspected soft tissue sarcoma: a review of the literature and findings from 27 cases. Skelet Radiol. 2015;44:467–76.

4.

Chen C, Yeh L, Pan H. Intra-articular gouty top of the knee: CT and MR imaging in 12 patients. Skelet Radiol. 1999;28:75–80.

5.

Konatalapalli, RM, Lumezanu, E., Jelinek, JJ., Murphey, MD., et.al (2012). Correlates of axial gout: a cross-sectional study. J Rheumatol, 39(7), 1445-1449.

6.

Girish G, Glazebrook KN, Jacobson JA. Advanced imaging in gout. Am J Roentgenol. 2013;201:515–25.

7.

Omoumi P, Zufferey P, Maljhem J. Imaging in gout and other crystal-related arthropathies. Rheum Dis Clin N Am. 2016;42(4):621–44. https://doi.org/10.1016/j.rdc.2016.07.005.

8.

Schlesinger N, Baker DG, Schumacher HR Jr. Serum urate during bouts of acute gouty arthritis. J Rheumatol 1997; 24:2265-2266.

9.

Ogdie A, Taylor WJ, Weatherall M, et.al. Imaging modalities for the classification of gout: systematic literature review and meta-analysis. Ann Rheum Dis 2015; 74:1868-1874.

10.

Bongartz T, Glazebrook KN, Kavro SJ, et.al. Dual-energy CT for the diagnosis of gout: an accuracy and diagnostic yield study. Ann Rheum Dis 2015; 74: 1072-1077.

11.

Choi HK, Burns LC, Shojania K. Et.Al. Dual energy CT in gout: a prospective validation study. Ann Rheum Dis. 2012;71:1466–71.

12.

Chou H, Chin TY, Peh WCG, Dual-energy GT. In gout—a review of current concepts and applications. J Med Radiat Sci. 2017;64(1):41–51.
Ethics declarations
Conflicts of interest
The authors declare that they have no relevant conflicts of interest to disclose.
About this article
Cite this article
Kester, C., Wallace, M.T., Jelinek, J. et al. Gouty involvement of the patella and extensor mechanism of the knee mimicking aggressive neoplasm. A case series. Skeletal Radiol 47, 865–869 (2018). https://doi.org/10.1007/s00256-017-2871-7
Received:

Revised:

Accepted:

Published:

Issue Date:
Keywords