Abstract
Objectives
Calcification of the medial collateral ligament (MCL) of the knee is rare. The literature reports no positive outcomes when conservative treatment has been followed. This paper reports a case of such calcification and its treatment using ultrasound-guided percutaneous lavage (UGPL).
Methods
A 66-year-old patient presented with medial knee pain. X-ray, ultrasound, and magnetic resonance (MR) examinations revealed calcific bursitis of the MCL, which was treated by UGPL.
Results
One month after treatment the patient was asymptomatic. X-ray, ultrasound, and MR examinations confirmed the almost complete disappearance of the calcification; only very tiny fragments remained.
Conclusions
Calcific bursitis of the MCL of the knee is very uncommon, but should be taken into account in differential diagnoses for medial knee pain. UGPL is proposed as a treatment for this condition.
Access options
Buy single article
Instant access to the full article PDF.
US$ 39.95
Tax calculation will be finalised during checkout.
Subscribe to journal
Immediate online access to all issues from 2019. Subscription will auto renew annually.
US$ 119
Tax calculation will be finalised during checkout.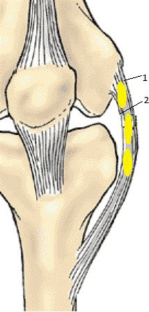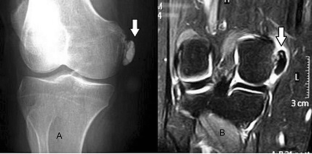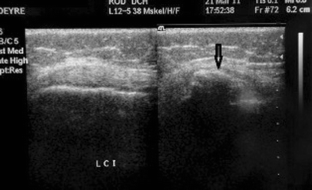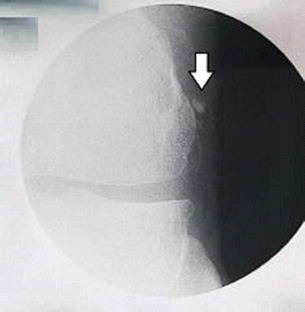 References
1.

Johar SK. Medial knee pain in a runner: a case report. Sports Health. 2010;2(4):318–20.

2.

Saavedra MA, Navarro-Zarza JE, Villasenor-Ovies P, Canoso JJ, Vargas A, Chiapas-Gasca K, et al. Clinical anatomy of the knee. Reumatol Clin. 2012;8 Suppl 2:39–45.

3.

Perdikakis E, Skiadas V. MRI characteristics of cysts and "cyst-like" lesions in and around the knee: what the radiologist needs to know. Insights Imag. 2013;4(3):257–72.

4.

Brantigan OC, Voshell AF. The tibial collateral ligament: its function, its bursae, and its relation to the medial meniscus. J Bone Joint Surg Am. 1943;25:121–31.

5.

Kerlan RK, Glousman RE. Tibial collateral ligament bursitis. Am J Sports Med. 1988;16(4):344–6.

6.

Lee JK, Yao L. Tibial collateral ligament bursa: MR imaging. Radiology. 1991;178(3):855–7.

7.

De Maeseneer M, Shahabpour M, Van Roy F, Goossens A, De Ridder F, Clarijs J, et al. MR imaging of the medial collateral ligament bursa: findings in patients and anatomic data derived from cadavers. AJR Am J Roentgenol. 2001;177(4):911–7.

8.

Stuttle FL. The no-name and no-fame bursa. Clin Orthop. 1959;15:197–9.

9.

Siegal DS, Wu JS, Newman JS, Del Cura JL, Hochman MG. Calcific tendinitis: a pictorial review. Can Assoc Radiol J. 2009;60(5):263–72.

10.

Hayes CW, Rosenthal DI, Plata MJ, Hudson TM. Calcific tendinitis in unusual sites associated with cortical bone erosion. AJR Am J Roentgenol. 1987;149(5):967–70.

11.

Muschol M, Muller I, Petersen W, Hassenpflug J. Symptomatic calcification of the medial collateral ligament of the knee joint: a report about five cases. Knee Surg Sports Traumatol Arthrosc. 2005;13(7):598–602.

12.

Del Castillo-González F, Ramos-Álvarez J, Rodríguez-Fabian G, González-Pérez J, Calderón-Montero F. Treatment of calcifying tendinopathy of the rotator cuff by ultrasound-guided percutaneous needle lavage. two years prospective study. Muscles, Ligaments Tendons J. 2014;4(2):220–5.

13.

Oliva F, Via AG, Maffulli N. Calcific tendinopathy of the rotator cuff tendons. Sports Med Arthrosc. 2011;19(3):237–43.

14.

Williams BS, Cohen SP. Greater trochanteric pain syndrome: a review of anatomy, diagnosis and treatment. Anesth Analg. 2009;108(5):1662–70.

15.

Keskin D. Fibular collateral ligament-biceps femoris calcific bursitis causing flexion contracture in the knee, external rotation in the leg, and equinus deformity in the ankle. J Manipulative Physiol Ther. 2008;31(3):247–50.

16.

Lanza E, Banfi G, Serafini G, Lacelli F, Orlandi D, Bandirali M, et al. Ultrasound-guided percutaneous irrigation in rotator cuff calcific tendinopathy: what is the evidence? a systematic review with proposals for future reporting. Eur Radiol. 2015;25(7):2176–83.

17.

Uhthoff H, Sarkar K, Maynard J. Calcifying tendinitis. Clin Orthop. 1976;118:164–8.

18.

Mendes LFA, Pretterklieber ML, Cho JH, García GM, Resnick DL, Chung CB. Pellegrini–Stieda disease: a heterogeneous disorder not synonymous with ossification/calcification of the tibial collateral ligament-anatomic and imaging investigation. Skeletal Radiol. 2006;35:916–22.

19.

Eustace JA, Brophy DP, Gibney RP, Bresnihan B, FitzGerald O. Comparison of the accuracy of steroid placement with clinical outcome in patients with shoulder symptoms. Ann Rheum Dis. 1997;56(1):59–63.

20.

Jose J, Schallert E, Lesniak B. Sonographically guided therapeutic injection for primary medial (tibial) collateral bursitis. J Ultrasound Med. 2011;30(2):257–61.
Ethics declarations
Informed consent
Informed consent was obtained from the participating patient. This article does not contain patient data.
Ethical approval
The procedure was performed in accordance with the ethical standards of the Universidad Complutense de Madrid, and in agreement with the Helsinki Declaration.
Conflict of interest
The authors declare that they have no conflict of interest.
About this article
Cite this article
Del Castillo-González, F., Ramos-Álvarez, J.J., González-Pérez, J. et al. Ultrasound-guided percutaneous lavage of calcific bursitis of the medial collateral ligament of the knee: a case report and review of the literature. Skeletal Radiol 45, 1419–1423 (2016). https://doi.org/10.1007/s00256-016-2442-3
Received:

Revised:

Accepted:

Published:

Issue Date:
Keywords
Calcific bursitis

Medial collateral ligament

Ultrasound

Percutaneous lavage