Abstract
Ischiofemoral impingement syndrome (IFI) is an underrecognized form of atypical, extra-articular hip impingement defined by hip pain related to narrowing of the space between the ischial tuberosity and the femur. The etiology of IFI is multifactorial and potential sources of ischiofemoral engagement include anatomic variants of the proximal femur or pelvis, functional disorders as hip instability, pelvic/spinal instability, or abductor/adductor imbalance, ischial tuberosity enthesopathies, trauma/overuse or extreme hip motion, iatrogenic conditions, tumors and other pathologies. Magnetic resonance imaging (MRI) is the diagnostic procedure of choice for assessing IFI and may substantially influence patient management. The injection test of the ischiofemoral space (IFS) has both a diagnostic and therapeutic function. Endoscopic decompression of the IFS appears useful in improving function and diminishing hip pain in patients with IFI but conservative treatment is always the first step in the treatment algorithm. Because of the ever-increasing use of advanced MRI techniques, the frequent response to conservative treatment, and the excellent outcomes of new endoscopic treatment, radiologists must be aware of factors that predispose or cause IFI. In addition, focused treatment in these conditions is often more important than in secondary impingement. In this article, we briefly describe the anatomy of the IFS, review the clinical examination and symptoms, assess the diagnostic imaging criteria and pathophysiological mechanisms, and develop an understandable classification of IFI, with particular focus on its etiology, predisposing factors, and associated musculoskeletal abnormalities. We also assess the role of the radiologist in the diagnosis, treatment, and preoperative evaluation of both primary and secondary IFI.
This is a preview of subscription content, log in to check access.
Access options
Buy single article
Instant access to the full article PDF.
US$ 39.95
Price includes VAT for USA
Subscribe to journal
Immediate online access to all issues from 2019. Subscription will auto renew annually.
US$ 199
This is the net price. Taxes to be calculated in checkout.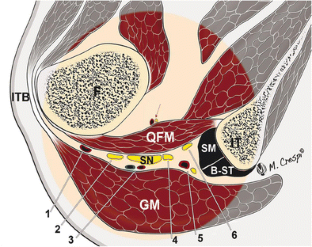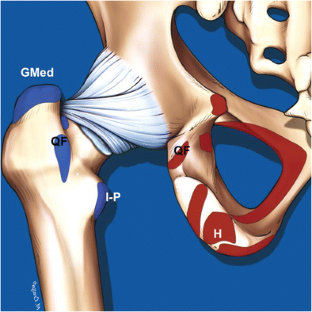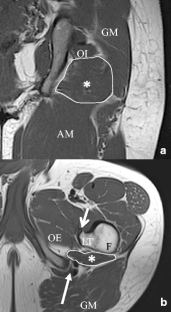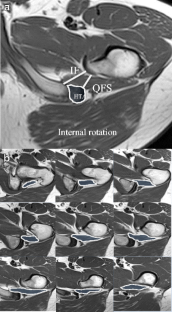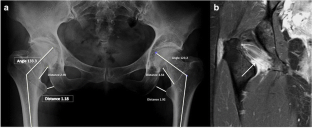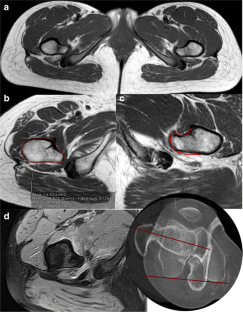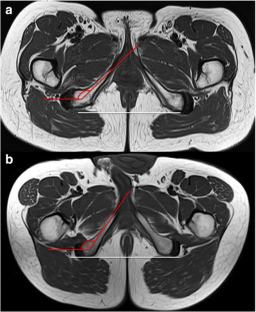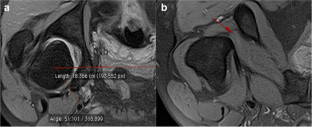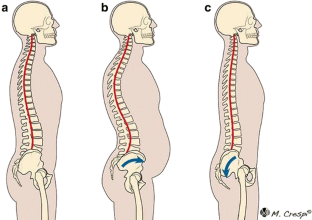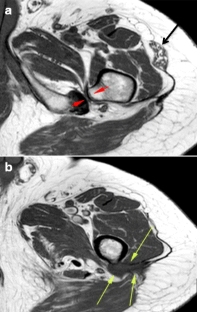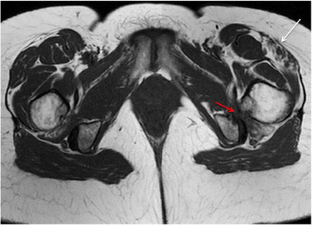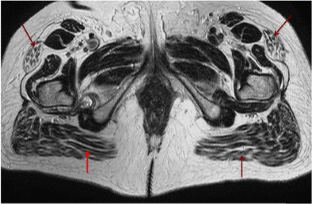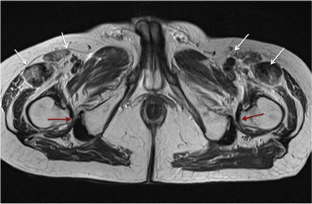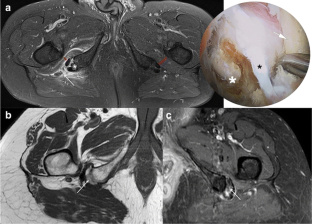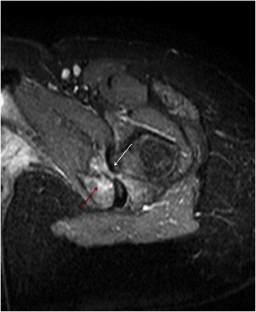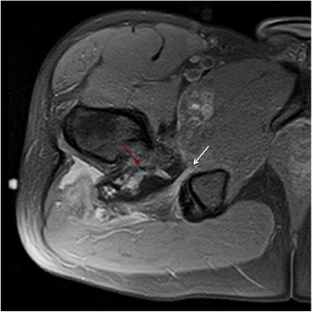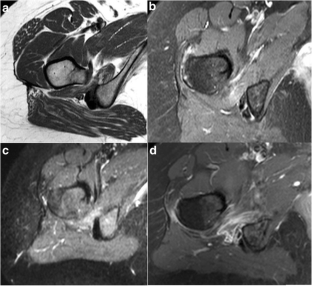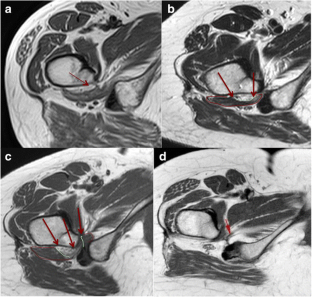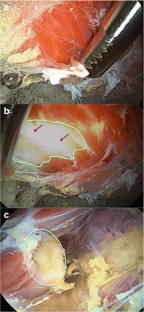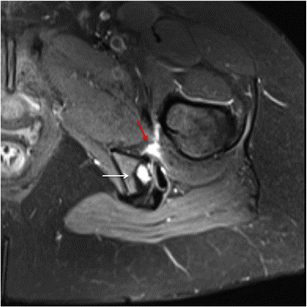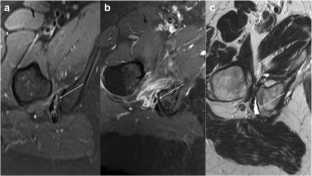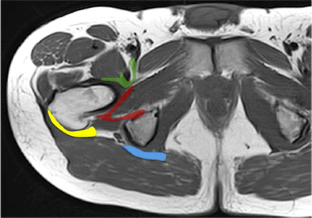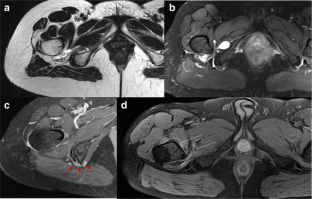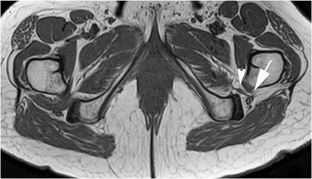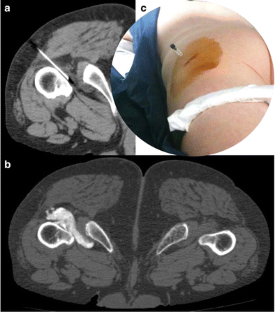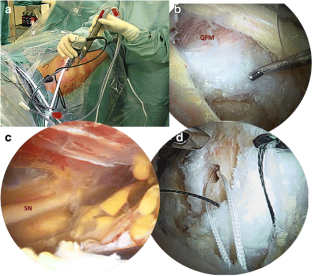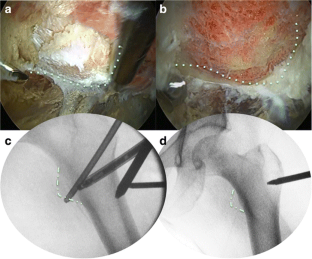 References
1.

Wilson JJ, Furukawa M. Evaluation of the patient with hip pain. Am Fam Physician. 2014;89(1):27–34.

2.

Tosun O, Algin O, Yalcin N, Cay N, Ocakoglu G, Karaoglanoglu M. Ischiofemoral impingement: evaluation with new MRI parameters and assessment of their reliability. Skelet Radiol. 2012;41(5):575–87.

3.

Sutter R, Pfirrmann CW. Atypical hip impingement. AJR Am J Roentgenol. 2013;201(3):437–42.

4.

Ali AM, Teh J, Whitwell D, Ostlere S. Ischiofemoral impingement: a retrospective analysis of cases in a specialist orthopaedic centre over a four-year period. Hip Int. 2013;23(3):263–8.

5.

López-Sánchez MC, Armesto Pérez V, Montero Furelos LÁ, Vázquez-Rodríguez TR, Calvo Arrojo G, Díaz Román TM. Ischiofemoral impingement: hip pain of infrequent cause. Reumatol Clin. 2013;9(3):186–7.

6.

Torriani M, Souto SC, Thomas BJ, Ouellette H, Bredella MA. Ischiofemoral impingement syndrome: an entity with hip pain and abnormalities of the quadratus femoris muscle. AJR Am J Roentgenol. 2009;193(1):186–90.

7.

Kassarjian A, Tomas X, Cerezal L, Canga A, Llopis E. MRI of the quadratus femoris muscle: anatomic considerations and pathologic lesions. AJR Am J Roentgenol. 2011;197(1):170–4.

8.

Aung HH, Sakamoto H, Akita K, Sato T. Anatomical study of the obturator internus, gemelli and quadratus femoris muscles with special reference to their innervation. Anat Rec. 2001;263(1):41–52.

9.

Honma S, Jun Y, Horiguchi M. The human gemelli muscles and their nerve supplies. Kaibogaku Zasshi. 1998;73(4):329–35.

10.

Wilson JT. Abnormal distribution of the nerve to the quadratus femoris in man, with remarks on its significance. J Anat Physiol. 1889;23(Pt 3):354–7.

11.

Beltran L, Ghazikhanian V, Padron M, Beltran J. The proximal hamstring muscle-tendon-bone unit: a review of the normal anatomy, biomechanics, and pathophysiology. Eur J Radiol. 2012;81(12):3772–9.

12.

Hernando MF, Cerezal L, Pérez-Carro L, Abascal F, Canga A. Deep gluteal syndrome: anatomy, imaging, and management of sciatic nerve entrapments in the subgluteal space. Skelet Radiol. 2015;44(7):919–34.

13.

Hatem MA, Palmer IJ, Martin HD. Diagnosis and 2-year outcomes of endoscopic treatment for ischiofemoral impingement. Arthroscopy. 2015;31(2):239–46.

14.

Stafford GH, Villar RN. Ischiofemoral impingement. J Bone Joint Surg (Br). 2011;93(10):1300–2.

15.

Taneja AK, Bredella MA, Torriani M. Ischiofemoral impingement. Magn Reson Imaging Clin N Am. 2013;21(1):65–73.

16.

Hayat Z, Konan S, Pollock R. Ischiofemoral impingement resulting from a chronic avulsion injury of the hamstrings. BMJ Case Rep. 2014 . pii: bcr2014204017.

17.

Guillin R, Marchand AJ, Roux A, Niederberger E, Duvauferrier R. Imaging of snapping phenomena. Br J Radiol. 2012;85(1018):1343–53.

18.

Tosun Ö, Çay N, Bozkurt M, Arslan H. Ischiofemoral impingement in an 11-year-old girl. Diagn Interv Radiol. 2012;18(6):571–3.

19.

Ali AM, Whitwell D, Ostlere SJ. Case report: Imaging and surgical treatment of a snapping hip due to ischiofemoral impingement. Skelet Radiol. 2011;40:653–6.

20.

Martin HD, Shears SA, Johnson JC, Smathers AM, Palmer IJ. The endoscopic treatment of sciatic nerve entrapment/deep gluteal syndrome. Arthroscopy. 2011;27:172–81.

21.

Maraş Özdemir Z, Aydıngöz Ü, Görmeli CA, Sağır Kahraman A. Ischiofemoral space on MRI in an asymptomatic population: normative width measurements and soft tissue signal variations. Eur Radiol. 2015;25(8):2246–53.

22.

Sproul RC, Reynolds HM, Lotz JC, Ries MD. Relationship between femoral head size and distance to lesser trochanter. Clin Orthop Relat Res. 2007;461:122–4.

23.

Johnson KA. Impingement of the lesser trochanter on the ischial ramus after total hip arthroplasty. Report of three cases. J Bone Joint Surg Am. 1977;59:268–9.

24.

Kassarjian A. Signal abnormalities in the quadratus femoris muscle: tear or impingement? AJR Am J Roentgenol. 2008;190(6):W379. author reply W380-1.

25.

Finnoff JT, Bond JR, Collins MS, Sellon JL, Hollman JH, Wempe MK, Smith J. Variability of the Ischiofemoral Space relative to Femur Position: An Ultrasound Study. PM R. 2015 Mar 12. doi:10.1016/j.pmrj.2015.03.010.

26.

Tennant S, Kinmont C, Lamb G, Gedroyc W, Hunt DM. The use of dynamic interventional MRI in developmental dysplasia of the hip. J Bone Joint Surg (Br). 1999;81(3):392–7.

27.

Singer A, Clifford P, Tresley J, Jose J, Subhawong T. Ischiofemoral impingement and the utility of full-range-of-motion magnetic resonance imaging in its detection. Am J Orthop (Belle Mead NJ). 2014;43(12):548–51.

28.

Blankenbaker DG, Tuite MJ. Non-femoroacetabular impingement. Semin Musculoskelet Radiol. 2013;17(3):279–85.

29.

Subhash Gujar, Sanjay Vikani, Jigna Parmar, K V Bondre. A correlation between femoral neck shaft angle to femoral neck length. Int J Biomed Adv Res ISSN: 2229–3809 (Online).

30.

Bredella MA, Azevedo DC, Oliveira AL, Simeone FJ, Chang CY, Stubbs AJ, et al. Pelvic morphology in ischiofemoral impingement. Skelet Radiol. 2015;44(2):249–53.

31.

Stevens PM, Coleman SS. Coxa breva: its pathogenesis and a rationale for its management. J Pediatr Orthop. 1985;5(5):515–21.

32.

Sussman WI, Han E, Schuenke MD. Quantitative assessment of the ischiofemoral space and evidence of degenerative changes in the quadratus femoris muscle. Surg Radiol Anat. 2013;35:273–81.

33.

Delaunay S, Dussault RG, Kaplan PA, Alford BA. Radiographic measurements of dysplastic adult hips. Skelet Radiol. 1997;26(2):75–81.

34.

Tomás A, Domínguez R, Veras M, Roche S, Merino X, Pineda U. Ischiofemoral impingement: spectrum of findings. European Congress of Radiology, 2013/C-1005. Scientific exhibit. doi: 10.1594/ecr2013/C-1005.

35.

De Sa D, Alradwan H, Cargnelli S, Thawer Z, Simunovic N, Cadet E, et al. Extra-articular hip impingement: a systematic review examining operative treatment of psoas, subspine, ischiofemoral, and greater trochanteric/pelvic impingement. Arthroscopy. 2014;30(8):1026–41.

36.

Tsatalas T, Giakas G, Spyropoulos G. The effects of muscle damage on walking biomechanics are speed-dependent. Eur J Appl Physiol. 2010;110(5):977–88.

37.

Vital JM, García Suárez A, Sauri Barraza JC, Soderlund C. Sagittal balance in spine disorders. Rev Ortop Traumatol. 2006;50:447–53.

38.

Miokovic T, Armbrecht G, Felsenberg D, Belavy DL. Differential atrophy of the postero-lateral hip musculature during prolonged bedrest and the influence of exercise countermeasures. J Appl Physiol. 2011;110(4):926–34.

39.

Chen CK, Yeh L, Chang WN, Pan HB, Yang CF. MRI diagnosis of contracture of the gluteus maximus muscle. AJR Am J Roentgenol. 2006;187(2):W169–74.

40.

Ni B, Li M. The effect of children's gluteal muscle contracture on skeleton development. Sichuan Da Xue Xue Bao Yi Xue Ban. 2007;38(4):657–9. 677.

41.

Singer AD, Subhawong TK, Jose J, Tresley J, Clifford PD. Ischiofemoral impingement syndrome: a meta-analysis. Skelet Radiol. 2015;44(6):831–7.

42.

Viala P, Vanel D, Larbi A, Cyteval C, Laredo JD. Bilateral ischiofemoral impingement in a patient with hereditary multiple exostoses. Skelet Radiol. 2012;41(12):1637–40.

43.

Mehta M, White LM, Knapp T, Kandel RA, Wunder JS, Bell RS. MR imaging of symptomatic osteochondromas with pathological correlation. Skelet Radiol. 1998;27(8):427–33.

44.

Uri DS, Dalinka MK, Kneeland JB. Muscle impingement: MR imaging of a painful complication of osteochondromas. Skelet Radiol. 1996;25(7):689–92.

45.

Patti JW, Ouellette H, Bredella MA, Torriani M. Impingement of lesser trochanter on ischium as a potential cause for hip pain. Skelet Radiol. 2008;37:939–41.

46.

Backer MW, Lee KS, Blankenbaker DG, Kijowski R, Keene JS. Correlation of ultrasound-guided corticosteroid injection of the quadratus femoris with MRI findings of ischiofemoral impingement. AJR Am J Roentgenol. 2014;203(3):589–93.

47.

Kim WJ, Shin HY, Koo GH, Park HG, Ha YC, Park YH. Ultrasound-guided Prolotherapy with Polydeoxyribonucleotide Sodium in Ischiofemoral Impingement Syndrome. Pain Pract. 2014;14(7):649–55.

48.

Truong WH, Murnaghan ML, Hopyan S, Kelly S. Ischioplasty for ischiofemoral impingement, a case report. JBJS Connect. 2012;26:e51.

49.

Monahan E, Shimada K. Verifying the effectiveness of a computer-aided navigation system for arthroscopic hip surgery. Westwood JD, Haluck RS, Hoffman HM, et al. Medicine meets virtual reality 16–parallel, combinatorial, convergent: Nextmed by design. Stud Health Technol Informl. 2008;132:302–7.

50.

Lee S, Kim I, Lee SM, Lee J. Ischiofemoral impingement syndrome. Ann Rehabil Med. 2013;37(1):143–6.

51.

Ata AM, Yavuz H, Kaymak B, Ozcan HN, Ergen B, Ozçakar L. Ischiofemoral impingement revisited: what physiatrists need to know in short. Am J Phys Med Rehabil. 2014;93(12):1104.

52.

Cho KH, Lee SM, Lee YH, Suh KJ, Kim SM, Shin MJ, et al. Non-infectious ischiogluteal bursitis: MRI findings. Korean J Radiol. 2004;5(4):280–6.

53.

Robinson P, White LM, Agur A, Wunder J, Bell RS. Obturator externus bursa: anatomic origin and MR imaging features of pathologic involvement. Radiology. 2003;228(1):230–4.

54.

Stibbe EP. Complete absence of the quadratus femoris. Anatomical notes. J Anat. 1929;64(Pt 1):97.

55.

O'Brien SD, Bui-Mansfield LT. MRI of quadratus femoris muscle tear: another cause of hip pain. AJR Am J Roentgenol. 2007;189(5):1185–9.

56.

Jr Klinkert P, Porte RJ, de Rooij TP, de Vries AC. Quadratus femoris tendinitis as a cause of groin pain. Br J Sports Med. 1997;31(4):348–9.

57.

Lewis PB, Ruby D, Bush-Joseph CA. Muscle soreness and delayed-onset muscle soreness. Clin Sports Med. 2012;31(2):255–62.

58.

Yulia Volokhina, DO, and David Dang, MD. Using proximal hamstring tendons as a landmark for ultrasound- and CT-guided injections of ischiofemoral impingement. Radiol Case Rep. 2013; 8(1).

59.

Safran M, Ryu J. Ischiofemoral impingement of the hip: a novel approach to treatment. Knee Surg Sports Traumatol Arthrosc. 2014;22(4):781–5.

60.

Howse EA, Mannava S, Tamam C, Martin HD, Bredella MA, Stubbs AJ. Ischiofemoral space decompression through posterolateral approach: cutting block technique. Arthrosc Technol. 2014;3(6):661–5.

61.

Crock HV. Anatomy of the medial femoral circumflex artery and its surgical implications. J Bone Joint Surg (Br). 2001;83(1):149–50.

62.

Chung SM. The arterial supply of the developing proximal end of the human femur. J Bone Joint Surg Am. 1976;58(7):961–70.

63.

De Sa D, Alradwan H, Cargnelli S. Extra-articular hip impingement: a systematic review examining operative treatment of psoas, subspine, ischiofemoral, and greater trochanteric/pelvic impingement. Arthroscopy. 2014;30(8):1026–41.

64.

Miller SL, Webb GR. The proximal origin of the hamstrings and surrounding anatomy encountered during repair. Surgical technique. J Bone Joint Surg Am. 2008;90(Suppl 2 Pt 1):108–16.
Ethics declarations
Conflict of interest
The authors declare that they have no conflicts of interest.
Human and animal rights and informed consent
All procedures performed in studies involving human participants were in accordance with the ethical standards of the institutional and/or national research committee and with the 1964 Helsinki Declaration and its later amendments or comparable ethical standards.
Informed consent was obtained from all individual participants included in the study.
Funding
All authors have no financial relationships to disclose.
Electronic supplementary material
Ultrasound (US) video shows a normal ultrasound study in this 65-year-old man found to have impingement changes on MRI. Note the impact of the ischial tuberosity (located on the left hand side of the image) and the lesser trochanter (located on the right) with the consequent entrapment of the QFM, which comes between them. Also note the posterior excursion of the sciatic nerve when the lesser trochanter approaches the ischial tuberosity. (MP4 6634 kb)
4D-high-resolution multidetector CT video. Specific software generated this model of dynamization and preoperative templating of extra-articular impingement. (MP4 1857 kb)
About this article
Cite this article
Hernando, M.F., Cerezal, L., Pérez-Carro, L. et al. Evaluation and management of ischiofemoral impingement: a pathophysiologic, radiologic, and therapeutic approach to a complex diagnosis. Skeletal Radiol 45, 771–787 (2016). https://doi.org/10.1007/s00256-016-2354-2
Received:

Revised:

Accepted:

Published:

Issue Date:
Keywords
Ischiofemoral impingement

Impingement

Deep gluteal syndrome

Quadratus femoris muscle

External rotators

Sciatic nerve

Sciatic neuritis

Piriformis syndrome

Hip. Hip pain

Injection test