Abstract
The influenza vaccine is increasingly available to the general public and mandated by many employers in the United States. The prevalence of post-vaccination complications is likely on the rise. Complications are well known to general clinicians, but are under-reported in the imaging literature. We present four cases of post-vaccination shoulder pain with magnetic resonance imaging (MRI) findings. An intrasubstance fluid-like signal in deep muscular and/or tendinous structures was the most common finding on MRI of these four cases. Focal bone marrow signal within the humeral head and inflammatory changes in the subacromial/subdeltoid bursa were also observed. The most likely reason for a humeral intraosseous edema-like signal was presumed injection of vaccine substance directly into osseous structures that might lead to focal osteitis. In the published literature, there is little emphasis on the imaging of local injection site complications accompanying influenza vaccination. We intended to increase familiarity of MRI findings in the setting of prolonged or severe clinical symptoms following influenza vaccination through the imaging findings of these four cases.
This is a preview of subscription content, log in to check access.
Access options
Buy single article
Instant access to the full article PDF.
US$ 39.95
Price includes VAT for USA
Subscribe to journal
Immediate online access to all issues from 2019. Subscription will auto renew annually.
US$ 199
This is the net price. Taxes to be calculated in checkout.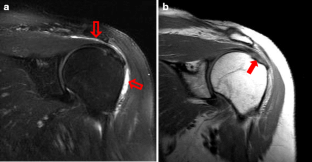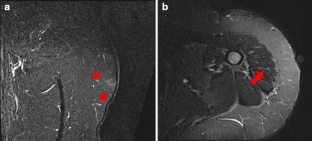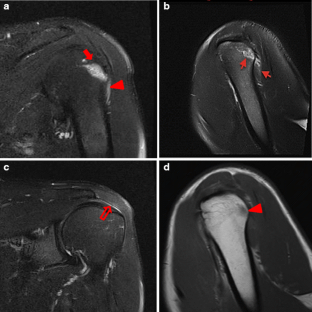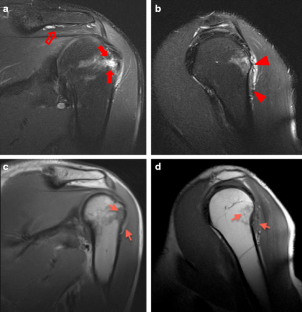 References
1.

Ryan T. 2011 Institute of Medicine (IOM) Report generated Proposals for Updates to the Vaccine Injury Table (VIT). Department of Health and Human Services Health Resources and Services Administration Centers for Disease Control. 2011.

2.

Atanasoff S, Ryan T, Lightfoot R, Johann-Liang R. Shoulder injury related to vaccine administration (SIRVA). Vaccine. 2010;28(51):8049–52.

3.

Barnes MG, Ledford C, Hogan K. A "needling" problem: shoulder injury related to vaccine administration. J Am Board Fam Med JABFM. 2012;25(6):919–22.

4.

Schafer B, Burrough K. Shoulder pain in a 25-year-old female following an influenza vaccination. American Medical Society for Sports Medicine. 2010.

5.

Kuether G, Dietrich B, Smith T, Peter C, Gruessner S. Atraumatic osteonecrosis of the humeral head after influenza A-(H1N1) v-2009 vaccination. Vaccine. 2011;29(40):6830–3.

6.

Messerschmitt PJ, Abdul-Karim FW, Iannotti JP, Gobezie RG. Progressive osteolysis and surface chondrolysis of the proximal humerus following influenza vaccination. Orthopedics. 2012;35(2):e283–6.

7.

Beals TC, Harryman 2nd DT, Lazarus MD. Useful boundaries of the subacromial bursa. Arthroscopy. 1998;14(5):465–70.

8.

Matthews LS, Fadale PD. Subacromial anatomy for the arthroscopist. Arthroscopy. 1989;5(1):36–40.

9.

Poland GA, Borrud A, Jacobson RM, McDermott K, Wollan PC, Brakke D, et al. Determination of deltoid fat pad thickness. Implications for needle length in adult immunization. JAMA. 1997;277(21):1709–11.

10.

Koster MP, Stellato N, Kohn N, Rubin LG. Needle length for immunization of early adolescents as determined by ultrasound. Pediatrics. 2009;124(2):667–72.

11.

Bodor M, Montalvo E. Vaccination-related shoulder dysfunction. Vaccine. 2007;25(4):585–7.

12.

About the Vaccine Adverse Event Reporting System (VAERS) at CDC Wonder. 25 Sept 2013. <http://wonder.cdc.gov/vaers.html> Jan 12, 2014 3:25:36 PM.
Conflict of interest
None.
About this article
Cite this article
Okur, G., Chaney, K.A. & Lomasney, L.M. Magnetic resonance imaging of abnormal shoulder pain following influenza vaccination. Skeletal Radiol 43, 1325–1331 (2014). https://doi.org/10.1007/s00256-014-1875-9
Received:

Revised:

Accepted:

Published:

Issue Date:
Keywords
Influenza vaccination

Shoulder MRI

Bursitis

Bone marrow edema