Abstract
Objective
To investigate if a peristaltic external pneumatic compression device attached to the legs, while scanning, can reduce a substantial risk of fainting in standing weight-bearing magnetic resonance imaging (MRI).
Materials and methods
This study comprised all patients with low back pain referred to standing MRI of the lumbar spine, using a 0.25-T open G-Scanner, from June 2011 to April 2012. The standing MRI protocol included a sagittal TSE T2w and an axial GRE T2w sequence giving a total scan time of 17 min. The first patients were scanned standing without a device (control group), and then from January to April 2012 the patients were scanned in the standing position using an external pneumatic compression device, attached to the legs (experimental group).
Results
One hundred and forty-nine patients (mean age 42.5, standard deviation 12.5, and range 20–77 years) were included and scanned standing. No significant difference in age (p = 0.51) or gender (p = 0.47) was observed between the control group (n = 86) and the experimental group (n = 63). Sixteen patients (19 %) fainted in the control group during the standing MRI scan, compared to one patient (2 %) in the experimental group where the pneumatic compression device was applied. The difference between groups was highly significant (p = 0.001; Fisher's exact test), with an OR = 0.071 (exact 95 % CI: 0.002 to 0.486) for the pneumatic compression device.
Conclusions
A substantial risk of fainting during standing MRI was almost eliminated by using an external peristaltic pneumatic compression device.
Access options
Buy single article
Instant access to the full article PDF.
US$ 39.95
Tax calculation will be finalised during checkout.
Subscribe to journal
Immediate online access to all issues from 2019. Subscription will auto renew annually.
US$ 119
Tax calculation will be finalised during checkout.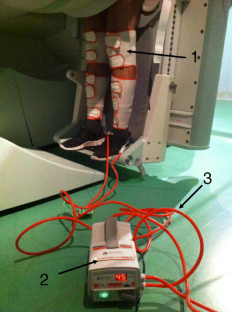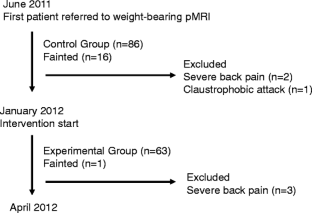 References
1.

Kent DL, Haynor DR, Larson EB, Deyo RA. Diagnosis of lumbar spinal stenosis in adults: a metaanalysis of the accuracy of CT, MR, and myelography. AJR Am J Roentgenol. 1992;158(5):1135–44.

2.

Lurie JD, Doman DM, Spratt KF, Tosteson AN, Weinstein JN. Magnetic resonance imaging interpretation in patients with symptomatic lumbar spine disc herniations: comparison of clinician and radiologist readings. Spine (Phila Pa 1976). 2009;34(7):701–5.

3.

Hirasawa Y, Bashir WA, Smith FW, Magnusson ML, Pope MH, Takahashi K. Postural changes of the dural sac in the lumbar spines of asymptomatic individuals using positional stand-up magnetic resonance imaging. Spine (Phila Pa 1976). 2007;32(4):E136–40.

4.

Madsen R, Jensen TS, Pope M, Sorensen JS, Bendix T. The effect of body position and axial load on spinal canal morphology: an MRI study of central spinal stenosis. Spine (Phila Pa 1976). 2008;33(1):61–7.

5.

Mauch F, Jung C, Huth J, Bauer G. Changes in the lumbar spine of athletes from supine to the true-standing position in magnetic resonance imaging. Spine (Phila Pa 1976). 2010;35(9):1002–7.

6.

Weishaupt D, Schmid MR, Zanetti M, Boos N, Romanowski B, Kissling RO, et al. Positional MR imaging of the lumbar spine: does it demonstrate nerve root compromise not visible at conventional MR imaging? Radiology. 2000;215(1):247–53.

7.

Schmid MR, Stucki G, Duewell S, Wildermuth S, Romanowski B, Hodler J. Changes in cross-sectional measurements of the spinal canal and intervertebral foramina as a function of body position: in vivo studies on an open-configuration MR system. AJR Am J Roentgenol. 1999;172(4):1095–102.

8.

Zou J, Yang H, Miyazaki M, Wei F, Hong SW, Yoon SH, et al. Missed lumbar disc herniations diagnosed with kinetic magnetic resonance imaging. Spine (Phila Pa 1976). 2008;33(5):E140–4.

9.

Wildermuth S, Zanetti M, Duewell S, Schmid MR, Romanowski B, Benini A, et al. Lumbar spine: quantitative and qualitative assessment of positional (upright flexion and extension) MR imaging and myelography. Radiology. 1998;207(2):391–8.

10.

Dahabreh IJ, Hadar N, Chung M. Emerging magnetic resonance imaging technologies for musculoskeletal imaging under loading stress: scope of the literature. Ann Intern Med. 2011;155(9):616–24.

11.

Karadimas EJ, Siddiqui M, Smith FW, Wardlaw D. Positional MRI changes in supine versus sitting postures in patients with degenerative lumbar spine. J Spinal Disord Tech. 2006;19(7):495–500.

12.

Smith JJ, Porth CM, Erickson M. Hemodynamic response to the upright posture. J Clin Pharmacol. 1994;34(5):375–86.

13.

Laitinen T, Niskanen L, Geelen G, Lansimies E, Hartikainen J. Age dependency of cardiovascular autonomic responses to head-up tilt in healthy subjects. J Appl Physiol. 2004;96(6):2333–40.

14.

Murrell CJ, Cotter JD, George K, Shave R, Wilson L, Thomas K, et al. Cardiorespiratory and cerebrovascular responses to head-up tilt I: influence of age and training status. Exp Gerontol. 2011;46(1):9–17.

15.

Westrich GH, Specht LM, Sharrock NE, Windsor RE, Sculco TP, Haas SB, et al. Venous haemodynamics after total knee arthroplasty: evaluation of active dorsal to plantar flexion and several mechanical compression devices. J Bone Joint Surg Br. 1998;80(6):1057–66.

16.

Thomas DG, Algorithm AS. 36: exact confidence limits for the odds ratio in a 2×2 table. Appl Stat. 1971;20(1):105–10.

17.

Glasziou P, Chalmers I, Rawlins M, McCulloch P. When are randomised trials unnecessary? Picking signal from noise. BMJ. 2007;334(7589):349–51.

18.

Neuschwander TB, Cutrone J, Macias BR, Cutrone S, Murthy G, Chambers H, et al. The effect of backpacks on the lumbar spine in children: a standing magnetic resonance imaging study. Spine (Phila Pa 1976). 2010;35(1):83–8.

19.

Niggemann P, Kuchta J, Hoeffer J, Grosskurth D, Beyer HK, Delank KS. Juxtafacet cysts of the lumbar spine: a positional MRI study. Skeletal Radiol. 2012;41(3):313–20.

20.

Lee SU, Hargens AR, Fredericson M, Lang PK. Lumbar spine disc heights and curvature: upright posture vs. supine compression harness. Aviat Space Environ Med. 2003;74(5):512–6.

21.

Pawelczyk JA, Kenney WL, Kenney P. Cardiovascular responses to head-up tilt after an endurance exercise program. Aviat Space Environ Med. 1988;59(2):107–12.

22.

Ogoh S, Volianitis S, Nissen P, Wray DW, Secher NH, Raven PB. Carotid baroreflex responsiveness to head-up tilt-induced central hypovolaemia: effect of aerobic fitness. J Physiol. 2003;551(Pt 2):601–8.

23.

Zou J, Yang H, Miyazaki M, Morishita Y, Wei F, McGovern S, et al. Dynamic bulging of intervertebral discs in the degenerative lumbar spine. Spine (Phila Pa 1976). 2009;34(23):2545–50.
Acknowledgments
The Oak Foundation, Copenhagen University Hospital, Bispebjerg and Frederiksberg, Savværksejer Jeppe Juhl og Hustru Ovita Juhls Mindelegat, Minister Erna Hamiltons Legat for Videnskab og Kunst and the Danish Rheumatism Association all provided funding for this project. ArjoHuntleigh Geting Group provided the pump device (Huntleigh Flowtron Excel DVT Pump, Bedfordshire, UK), which are originally made and approved to prevent deep vein thrombosis (DVT). No benefits in any form have been or will be received from a commercial party related directly or indirectly to the subject of this manuscript.
Conflict of interest
The authors declare that they have no conflicts of interest.
About this article
Cite this article
Hansen, B.B., Bouert, R., Bliddal, H. et al. External pneumatic compression device prevents fainting in standing weight-bearing MRI: a cohort study. Skeletal Radiol 42, 1437–1442 (2013). https://doi.org/10.1007/s00256-013-1688-2
Received:

Revised:

Accepted:

Published:

Issue Date:
Keywords
Syncope

Fainting

Weight bearing

Magnetic resonance imaging

Adverse effects