Abstract
Benign and malignant tumours and tumour-like conditions frequently present as lumps in the foot and ankle. Although definitive histological diagnosis cannot be ascertained short of a biopsy, most entities can be confidently characterised on ultrasound and/or MRI. Masses in the foot and ankle present with lump, pain, paraesthesia, restricted mobility or a combination of these. In this review we have focussed on the relative frequency of masses in the foot and ankle that present as focal lumps, with a brief description of their typical appearance on ultrasound and MRI. Ganglions were the largest group in our series representing 24 % of the masses, followed by tendon- and ligament-related lesions and, bony lesions representing 16 % and 11 % of the masses respectively.
Access options
Buy single article
Instant access to the full article PDF.
US$ 39.95
Tax calculation will be finalised during checkout.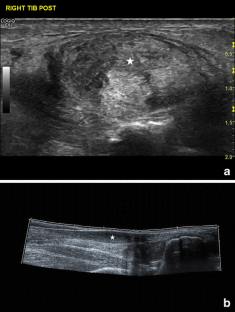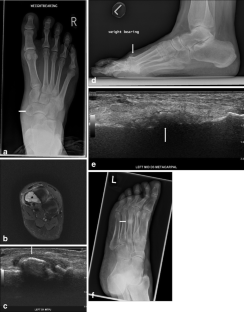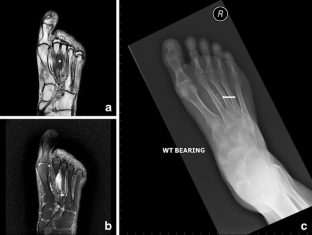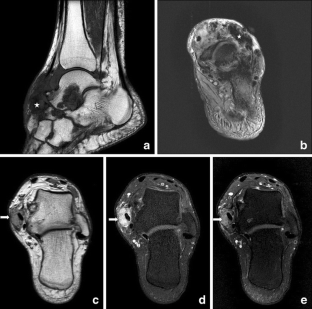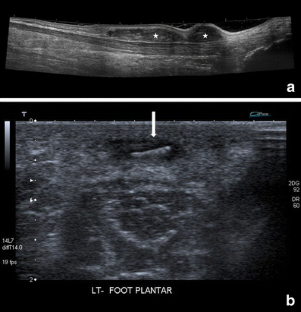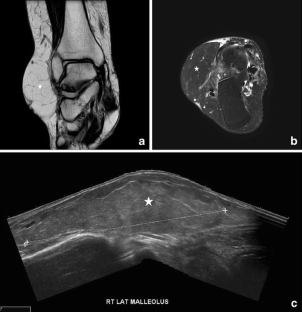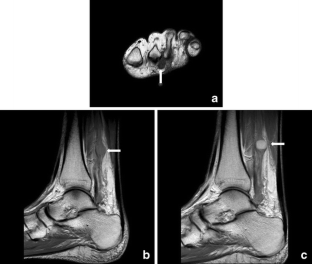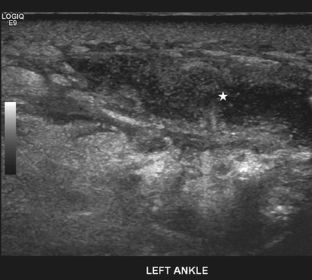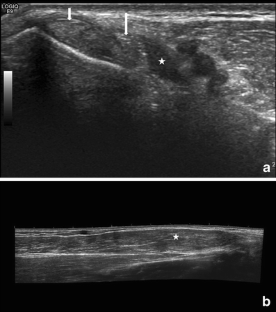 References
1.

Beggs I. Ultrasound of soft tissue masses. Imaging. 2002;14:202–8.

2.

Bancroft LW, Peterson JJ, Kransdorf MJ. Imaging of soft tissue lesions of the foot and ankle. Radiol Clin N Am. 2008;46(6):1093–103.

3.

Hul EV, Vanhoenacker F, Dyck PV, DeSchepper A, Parizel PM. Pseudotumoural soft tissue lesions of the foot and ankle: a pictorial review. Insights Imaging. 2011;2(4):439–52.

4.

Gollwitzer H, Toepfer AK, Gerdesmeyer L, Gradinger R, Rechl H. Tumors and tumor-like lesions of the foot and ankle: diagnosis and treatment. Int Adv Foot Ankle Surg. 2012;4:489–508.

5.

Foo LF, Raby N. Tumours and tumour-like lesions in the foot and Ankle. Clin Radiol. 2005;60:308–32.

6.

Waldt S, Rechl H, Rummeny EJ, Woertler K. Imaging of benign and malignant soft tissue masses of the foot. Eur Radiol. 2003;13:1125–36.

7.

Pham H, Fessell DP, Femino JE, Sharp S, Jacobson JA, Hayes CW. Sonography and MR imaging of selected benign masses in the ankle and foot. AJR. 2003;180:99–107.

8.

Moholkar S, Sawhney JS, Bhatt R. Imaging benign soft tissue lesions of the foot. Appl Radiol. 2009;38(10):10–21.

9.

Fessell DP, Jacobson JA. Ultrasound of the hindfoot and midfoot. Radiol Clin N Am. 2008;46(6):1027–43.

10.

Adler RS, Finzel KC. The complementary roles of MR imaging and ultrasound of tendons. Radiol Clin N Am. 2005;43(4):771–807.

11.

Jacobson JA. Musculoskeletal ultrasound and MRI: which do i choose? Semin Musculoskelet Radiol. 2005;9(2):135–49.

12.

Schatz J, Soper J, McCormack S, Healy M, Deady L, Brown W. Imaging of tumors in the ankle and foot. Top Magn Reson Imaging. 2010;21(1):37–50.

13.

Macdonald DJM, Holt G, Vass G, Marsh A, Kumar CS. The differential diagnosis of foot lumps: 101 cases treated surgically in North Glasgow over 4 years. Ann R Coll Surg Engl. 2007;89:272–5.

14.

Bousson V, Hamzé B, Wybier M, Daguet E, Parlier C, Petrover D, Bossard P, Laredo JD. Soft tissue tumors and pseudotumors of the foot and ankle. J Radiol. 2008;89(1 Pt 1):21–34 [Article in French].

15.

Weishaupt D, Schweitzer ME, Morrison WB, Haims AH, Wapner K, Kahn M. MRI of the foot and ankle: prevalence and distribution of occult and palpable ganglia. J Magn Reson Imaging. 2001;14(4):464–71.

16.

O'Connor PJ, Grainger AJ. Ultrasound imaging of joint disease. Imaging. 2002;14:188–201.

17.

Ellis JRC, The JL, Scott PM. Ultrasound of tendons. Imaging. 2002;14:223–8.

18.

Botchu R, Khan A, Bhatt R. Pictorial essay: USG of lumps and bumps of the foot and ankle. Indian J Radiol Imaging. 2010;20(2):105–8.

19.

Dinauer PA, Brixey CJ, Moncur JT, Fanburg-Smith JC, Murphey MD. Pathologic and MR imaging features of benign fibrous soft-tissue tumors in adults. Radiographics. 2007;27:173–87.

20.

Nalbant S, Corominas H, Hsu B, Chen LX, Schumacher HR, Kitumnuaypong T. Ultrasonography for assessment of subcutaneous nodules. J Rheumatol. 2003;30(6):1191–5.

21.

Starok M, Eilenberg SS, Resnick DD. Rheumatoid nodules: MRI characteristics. Clin Imaging. 1998;22(3):216–9.

22.

Ernemann U, Kramer U, Miller S, Bisdas S, Rebmann H, Breuninger H, Zwick C, Hoffmann J. Current concepts in the classification, diagnosis and treatment of vascular anomalies. Eur J Radiol. 2010;75(1):2–11.

23.

González SB, Busquets JC, Figueiras RG, Martín CV, Pose CS, de Alegría AM, Mourenza JA. Imaging arteriovenous fistulas. AJR Am J Roentgenol. 2009;193(5):1425–33.

24.

Papagelopoulos PJ, Mavrogenis AF, Badekas A, Sim FH. Foot malignancies: a multidisciplinary approach. Foot Ankle Clin. 2003;8(4):751–63.

25.

Campbell RSD, Wood J. Ultrasound of muscle. Imaging. 2002;14:229–40.

26.

Cvitanic O, Sedlak J. Acute myositis ossificans. Skeletal Radiol. 1995;24:139–41.

27.

Sookur PA, Naraghi AM, Bleakney RR, Jalan R, Chan O, White LM. Accessory muscles: anatomy, symptoms, and radiologic evaluation. Radiographics. 2008;28:481–99.

28.

Kouvalchouk JF, Lecocq J, Parier J, Fischer M. The accessory soleus muscle: a report of 21 cases and a review of the literature. Rev Chir Orthop Reparatrice Appar Mot. 2005;91:232–8.

29.

Murphey MD, Gibson MS, Jennings BT, Crespo-Rodríguez AM, Fanburg-Smith J, Gajewski DA. Imaging of synovial sarcoma with radiologic-pathologic correlation. Radiographics. 2006;26(5):1543–65.
Conflicts of interest
The authors declare that they have no conflict of interest.
About this article
Cite this article
Ganguly, A., Aniq, H. & Skiadas, B. Lumps and bumps around the foot and ankle: an assessment of frequency with ultrasound and MRI. Skeletal Radiol 42, 1051–1060 (2013). https://doi.org/10.1007/s00256-013-1575-x
Received:

Revised:

Accepted:

Published:

Issue Date:
Keywords
Soft tissue masses

Foot and ankle

Tumour

MRI

Ultrasound