Abstract
Objective
To identify the benefits of ultrasound-guided radiofrequency ablation of Morton's neuroma as an alternative to surgical excision.
Materials and methods
We studied a consecutive cohort of surgical candidates for Morton's neurectomy who we referred, instead, for radiofrequency ablation (RFA). Under local anaesthetic, RFA was performed under ultrasound guidance, by a single radiologist. This out-patient procedure was repeated after 4 weeks if necessary. We followed patients for a minimum of 6 months to assess their change in visual analogue pain scores (VAS), symptom improvement, complications and progression to surgical excision.
Results
Thirty feet in 25 patients were studied. There were 4 men and 21 women with an average age of 55 years (range 33–73 years). All had tried previous methods of conservative management. Forty percent presented with 2nd space neuromas and 60% with 3rd space ones. The average number of treatment sessions was 1.6 (range 1–3, mode 1). Prior to treatment, all patients had pain on activity (VAS average: 6.0, range 3–9). Post-treatment there was a statistically significant reduction in pain scores (post-RFA VAS average: 1.7, range 0–8, p < 0.001). The average overall symptom improvement was 76%. There was one minor complication of temporary nerve irritation. Three neuromas (10%) have progressed to surgical excision; 1 patient has ongoing, unchanged pain with no obvious cause. At 6 months, 26 out of 30 feet had a satisfactory outcome.
Conclusion
Ultrasound-guided RFA has successfully alleviated patients' symptoms of Morton's neuroma in >85% of cases. Only 10% have proceeded to surgical excision in the short term.
This is a preview of subscription content, log in to check access.
Access options
Buy single article
Instant access to the full article PDF.
US$ 39.95
Price includes VAT for USA
Subscribe to journal
Immediate online access to all issues from 2019. Subscription will auto renew annually.
US$ 199
This is the net price. Taxes to be calculated in checkout.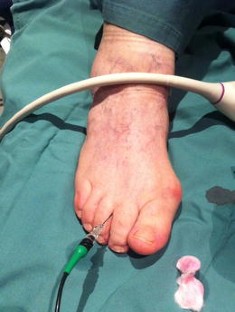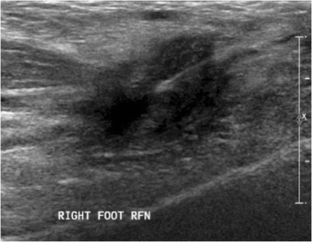 References
1.

Coughlin MJ, Mann RA, Saltzmann CL. Surgery of the foot and ankle. 8th ed. Amsterdam: Mosby Elsevier; 2006. p. 614–34.

2.

Genon MP, Chin TY, Bedi HS, Blackney MC. Radio-frequency ablation for the treatment of Morton's neuroma. ANZ J Surg. 2010;80(9):583–5.

3.

Morton T. A peculiar and painful affection of the fourth metatarsophalangeal articulation. Am J Med Sci. 1876;71:37–45.

4.

Moore JL, Rosen R, Cohen J, Rosen B. Radiofrequency thermoneurolysis for the treatment of Morton's neuroma. J Foot Ankle Surg. 2012;51(1):20–2.

5.

Markovic M, Crichton K, Read JW, Lam P, Slater HK. Effectiveness of ultrasound-guided corticosteroid injection in the treatment of Morton's neuroma. Foot Ankle Int. 2008;29(5):483–7.

6.

Caporusso EF, Fallat LM, Savoy-Moore R. Cryogenic neuroablation for the treatment of lower extremity neuromas. J Foot Ankle Surg. 2002;41(5):286–90.

7.

Magnan B, Marangon A, Frigo A, Bartolozzi P. Local phenol injection in the treatment of interdigital neuritis of the foot (Morton's neuroma). Chir Organi Mov. 2005;90(4):371–7.

8.

Hughes RJ, Ali K, Jones H, Kendall S, Connell DA. Treatment of Morton's neuroma with alcohol injection under sonographic guidance: follow-up of 101 cases. AJR Am J Roentgenol. 2007;188(6):1535–9.

9.

Musson RE, Sawhney JS, Lamb L, Wilkinson A, Obaid H. Ultrasound guided alcohol ablation of Morton's neuroma. Foot Ankle Int. 2012;33(3):196–201.

10.

Womack JW, Richardson DR, Murphy GA, Richardson EG, Ishikawa SN. Long-term evaluation of interdigital neuroma treated by surgical excision. Foot Ankle Int. 2008;29(6):574–7.

11.

Coughlin MJ, Pinsonneault T. Operative treatment of interdigital neuroma. A long-term follow-up study. J Bone Joint Surg Am. 2001;83-A(9):1321–8.
Acknowledgements
No benefits have been received by the authors from any commercial party related to the subject of this article.
Conflict of interest
The authors declare that they have no conflict of interest.
About this article
Cite this article
Chuter, G.S.J., Chua, Y.P., Connell, D.A. et al. Ultrasound-guided radiofrequency ablation in the management of interdigital (Morton's) neuroma. Skeletal Radiol 42, 107–111 (2013). https://doi.org/10.1007/s00256-012-1527-x
Received:

Revised:

Accepted:

Published:

Issue Date:
Keywords
Morton

Interdigital

Neuroma

Ultrasound

Radiofrequency

Ablation

Denervation