Abstract
Objective
To determine the incidence of inadvertent lumbar facet joint injection during an interlaminar epidural steroid injection (ESI).
Materials and methods
A total of 686 interlaminar lumbar ESIs were performed from January 1, 2009 to December 31, 2009. Archived images from these cases were retrospectively reviewed on the PACS. Positive cases of inadvertent lumbar facet joint injection were identified by the characteristic sigmoid-shaped contrast pattern projecting over the posterior elements on the lateral view and/or ovoid contrast projecting over the facet joints on the anteroposterior (AP) view.
Results
Eight positive events were identified (1.2%). There was no statistically significant gender or lumbar level predilection. In 3/8 of the positive cases (37.5%), the inadvertent facet joint injection was recognized by the operator. The needle was repositioned as a result, and contrast within the posterior epidural space was documented by the end of the procedure. In 5/8 of the positive cases (62.5%), the patients reported an immediate decrease in the presenting pain.
Conclusions
The incidence of inadvertent lumbar facet joint injection during an interlaminar epidural steroid injection is low. Recognizing the imaging features of this event permits the operator to redirect the needle tip into the epidural space and/or identify the facet joint(s) as a source of the patient's presenting pain.
This is a preview of subscription content,
to check access.
Access this article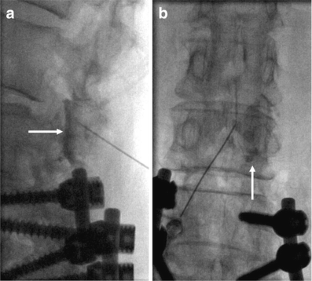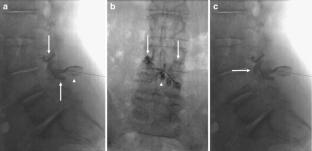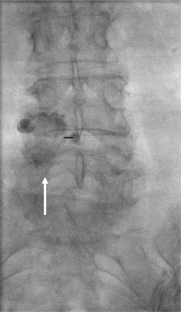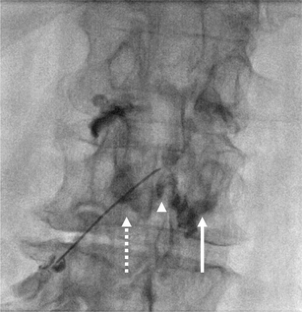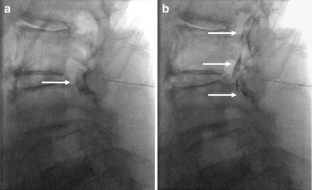 Similar content being viewed by others
References
Hashemi L, Webster BS, Clancy EA. Trends in disability duration and cost of workers' compensation low back pain claims (1988–1996). J Occup Environ Med. 1998;40:1110–9.

Guo HR, Tanaka S, Halperin WE, Cameron LL. Back pain prevalence in US industry and estimates of lost workdays. Am J Public Health. 1999;89:1029–35.

Eley C. Magnetic resonance imaging for low back injuries: appropriate use in managing workers' compensation claims. AAOHN J. 2006;54:429–33.

Turner JA, Franklin G, Fulton-Kehoe D, et al. Worker recovery expectations and fear-avoidance predict work disability in a population-based workers' compensation back pain sample. Spine. 2006;31:682–9.

Whitlock EL, Bridwell KH, Gilula LA. Influence of needle tip position on injectate spread in 406 interlaminar lumbar epidural steroid injections. Radiology. 2007;243:804–11.

Huang AJ, Rosenthal DI, Palmer WE. Inadvertent intra-articular lumbar facet joint injection during fluoroscopically guided interlaminar epidural steroid injection. Skeletal Radiol. 2011;40:33–45.

Xu GL, Haughton VM, Carrera GF. Lumbar facet joint capsule: appearance at MR imaging and CT. Radiology. 1990;177:415–20.

Okada K. Studies on the cervical facet joints using arthrography of the cervical facet joint (author's transl). Nippon Seikeigeka Gakkai Zasshi. 1981;55:563–80.

Sarazin L, Chevrot A, Pessis E, et al. Lumbar facet joint arthrography with the posterior approach. Radiographics. 1999;19:93–104.

McCormick CC, Taylor JR, Twomey LT. Facet joint arthrography in lumbar spondylolysis: anatomic basis for spread of contrast medium. Radiology. 1989;171:193–6.

Maldague B, Mathurin P, Malghem J. Facet joint arthrography in lumbar spondylolysis. Radiology. 1981;140:29–36.

Chen CK, Yeh L, Resnick D, et al. Intraspinal posterior epidural cysts associated with Baastrup's disease: report of 10 patients. AJR Am J Roentgenol. 2004;182:191–4.

Candido KD, Raghavendra MS, Chinthagada M, Badiee S, Trepashko DW. A prospective evaluation of iodinated contrast flow patterns with fluoroscopically guided lumbar epidural steroid injections: the lateral parasagittal interlaminar epidural approach versus the transforaminal epidural approach. Anesth Analg. 2008;106:638–44.

Weil L, Frauwirth NH, Amirdelfan K, Grant D, Rosenberg JA. Fluoroscopic analysis of lumbar epidural contrast spread after lumbar interlaminar injection. Arch Phys Med Rehabil. 2008;89:413–6.

Link SC, el-Khoury GY, Guilford WB. Percutaneous epidural and nerve root block and percutaneous lumbar sympatholysis. Radiol Clin North Am. 1998;36:509–21.

Huang J, Kwa A. Lumbar discogram resulting from lumbar interlaminar epidural injection. J Clin Anesth. 2004;16:296–8.
Conflict of interest
The authors have no conflict of interest.
About this article
Cite this article
Huang, A.J., Palmer, W.E. Incidence of inadvertent intra-articular lumbar facet joint injection during fluoroscopically guided interlaminar epidural steroid injection. Skeletal Radiol 41, 157–162 (2012). https://doi.org/10.1007/s00256-011-1332-y
Received:

Revised:

Accepted:

Published:

Issue Date:

DOI: https://doi.org/10.1007/s00256-011-1332-y
Keywords