Abstract
Objective
To assess, with computed tomography (CT) studies, features of anterior chest wall development that can be related to different types of pectus deformities.
Materials and methods
From 71 patients with pectus deformities and chest coronal CT scans, 48 (40 male and 8 female), with a mean age of 15.8 years (ranging from 5 years to 38.4 years) were selected and divided into five groups, according to clinical type of deformity and image quality. A similar CT study was performed in a sixth group of 14 individuals with no underlying pectus deformity (control group), six male and eight female, mean age 19.3 years, (range 10.8 years to 30.5 years), totaling 62 subjects. Tomographic studies were performed on a 64-section CT scanner, with parameters varied according to the subject's body mass index (BMI). Coronal reconstructions were used to assess six features of the sternum and costal cartilages in the groups. Two other factors, a sternal index, created to estimate the sternal body width, and the sternocostal angles, were also studied.
Results
Feature I was noted in 13 patients and in no controls (P = 0.002), feature II in 39 patients and in one control (P = 0.000), feature III in 37 patients and in two controls (P = 0.002), and feature IV in two patients and in no controls (P = 0.002). The sternal index was significant to one group of patients.
Conclusion
The features studied and the index provide measurable and applicable data for the interpretation of anterior chest wall tomography, with possible implications for prognosis and treatment of different types of pectus deformities.
This is a preview of subscription content, log in to check access.
Access options
Buy single article
Instant access to the full article PDF.
US$ 39.95
Price includes VAT for USA
Subscribe to journal
Immediate online access to all issues from 2019. Subscription will auto renew annually.
US$ 199
This is the net price. Taxes to be calculated in checkout.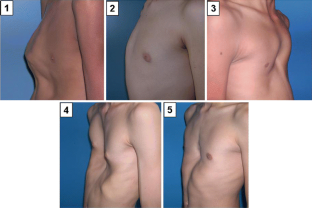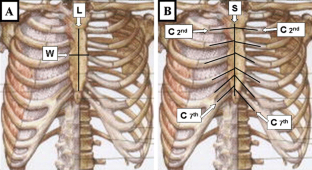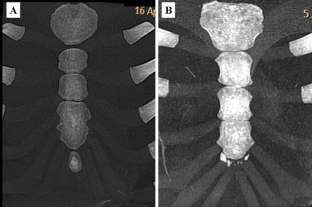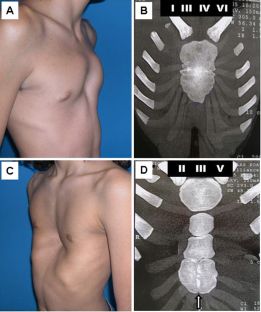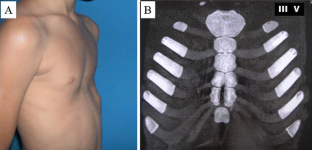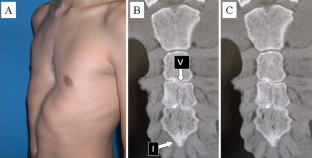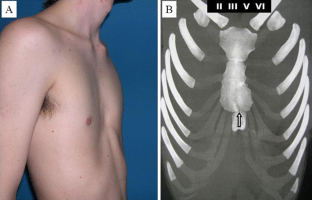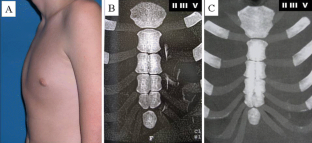 References
1.

Haje SA, Harcke HT, Bowen JR. Growth disturbance of the sternum and pectus deformities: imaging studies and clinical correlation. Pediatr Radiol. 1999;29:334–41.

2.

Bryson V. Development of the sternum in screw tail mice. Anat Rec. 1945;91:119–41.

3.

Currarino G, Silverman N. Premature obliteration of the sternum sutures and pigeon breast deformity. Radiology. 1958;70:352.

4.

Gabrielsen TO, Ladyman GH. Early closure of sternal sutures and congenital heart disease. AJR Am J Roentgenol. 1963;89:375–83.

5.

Haje SA, Raymundo JLP. Considerações sobre deformidades da parede torácica anterior e apresentação de tratamento conservador para as formas com componentes de protrusão. Rev Bras Orthop. 1979;14:167–78.

6.

Kuhn JP. The Thorax. In: Silverman FN, editor. Caffey's pediatric X-ray diagnosis. Chicago: Year Book Medical Publishers Inc; 1985. pp. 1097–9.

7.

Ogden JA, Conlogue GJ, Bronson ML, et al. Radiology of postnatal skeletal development. II.The manubrium and sternum. Skeletal Radiol. 1979;4:189–95.

8.

Wong M, Carter DR. Mechanical stress and morphogenetic endochondral ossification of the sternum. J Bone Joint Surg Am. 1988;70:992–1000.

9.

Haje SA, Bowen JR. Preliminary results of orthotic treatment of pectus deformities in children and adolescents. J Pediatr Orthop. 1992;12:795–800.

10.

Haje SA. Iatrogenic pectus carinatum. Int Orthop. 1995;19:370–3.

11.

Haje SA, Bowen JR, Harcke HT, Guttenberg ME, Bacon CR. Disorders in the sternum growth and pectus deformities: an experimental model and clinical correlation. Acta Orthop Bras. 1998;6:67–75.

12.

Haje S, Haje DP. Tórax e cintura escapular. In: Hebert SK, Barros Filho TEP, Xavier R, Pardini Jr AG, editors. Ortopedia e traumatologia: princípios e prática. 4th ed. Porto Alegre: Artmed Editora; 2009. pp. 147–65.

13.

Shimomura Y, Wezeman FH, Ray RD. The growth cartilage plate of the rat rib: cellular differentiation. Clin Orthop. 1973;(90):246–54.

14.

Paterson AM. The Human sternum. Liverpool: Williams & Norgate, 1904.

15.

Gladstone RJ, Wakeley CPG. The morphology of the sternum and its relation to the ribs. J Anat. 1932;66:508–64.

16.

Gray H. Gray's anatomy. Carmine D. Clemente, editor. 30th American Ed. Philadelphia: Lea & Febiger; 1985.

17.

Haller JA, Kramer SS, Lietman A. Use of CT scans in selection of patients for pectus excavatum surgery: a preliminary report. J Pediatr Surg. 1987;22:904–6.

18.

Haje SA, Haje DP. Overcorrection during treatment of pectus deformities with DCC orthoses: experience in 17 cases. Int Orthop. 2006;30:262–7.

19.

Haje SA, Haje DP. Abordagem ortopédica das deformidades pectus: 32 anos de estudos [Orthopaedic approach to pectus deformities: 32 years of studies]. Rev Bras Orthop. 2009;44:193–200.

20.

Hatfield MK, Gross BH, Glazer GM, Martel W. Computed tomography of the sternum and its articulations. Skeletal Radiol. 1984;11:197–203.

21.

Einsiedel E, Clausner A. Funnel chest. Psychological and psychosomatic aspects in children, youngsters and young adults. J Cardiovasc Surg. 1999;40:733–6.
Additional information
This study was approved by the Ethics Review Committee of the Secretaria de Estado da Saúde do Distrito Federal, Brasília, Brazil.
About this article
Cite this article
Haje, S.A., Haje, D.P., Silva Neto, M. et al. Pectus deformities: tomographic analysis and clinical correlation. Skeletal Radiol 39, 773–782 (2010). https://doi.org/10.1007/s00256-010-0874-8
Received:

Revised:

Accepted:

Published:

Issue Date:
Keywords
Chest

Deformities

Imaging studies of pectus deformities

Pectus carinatum

Pectus excavatum

Studies on the development of the anterior chest wall by computed tomography