Abstract
Objective
To describe ganglion cysts arising close to the origin of the medial and lateral head of gastrocnemius as identified on magnetic resonance (MR) imaging.
Design and patients
We present a series of ten cases of ganglion cysts arising close to the gastrocnemius origin from the medial and lateral femoral condyles. These were collected over a 6-year period from our imaging database. All patients attended for routine MR imaging of the knee with a variety of clinical presentations. Data collected included patient demographics, ganglion size, ganglion site, clinical presentation and ancillary MR imaging findings. The ten patients in this series consisted of seven males and three females, five right and five left knees, age range 27–68 years, mean age 40.6 years.
Results
The mean maximal dimension of the ganglion cysts was 26 mm, range 15–40 mm. The medial gastrocnemius origin was involved in eight patients and the lateral origin in two patients. The MR imaging findings consisted of both uni- and multi-loculated cysts, often containing numerous septations with fluid signal characteristics. The cysts were extra-capsular with no clear communication with the joint. One patient presented with a popliteal soft tissue mass and none of the cases required surgical intervention for cyst removal.
Conclusions
MR imaging may identify ganglion cysts arising in an intra- or extra-articular site around the knee. This series documents the MR imaging characteristics of ganglion cysts arising close to the gastrocnemius origin and discusses the relevance of this imaging finding.
Access options
Buy single article
Instant access to the full article PDF.
US$ 39.95
Tax calculation will be finalised during checkout.
Subscribe to journal
Immediate online access to all issues from 2019. Subscription will auto renew annually.
US$ 119
Tax calculation will be finalised during checkout.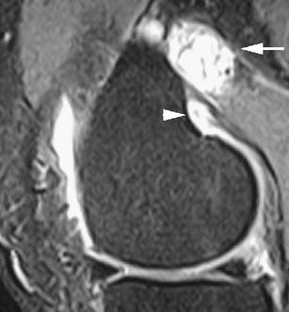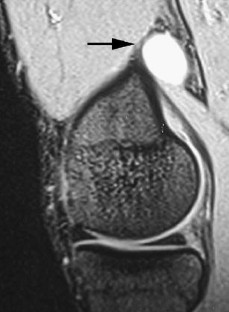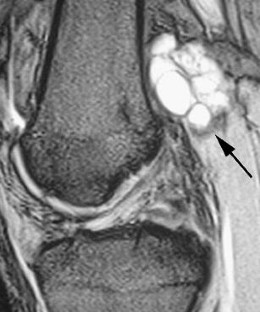 References
1.

Krudwig WK, Schulte KK, Heinemann C. Intra-articular ganglion cysts of the knee joint: a report of 85 cases and review of the literature. Knee Surg Sports Traumatol Arthrosc 2004;12:123–9.

2.

Recht MP, Applegate G, Kaplan P, et al. The MR appearance of cruciate ganglion cysts: a report of 16 cases. Skeletal Radiol 1994;23:597–600.

3.

Bui-Mansfield LT, Youngberg RA. Intraarticular ganglia of the knee: prevalence, presentation, etiology, and management. AJR Am J Roentgenol 1997;168:123–7.

4.

Kim MG, Kim BH, Choi JA, et al. Intra-articular ganglion cysts of the knee: Clinical and MR imaging features. Eur Radiol 2001;11:834–40.

5.

Tachibana Y, Ninomiya T, Goto T, Yamazaki K, Ninomiya S. Intra-articular ganglia arising from the posterior joint capsule of the knee. Arthroscopy 2004;20:54–9.

6.

Kang CN, Kim DW, Kim DJ, Kim SJ. Intra-articular ganglion cysts of the knee. Arthroscopy 1999;15:373–8.

7.

Angelides AC, Wallace PF. The dorsal ganglion of the wrist. Its pathogenesis, gross and microscopic anatomy and surgical treatment. J Hand Surg 1976;1:228–35.

8.

Ilahi OA, Younas SA, Labbe MR, Edson SB. Prevalence of ganglion cysts originating from the proximal tibiofibular joint: A magnetic resonance imaging study. Arthroscopy 2003;19:150–3.

9.

Damron TA, Rock MG. Unusual manifestations of proximal tibiofibular joint synovial cysts. Orthopedics 1997;20:225–30.

10.

Fang CSJ, McCarthy CL, McNally EG. Intramuscular dissection of Baker's cysts: report on three cases. Skeletal Radiol 2004;33:367–71.

11.

Tschirch FTC, Schmid MR, Pfirrmann CWA, Romero J, Hodler J, Zanetti M. Prevalence and size of meniscal cysts, ganglionic cysts, synovial cysts of the popliteal space, fluid-filled bursae, and other fluid collections in asymptomatic knees on MR imaging. AJR Am J Roentgenol 2003;180:1431–6.

12.

Burk DL, Dalinka MK, Kanal E, et al. Meniscal and ganglion cysts of the knee: MR evaluation. AJR Am J Roentgenol 1988;150:331–6.

13.

Kim JY, Jung SA, Sung MS, Park YH, Kang YK. Extra-articular soft tissue ganglion cyst around the knee: focus on the associated findings. Eur Radiol 2004;14:106–11.

14.

Steiner E, Steinbach LS, Schnarkowski P, Tirman PFJ, Genant HK. Ganglia and cysts around joints. Radiol Clin North Am 1996;34:400–10.

15.

Stone KR, Stoller D, De Carli A, Day R, Richnak J. The frequency of Baker's cysts associated with meniscal tears. Am J Sports Med 1996;24:670–1.

16.

Rupp S, Seil R, Jochum P, Kohn D. Popliteal cysts in adults. Prevalence, associated intra-articular lesions, results after arthroscopic treatment. Am J Sports Med 2002;30:112–5.

17.

McCarthy CL, McNally EG. The MRI appearance of cystic lesions around the knee. Skeletal Radiol 2004;33:187–209.

18.

Kessler I, Silberman Z. The development of popliteal cysts. An arthrographic study. Clin Orthop 1960;18:149–55.
About this article
Cite this article
James, S.L.J., Connell, D.A., Bell, J. et al. Ganglion cysts at the gastrocnemius origin: a series of ten cases. Skeletal Radiol 36, 139–143 (2007). https://doi.org/10.1007/s00256-006-0225-y
Received:

Revised:

Accepted:

Published:

Issue Date:
Keywords
MR imaging

Ganglion cyst

Knee

Gastrocnemius