Abstract
Ground-penetrating radar (GPR) has become an important geophysical tool which can provide a wealth of interpretive information about the vertical profile of discontinuous permafrost. A GPR investigation was conducted in October 2006 at the Nalaikh site at the southern boundary of the Siberian discontinuous permafrost region in Mongolia. GPR data were collected along four 100-m-long profiles to identify the location of the permafrost body, which included an in situ drilling borehole and analysis of temperature observations and soil water content measurements from boreholes. The GPR interpretation results indicated that the thickness of discontinuous permafrost at the study site was only 1.9–3.0 m and the permafrost is vulnerable to climate change. The soil temperature and soil water content data demonstrate the precision of GPR image interpretation. This case demonstrated that GPR is well suited for mapping the internal structure of discontinuous permafrost with relatively low soil water content.
Access options
Buy single article
Instant access to the full article PDF.
USD 39.95
Price excludes VAT (USA)
Tax calculation will be finalised during checkout.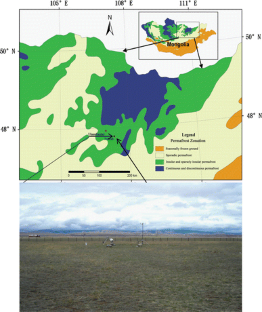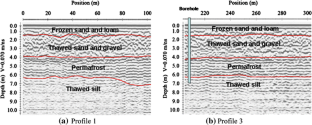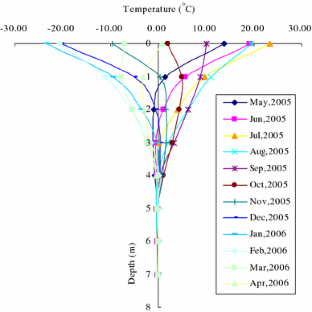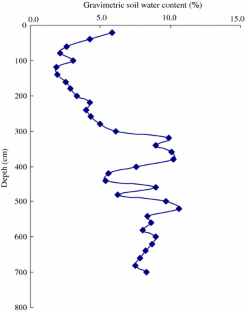 References
Annan AP, Davis JL (1976) Impulse radar sounding in permafrost. Radio Sci 11:383–394

Arcone SA, Delaney AJ (1982) Dielectric properties of thawed active layers overlying permafrost using radar at VHF. Radio Sci 17:618–626

Arcone SA, Chacho EF, Delaney AJ (1998) Seasonal structure of taliks beneath Arctic streams determined with ground-penetrating radar. In: Permafrost seventh international conference proceedings. Yellowknife, Canada, pp 19–24

Atsuko S, Yanagisawa N, Naito D, Fujita N, Maximov TC (2002) Importance of permafrost as a source of water for plants in east Siberian taiga. Ecol Res 17:493–503

Bereneva IA (1992) Peculiarities of studies and methods of assessment of climatic resources of complex ecosystems of Mongolia. In: Ecology and nature management in Mongolia (In Russian). GuGK, Moscow, pp 25–32

Bradford JH, McNamara JP, Bowden W, Gooseff MN (2005) Measuring thaw depth beneath peat-lined arctic streams using ground-penetrating radar. Hydrol Processes 19:2689–2699

Brown J, Ferrians O, Heginbottom J, Melnikov E (1997) Circumarctic map of permafrost and ground-ice conditions. US Geological Survey Circum-Pacific Map Ser., Map CP-45, 1:10000000. US Geological Survey, Reston

Cheng G, Wu T (2007) Responses of permafrost to climate change and their environmental significance, Qinghai-Tibet Plateau. J Geophys Res 112:F02S03. doi:10.1029/2006JF000631

Daniels DJ (2004) Ground penetrating radar, 2nd edn. IEE Radar, Sonar and Navigation series 15. The Institution of Electrical Engineers, London. ISBN 0-86341-360-9

Davis JL, Annan AP (1989) Ground-penetrating radar for high-resolution mapping of soil and rock stratigraphy. Geophys Prospect 37:531–551

Doolittle JA, Hardisky MA, Gross MF (1990) A ground-penetrating radar study of active-layer thicknesses in areas of moist sedge and wet sedge tundra near Bethel, Alaska, USA. Arct Alp Res 22:175–182

Gruber S, Ludwig F (1996) Application of ground penetrating radar in glaciology and permafrost prospecting. Arctic Center, University of Lapland, Lapland. http://www.ulapland.fi/home/hkunta/jmoore/gpr_cryo.pdf

Harris C, Daniel VM, Isaksen K, Haeberli W, Sollid JL, King L, Holmlund P, Dramis F, Guglielmin M, Palacios D (2003) Warming permafrost in European mountains. Glob Planet Change 39:215–225

Hinkel KM, Doolittle JA, Bockheim JG, Nelson FE, Paetzold R, Kimble JM, Travis R (2001) Detection of subsurface permafrost features with ground-penetrating radar, Barrow, Alaska. Permafrost Periglacial Processes 12:179–190

Ishikawa M, Sharkhuu N, Zhang Y, Kadota T, Ohata T (2005) Ground thermal and moisture conditions at the southern boundary of discontinuous permafrost, Mongolia. Permafrost Periglacial Process 16:209–216

Ishikawa M, Zhang Y, Kadota T, Ohata T (2006) Hydrothermal regimes of the dry active layer. Water Resour Res 42:W04401. doi:10.1029/2005WR004200

Jørgensen AS, Andreasen F (2007) Mapping of permafrost surface using ground-penetrating radar at Kangerlussuaq airport, western Greeland. Cold Reg Sci Technol 48:64–72

Jorgenson MT, Racine CH, Walters JC, Osterkamp TE (2001) Permafrost degradation and ecological changes associated with a warming climate in central Alaska. Clim Change 48(4):551–571

Koralay T, Kadioglu S, Kadioglu YK (2007) A new approximation in determination of zonation boundaries of ignimbrite by ground penetrating radar: Kayseri, Central Anatolia, Turkey. Environ Geol 52:1387–1397

Larocque GR, Boutin R, Paré D, Robitaille G, Lacerte V (2006) Assessing a new soil carbon model to simulate the effect of temperature increase on the soil carbon cycle in three eastern Canadian forest types characterized by different climatic conditions. Can J Soil Sci 86:187–202

Moorman BJ, Robinson SD, Burgess MM (2003) Imaging periglacial conditions with ground-penetrating radar. Permafrost Periglacial Processes 14:319–329

Muller SW (1947) Permafrost or permanently frozen ground and related engineering problems. J.W.Edwards, Ann Arbor, p 231

Nelson FE, Anisimov OA, Shiklomanov NI (2001) Subsidence risk from thawing permafrost. Nature 410:889–890

Osterkamp TE (2005) The recent warming of permafrost in Alaska. Glob Planet Change 49:187–202

Robinson SD, Burgess MM, Kettles IM, Wolfe SA (2000) The use of ground penetrating radar in permafrost environments. In: Proceedings of the Society of Exploration Geophysics (SEG) annual conference, Calgary, pp 1363–1366

Sazonova TS, Romanovsky VE, Walsh JE, Sergueev DO (2004) Permafrost dynamics in the 20th and 21st centuries along the east Siberian transect. J Geophys Res 109:D01108. doi:10.1029/2003JD003680

Sharkhuu N (2003) Recent changes in the permafrost of Mongolia. In: Proceedings of the 8th international conference on permafrost, Zurich, Switzerland. Balkema, Lisse, pp 1029–1034

Sharkhuu N, Sharkhuu A (2005) Recent degradation of permafrost in Mongolia. In: paper presented at first international symposium on terrestrial and climate change in Mongolia, Institute of Meteorological and Hydrological of Mongolia, Ulaanbaatar

Singh KKK, Chauhan RKS (2002) Exploration of subsurface strata conditions for a limestone mining area in India with ground-penetrating radar. Environ Geol 41:966–971

Sodnom N, Yanshin AL (1990) Geocryology and geocryological zonation of Mongolia. Digitized 2005 by Parsons M.A. National Snow and Ice Data Center/World Data Center for Glaciology, Digital Media, Boulder

Splajt T, Ferrier J, Frostick LE (2003) Application of ground-penetrating radar in mapping and monitoring landfill sites. Environ Geol 44:963–967

Vaughan DG, Hugh FJC, Christopher SMD, Waddington ED (1999) Distortion of isochronous layers in ice revealed by ground-penetrating radar. Nature 398:323–326

Widess MB (1973) How thin is a thin bed? Geophysics 38:1176–1180

Woo MK, Marsh P (2005) Snow, frozen soils and permafrost hydrology in Canada, 1999–2002. Hydrol Processes 19:215–229

Woo MK, Winter TC (1993) The role of permafrost and seasonal frost in the hydrology of northern wetlands in North America. J Hydrol 141:5–31

Wu T, Li S, Cheng G, Nan Z (2005) Using ground-penetrating radar to detect permafrost degradation in the northern limit of permafrost area on the Tibetan Plateau. Cold Reg Sci Technol 41:211–219

Yang M, Wang S, Yao T, Gou X, Lu A, Guo X (2004) Desertification and its relationship with permafrost degradation in Qinghai-Xizang (Tibet) Plateau. Cold Reg Sci Technol 39:47–53

Zhang T, Barry RG, Knowles K, Heginbottom JA, Brown J (1999) Statistics and characteristics of permafrost and ground-ice distribution in the northern hemisphere. Polar Geogr 23(2):132–154

Zhang Y, Ishikawa M, Kadota T, Munkhtsetseg E, Oyunbaatar D, Ohata T (2004) Observational study of hydrological land-surface processes on semi-arid grassland underlain by warm permafrost in Mongolia. In: Proceedings of the 6th international study conference on GEWEX in Asia and GAME, 3–5 December, Kyoto, Japan, GAME CD-ROM Publication No. 11, T5YZ21Jul04132922

Zhang Y, Munkhtsetseg E, Kadota T, Ohata T (2005) An observational study of ecohydrology of a sparse grassland at the edge of the Eurasian cryosphere in Mongolia. J Geophys Res 110:D14103. doi:10.1029/2004JD005474

Zhang T, Nelson FE, Gruber S (2007) Introduction to special section: permafrost and seasonally frozen ground under a changing climate. J Geophys Res 112:F02S01. doi:10.1029/2007JF000821
Acknowledgments
The study conducted in this paper is funded by "the Project of Establishment of Early Observation Network for the Impacts of Global Warming". We also would like to thank Dr. Ochirbat Batkhishig, Dr. Ya. Jambaljav, and all other staff from Institute of Geography, Mongolian Academy of Sciences for their invaluable logistic support.
About this article
Cite this article
Wu, T., Wang, Q., Watanabe, M. et al. Mapping vertical profile of discontinuous permafrost with ground penetrating radar at Nalaikh depression, Mongolia. Environ Geol 56, 1577–1583 (2009). https://doi.org/10.1007/s00254-008-1255-7
Received:

Accepted:

Published:

Issue Date:

DOI: https://doi.org/10.1007/s00254-008-1255-7
Keywords