Abstract
The aim of this interdisciplinary study is to examine a component of the hydrological cycle in Galapagos by characterizing soil properties. Nine soil profiles were sampled on two islands. Their physical and hydrodynamic properties were analyzed, along with their mineralogical composition. Two groups of soils were identified, with major differences between them. The first group consists of soils located in the highlands (>350 m a.s.l.), characterized by low hydraulic conductivity (<10−5 m s−1) and low porosity (<25%). These soils are thick (several meters) and homogeneous without coarse components. Their clay fraction is considerable and dominated by gibbsite. The second group includes soils located in the low parts of the islands (<300 m a.s.l.). These soils are characterized by high hydraulic conductivity (>10−3 m s−1) and high porosity (>35%). The structure of these soils is heterogeneous and includes coarse materials. The physical properties of the soils are in good agreement with the variations of the rainfall according to the elevation, which appears as the main factor controlling the soil development. The clayey alteration products constrain soils physical and hydrodynamic properties by reducing the porosity and consequently the permeability and also by increasing water retention.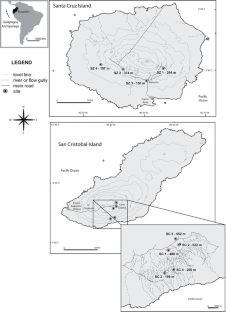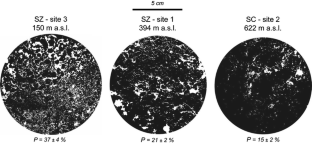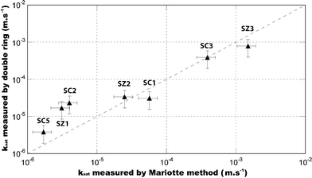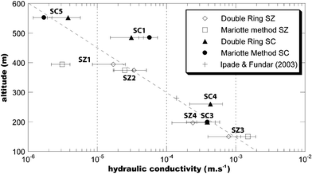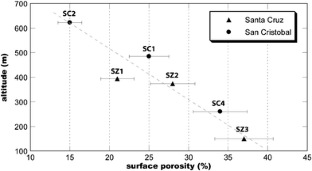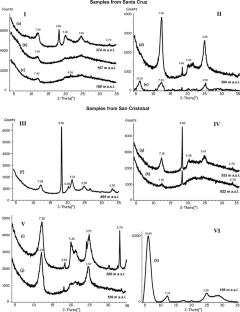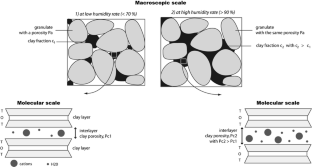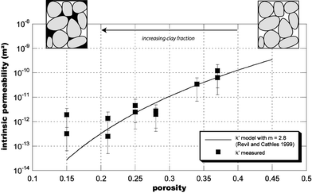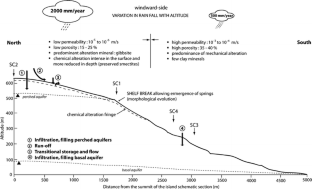 References
Adelinet M (2005) Étude hydrologique des bassins versants de l'île de San Cristóbal, Galápagos, Équateur (hydrological study of the watersheds of San Cristobal Island, Galapagos, Ecuador). Master's thesis, ENS Paris

Boivin P, Touma J, Zante P (1987) Mesure de l'infiltrabilité du sol par la méthode du double anneau 1. résultats expérimentaux (Soil seepage measurements by double ring method 1. Experimental results). Cah ORSTOM, sér Pédol XXIV(1):17–25

Buytaert W, Sevink J, De Leeuw B, Deckers J (2005) Clay mineralogy of the soils in the south Ecuadorian páramo region. Geoderma 127:114–129

Certini G, Wilson M, Hillier S, Fraser A, Delbos E (2006) Mineral weathering in thrachydacitic-derived soils and saprolites involving formation of embryonic halloysite and gibbsite at Mt. Amiata, Central Italy. Geoderma 133:173–190

Dorel M, Roger-Estrade J, Manichon H, Delvaux B (2000) Porosity and soil water properties of Caribbean volcanic ash soils. Soil Use Manage 16:133–140

Dubroeucq D, Geissert D, Quantin P (1998), Weathering and soil forming processes under semi-arid conditions in two Mexican volcanic ash soils. Geoderma. 86(1):99–122

Fontes J, Gonçalves M, Pereira L (2004) Andosols of Terceira, Azores: measurement and significance of soil hydraulic properties. Catena 56:145–154

Geist D, Mc Birney A, Duncan R (1985) Geology and petrogenesis of lavas from San Cristóbal, Galápagos Archipelago. Geol Soc Am Bull 97:555–566

Geist D, Nauman T, Larson P (1998) Evolution of Galápagos magmas: mantle and crustal fractionation without assimilation. J Petrol 39:953–971

Gense C (1970) Premières observations sur l'altération de quelques roches des Hautes Terres malgaches (First observations of weathering for several rocks in Highlands of Madagascar). Cah ORSTOM, sér Pédol VIII(4):451–467

Giertz S, Diekkrüge B (2003) Analysis of the hydrological process in a small headwater catchment in Benin (West Africa). Phys Chem Earth 28:1333–1341

Giertz S, Junge B, Diekkrüger B (2005) Assessing the effects of land use change on soil physical properties and hydrological processes in the sub-humid tropical environment of West Africa. Phys Chem Earth. 30:485–496

Guéguen Y, Palciaukas V (1994) Introduction to the physics of rocks. Princeton University Press, Princeton

Humbel F (1975) Etude de la macroporosité des sols par des tests de perméabilité: Application d'un modèle de filtration aux sols ferralitiques du Cameroun (Study of soil macroporosity through permeability measurements). Cah. ORSTOM, sér. Pédol. vol. XIII

Ingala, Pronareg, Orstom (1989) inventario cartografico de los recursos naturales geomorfologia, vegetacion, hidricos, ecologicos y biofisicos de las islas Galápagos, Ecuador. Ingala

Ipade, Fundar (2003) Diagnostico fisico y quimico de los suelos agricolas de la isla San Cristobal, Galapagos, Ecuador. Ipade

Laruelle J (1966) Study of soil sequence on Indefatigable Island. In: Bowman RI The Galápagos. University of California, CA, pp 87–97

Leroux Y, Janeau J (1996) Caracterización hidrodinámica de un suelo volcánico endurecido del Ecuador (cangahua), influencia de los estados de superficie. Memorias del III simposio internacíonal sobre suelos volcánicos endurecidos

Li D, Velde B, Zhang T (2004) Observations of pores and aggregates during aggregation in some clay-rich agricultural soils as seen in 2D image analysis. Geoderma 118:191–207

Lulli L, Bidini D, Quantin P (1988) A climo and litho soil-sequence on the Vico Volcano (Italy). Cah ORSTOM, sér Pédol XXIV(1):49–60

Malucelli F, Terribile F, Colombo C (1999) Mineralogy, micromorphology and chemical analysis of andosols on the Island of São Miguel (Azores). Geoderma 88:73–98

Marion D, Nur A, Yin H, Han D (1992) Compressional velocity and porosity in sand-clay mixtures. Geophysics 57:554–563

de Marsily G (1986) Quantitative Hydrogeology. Groundwater hydrology for engineers. Academic Press, NY

Mc Birney A, Williams H (1969) Geology and petrology of the Galápagos Islands. Geol Soc Am Mem 118:1–197

Ndayiragije S, Delvaux B (2003) Coexistence of allophane, gibbsite, kaolinite and hydroxy-Al-interlayed 2:1 clay minerals in a perudic Andosol. Geoderma 117:203–214

Pusch R, Weston R (2003) Microstructural stability controls the hydraulic conductivity of smectitic buffer clay. Appl Clay Sci 23:35–41

Quantin P (1972) Les andosols, revue bibliographique des connaissances actuelles (Andosols, an actual review). Cah. ORSTOM, sér. Pédol. X(3):273–301

Quantin P (1974) Hypothèses sur la genèse des andosols en climat tropical: Evolution de la pédogenèse initiale en milieu bien drainé, sur roche volcanique (hypothesis about andosol genesis in a tropical climate: evolution of primary pedogenesis in a well drained environment on volcanic rock). Cah. ORSTOM, sér. Pédol. XII(1):3–12

Quantin P, Balesdent J, Bouleau A, Delaune M, Feller C (1991) Premiers stades d'altération de ponces volcaniques en climat tropical humide (Montagne Pelée, Martinique) (The early stages of soil development on dacito-andesitic pyroclasts in the humid tropics, Martinique). Geoderma. 50:125–148

Revil A, Cathles LM (1999) Permeability of shaly sands. Water Resour Res 35(3)651:662

Sarah P, Rodeh Y (2003) Soil structure variations under manipulations of water and vegetation. J Arid Environ 58:43–57

Skipper NT, Lock PA, Titiloye JO, Swenson J, Mirza ZA, Spencer Howells W, Fernandez-Alonso F (2006) The structure and dynamics of 2-dimensional fluids in swelling clays. Chem Geol 230:182–196

Spaans E, Baltissen G, Bouma J, Miedema R, Lansu A, Schoonderbeek D, Wielemaker W (1989) Changes in physical properties of young and old volcanic surface soils in Costa Rica after clearing of tropical rain forest. Hydrol process 3:383–392

Tanaka T, Sunarta N (1994) Relationship between regional changes of soil physical properties and volcanic stratigraphy on the southern slope of Batur volcano in the island of Bali, Indonesia. Environ Geol 23:182–191

Tegedor Salguero M, Garcia L, Jimenez C, Fernandez Calas E (1986) Evolution différenciée de la ferrallitisation dans un profil complexe d'altération de roches volcaniques acides et basiques superposées, à Ténérife îles Canaries (Differential evolution of ferrallitisation in a complex weathering profile of volcanic rocks, Canary Islands). Cah. ORSTOM, sér. Pédol. XXII(1):77–86

Touma J, Boivin P (1988) Mesure de l'infiltrabilité du sol par la méthode du double anneau 2. Résultats numériques (Soil Seepage measurements by double ring method 1. Numerical results). Cah. ORSTOM, sér. Pédol XXIV(1):27–37

Velde B (1999) Structure of surface cracks in soil and muds. Geoderma 93:101–124

Walsh JB, Brace WF (1984) The effect of pressure on porosity and the transport properties of rock. J Geophys Res 89:9425–9431

Watanabe T, Funakawa S, Kosaki T (2006) Clay mineralogy and its relationship to soil solution composition in soils from different weathering environments of humid Asia: Japan, Thailand and Indonesia. Geoderma 136:51–63

White W, McBirney A, Duncan R (1993) Petrology and geochemistry of the Galapagos Islands: Portrait of a pathological mantle plume. J Geophys Res 98(B11):19533–19563

Zebrowski C (1975) Propriétés et pédogenèse de certains sols sur roches volcaniques de la région d'Antsirabe (Madagascar) (soil properties and pedogenesis on volcanic rocks, Antsirabe, Madagascar). Cah. ORSTOM, sér. Pédol XIII(1):49–59
Acknowledgments
We acknowledge the constructive comments of reviewers, their suggestions enhanced the manuscript. This work benefited from discussions with many scientists, among them the authors would like to thank Ghislain de Marsily and Yves Guéguen. The authors also warmly thank Professor B. Velde at the Laboratoire de Géologie of the Ecole Normale Supérieure, Paris for his help with the porosity protocol. Acknowledgments are also due to P. Barré, student of Professor B. Velde, for his help during XRD measurements and interpretations. The authors are also grateful to their sponsors: Fondation de France, Fondation Véolia-environnement, Fondation Schlumberger-Seed.
About this article
Cite this article
Adelinet, M., Fortin, J., d'Ozouville, N. et al. The relationship between hydrodynamic properties and weathering of soils derived from volcanic rocks, Galapagos Islands (Ecuador). Environ Geol 56, 45–58 (2008). https://doi.org/10.1007/s00254-007-1138-3
Received:

Accepted:

Published:

Issue Date:
Keywords
Physical soil properties

Hydraulic conductivity

Mineralogical composition

Galapagos Islands