Abstract
Vertical electrical sounding (VES') surveys and chemical analyses of groundwater have been executed in the coastal plain of Acquedolci (Northern Sicily), with the aim to circumscribe seawater intrusion phenomena. This urbanized area is representative of a more general problem interesting most of Mediterranean littoral areas, where intensive overdraft favors a heavy seawater intrusion through the coastline. Aquifer resistivity seems decisively to be conditioned by the chlorine and magnesium content in the main aquifer of the region. Schlumberger VES', together with piezometric and chemical–physical information of groundwater, allowed us to perform hydrogeological and geophysical elaborations, to propose the occurrence of a relatively narrow belt marked by fresh–salt water mixing. In the considered plain, pollution risk studies have been already realized by authors with the proposal to identify—by parametric and synthetic zoning of significant hydrogeological elements—the most vulnerable sectors. In detail, an intrinsic vulnerability mapping has been already performed, applying the well-known SINTACS system. This paper intends to give—in this sector of Sicily—an example of integration of different methodologies, showing the role of geophysics to describe the degradation of aquifers on the whole as well as to assess their pollution risk better.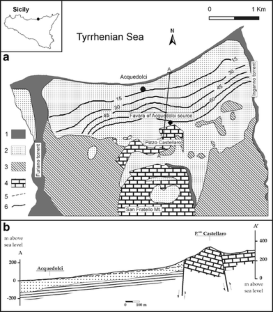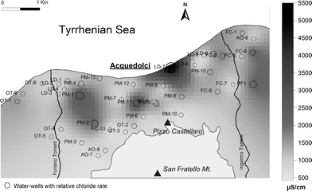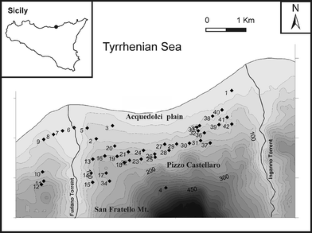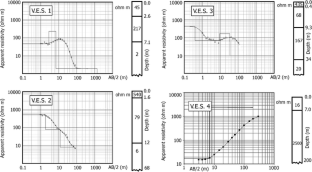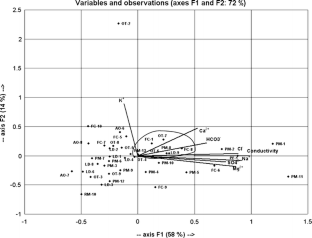 References
Abbate R, Cimino A, Emma S, Martorana Tusa A, Orecchio S (1994) Lineamenti geomorfologici e idrogeologici dell'acquifero carbonatico del territorio di Acquedolci, Messina (Geomorphological and hydrogeological outlines of the karst aquifer of Acquedolci area). Boll Acc Gioenia Sci Nat 27:579–597

Abbate R, Cappadona Ignazzitto S, Cimino A, Di Patti C, Orecchio S (2003) Indagini integrate per la valorizzazione delle risorse ambientali nell'area carbonatica di Monte San Fratello—Zona b del Parco dei Nebrodi (integrated surveys for the valorisation of the environmental resources in the karst area of Monte San Fratello—B zone of Nebrodi Park). Thalassia Salentina 26(supp):65–76

Al-Sayed EA, El-Qady G (2007) Evaluation of seawater intrusion using the electrical resistivity and transient electromagnetic survey: case study at fan of Wadi Feiran, Sinai, Egypt. EGM 2007 International Workshop innovation in EM, grav. and mag. methods: a new perspective for exploration, Capri, Italy

Barlow PM (2003) Ground water in freshwater–saltwater environments of the Atlantic coast. US geological survey, information services, Denver federal center, Denver, US, Circular 1262, 121 p

Bear J (1979) Hydraulics of groundwater. McGraw Hill, New York. 569 pp

Chachadi AG, Lobo Ferreira JP, Noronha L, Choudri BS (2003) Assessing the impact of sea-level rise on salt water intrusion in coastal aquifers using GALDIT model. APRH/CEAS, Seminário Sobre Águas Subterrâneas, Lisbon, 13 p

Cheng AH-D, Ouazar D (1999) Analytical solutions. In: Bear J, Cheng AHD, Sorek S, Ouazar D, Herrera I (eds) Seawater intrusion in coastal aquifers—concepts, methods and practices. Kluwer, Dordrecht. pp 163–187

Cimino A, Andolina F (2002) The territorial danger in the cartography of groundwater contamination risk in Palermo Plain. Mem Soc Geol It 57:561–568

Cheng AH-D, Halhal D, Naji A, Ouazar D (2000) Pumping optimization in saltwater-intruded coastal aquifers. Water Resour Res 36:2155–2165

Cimino A, Abbate R, Macaluso M, Orecchio S (1997) Karst hydrogeology and vulnerability in a coastal sector of Nebrodi Mts. region (Northern Sicily). Sci Tech Envir, Mém H S 12:205–208

Cimino A, Abbate R, Martorana Tusa A (1998) The Regional Park of Nebrodi Mts. (Sicily): a contribution to an integrated management of groundwater. Environ Geol 34:320–328

Cimino A, Abbate R, Cappadona Ignazzitto S, Orecchio S, Sambataro S (2002) Protection and monitoring of water resources in North–West Sicily (with particular regard to the S. Fratello-Acquedolci karst area). Speleologia Iblea 10:107–115

Cimino A, Artino C, Oieni A (2006) Rischi idrogeologici e sanitari in aree urbane della Sicilia soggette a contaminazione degli acquiferi: recenti risultati e rappresentazioni cartografiche in ambiente GIS (hydrogeological and sanitary risks in urban area of Sicily subjected to aquifer contamination: recent results and cartographic representation in GIS environment). 24th environment day meeting "climate and health". Accademia Nazionale dei Lincei, Rome, pp47–50

Civita M (1994) Le carte della vulnerabilità degli acquiferi all'inquinamento: Teoria e pratica (Vulnerability pollution maps of aquifers: theory and practice). Pitagora Ed, Bologna. 325pp

Civita M, De Maio M (1997) Assessing groundwater contamination risk using ARC/INFO via GRID function. ESRI International USER Conference, San Diego

Civita M, De Maio M (2000) Valutazione e cartografia automatica della vulnerabilità degli acquiferi all'inquinamento con il sistema parametrico SINTACS R5 (evaluation and automatic pollution vulnerability of aquifer using SINTACS R5 parametric system). Pitagora Ed, Bologna. 226pp

Civita M, Gargini A, Manzone L, Pranzini G (1995) Applicazione del sistema parametrico SINTACS alla valutazione della vulnerabilità intrinseca degli acquiferi nel bacino intrappenninico del Valdarno Medio. Quaderni di Geologia Applicata 3:37–40

Demirel Z (2004) The history and evaluation of saltwater intrusion into a coastal aquifer in Mersin, Turkey. J Environ Manage 70:275–282

Di Sipio E, Galgaro A, Zuppi GM (2006) Salt water contamination on Venice lagoon mainland: new evaluation of origin, extension and dynamics. Proceedings of 1st SWIM-SWICA (19th salt water intrusion meeting-3rd salt water intrusion in coastal aquifers), Cagliari

Fetter CW (1973) Water resources management in coastal plain aquifers. Proceedings of the international water resources association, first world congress on water resources. pp322–331

Fetter CW (2001) Applied Hydrogeology. Prentice-Hall. Upper Saddle River. 598 pp

Gemitzi A, Petalas C, Tsihrintzis VA, Pisinaras V (2006) Assessment of groundwater vulnerability to pollution: a combination of GIS, fuzzy logic and decision making techniques. Environ Geol 49:653–673

Ghassemi F, Chen TH, Jakeman AJ, Jacobson G (1993) Two- and three-dimensional simulation of seawater intrusion: performances of the "SUTRA" and "HST3D" models. AGSO J Aust Geol Geophys 14:219–226

Gogu RC, Hallet V, Dassargues A (2003) Comparison of aquifer vulnerability assessment techniques. Application to the Neblon river basin (Belgium). Environ Geol 44:881–892

Hubbert MK (1940) The theory of ground-water motion. J Geol 48:785–944

Khalil MH (2006) Geoelectric resistivity sounding for delineating salt water intrusion in the Abu Zenima area, West Sinai, Egypt. J Geophys Eng 3:243–251

Kunetz G (1966) Principles of direct current resistivity prospecting. Geoexploration monographs, Gebruder-Borntraeger, Berlin. 103 pp

Liu CW, Cheng LH (1997) Hydrogeological investigation of a groundwater contamination site in southern Taiwan. Environ Geol 29:238–245

Mantoglou A (2003) Pumping management of coastal aquifers using analytical models of saltwater intrusion. Water Resour Res 39:1335

Mantoglou A, Papantoniou M, Giannoulopoulos P (2004) Management of coastal aquifers based on nonlinear optimization and evolutionary algorithms. J Hydrol 297:209–228

Melloul AJ, Goldenberg LC (1997) Monitoring of seawater intrusion in coastal aquifers: basic and local concerns. J Environ Manage 51:73–86

Narayan KA, Schleeberger K, Bristow KL (2007) Modelling seawater intrusion in the Burdekin Delta irrigation area, North Queensland, Australia. Agr Water Manage 89:217–228

Orellana E (1982) Prospección geoeléctrica en corriente continua. Paraninfo, Madrid. 578 pp

Oude Essink GHP (2001) Salt water intrusion in a three dimensional groundwater system in the Netherlands: a numerical study. Trans Porous Media 43:137–158

Polemio M, Dragone V, Limoni PP (2006) Salt contamination in Apulian aquifer: spatial and time trend. Proceedings of 1st SWIM-SWICA (19th salt water intrusion meeting-3rd salt water intrusion in coastal aquifers), Cagliari

Pulido-Leboeuf P (2004) Seawater intrusion and associated processes in a small coastal complex aquifer (Castell de Ferro, Spain). Appl Geochem 19:1517–1527

Reilly TE, Goodman AS (1985) Quantitative analysis of saltwater freshwater relationships in groundwater systems: a historical perspective. J Hydrol 80:125–160

Shaaban FF (2001) Vertical electrical soundings for groundwater investigation in northwestern Egypt: a case study in a coastal area. African Earth Sci 33:673–686

Sodde M, Barrocu G (2006) Seawater intrusion and arsenic contamination in the alluvial plain of the rivers Quirra and Flumini Pisale, south–eastern Sardinia. Proceedings of first SWIM-SWICA (19th salt water intrusion meeting-third salt water intrusion in coastal aquifers), Cagliari

Yechieli Y, Kafri U, Sivan O (2006) The interrelation between the sea and the coastal aquifer, deduced from analyses of radioactive isotopes. Proceedings of first SWIM-SWICA (19th salt water intrusion meeting-third salt water intrusion in coastal aquifers), Cagliari
Acknowledgments
Authors would like to thank the staff of the chemical laboratory of the Azienda Municipalizzata Acquedotti di Palermo for the help during the collection and analyses of wellwaters, the Azienda Nazionale Autonoma Strade for the availability of VES' and boreholes data, and anonymous referee for his critical revision of the manuscript.
About this article
Cite this article
Cimino, A., Cosentino, C., Oieni, A. et al. A geophysical and geochemical approach for seawater intrusion assessment in the Acquedolci coastal aquifer (Northern Sicily). Environ Geol 55, 1473 (2008). https://doi.org/10.1007/s00254-007-1097-8
Received:

Accepted:

Published:
Keywords
Sicily

Acquedolci plain

Groundwater

Apparent resistivity

Seawater intrusion