Abstract
In this paper, fist-order reliability method (FORM) is used to evaluate the impacts of uncertainties posed by traditional deterministic models on the environment in Jining, China. Because of groundwater contamination in shallow aquifer, and an increase in water demand, the new wells target the confined aquifer with constant pumping rate of 5,000 m3/d. Using Theis equation, the groundwater drawdown is analyzed to determine whether the confined aquifer will be contaminated. Although the piezometric level is higher than the phreatic level by 11.0 m, the risk of drawdown is still 19.49% when the pumping rate of 5,000 m3/d is maintained for 2 years. The deterministic model indicates a drawdown of 8.94 m which is lower than the maximum tolerance drawdown of 11.0 m. The sensitivity and uncertainty analysis reveal that the model result is more sensitive to transmissivity than specific yield, while the reliability analysis offers significant information for the decision makers. This approach exposes and minimizes the risk of undesirable consequences such as groundwater contamination.
Access options
Buy single article
Instant access to the full article PDF.
USD 39.95
Price excludes VAT (USA)
Tax calculation will be finalised during checkout.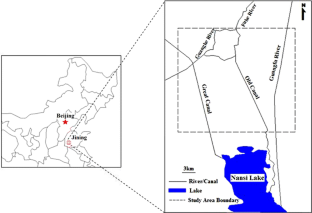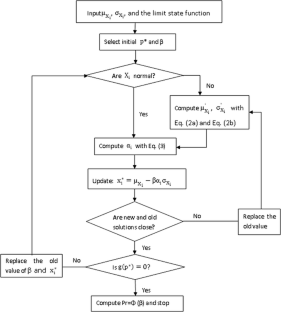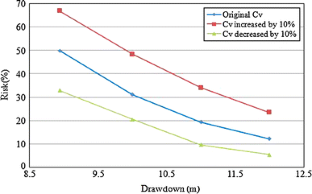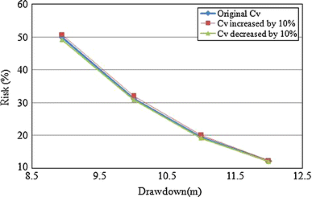 References
Ang AHS (1973) Structural risk analysis and reliability-based design. J Struct Eng, ASCE 99(9):1891–1910

Ang AHS, Cornell CA (1974) Reliability bases of structural safety and design. J Struct Eng, ASCE 100(9):1755–1769

Ang AHS, Tang WH (1984) Probability concepts in engineering planning and design. Vol II decision, risk, and reliability. Wiley, New York

Cooper HH Jr, Jacob CE (1946) Ageneralized graphical method for evaluation formation constants and summarizing well-field history. Trans Am Geophysical Union

Cornell CA (1969) A probability-based structural code. J Am Concrete Inst 66(12):974-985

Han KY, Kim SH, Bae DH (2001) Stochastic water quality analysis using reliability method. J Am Water Resour Assoc 37(3):695–708

Hasofer A, Lind N (1974) An exact and invariant first-order reliability format. J Eng Mech, ASCE 100(1):111–121

Husam B, Jürgen K (2006) Stochastic modeling and risk analysis of groundwater pollution using FORM coupled with automatic differentiation. Adv Water Resour 29:1815–1832

Ma RR (2004) The methods and application of risk analysis in earth rock fill dam. Science Publication, Beijing

Ong'or BTI, Shu LC (2007a) Groundwater overdraft vulnerability and environmental impact assessment in Arusha. Environ Geol 51(7):1171–1176

Ong'or BTI, Shu LC, Liu PG (2007b) Environmental impact assessment of risk associated with groundwater overdraft remediation in cone of depression, Jining, China. Environ Geol. doi:10.1007/s00254-007-068-9

Rackwitz R, Fiessler B (1978) Structural reliability under combined random load sequence. Comput Struct 9:489–494

Shu LC, Liu PG, Ong'or BI (2006) Application of M-C and JC method on uncertainties analysis in groundwater resources evaluation. In: Proceedings of the international symposium on flood forecasting and water resources assessment for IAHS-PUB, pp. 663–670

Shu LC, Zhu YS (2000a) Uncertainties analysis of groundwater resource evaluation. Hydrogeol Eng Geol 6:6–8 (in Chinese)

Shu LC, Zhu YS (2000b) Reliability analysis of groundwater resources evaluation results. Adv Water Sci 11(1):21–24 (in Chinese)

Susan SH, Nancy L. Barber, Joan FK, Kristin SL (2000) Estimated use of water in the United States in 2000. U. S. Geological Survey Circular 1268

Todd DK, Mays LW (2005) Groundwater hydrology, 3rd edn. Wiley, New York

Tyagi A, Haan CT (2001) Uncertainty analysis using corrected fist-order approximation method. Water Resour Res 37(6):1847–1858

Zhao GF (1996) Reliability theory and its applications for engineering structures. Dalian university of technology press, Dalian, China. (in Chinese)
Acknowledgments
The study is supported by the State Key Lab of Hydrology-Water Resources and Hydraulic Engineering of Hohai University, China. Thanks also to Jining Bureau of Water Resource, Shandong Province of China for their collaboration.
About this article
Cite this article
Shu, L.C., Liu, P.G. & Ongor, B.T.I. Environmental impact assessment using FORM and groundwater system reliability concept: case study Jining, China. Environ Geol 55, 661–667 (2008). https://doi.org/10.1007/s00254-007-1016-z
Received:

Accepted:

Published:

Issue Date:

DOI: https://doi.org/10.1007/s00254-007-1016-z
Keywords
Reliability analysis

Groundwater drawdown

FORM

Risk

Jining

China