Abstract
Coastal reclamation has been carried out along the coastal areas near Shenzhen, China in a large scale since 1980s by dumping fill materials over the marine mud at the sea bottom. Usually the area to be reclaimed is drained first and some of the mud is air-dried for a few weeks before it is buried by fill. After reclamation, the terrestrial groundwater, which is relatively acidic and with high dissolved oxygen, gradually displaces the seawater, which is alkaline with high salinity. The changes in the burial conditions of mud and the properties of the pore water in the mud may induce the release of some heavy metals into the mud. Field survey confirms that the pH and salinity of the groundwater in the reclamation site are much lower than the seawater. Chemical analyses of mud and groundwater samples collected from the reclamation sites reclaimed in different years indicate that most of the heavy metals in the mud decrease gradually with time, but the heavy metals in the groundwater are increased. The release of heavy metals into pore water due to reactivation of heavy metals in the mud is of environmental concern. To understand why some of the heavy metals can be released from the mud more easily than others, a sequential extraction method was used to study the operationally determined chemical forms of five heavy metals (Cu, Ni, Pb, Zn, and Cd) in the mud samples. Heavy metals can be presented in five chemical forms: exchangeable, carbonate, Fe–Mn oxide, organic, and residual. Ni and Pb were mainly associated with the Fe–Mn oxide fraction and carbonate fraction; Zn was mainly associated with organic fraction and Fe–Mn oxide fraction, while Cu and Cd were associated with organic fraction and carbonate fraction, respectively. If the residual fraction can be considered as an inert phase of the metal that cannot be mobilized, it is the other four forms of heavy metal that cause the noticeable changes in the concentration of heavy metals in the mud. On the basis of the speciation of heavy metals, the mobility of metals have the following order: Pb (36.63%) > Cu (31.11%) > Zn (20.49%) > Ni (18.37%) > Cd (13.46%). The measured metal mobility fits reasonably well with the degree of concentration reduction of the metals with time of burial observed in the reclamation site.
Access options
Buy single article
Instant access to the full article PDF.
USD 39.95
Price excludes VAT (USA)
Tax calculation will be finalised during checkout.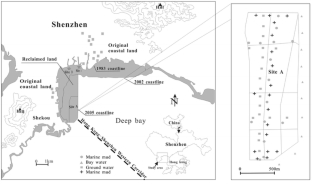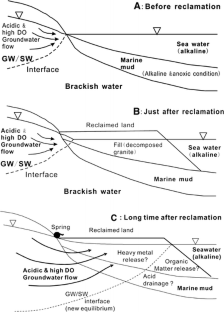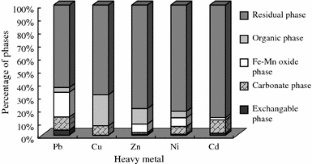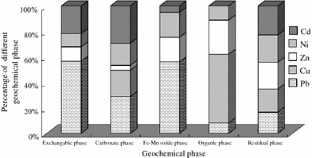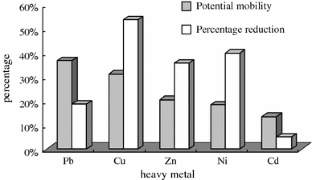 References
Ahumada I, Mendoza J, Navarrete E, Ascar L (1999) Sequential extraction of heavy metals in soils irrigated with wastewater. Commun Soil Sci Plant Anal 30:1507–1519

Banat KM, Howari FM, Al-Hamad AA (2005) Heavy metals in urban soils of central Jordan: should we worry about their environmental risks? Environ Res 97:258–273

Chen KP, Jiao JJ (2006) Heavy metal concentrations and mobility in sediment and groundwater in coastal reclamation areas: a case study in Shenzhen (under review)

Howari FM, Banat KM (2001) Assessment of Fe, Zn, Cd, Hg, and Pb in the Jordan and Yarmouk River sediments in relation to their physicochemical properties and sequential extraction characterization. Water Air Soil Pollut 132(1–2):43–59

Hu NJ, Li ZQ, Huang P, Cheng T (2006) Distribution and mobility of metals in agricultural soils near a copper smelter in South China. Environ Geochem Health 28:19–26

Jiao JJ (2002) Preliminary conceptual study on impact of land reclamation on groundwater flow and contaminant migration in Penny's Bay. Hong Kong Geologist 8:14–20

Jiao JJ, Leung CM, Chen KP, Huang JM, Huang RQ (2005) Physical and chemical processes in the subsurface system in the land reclaimed from the sea, in collections of coastal geo-environment and urban development. China Dadi Publishing House, Beijing, pp 399–407

Liang Y, Wong MH (2003) Spatial and temporal organic and heavy metal pollution at Mai Po Marshes Nature Reserve. Hong Kong Chemosphere 52:1647–1658

Li XD, Coles Barry J, Ramsey Michael H, Thornton Iain (1995) Sequential extraction of soil for multi element analysis by ICP-AES. Chem Geol 124:109 –123

Meyer JS, Davidson W, Sundby B, Oris JT, Laurén DJ, Förstner U, Hong J, Crosby DG (1994) The effects of variable redox potentials, pH, and light on bioavailability in dynamic water-sediment environments. In: Landrum PF, Bergman HL, Benson WH (eds) Bioavailability―physical, chemical, and biological interactions. Lewis Publ., Boca Raton, pp 155–170

Stumm W, Morgan JJ (1981) Aquatic chemistry: an introduction emphasizing chemical equilibria in natural water. 2nd edn. Wiley, New York

Salomons W, Förstner U (1984) Metals in the Hydrocycle. Springer, Berlin

Salomons W, de Rooij NM, Kerdijk H, Biil J (1987) Sediments as a source for contaminants? Hydrobiologia 149:13–30

Shenzhen Research and Design Institute, China Academy of Railway Sciences (2004) Report of Monitoring Programme (North Section) of Reclamation and Foundation Engineering of the Hong Kong Shenzhen Western Corridor

Tessier A, Campbell PGC, Bisson M (1979) Sequential extraction procedure for the speciation of trace metals. Anal Chem 51(7):844–851

Tessier A, Campbell PGC (1987) Partitioning of trace metals in sediments: relationships with bioavailality. Hydrobilogia 149:43–52

Lau SSS, Chu LM (1999) Contamination release from sediments in a coastal wetland. Water Res 33(4):909–918
Acknowledgment
The study was partially supported by the "Two Bases" Project of National Natural Science Foundation of China and the Research Grants Council of the Hong Kong Special Administrative Region (HKU 7105/02P). We appreciate the help and assistance of Miss Lin Qian, Miss Genlan Yang and Miss Simin Xu in preparing the experiments and operating AAS.
About this article
Cite this article
Huang, J., Huang, R., Jiao, J.J. et al. Speciation and mobility of heavy metals in mud in coastal reclamation areas in Shenzhen, China. Environ Geol 53, 221–228 (2007). https://doi.org/10.1007/s00254-007-0636-7
Received:

Accepted:

Published:

Issue Date:

DOI: https://doi.org/10.1007/s00254-007-0636-7
Keywords
Land reclamation

Mud

Heavy metals

Speciation

Sequential extraction

Mobility