Abstract
This study constructs a hazard map for ground subsidence around abandoned underground coal mines (AUCMs) at Samcheok City in Korea using a probability (frequency ratio) model, a statistical (logistic regression) model, and a Geographic Information System (GIS). To evaluate the factors related to ground subsidence, an image database was constructed from a topographical map, geological map, mining tunnel map, Global Positioning System (GPS) data, land use map, lineaments, digital elevation model (DEM) data, and borehole data. An attribute database was also constructed from field investigations and reports on the existing ground subsidence areas at the study site. Nine major factors causing ground subsidence were extracted from the probability analysis of the existing ground subsidence area: (1) depth of drift; (2) DEM and slope gradient; (3) groundwater level, permeability, and rock mass rating (RMR); (4) lineaments and geology; and (5) land use. The frequency ratio and logistic regression models were applied to determine each factor's rating, and the ratings were overlain for ground subsidence hazard mapping. The ground subsidence hazard map was then verified and compared with existing subsidence areas. The verification results showed that the logistic regression model (accuracy of 95.01%) is better in prediction than the frequency ratio model (accuracy of 93.29%). The verification results showed sufficient agreement between the hazard map and the existing data on ground subsidence area. Analysis of ground subsidence with the frequency ratio and logistic regression models suggests that quantitative analysis of ground subsidence near AUCMs is possible.
Access options
Buy single article
Instant access to the full article PDF.
USD 39.95
Price excludes VAT (USA)
Tax calculation will be finalised during checkout.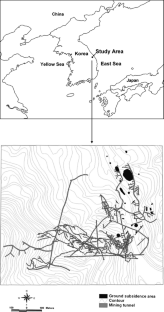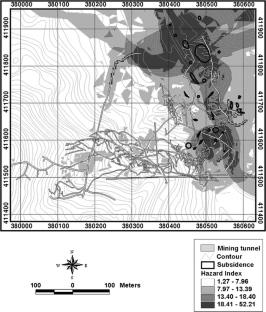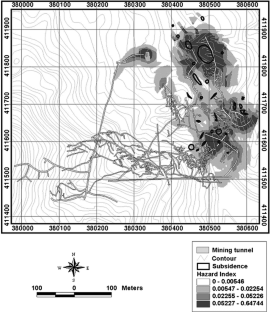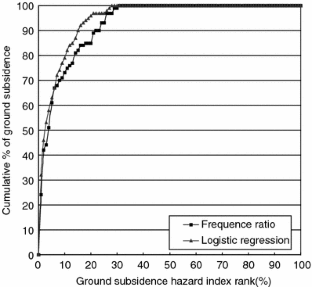 References
Atkinson PM, Massari R (1998) Generalized linear modeling of susceptibility to landsliding in the central Apennines, Italy. Compute Geosci 24:373–385

Coal Industry Promotion Board, CIPB (1997) A study on the Mechanism of subsidence over abandoned mine area and the construction method of subsidence prevention. Coal Industry Promotion Board, Seoul, 97-06:1–67

Coal Industry Promotion Board, CIPB (1999) Fundamental investigation report of the stability test for Simpori. Coal Industry Promotion Board, Seoul, 97-08:5–38

Goel SC, Page CH (1982) An empirical method for predicting the probability of chimney cave occurrence over a mining area. Int J Rock Mech Min, Sci Geomech Abstr 19:325–337

National Coal Board (1975) Subsidence engineer's handbook. National Coal Board Mining Department, London, p 111

The Geological Society of Korea (1999) Geology of Korea. Sigma Press, Seoul, 550–556

Waltham AC (1989) Ground subsidence. Blackie & Son Ltd, New York, pp 49–97
Acknowledgment
The Coal Industry Promotion Board provided whole investigation reports and basic GIS database.
About this article
Cite this article
Kim, KD., Lee, S., Oh, HJ. et al. Assessment of ground subsidence hazard near an abandoned underground coal mine using GIS. Environ Geol 50, 1183–1191 (2006). https://doi.org/10.1007/s00254-006-0290-5
Received:

Accepted:

Published:

Issue Date:

DOI: https://doi.org/10.1007/s00254-006-0290-5
Keywords
Ground subsidence

Abandoned underground coal mine

Frequency ratio

Logistic regression

GIS

Korea