Abstract
The effects of urban development on the natural ecosystem and its link to the increased flooding in Houston, Texas were evaluated. Houston is suitable for this type of analysis due to its 1.95 million population, large geographic area and fast growth rate. Using neural network techniques, four Landsat Thematic Mapper images were grouped into five land use classes for the period 1984 to 2003: vegetation, bare ground, water, concrete and asphalt. Results show that asphalt and concrete increased 21% in the time period 1984–1994, 39% in 1994–2000 and 114%, from 2000 to 2003, while vegetation suffered an overall decrease. When change detection data are compared with runoff ratio data, a relationship between increased runoff and urban development is apparent, which indicates increased chances of flooding. Initial results of this work are made available to the public in GIS format via internet using Arc Internet Map Server (ArcIMS) at http://geoinfo.geosc.uh.edu/Houston.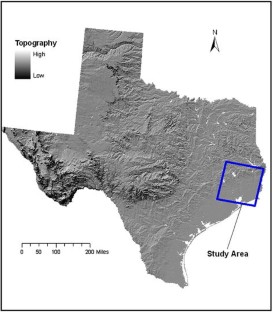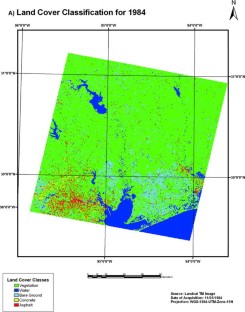 References
Asrar G, Greenstone R (1995) MTPE/EOS reference handbook, NASA/Goddard Space flight center, Greenbelt, Maryland

Atkinson PM, Tatnall ARL (1997) Neural networks in remote sensing. Int J Remote sens 18(4):699–709

Barker JL (1983) Radiometeric calibration and processing procedures for reflective bands on Landsat-4 protoflight. In: Proceedings of Landsat-4 scientific characterization early results symposium, A-23-1, NAsa/GSFC, Greenbelt, MD

Claytor RA, Whitney EB (1996) Environmental indicators to assess stormwater control programs and practices. Prepared by the Center for Watershed Protection, Silver Spring, Maryland, in cooperation with the US Environmental Protection Agency

Collins JB, Woodcock CE (1996) An assessment of several linear change detection techniques for mapping forest mortality using mutlispectral Landsat TM data. Remote Sens Environ 56:66–77

Jensen JR (1996) Introductory digital image processing a remote sensing perspective. Prentice Hall, Englewood Cliffs

Jensen JR, Narumalani S, Weatherbee O, Mackey HEM (1993) Measurement of seasonal and yearly cattail and waterlily changes using multidate SPOT Panchromatic data. Photogramm Engineering Remote Sens 59(4):519–525

Jensen JR, Qiu F, Petterson K (1999) A neural network image interpretation system to extract rural and urban land use and land cover information from remote sensor data. Geocarto Int 16(1):19–28

Khorram S, Biging GS, Chrisman NR, Colby DR, Congalton RG, Dobson JE, Ferguson RL, Goodchild MF, Jensen JR, Mace TH (1999) Accuracy assessment of remote sensing devised change detection. ASPRS Monograph, American Society for Photogrammetry and Remote Sensing, Bethada

Lambin EF, Ehrlich D (1996) The surface temperature-vegetation index space for land cover and land cover change analysis. Int J Remote Sens 17(3):463–487

Landsberg HE (1981) The urban climate. Academic, New York

Miller DM, Kaminsky EJ, Rana S (1995) Neural network classification of remote sensing data. Comput Geosci 21(3):377–386

Rao VB, Rao HV (1993) C++ neural network and fuzzy logic. Management Information, New York

Russell SJ, Norvig P (2003) Artificial intelligence: a modern approach, 2nd edn. Prentice Hall, Upper Saddle River

Schueler T (1995) Environmental land planning series: site planning for urban stream protection. Prepared by the Metropolitan Washington Council of Governments and the Center for Watershed Protection, Silver Spring, Maryland

US Bureau of Census (1996) Land area, population, and density for metropolitan areas: Population Distribution Branch, US Bureau of the Census, Washington

US Bureau of Census (2001) Land area, population, and density for metropolitan areas. Population Distribution Branch, US Bureau of the Census, Washington

Wahl KL, Thomas WO, Hirsch RM (1995) Stream-gaging program of the U.S. Geological Survey.U.S. Geological Survey Circular 1123, Reston, Virginia
Acknowledgements
This work was funded by Environmental Institute of Houston. Some of the data was obtained from CSR, UT; Austin is thanked for providing Landsat dataset. Bibi Naz and Hongmei Cao are acknowledged for their help in image processing and ArcIMS web page development.
About this article
Cite this article
Khan, S.D. Urban development and flooding in Houston Texas, inferences from remote sensing data using neural network technique. Environ Geol 47, 1120–1127 (2005). https://doi.org/10.1007/s00254-005-1246-x
Received:

Accepted:

Published:

Issue Date:
Keywords
Houston

Texas

Remote sensing

Urbanization

Flooding