Abstract
Salinity is a highly important problem in arid and semi-arid regions. Consequently, the analysis of soil salinity plays a crucial role in environmental sciences. Environmental variables show spatial variability and statistical tools able to analyze and describe the spatial dependence and quantify the scale and intensity of the spatial variation are needed. Moreover, the spatial prediction has special importance for agricultural transformation of the land or for environmental restoration (selection of the most appropriate species adapted to soil salinity). In this paper we propose a methodological framework based on geostatistics to model the spatial dynamics of soil salinity measurements to further analyze the case of a region in southeastern Spain.
Access options
Buy single article
Instant access to the full article PDF.
USD 39.95
Price excludes VAT (USA)
Tax calculation will be finalised during checkout.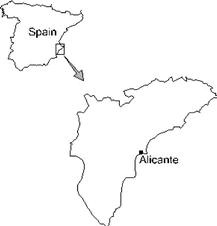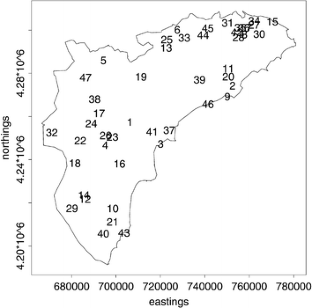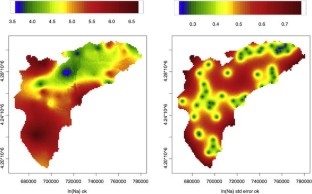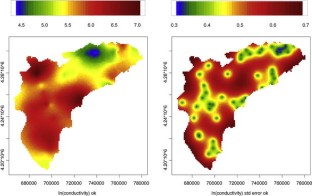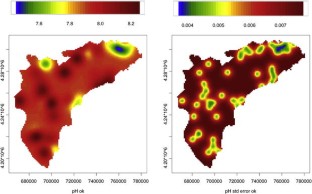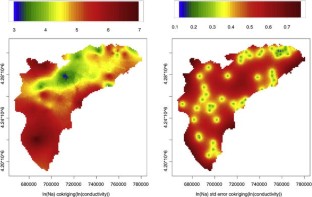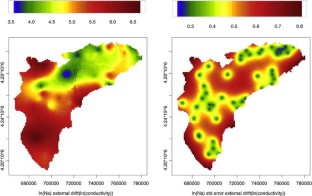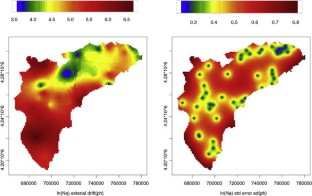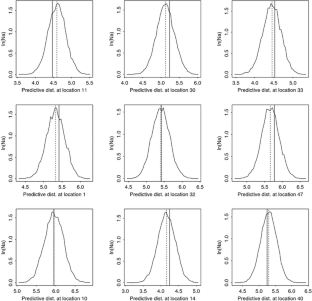 References
Andreu J (1997) Contribución de la sobreexplotación al conocimiento de los acuíferos kársticos de Crevillente, Cid Cabeco d'Or (provincia de Alicante). Phd Thesis, Universidad de Alicante, 447 pp

Antolin C (1998) El suelo como recurso natural en la Comunidad Valenciana. Generalitat Valenciana, Valencia

Bhumba DR, Abrol IP (1979) Saline and sodic soils. In: Proceedings of the Symposium on Soils and Rice. IRRI, Los Banos, Laguna, Philippines, pp 719–738

Cressie NA (1993) Statistics for spatial data. Wiley, New York

Diggle PJ, Moyeed RA, Tawn JA (1998) Non-gaussian geostatistics. Appl Stat 47:299–350

Diggle PJ, Ribeiro Jr PJ (2001) Bayesian inference in Gaussian model based geostatistics. Geogr Environ Mod (unpublished)

Frenkel H, Gerstl Z, Alperovitch N (1989) Exchange-induced dissolution of gypsum and the reclamation of sodic soils. J Soil Sci 40:599–611

Frenkel H, Goertzen JO, Rhoades JD (1978) Effects of clay type and content, exchangeable sodium percentage, and electrolyte concentration on clay dispersion and soil hydraulic conductivity. Soil Sci Soc Am J 42:32–39

Goovaerts P (1997) Geostatistics for natural resources evaluation. Oxford University Press, New York

Guerrero C, Mataix-Solera J, Navarro-Pedreo J, García-Orenes F, Gómez I (2001) Different patterns of aggregate stability in burned and restored soils. Arid Land Res Manage 15:163–171

Gupta RK, Abrol IP (1990) Salt affected soils: their reclamation and management for crop production. Adv Soil Sci 11:223–288

Gupta RK, Bhumbla DK, Abrol IP (1984) Effect of sodicity, pH, organic matter, and calcium carbonate on the dispersium behaviour of soils. Soil Sci 137:245–251

Harrach T, Nemeth K (1982) Effect of soil properties and soil management on the EUF-N fractions in different soils under uniform climatic conditions. Plant and Soil 64:55–61

Journel A, Huijbregts C (1978) Mining geostatistics. Academic Press, San Diego, CA

Kelley WP (1951) Alkali soils: their formation, properties and reclamation. Van Nostrand Reinhold, New York

Knudsen D, Peterson GA, Pratt PF (1982) Lithium, sodium and potassium. Methods of soil analysis, part 2, chemical and microbiological properties. ASA and SSSA, Madison, USA, pp 225–246

Navarro-Pedreño J, Moral R, Gómez I, Almendro MB, Palacios G, Mataix J (1997) Saline soils due to saltworks: salt flats in Alicante. In: Batlle J (ed) Proc Int Symp Salt-Affected Lagoon Ecosystems, Valencia, Spain

Navarro J, Mataix J, Garcia E, Jordan MM (2001) Introduccin a los Sistemas de Informacin Geogr.ca para el Medio Ambiente. Aspectos bsicos de cartografa, SIG y teledeteccin. Universidad Miguel Hernndez, Elche, Alicante

Oster JD, Shainberg I, Abrol IP (1996) Reclamation of salt-affected soil. In: Agassi M (ed) Soil erosion, conservation and rehabilitation. Marcel Dekkar, New York, USA

Perez AJ (1994) Atlas Climatic de la Comunitat Valenciana. Generalitat Valenciana, Valencia, Spain

Schofield RK, Samson HR (1954) Flocculation of kaolinite due to the attraction of oppositely charged crystal faces. Faraday Disc Chem Soc 18:135–145

Shainberg I, Letey J (1984) Response of soils to sodic and saline conditions. Hilgardia 52:1–57

Suarez DL, Rhoades JD, Savado R, Grieve CM (1984) Effect of pH on saturated hydraulic conductivity and soil dispersion. Soil Sci Soc Am J 48:50–55

Sumner ME (1993) Sodic soils: new perspectives. Aust J Soil Res 5:37–46

U.S. Salinity Laboratory Sta (1954) Diagnosis and improvement of saline and alkali soils. U.S. Goverment Printing Office, Washington, DC
About this article
Cite this article
Jordán, M.M., Navarro-Pedreño, J., García-Sánchez, E. et al. Spatial dynamics of soil salinity under arid and semi-arid conditions: geological and environmental implications. Env Geol 45, 448–456 (2004). https://doi.org/10.1007/s00254-003-0894-y
Received:

Accepted:

Published:

Issue Date:

DOI: https://doi.org/10.1007/s00254-003-0894-y
Keywords
Arid regions

Electrical conductivity

Geostatistical modeling

pH

Sodium

Soil