Abstract
A segment of natural gas pipeline was damaged due to landsliding near Hendek. Re-routing of the pipeline is planned, but it requires the preparation of a landslide susceptibility map. In this study, the statistical index (Wi) and weighting factor (Wf) methods have been used with GIS to prepare a landslide susceptibility map of the problematic segment of the pipeline. For this purpose, thematic layers including landslide inventory, lithology, slope, aspect, elevation, land use/land cover, distance to stream, and drainage density were used. In the study area, landslides occur in the unconsolidated to semi-consolidated clayey unit and regolith. The Wf method gives better results than the Wi method. Lithology is found to be the most important aspect in the study area. Based on the findings obtained in this study, the unconsolidated to semi-consolidated clayey unit and alluvium should be avoided during re-routing. Agricultural activities should not be allowed in the close vicinity of the pipeline.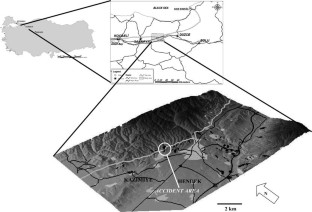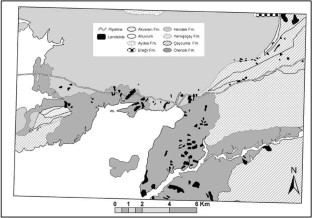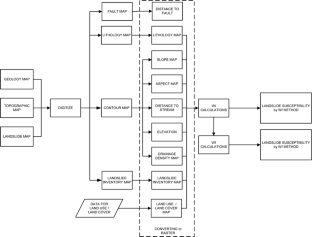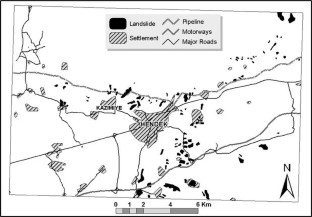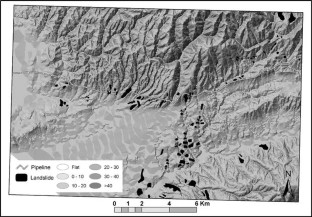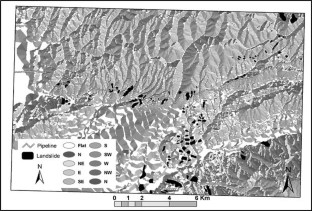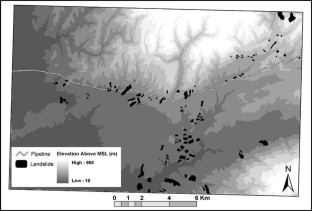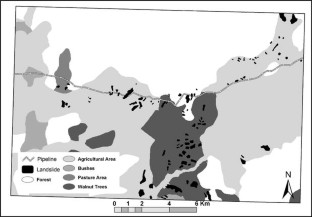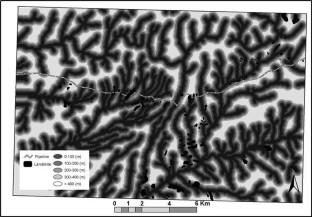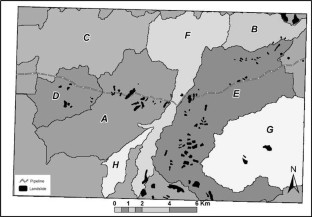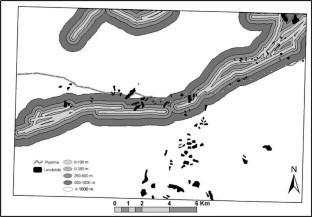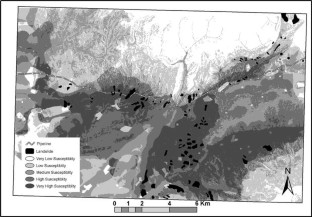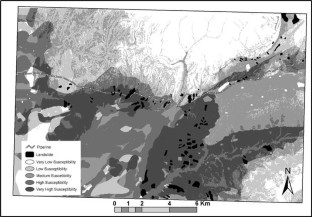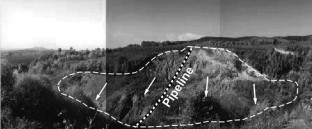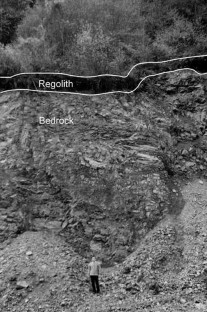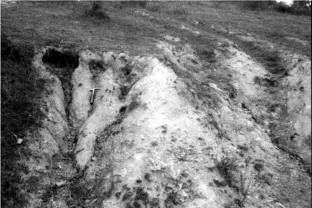 References
Aleotti P, Chowdhury R (1999) Landslide hazard assessment: summary review and new perspectives. Bull Eng Geol Environ 58:21–44

Anbalagan R (1992) Landslide hazard evaluation and zonation mapping in mountainous terrain. Eng Geol 32:269–277

Atkinson PM, Massari R (1998) Generalized linear modelling of landslide susceptibility in the Central Apennines, Italy. Comput Geosci 24:373–385

Carrara A, Cardinali M, Detti R, Guzzetti F, Pasqui V, Reichenbach P (1991) GIS techniques and statistical models in evaluating landslide hazard. Earth Surf Proc Landforms 16:427–445

Carrara A, Cardinali M, Guzzetti F, Reichenbach P (1995) GIS technology in mapping landslide hazard. In: Carrara A, Guzzetti F (eds) Geographical information systems in assessing natural hazards. Kluwer, Dordrecht, pp 135–175

Clerici A, Perego S, Tellini C, Vescovi P (2002) A procedure for landslide susceptibility zonation by the conditional analysis method. Geomorphology 48:349–264

Dai FC, Lee CF, Li J, Xu ZW (2001) Assessment of landslide susceptibility on the natural terrain of Lantau Island, Hong Kong. Environ Geol 40:381–391

Donati L, Turrini MC (2002) An objective method to rank the importance of the factors predisposing to landslides with the GIS methodology: application to an area of the Apennines (Valneria; Perugia, Italy). Eng Geol 63:277–289

Duman TY, Emre Ö, Çan T, Ateş Ş, Keçer M, Erkal T, Durmaz S, Doğan A, Çörekçioğlu E, Göktepe A, Cicioğlu E, Karakaya F (2001) Turkish landslide inventory mapping project: methodology and results on Zonguldak quadrangle (1/500,000). In: Proc 4th Int Turkish Geology Symp, 24–28 Sept, Adana, Çukurova University, p 160

Einstein HH (1988) Special lecture: landslide risk assessment procedure. In: Bonnrad C (ed) Proc 5th Int Symp on Landslides, Lausanne, AA Balkema, Rotterdam, Publ 2, pp 1075–1090

Emre Ö, Ateş Ş, Keçer M, Erkal T, Yılmaz T, Durmaz S (1999) Pazarcık-KDZ Ereğli doğalgaz ana iletim hattı Paşaköy (Adapazarı) KDZ Ereğli arasının heyelan etüdü (in Turkish). MTA Rep 10187. MTA, Ankara

Gökçeoğlu C, Aksoy H (1996) Landslide susceptibility mapping of the slopes in the residual soils of the Mengen region (Turkey) by deterministic stability analyses and image processing techniques. Eng Geol 44:147–161

Griffiths JS, Mather AE, Hart AB (2002) Landslide susceptibility in the Rio Aguas catchment, SE Spain. Q J Eng Geol Hydrogeol 35:9–17

Gupta RP, Joshi BC (1990) Landslide hazard zoning using the GIS approach—a case study from the Ramganga catchment, Himalayas. Eng Geol 28:119–131

Guzetti F, Carrara A, Cardinali M, Reichenbach P (1999) Landslide hazard evaluation: a review of current techniques and their application in a multi-scale study, central Italy. Geomorphology 31:181–216

Hansen A (1984) Landslide hazard analysis. In: Brunsden D, Prior DB (eds) Slope instability. Wiley, New York, pp 523–602

Juang CH, Lee DH, Sheu C (1992) Mapping slope failure potential using fuzzy sets. J Geotech Eng ASCE 118:475–494

Lee S, Min K (2001) Statistical analysis of landslide susceptibility at Yongin, Korea. Environ Geol 40:1095–1113

Lee S, Choi J, Min K (2002) Landslide susceptibility analysis and verification using the Bayesian probability model. Environ Geol 43:120–131

Luzi L, Pergalani F (1999) Slope instability in static and dynamic conditions for urban planning: the "Oltre Po Pavese" case history (Regione Lombardia-Italy). Nat Hazards 20:57–82

Maharaj RJ (1993) Landslide processes and landslide susceptibility analysis from an upland watershed: a case study from St. Andrew, Jamaica, West Indies. Eng Geol 34:53–79

Mejia-Navarro M, Garcia LA (1996) Natural hazard and risk assessment using decision support systems; application: Glenwood Springs, Colorado. Environ Eng Geosci 2:299–324

Mejia-Navarro M, Wohl EE (1994) Geological hazard and risk evaluation using GIS: methodology and model applied to Medellin, Columbia. Bull Assoc Eng Geol 31:459–481

Nagarajan R, Roy A, Kumar RV, Mukherjee A, Khire MV (2000) Landslide hazard susceptibility mapping based on terrain and climatic factors for tropical monsoon regions. Bull Eng Geol Environ 58:275–287

Pachauri AK, Pant M (1992) Landslide hazard mapping based on geological attributes. Eng Geol 32:81–100

Pachauri AK, Gupta PV, Chander R (1998) Landslide zoning in a part of the Garhwal Himalayas. Environ Geol 36:325–334

Parise M (2001) Landslide mapping techniques and their use in the assessment of the landslide hazard. Phys Chem Earth (C) 26:697–703

Pistocchi A, Luzi L, Napolitano P (2002) The use of predictive modeling techniques for optimal exploitation of spatial databases: a case study in landslide hazard mapping with expert system-like methods. Environ Geol 41:765–775

Rautela P, Lakhera RC (2000) Landslide risk analysis between Giri and Tons Rivers in Himachal Himalaya (India). Int J Appl Earth Observ Geoinfo 2:153–160

Saha AK, Gupta RP, Arora MK (2002) GIS-based landslide hazard zonation in the Bhagirathi (Ganga) valley, Himalayas. Int J Remote Sensing 23:357–369

Soeters R, Van Westen CJ (1996) Slope instability recognition analysis and zonation. In: Turner KT, Schuster RL (eds) Landslide: investigation and mitigation. Spec Rep 47. Transportation Research Board, National Research Council, Washington, DC, pp 129–177

Turkish State Meteorological Service (1984) Mean and extreme meteorological bulletin (in Turkish). TSMS, Ankara

Turrini MC, Visintainer P (1998) Proposal of a method to define areas of landslide hazard and application to an area of the Dolomites, Italy. Eng Geol 50:255–265

Uromeihy A, Mahdavifar MR (2000) Landslide hazard zonation of the Khorshrostam area, Iran. Bull Eng Geol Environ 58:207–213

Van Westen CJ (1994) GIS in landslide hazard zonation: a review, with examples from the Andes of Colombia. In: Price MF, Heywood DI (eds) Geographical information systems in landslide hazard zonation GIS applications for mountain areas. Taylor and Francis, London, pp 135–165

Van Westen CJ (1997) Statistical landslide hazard analysis. ILWIS 2.1 for Windows application guide. ITC Publication, Enschede, pp 73–84

Van Westen CJ, Bonilla JBA (1990) Mountain hazard analysis using a PC-based GIS. In: Price DG (ed) Proc 6th Int Congr of IAEG, AA Balkema, Rotterdam, Publ 1, pp 265–271

Van Westen CJ, Terlien TJ (1996) An approach towards deterministic landslide hazard analysis in GIS. A case study from Manizales (Colombia). Earth Surf Proc Landforms 21:853–868

Varnes DJ (1984) Landslide hazard zonation: a review of principles and practice. UNESCO, Paris

Wieczorek GF (1984) Preparing a detailed landslide-inventory map for hazard evaluation and reduction. Bull Assoc Eng Geol 21:337–342

Wu W, Siddle RC (1995) A distributed slope stability model for steep forested basins. Water Resour Res 31:2097–2110

Yin KL, Yan TZ (1988) Statistical prediction model for slope instability of metamorphosed rocks. In: Bonnard C (ed) Proc 5th Int Symp on Landslides, Lausanne, AA Balkema, Rotterdam, Publ 2, pp 1269–1272
Acknowledgements
The authors gratefully acknowledge Prof. Dr. Vedat Doyuran and Ertan Yeşilnacar for their valuable suggestions and support at all stages of this study. The authors also thank Russell Fraser for comments on the use of language.
About this article
Cite this article
Çevik, E., Topal, T. GIS-based landslide susceptibility mapping for a problematic segment of the natural gas pipeline, Hendek (Turkey). Env Geol 44, 949–962 (2003). https://doi.org/10.1007/s00254-003-0838-6
Received:

Accepted:

Published:

Issue Date:
Keywords
GIS

Hendek

Landslide

Mapping

Statistical methods

Susceptibility