Abstract
Here, we characterize two novel GH5 endoglucanases (GH5CelA and GH5CelB) from an uncultured bacterium identified in termite gut microbiomes. Both genes were codon-optimized, synthetized, cloned, and expressed as recombinant proteins in Escherichia coli for subsequent purification. Both enzymes showed activity on the pNPC and barley β-glucan substrates, whereas GH5CelB also showed low activity on carboxymethyl cellulose. The optimum conditions for both enzymes were an acid pH (5) and moderate temperature (35 to 50 °C). The enzymes differed in the kinetic profiles and patterns of the generated hydrolysis products. A structural-based modeling analysis indicated that both enzymes possess a typical (β/α)8-barrel fold characteristic of GH5 family, with some differential features in the active site cleft. Also, GH5CelB presents a putative secondary binding site. Furthermore, adjacent to the active site of GH5CelA and GH5CelB, a whole subdomain rarely found in GH5 family may participate in substrate binding and thermal stability.
Therefore, GH5CelA may be a good candidate for the production of cello-oligosaccharides of different degrees of polymerization applicable for feed and food industries, including prebiotics. On the other hand, GH5CelB could be useful in an enzymatic cocktail for the production of lignocellulosic bioethanol, because of the production of glucose as a hydrolysis product.
Key Points
• Synthetic metagenomics is a powerful approach for discovering novel enzymes.
• Two novel GH5 endoglucanases from nonculturable microorganisms were characterized.
• Structural differences between them and other GH5 endoglucanases were observed.
• The enzymes may be good candidates for feed, food, and/or bioethanol industries.
Access options
Buy single article
Instant access to the full article PDF.
US$ 39.95
Tax calculation will be finalised during checkout.
Subscribe to journal
Immediate online access to all issues from 2019. Subscription will auto renew annually.
US$ 119
Tax calculation will be finalised during checkout.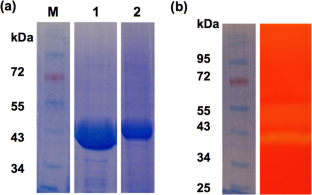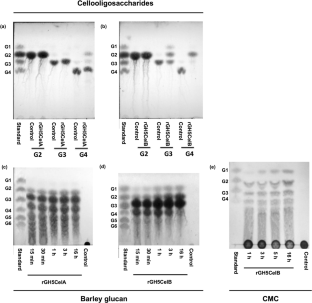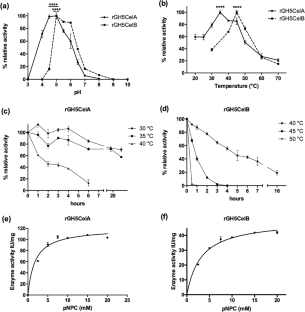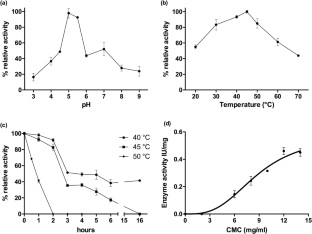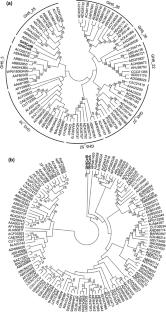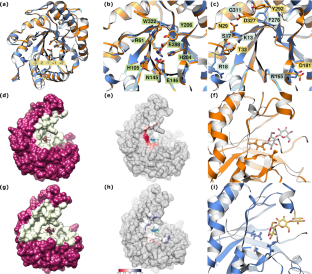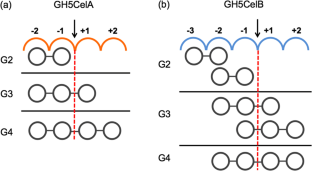 References
Alvarez TM, Goldbeck R, dos Santos CR, Paixao DAA, Goncalves TA, Cairo JPLF, Ferreira Almeida R, Oliveira Pereira I, Jackson G, Cota J, Buchli F, Citadini AP, Ruller R, Polo CC, Oliveira Neto M, Murakami MT, Squina FM (2013) Development and biotechnological application of a novel endoxylanase family GH10 identified from sugarcane soil metagenome. PLoS One 8(7):e70014. https://doi.org/10.1371/journal.pone.0070014

Anwar Z, Gulfraz M, Irshad M (2014) Agro-industrial lignocellulosic biomass a key to unlock the future bio-energy: a brief review. J Radiat Res Appl Sci 7(2):163–173

Aspeborg H, Coutinho PM, Wang Y, Brumer H, Henrissat B (2012) Evolution, substrate specificity and subfamily classification of glycoside hydrolase family 5 (GH5). BMC Evol Biol 12(1):186

Badieyan S, Bevan DR, Zhang C (2012) Study and design of stability in GH5 cellulases. Biotechnol Bioeng 109(1):31–44

Bastien G, Arnal G, Bozonnet S, Laguerre S, Ferreira F, Fauré R, Henrissat B, Lefèvre F, Robe P, Bouchez O, Noirot C, Dumon C, O'Donohue M (2013) Mining for hemicellulases in the fungus-growing termite Pseudacanthotermes militaris using functional metagenomics. Biotechnol Biofuels 6:78. https://doi.org/10.1186/1754-6834-6-78

Ben Guerrero E, Arneodo J, Bombarda Campanha R, Abrão de Oliveira P, Veneziano Labate MT, Regiani Cataldi T, Cataldi A, Labate CA, Martins Rodrigues C, Talia P (2015) Prospection and evaluation of cellulolytic and hemicellulolytic enzymes using untreated and pretreated biomass in two argentinean native termites. PLoS One 10:e0136573. https://doi.org/10.1371/journal.pone.0136573

Bianchetti CM, Brumm P, Smith RW, Dyer K, Hura GL, Rutkoski TJ, Phillips GNJ (2013) Structure, dynamics, and specificity of endoglucanase D from Clostridium cellulovorans. J Mol Biol 425(22):4267–4285. https://doi.org/10.1016/j.jmb.2013.05.030

Bolam DN, Ciruela A, McQueen-Mason S, Simpson P, Williamson MP, Rixon JE, Boraston A, Hazlewood GP, Gilbert HJ (1998) Pseudomonas cellulose-binding domains mediate their effects by increasing enzyme substrate proximity. Biochem J 331(3):775–781

Brandl M, Weiss MS, Jabs A, Suhnel J, Hilgenfeld R (2001) C-H…pi-interactions in proteins. J Mol Biol 307:357–377

Caines ME, Vaughan MD, Tarling CA, Hancock SM, Warren RA, Withers SG, Strynadka NC (2007) Structural and mechanistic analyses of endo-glycoceramidase II, a membrane-associated family 5 glycosidase in the Apo and GM3 ganglioside-bound forms. J Biol Chem 282:14300–14308

Cheng J, Huang S, Jiang H, Zhang Y, Li L, Wang J, Fan C (2016) Isolation and characterization of a non-specific endoglucanasefrom a metagenomic library of goat rumen. World J Microbiol Biotechnol 32(12):12. https://doi.org/10.1007/s11274-015-1957-4

Cheng W, Lu J, Li B, Lin W, Zhang Z, Wei X, Sun C, Chi M, Bi W, Yang B, Jiang A, Yuan J (2017) Effect of functional oligosaccharides and ordinary dietary fiber on intestinal microbiota diversity. Front Microbiol 8:1–11

Claeyssens M, Henrissat B (1992) Specificity mapping of cellulolytic enzymes: classification into families of structurally related proteins confirmed by biochemical analysis. Protein Sci 1:1293–1297

Cockburn D, Svensson B (2013) Surface binding sites in carbohydrate active enzymes: an emerging picture of structural and functional diversity. Carbohydr Chem 39:2014–2221

Cuyvers S, Dornez E, Delcour JA, Courtin CM (2012) Occurrence and functional significance of secondary carbohydrate binding sites in glycoside hydrolases. Crit Rev Biotechnol 32(2):93–107

Delsaute M, Berlemont R, Dehareng D, Van Elder D, Galleni M, Bauvois C (2013) Three-dimensional structure of RBcel1, a metagenome-derived psychrotolerant family GH5 endoglucanase. Acta Crystallogr Sect F 69(8):828–833

Dingee J, Anton AB (2010) The kinetics of p-nitrophenyl-β-D-cellobioside hydrolysis and transglycosylation by Thermobifida fusca Cel5Acd. Carbohydr Res 345:2507–2515

Dominguez R, Souchon H, Spinelli S, Dauter Z, Wilson KS, Chauvaux S, Béguin P, Alzari PM (1995) A common protein fold and similar active-site in 2 distinct families of beta-glycanases. Nat Struct Biol 2(11):983–989

Dominguez R, Souchon H, Lascombe M, Alzari PM (1996) The crystal structure of a family 5 endoglucanase mutant in complexed and uncomplexed forms reveals an induced fit activation mechanism. J Mol Biol 257:1042–1051

Ducros V, Czjzek M, Belaich A, Gaudin C, Fierobe HP, Belaich JP, Davies GJ, Haser R (1995) Crystal structure of the catalytic domain of a bacterial cellulase belonging to family 5. Structure 3:939–949

Dutoit R, Delsaute M, Collet L, Vander Wauven C, Van Elder D, Berlemont R, Richel A, Gallenib M, Bauvoisa C (2019) Crystal structure determination of Pseudomonas stutzeri A1501 endoglucanase Cel5A: the search for a molecular basis for glycosynthesis in GH5_5 enzymes. Acta Crystallogr Sect D 75:605–615

Edgar RC (2004) MUSCLE: multiple sequence alignment with high accuracy and high throughput. Nucleic Acids Res 32(5):1792–1797. https://doi.org/10.1093/nar/gkh340

Gautam S, Bundela P, Pandey A, Jamaluddin H, Awasthi M, Sarsaiya S (2010) Optimization of the medium for the production of cellulase by the Trichoderma viride using submerged fermentations. Int J Environ Sci 1:656–665

Gloster TM, Ibatullin FM, Macauley K, Eklof JM, Roberts S, Turkenburg JP, Bjornvad ME, Jorgensen PL, Danielsen S, Johansen KS, Borchert TV, Wilson KS, Brumer H, Davies GJ (2007) Characterization and three-dimensional structures of two distinct bacterial xyloglucanases from families GH5 and GH12. J Biol Chem 282:19177–19189

Hartmans S, De Bont J, Satackbrandt E (2006) The genus Mycobacterium-nonmedical. Prokaryotes 3:889–918

Hasunuma T, Kawashima K, Nakayama H, Murakami T, Kanagawa H, Ishii T, Akiyama K, Yasuda K, Terada F, Kushibiki S (2011) Effect of cellooligosaccharide or synbiotic feeding on growth performance, fecal condition and hormone concentrations in Holstein calves. Anim Sci 82(4):543–548

He B, Jin S, Cao J, Mi L, Wang J (2019) Metatranscriptomics of the Hu sheep rumen microbiome reveals novel cellulases. Biotechnol Biofuels 12(153):153

Hendricks C, Doyle J, Hugley B (1995) A new solid medium for enumerating cellulose-utilizing bacteria in soil. Appl Environ Microbiol 61:2016–2019

Henrissat B, Callebaud I, Fabrega S, Lehn P, Mornon J-P, Davies G (1995) Conserved catalytic machinery and the prediction of a common fold for several families of glycosyl hydrolases. Proc Natl Acad Sci USA 92:7090–7094. https://doi.org/10.1073/pnas.92.15.7090

Hilge M, Gloor SM, Rypniewski W, Sauer O, Heightman TD, Zimmermann W, Winterhalter K, Piontek K (1998) High-resolution native and complex structures of thermostable b-mannanase from Thermomonospora fusca - substrate specificity in glycosyl hydrolase family 5. Structure 6:1433–1444. https://doi.org/10.1016/s0969-2126(98)00142-7

Hruska K, Kaevska M (2012) Mycobacteria in water, soil, plants and air: a review. Vet Med 57(12):623–679

Jiao LF, Song ZH, Ke YL, Xiao K, Hu CH, Shi B (2014) Cello-oligosaccharide influences intestinal microflora, mucosal architecture and nutrient transport in weaned pigs. Anim Feed Sci Technol 195:85–91

Joynson R, Pritchard L, Osemwekha E, Ferry N (2017) Metagenomic analysis of the gut microbiome of the common black slug Arion ater in search of novel lignocellulose degrading enzymes. Front Microbiol 8:2181. https://doi.org/10.3389/fmicb.2017.02181

Kido K, Tejima S, Nagayama H, Uyeno Y, Ide Y, Kushibiki S (2016) Effects of supplementation with cellooligosaccharides on growth performance of weaned calves on pasture. Anim Sci J 87(5):661–665

Kim CH (1995) Characterization and substrate specificity of an endo-β-1,4-D-glucanase I (Avicelase I) from an extracellular multienzyme complex of Bacillus circulans. Appl Environ Microbiol 3:959–965

Kim YR, Kim EY, Lee JM, Kim JK, Kong IS (2013) Characterisation of a novel Bacillus sp. SJ-10 β-1,3-1,4-glucanase isolated from jeotgal, a traditional Korean fermented fish. Bioprocess Biosyst Eng 36(6):721–727

Kim DY, Lee MJ, Cho HY, Lee JS, Lee MH, Chung CW, Shin DH, Rhee YH, Son KH, Park HY (2016) Genetic and functional characterization of an extracellular modular GH6 endo-β-1,4-glucanase from an earthworm symbiont, Cellulosimicrobium funkei HY-13. Anton Leeuw Int J G 109:1–12

Kim DR, Lim HK, Hwang IT (2018) Identification and functional characterization of an endoglucanase KRICT PC-001 from Paenibacillus terrae HPL-003. Appl Biotechm 54:616–623

Kondaveeti S, Patel SKS, Woo J, Wee JH, Kim S-Y, Al-Raoush RI, Kim I-W, Kalia VC, Lee J-K (2019) Characterization of cellobiohydrolases from Schizophyllum commune KMJ820. Indian J Microbiol 68:160–166. https://doi.org/10.1007/s12088-019-00843-9

Kuhad RC, Gupta R, Singh A (2011) Microbial cellulases and their industrial applications. Enzyme Res 2011:1–10. https://doi.org/10.4061/2011/280696

Laemmli UK (1970) Cleavage of structural proteins during the assembly of the head of bacteriophage T4. Nature 227:680–685

Lafond M, Sulzenbacher G, Freyd T, Henrissat B, Berrin JG, Garron ML (2016) The quaternary structure of a glycoside hydrolase dictates specificity towards beta-glucans. J Biol Chem 291:7183–7194

Lee SH, Lee HE (2014) Cloning and characterization of a multidomain GH10 xylanase from Paenibacillus sp. DG-22. J Microbiol Biotechnol 24(11):1525–1535. https://doi.org/10.4014/jmb.1407.07077

Lee KM, Moon HJ, Kalyani D, Kim H, Kim IW, Jeya M, Lee JK (2011) Characterization of cellobiohydrolase from a newly isolated strain of Agaricus arvencis. J Microbiol Biotechnol 21(7):711–718

Liu D, Zhang R, Yang X, Xu Y, Thang Z, Tian W, Shen Q (2011) Expression, purification and characterization of two thermostable endoglucanases cloned from a lignocellulosic decomposing fungi Aspergillus fumigatus Z5 isolated from compost. Protein Expr Purif 79:176–186

Liu N, Li H, Chevrett MG, Zhang L, Cao L, Zhou H, Zhou X, Zhou Z, Pope PB, Currie CR, Huang Y, Wang Q (2019) Functional metagenomics reveals abundant polysaccharide degrading gene clusters and cellobiose utilization pathways within gut microbiota of a wood-feeding higher termite. ISME J 13:104–117. https://doi.org/10.1038/s41396-018-0255-1

Lo Leggio L, Larsen S (2002) The 1.62 A structure of Thermoascus aurantiacus endoglucanase: completing the structural picture of subfamilies in glycoside hydrolase family 5. FEBS Lett 523:103–108

Ludwiczek ML, Heller M, Kantner T, McIntosh LP (2007) A secondary xylan-binding site enhances the catalytic activity of a single-domain family 11 glycoside hydrolase. J Mol Biol 373(2):337–354

Lynd LR, Weimer PJ, Van Zyl WH, Pretorius IS (2002) Microbial cellulose utilization: fundamentals and biotechnology. Microbiol Mol Biol Rev 66:506–577

Maruthamuthu M, Jiménez DJ, van Elsas JD (2017) Characterization of a furan aldehyde-tolerant β-xylosidase/α-arabinosidase obtained through a synthetic metagenomics approach. J Appl Microbiol 123(1):145–158. https://doi.org/10.1111/jam.13484

Miller GL (1959) Use of dinitrosalicylic acid reagent for determination of reducing sugar. Anal Chem 31(3):426–428

Nacke H, Engelhaupt M, Brady S, Fischer C, Tautzt J, Daniel R (2012) Identification and characterization of novel cellulolytic and hemicellulolytic genes and enzymes derived from German grassland soil metagenomes. Biotechnol Lett 34:663–675

Otsuka M, Ishida A, Nakayama Y, Saito M, Yamazaki M, Murakami H, Nakamura Y, Matsumoto M, Mamoto K, Takada R (2004) Dietary supplementation with cellooligosaccharide improves growth performance in weanling pigs. Anim Sci J 75(3):225–229

Pan L, Farouk MH, Qin G, Zhao Y, Bao N (2018) The influences of soybean agglutinin and functional oligosaccharides on the intestinal tract of monogastric animals. Int J Mol Sci 19(2):544. https://doi.org/10.3390/ijms19020554

Park JI, Kent MS, Datta S, Holmes BM, Huang Z, Simmons BA, Sale KL, Sapra R (2011) Enzymatic hydrolysis of cellulose by the cellobiohydrolase domain of CelB from the hyperthermophilic bacterium Caldicellulosiruptor saccharolyticus. Bioresour Technol 102:5988–5994

Patel M, Patel HM, Dave S (2019) Determination of bioethanol production potential from lignocellulosic biomass using novel Cel-5m isolated from cow rumen metagenome. Int J Biol Macromol 153:1099–1106. https://doi.org/10.1016/j.ijbiomac.2019.10.240

Patrick WM, Nakatani Y, Cutfield SM, Sharpe ML, Ramsay RJ, Cutfield JF (2010) Carbohydrate binding sites in Candida albicans exo-β-1,3-glucanase and the role of the Phe-Phe "clamp" at the active site entrance. FEBS J 277(21):4549–4561

Pereira JH, Chen Z, McAndrew RP, Sapra R, Chhabra SR, Sale KL, Simmons BA, Adams PD (2010) Biochemical characterization and crystal structure of endoglucanase Cel5A from the hyperthermophilic Thermotoga maritima. J Struct Biol 172:372–379

Rahman M, Bhuiyan SH, Nirasawa S, Kitaoka M, Hayashi K (2002) Characterization of an endo-β-1,4-glucanase of Thermotoga maritima expressed in Escherichia coli. J Appl Glycosci 49(4):487–495

Ramirez-Gualito K, Alonso-Rios R, Quiroz-Garcia B, Rojas-Aguilar A, Diaz D, Jimenez-Barbero J, Cuevas G (2009) Enthalpic nature of the CH/pi interaction involved in the recognition of carbohydrates by aromatic compounds, confirmed by a novel interplay of NMR, calorimetry, and theoretical calculations. J Am Chem Soc 131:18129–18138

Romero Victorica M, Soria MA, Batista-García RA, Ceja-Navarro JA, Vikram S, Ortiz M, Ontañon O, Ghio S, Martínez-Ávila L, Quintero García OJ, Etcheverry C, Campos E, Cowan D, Arneodo J, Talia PM (2020) Neotropical termite microbiomes as sources of novel plant cell wall degrading enzymes. Sci Rep 10(3864) doi: https://doi.org/10.1038/s41598-020-60850-5

Roy A, Kucukural A, Zhang Y (2010) I-TASSER: a unified platform for automated protein structure and function prediction. Nat Protoc 5(4):725–738. https://doi.org/10.1038/nprot.2010.5

Sakon J, Adney WS, Himmel ME, Thomas SR, Karplus PA (1996) Crystal structure of thermostable family 5 endocellulase E1 from Acidothermus cellulolyticus in complex with cellotetraose. Biochemistry 35:10648–10660

Santos CR, Paiva JH, Sforca ML, Neves JL, Navarro RZ, Cota J, Akao PK, Hoffmam ZB, Meza AN, Smetana JH, Nogueira ML, Polikarpov I, Xavier-Neto J, Squina FM, Ward RJ, Ruller R, Zeri AC, Murakami MT (2012) Dissecting structure-function-stability relationships of a thermostable GH5-CBM3 cellulase from Bacillus subtilis 168. Biochem J 441:95–104

Schagerlof U, Schagerlof H, Momcilovic D, Brinkmalm G, Tjerneld F (2007) Endoglucanase sensitivity for substituents in methyl cellulose hydrolysis studied using MALDI-TOFMS for oligosaccharide analysis and structural analysis of enzyme active sites. Biomacromolecules 8:2358–2365

Schinsky M, McNeil M, Whitney A, Steiger A, Lasker M, Floyd M, Hogg G, Brenner D, Brown J (2000) Mycobacterium septicum sp. nov., a new rapidly growing species associated with catheter-related bacteraemia. Int J Syst Evol Microbiol 50:575–581

Schliep KP (2011) Phangorn: phylogenetic analysis in R. Bioinformatics 27:592–593

Shi W, Xie S, Chen X, Sun S, Zhou X, Liu L, Gao P, Kyrpides NC, No E-G, Yuan JS (2013) Comparative genomic analysis of the microbiome of herbivorous insects reveals eco-environmental adaptations: biotechnology applications. PLoS Genet 9(2):1–14. https://doi.org/10.1371/annotation/91a25db3-8127-42c7-baa0-ce398a2857a6

Shin K, Kim YH, Jeya M, Lee JK, Kim YS (2010) Purification and characterization of a thermostable cellobiohydrolase from Fomitopsis pinicola. J Microbiol Biotechnol 20(12):1681–1688

Skerman V, McGowan V, Sneath P (1980) Approved lists of bacterial names. Int J Syst Bacteriol 30:225–420

Song YH, Lee KT, Baek JY, Kim MJ, Kwon MR, Kim YJ, Park MR, Ko H, Lee JS, Kim KS (2017) Isolation and characterization of a novel endo-β-1,4-glucanase from a metagenomic library of the black-goat rumen. Braz J Microbiol 48:801–808

Soni S, Batra N, Bansal N, Soni R (2010) Bioconversion of sugarcane bagasse into second generation bioethanol after enzymatic hydrolisis with in-house produced cellulases Aspergillus sp. S4B2F. BioRes 5:741–758

Sun J, Wang H, Lv W, Ma C, Lou Z, Yao H, Dai Y (2012) Cloning and expression of a thermostable beta-1,3-1,4-glucanase from Bacillus amyloliquefaciens ATCC 23350. Ann Microbiol 62(3):1235–1242

Tailford LE, Ducros VM, Flint JE, Roberts SM, Morland C, Zechel DL, Smith N, Bjornvad ME, Borchert TV, Wilson KS, Davies GJ, Gilbert HJ (2009) Understanding how diverse beta-mannanases recognize heterogeneous substrates. Biochemistry 48:7009–7018

Tan KP, Nguyen TB, Patel S, Varadarajan R, Madhusudhan MS (2013) Depth: a web server to compute depth, cavity sizes, detect potential small-molecule ligand-binding cavities and predict the pKa of ionizable residues in proteins. Nucleic Acids Res 41(1):314–321. https://doi.org/10.1093/nar/gkt503

Tang B, Zhang Y, Yang Y, Song Z, Li X (2014) Expression and functional analysis of a glycoside hydrolase family 45 endoglucanase from Rhizopus stolonifer. World J Microbiol Biotechnol 30:2943–2952

Telke AA, Zhuang N, Ghatge SS, Lee SH, Ali Shah A, Khan H, Um Y, Shin HD, Chung YR, Lee KH, Kim SW (2013) Engineering of family-5 glycoside hydrolase (Cel5A) from an uncultured bacterium for efficient hydrolysis of cellulosic substrates. PLoS One 8(6):e65727

Tian W, Chen C, Lei X, Zhao J, Liang J (2018) CASTp 3.0: computed atlas of surface topography of proteins. Nucleic Acids Res 46(1):363–367. https://doi.org/10.1093/nar/gky473

Tseng CW, Ko TP, Guo RT, Huang JW, Wang HC, Huang CH, Cheng YS, Wang AHJ, Liu JR (2011) Substrate binding of a GH5 endoglucanase from the ruminal fungus Piromyces rhizinflata. Acta Crystallogr Sect F Struct Biol Cryst Commun 67:1189–1194

Tsukamura M, Nemoto H, Hiroyuki Y (1983) Mycobacterium porcinum sp. nov., a porcine pathogen. Int J Syst Bacteriol 33:162–165

Vlasenko E, Schulein M, Cherry J, Xu F (2010) Substrate specificity of family 5, 6, 7, 9,12, and 45 endoglucanases. Bioresour Technol 101:2405–2411

Vogel J (2008) Unique aspects of the grass cell wall. Curr Opin Plant Biol 11:301–307. https://doi.org/10.1016/j.pbi.2008.03.002

Vyas NK, Vyas MN, Quiocho FA (1991) Comparison of the periplasmic receptors for L-arabinose, D-glucose/D-galactose, and D-ribose. Structural and functional similarity. J Biol Chem 266:5226–5237

Wahab AFFA, Abdul Karim NA, Ling JG, Hasan NS, Yong HY, Bharudin I, Kamaruddin S, Abu Bakar FD, Murad AMA (2018) Functional characterisation of cellobiohydrolase I (Cbh1) from Trichoderma virens UKM1 expressed in Aspergillus niger. Protein Expr Purif 154:52–61

Wang Q, Tull D, Meinke A, Gilkes NR, Warren RA, Aebersold R, Withers SG (1993) Glu280 is the nucleophile in the active site of Clostridium thermocellum CelC, a family A endo-beta-1,4-glucanase. J Biol Chem 268:14096–14102

Warnecke F, Luginbuhl P, Ivanova N, Ghassemian M, Richardson TH, Stege JT, Cayouette M, McHardy AC, Djordjevic G, Aboushadi N, Sorek R, Tringe SG, Podar M, Martin HG, Kunin V, Dalevi D, Madejska J, Kirton E, Platt D, Szeto E, Salamov A, Barry K, Mikhailova N, Kyrpides NC, Matson EG, Ottesen EA, Zhang X, Hernandez M, Murillo C, Acosta LG, Rigoutsos I, Tamayo G, Green BD, Chang C, Rubin EM, Mathur EJ, Robertson DE, Hugenholtz P, Leadbetter JR (2007) Metagenomic and functional analysis of hindgut microbiota of a wood-feeding higher termite. Nature 450(7169):560–565

Wierzbicka-Woś A, Henneberger R, Batista-García RA, Martínez-Ávila L, Jackson SA, Kennedy J, Dobson ADW (2019) Biochemical characterization of a novel monospecific endo-β-1,4-glucanase belonging to GH family 5 from a rhizosphere metagenomic library. Front Microbiol 10:1342. https://doi.org/10.3389/fmicb.2019.01342

Wilson DB (2011) Microbial diversity of cellulose hydrolysis. Curr Opin Microbiol 14(3):259–263

Wu S, Wu S (2020) Processivity and the mechanisms of processive endoglucanases. Appl Biochem Biotechnol 190(2):448–463. https://doi.org/10.1007/s12010-019-03096-w

Wu S, Zhang Y (2007) LOMETS: a local meta-threading-server for protein structure prediction. Nucl Acids Res 35:3375–3382. https://doi.org/10.1093/nar/gkm25

Wu TH, Huang CH, Ko TP, Lai HL, Ma Y, Chen CC, Cheng YS, Liu JR, Guo RT (2011) Diverse substrate recognition mechanism revealed by Thermotoga maritima Cel5A structures in complex with cellotetraose, cellobiose and mannotriose. Biochim Biophys Acta 1814(12):1832–1840. https://doi.org/10.1016/j.bbapap.2011.07.020

Xia X, Gurr GM, Vasseur L, Zheng D, Zhong H, Qin B, Lin J, Wang Y, Song F, Li Y, Lin H, You M (2017) Metagenomic sequencing of diamondback moth gut microbiome unveils key holobiont adaptations for herbivory. Front Microbiol 8:663. https://doi.org/10.3389/fmicb.2017.00663

Yamane K, Suzuki H, Hirotani M, Ozawa H, Nisizawa K (1970) Effect of nature and supply of carbon sources on cellulase formation in Pseudomonas fluorescens var. cellulosa. Biochem 67:9–18. https://doi.org/10.1093/oxfordjournals.jbchem.a129238

Zhang Y, Himmel M, Mielenz J (2006) Outlook for cellulose improvement: screening and selection strategies. Biotechnol Adv 24(5):452–481. https://doi.org/10.1016/j.biotechadv.2006.03.003

Zhao PY, Jung JH, Kim IH (2012) Effect of mannan oligosaccharides and fructan on growth performance, nutrient digestibility, blood profile, and diarrhea score in weanling pigs. J Anim Sci 90(3):833–839

Zheng B, Yang W, Zhao X, Wang Y, Lou Z, Rao Z, Feng Y (2012) Crystal structure of hyperthermophilic endo-β-1,4-glucanase. J Biol Chem 287:8336–8346. https://doi.org/10.1074/jbc.M111.266346
Acknowledgments
MPS, EC, and PMT acknowledge CONICET as career research members. EBG and RMDV belong to the National Institute Agriculture Technology (INTA). The authors are grateful to Dr. Julia Sabio y García for linguistic improvement of the manuscript.
Funding
This study was funded by grants from the Instituto Nacional de Tecnología Agropecuaria (INTA) (PNAIyAV-1130034) and Agencia Nacional de Promoción Científica y Tecnológica (ANPCyT) Proyectos de Investigación Científica y Tecnológica (PICT) 2013 No.1454 (Argentina) and 2018 No. 4149.
Ethics declarations
Conflict of interest
The authors declare that they have no conflict of interest.
Ethical approval
This article does not contain any studies with human participants or animals performed by any of the authors.
Additional information
Publisher's note
Springer Nature remains neutral with regard to jurisdictional claims in published maps and institutional affiliations.
Electronic supplementary material
About this article
Cite this article
Guerrero, E.B., de Villegas, R.M.D., Soria, M.A. et al. Characterization of two GH5 endoglucanases from termite microbiome using synthetic metagenomics. Appl Microbiol Biotechnol 104, 8351–8366 (2020). https://doi.org/10.1007/s00253-020-10831-5
Received:

Revised:

Accepted:

Published:

Issue Date:
Keywords
GH5

Endoglucanase

Biochemical characterization

Termites

Synthetic metagenomics