Abstract
Many diseases, including caries, chronic inflammatory diseases, diabetes, and obesity, are associated with uncontrolled sugar consumption. Artificial sweeteners are commonly used in food and pharmaceutical industries as sugar substitutes for the prevention of several dental and body diseases; they also have a favorable impact on body weight as they may help to restrict simple sugar consumption. Xylitol is a sugar alcohol that is commonly used as a sweetener. It can be found naturally or artificially prepared mainly from plant materials chemically or by fermentation of hemicelluloses from agricultural biomass by yeast or bacteria strains. This polyol has a significant antiplaque effect on teeth surface and can reduce the gingival inflammation; it is being used as a preventive agent for dental caries due to decreasing the growth levels of pathogenic Streptococcus mutans and Streptococcus sangui at the very early stages. Xylitol can bind with calcium ion leading to consequent remineralization of teeth enamel; it is also able to prevent osteoporosis. This polyol can treat respiratory tract and middle ear diseases due to its antibacterial and anti-inflammatory potential and prevent some diseases which cannot be cured through antibiotics or surgery. Xylitol can reduce constipation, diabetes, obesity, and other body syndromes or illnesses; it has also revealed its stimulating effect on digestion and immune system. However, it can produce some side effects such as irritable bowel syndrome, diarrhea, nephrolithiasis, etc., when consumed in excessive amounts. Different vehicles are used for delivering the xylitol into the human body, but chewing gums occupy a leading position. The present review is devoted to comprehensive analyses of the positive and negative effects of this polyol on human health.
Key Points
• The health benefits of xylitol are not limited to oral hygiene.
• Xylitol efficiently stimulates the immune system, digestion, lipid and bone metabolism.
• Xylitol helps in glycemic and obesity control; reduces ear and respiratory infections.
• Xylitol treats diseases that cannot be cured through antibiotics or by surgery.
Access options
Buy single article
Instant access to the full article PDF.
US$ 39.95
Tax calculation will be finalised during checkout.
Subscribe to journal
Immediate online access to all issues from 2019. Subscription will auto renew annually.
US$ 119
Tax calculation will be finalised during checkout.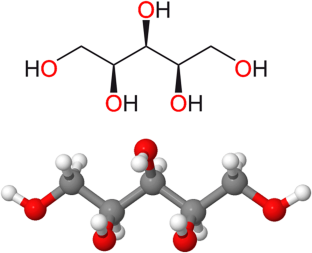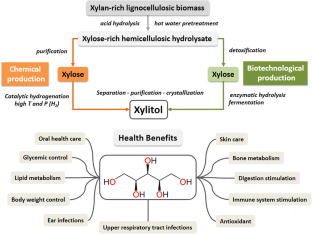 References
Abd Rahman NH, Md Jahim J, Abdul Munaim MS, R AR, Fuzi SFZ, Md Illias R (2020) Immobilization of recombinant Escherichia coli on multi-walled carbon nanotubes for xylitol production. Enzym Microb Technol 135:109495. https://doi.org/10.1016/j.enzmictec.2019.109495

Alves FRF, Neves MAS, Silva MG, Rocas IN, Siqueira JF Jr (2013) Antibiofilm and antibacterial activities of farnesol and xylitol as potential endodontic irrigants. Braz Dent J 24:224–229

Ammons MCB, Ward LS, James GA (2011) Anti-biofilm efficacy of a lactoferrin/xylitol wound hydrogel used in combination with silver wound dressings. Int Wound J 8(3):268–273. https://doi.org/10.1111/j.1742-481X.2011.00781.x

Amo K, Arai H, Uebanso T, Fukaya M, Koganei M, Sasaki H, Yamamoto H, Taketani Y, Takeda E (2011) Effects of xylitol on metabolic parameters and visceral fat accumulation. J Clin Biochem Nutr 49(1):1–7. https://doi.org/10.3164/jcbn.10-111

Antonio AG, Pierro VS, Maia LC (2011) Caries preventive effects of xylitol-based candies and lozenges: a systematic review. J Public Health Dent 71(2):117–124. https://doi.org/10.1111/j.1752-7325.2010.00208.x

Arat Maden E, Altun C, Acikel C (2017) The Efficacy of xylitol, xylitol-probiotic and fluoride dentifrices in plaque reduction and gingival inflammation in children: a randomised controlled clinical trial. Oral Health Prev Dent 15(2):117–121. https://doi.org/10.3290/j.ohpd.a37973

Azarpazhooh A, Lawrence HP, Shah PS (2016) Xylitol for preventing acute otitis media in children up to 12 years of age. Cochrane Database Syst Rev 8:CD007095. https://doi.org/10.1002/14651858.CD007095.pub3

Badet C, Furiga A, Thebaud N (2008) Effect of xylitol on an in vitro model of oral biofilm. Oral Health Prev Dent 6(4):337–341

Bahador A, Lesan S, Kashi N (2012) Effect of xylitol on cariogenic and beneficial oral streptococci: a randomized, double-blind crossover trial. Iran J Microbiol 4(2):75–81

Bilal M, Xu S, Iqbal HMN, Cheng H (2020) Yarrowia lipolytica as an emerging biotechnological chassis for functional sugars biosynthesis. Crit Rev Food Sci Nutr. https://doi.org/10.1080/10408398.2020.1739000

Burt BA (2006) The use of sorbitol- and xylitol-sweetened chewing gum in caries control. J Am Dent Assoc 137(2):190–196. https://doi.org/10.14219/jada.archive.2006.0144

Cam B, Sari M, Midi A, Gergin O (2019) Xylitol treats nasal mucosa in rhinitis medicamentosa: an experimental rat model study. Eur Arch Otorhinolaryngol 276(11):3123–3130. https://doi.org/10.1007/s00405-019-05605-3

Campus G, Cagetti MG, Sale S, Petruzzi M, Solinas G, Strohmenger L, Lingstrom P (2013) Six months of high-dose xylitol in high-risk caries subjects--a 2-year randomised, clinical trial. Clin Oral Investig 17(3):785–791. https://doi.org/10.1007/s00784-012-0774-5

Carneiro C, de Paula ESFC, Almeida JRM (2019) Xylitol production: identification and comparison of new producing yeasts. Microorganisms 7(11). https://doi.org/10.3390/microorganisms7110484

Cherepyk OM (2017) Substantiation of early prevention of caries of temporary teeth in children of Precarpathian region [in Ukrainian]. PhD (Dentistry) dissertation, Ivano-Frankivsk National Medical University

Chukhray NL (2018) Substantiation of dental caries prevention in children based on associated risk factors and their influence on the formation of enamel resistance [in Ukrainian]. DScD manuscript, University of Lviv

Chukwuma CI, Islam MS (2017) Xylitol: one name, numerous benefits. In: Merillon J-M, Ramawat KG (eds) Sweeteners: Pharmacology, Biotechnology, and Applications. Springer International Publishing, Cham, pp 1–27

Cocco F, Carta G, Cagetti MG, Strohmenger L, Lingström P, Campus G (2017) The caries preventive effect of 1-year use of low-dose xylitol chewing gum. A randomized placebo-controlled clinical trial in high-caries-risk adults. Clin Oral Investig 21(9):2733–2740. https://doi.org/10.1007/s00784-017-2075-5

de Kalbermatten N, Ravussin E, Maeder E, Geser C, Jequier E, Felber JP (1980) Comparison of glucose, fructose, sorbitol, and xylitol utilization in humans during insulin suppression. Metabolism 29(1):62–67. https://doi.org/10.1016/0026-0495(80)90099-2

Duane B (2015) Xylitol and caries prevention. Evid Based Dent 16(2):37–38. https://doi.org/10.1038/sj.ebd.6401088

El-Marakby AM, Al-Sabri FA, Mohamed SG, Labib LM (2017) Anti-cariogenic effect of five-carbon sugar: xylitol. JDOH 3(6):081

Felipe Hernandez-Perez A, de Arruda PV, Sene L, da Silva SS, Kumar Chandel A, de Almeida Felipe MDG (2019) Xylitol bioproduction: state-of-the-art, industrial paradigm shift, and opportunities for integrated biorefineries. Crit Rev Biotechnol 39(7):924–943. https://doi.org/10.1080/07388551.2019.1640658

Fierascu RC, Fierascu I, Ortan A, Georgiev MI, Sieniawska E (2020) Innovative approaches for recovery of phytoconstituents from medicinal/aromatic plants and biotechnological production. Molecules 25(2). https://doi.org/10.3390/molecules25020309

Ganter J, Hellwig E, Doerken S, Al-Ahmad A (2020) In vitro evaluation of the cariogenic potential of rebaudioside A compared to sucrose and xylitol. Clin Oral Investig 24(1):113–122. https://doi.org/10.1007/s00784-019-02908-x

Gargouri W, Zmantar T, Kammoun R, Kechaou N, Ghoul-Mazgar S (2018) Coupling xylitol with remineralizing agents improves tooth protection against demineralization but reduces antibiofilm effect. Microb Pathog 123:177–182. https://doi.org/10.1016/j.micpath.2018.06.038

Gargouri W, Kammoun R, Elleuche M, Tlili M, Kechaou N, Ghoul-Mazgar S (2020) Effect of xylitol chewing gum enriched with propolis on dentin remineralization in vitro. Arch Oral Biol 112:104684. https://doi.org/10.1016/j.archoralbio.2020.104684

Granstrom TB, Izumori K, Leisola M (2007) A rare sugar xylitol. Part I: the biochemistry and biosynthesis of xylitol. Appl Microbiol Biotechnol 74(2):277–281. https://doi.org/10.1007/s00253-006-0761-3

Grillaud M, Bandon D, Nancy J, Delbos Y, Vaysse F (2005) The polyols in pediatric dentistry: advantages of xylitol. Arch Pediatr 12(7):1180–1186. https://doi.org/10.1016/j.arcped.2005.01.032

Hajiahmadi M, Yegdaneh A, Homayoni A, Parishani H, Moshkelgosha H, Salari-Moghaddam R (2019) Comparative Evaluation of Efficacy of "Green Tea" and "Green Tea with Xylitol" mouthwashes on the salivary Streptococcus mutans and Lactobacillus colony count in children: a randomized clinical trial. J Contemp Dent Pract 20(10):1190–1194

Han SJ, Jeong SY, Nam YJ, Yang KH, Lim HS, Chung J (2005) Xylitol inhibits inflammatory cytokine expression induced by lipopolysaccharide from Porphyromonas gingivalis. Clin Diagn Lab Immunol 12(11):1285–1291. https://doi.org/10.1128/CDLI.12.11.1285-1291.2005

Honkala S, Runnel R, Saag M, Olak J, Nommela R, Russak S, Makinen PL, Vahlberg T, Falony G, Makinen K, Honkala E (2014) Effect of erythritol and xylitol on dental caries prevention in children. Caries Res 48(5):482–490. https://doi.org/10.1159/000358399

Jain H, Mulay S (2014) A review on different modes and methods for yielding a pentose sugar: xylitol. Int J Food Sci Nutr 65(2):135–143. https://doi.org/10.3109/09637486.2013.845651

Jain R, Lee T, Hardcastle T, Biswas K, Radcliff F, Douglas R (2016) The in vitro effect of xylitol on chronic rhinosinusitis biofilms. Rhinology 54(4):323–328. https://doi.org/10.4193/Rhin15.380

Janakiram C, Deepan Kumar CV, Joseph J (2017) Xylitol in preventing dental caries: a systematic review and meta-analyses. J Nat Sci Biol Med 8(1):16–21. https://doi.org/10.4103/0976-9668.198344

Janket SJ, Benwait J, Isaac P, Ackerson LK, Meurman JH (2019) Oral and systemic effects of xylitol consumption. Caries Res 53(5):491–501. https://doi.org/10.1159/000499194

Jones AH (2000) Xylitol delivery. United States Patent,

Kaur K, Nekkanti S, Madiyal M, Choudhary P (2018) Effect of chewing gums containing probiotics and xylitol on oral health in children: a randomized controlled trial. J Int Oral Health 10(5):237–243. https://doi.org/10.4103/jioh.jioh_170_18

Kayalvizhi G, Nivedha D, Sajeev R, Prathima GS, Suganya M, Ramesh V (2018) Evaluating the efficacy of xylitol wipes on cariogenic bacteria in 19- to 35-month-old children: a double-blind randomized controlled trial. Int J Clin Pediatr Dent 11(1):13–17. https://doi.org/10.5005/jp-journals-10005-1476

Kishore P, Kehlenbrink S, Hu M, Zhang K, Gutierrez-Juarez R, Koppaka S, El-Maghrabi MR, Hawkins M (2012) Xylitol prevents NEFA-induced insulin resistance in rats. Diabetologia 55(6):1808–1812. https://doi.org/10.1007/s00125-012-2527-z

Kitchens DH (2005) Xylitol in the prevention of oral diseases. Spec Care Dentist 25(3):140–144. https://doi.org/10.1111/j.1754-4505.2005.tb01424.x

Kontiokari T, Uhari M, Koskela M (1995) Effect of xylitol on growth of nasopharyngeal bacteria in vitro. Antimicrob Agents Chemother 39(8):1820–1823. https://doi.org/10.1128/aac.39.8.1820

Kovatcheva-Datchary P, Nilsson A, Akrami R, Lee YS, De Vadder F, Arora T, Hallen A, Martens E, Bjorck I, Backhed F (2015) Dietary fiber-induced improvement in glucose metabolism is associated with increased abundance of prevotella. Cell Metab 22(6):971–982. https://doi.org/10.1016/j.cmet.2015.10.001

Kozlowska M, Laudy AE, Przybyl J, Ziarno M, Majewska E (2015) Chemical composition and antibacterial activity of some medicinal plants from Lamiaceae family. Acta Pol Pharm 72(4):757–767

Kuzuya T, Kanazawa Y, Kosaka K (1969) Stimulation of insulin secretion by xylitol in dogs. Endocrinology 84(2):200–207. https://doi.org/10.1210/endo-84-2-200

Kuzuya T, Kanazawa Y, Hayashi M, Kikuchi M, Ide T (1971) Species difference in plasma insulin responses to intravenous xylitol in man and several mammals. Endocrinol Jpn 18(4):309–320. https://doi.org/10.1507/endocrj1954.18.309

Lee BD, Park MK (2014) Effects and safety of xylitol on middle ear epithelial cells. J Int Adv Otol 10(1):19–24

Lemos JA, Palmer SR, Zeng L, Wen ZT, Kajfasz JK, Freires IA, Abranches J, Brady LJ (2019) The biology of Streptococcus mutans. Microbiol Spectr 7(1). https://doi.org/10.1128/microbiolspec.GPP3-0051-2018

Lowe C, Anthony J (2020) Pilot study of the effectiveness of a xylitol-based drinking water additive to reduce plaque and calculus accumulation in dogs. Can Vet J 61(1):63–68

Ly KA, Milgrom P, Rothen M (2006) Xylitol, sweeteners, and dental caries. Pediatr Dent 28(2):154–163 discussion 192-8

Lynch H, Milgrom P (2003) Xylitol and dental caries: an overview for clinicians. J Calif Dent Assoc 31(3):205–209

Maguire A, Rugg-Gunn AJ (2003) Xylitol and caries prevention — is it a magic bullet? Br Dent J 194(8):429–436. https://doi.org/10.1038/sj.bdj.4810022

Mäkinen KK (2010) Sugar alcohols, caries incidence, and remineralization of caries lesions: a literature review. Int J Dent 2010:981072–981023. https://doi.org/10.1155/2010/981072

Mäkinen KK (2011) Sugar alcohol sweeteners as alternatives to sugar with special consideration of xylitol. Med Princ Pract 20(4):303–320. https://doi.org/10.1159/000324534

Mäkinen KK (2016) Gastrointestinal disturbances associated with the consumption of sugar alcohols with special consideration of xylitol: scientific review and instructions for dentists and other health-care professionals. Int J Dent 2016:5967907–5967916. https://doi.org/10.1155/2016/5967907

Marchese A, Orhan IE, Daglia M, Barbieri R, Di Lorenzo A, Nabavi SF, Gortzi O, Izadi M, Nabavi SM (2016) Antibacterial and antifungal activities of thymol: a brief review of the literature. Food Chem 210:402–414. https://doi.org/10.1016/j.foodchem.2016.04.111

Marghalani AA, Guinto E, Phan M, Dhar V, Tinanoff N (2017) Effectiveness of xylitol in reducing dental caries in children. Pediatr Dent 39(2):103–110

Medvid YO (2011) Optimization of complex treatment and correction of endointoxication of patients with diffuse phlegmons in maxillofacial area [in Ukrainian]. PhD (Dentistry) manuscript, University of Lviv

Milgrom P, Ly KA, Rothen M (2009a) Xylitol and its vehicles for public health needs. Adv Dent Res 21(1):44–47. https://doi.org/10.1177/0895937409335623

Milgrom P, Ly KA, Tut OK, Mancl L, Roberts MC, Briand K, Gancio MJ (2009b) Xylitol pediatric topical oral syrup to prevent dental caries: a double-blind randomized clinical trial of efficacy. Arch Pediatr Adolesc Med 163(7):601–607. https://doi.org/10.1001/archpediatrics.2009.77

Mooradian AD, Smith M, Tokuda M (2017) The role of artificial and natural sweeteners in reducing the consumption of table sugar: a narrative review. Clin Nutr ESPEN 18:1–8. https://doi.org/10.1016/j.clnesp.2017.01.004

Nayak PA, Nayak UA, Khandelwal V (2014) The effect of xylitol on dental caries and oral flora. Clin Cosmet Investig Dent 6:89–94. https://doi.org/10.2147/CCIDE.S55761

Newton JT, Awojobi O, Nasseripour M, Warburton F, Di Giorgio S, Gallagher JE, Banerjee A (2019) A systematic review and meta-analysis of the role of sugar-free chewing gum in dental caries. JDR Clin Trans Res. https://doi.org/10.1177/2380084419887178

Oku T, Nakamura S (2007) Threshold for transitory diarrhea induced by ingestion of xylitol and lactitol in young male and female adults. J Nutr Sci Vitaminol (Tokyo) 53(1):13–20. https://doi.org/10.3177/jnsv.53.13

Olennikov DN, Rokhin AV, Tankhaeva LM (2009) Lamiaceae carbohydrates. VI. Water-soluble polysaccharides from Lophanthus chinensis. Chem Nat Compd 45(3):300–303. https://doi.org/10.1007/s10600-009-9358-2

Ortiz ME, Bleckwedel J, Raya RR, Mozzi F (2013) Biotechnological and in situ food production of polyols by lactic acid bacteria. Appl Microbiol Biotechnol 97(11):4713–4726. https://doi.org/10.1007/s00253-013-4884-z

Palchaudhuri S, Palchaudhuri A, Chatterjee B (2015) Xylitol in prevention of dental caries and respiratory disease caused by Diplococcic streptococcus. Arch Med Microbiol 6(4):4

Pearlman M, Obert J, Casey L (2017) The Association between artificial sweeteners and obesity. Curr Gastroenterol Rep 19(12):64. https://doi.org/10.1007/s11894-017-0602-9

Petersen PE (2004) Challenges to improvement of oral health in the 21st century--the approach of the WHO Global Oral Health Programme. Int Dent J 54(6 Suppl 1):329–343. https://doi.org/10.1111/j.1875-595x.2004.tb00009.x

Peterson ME (2013) Xylitol. Top Companion Anim Med 28(1):18–20. https://doi.org/10.1053/j.tcam.2013.03.008

Rafeek R, Carrington CVF, Gomez A, Harkins D, Torralba M, Kuelbs C, Addae J, Moustafa A, Nelson KE (2019) Xylitol and sorbitol effects on the microbiome of saliva and plaque. J Oral Microbiol 11(1):1536181. https://doi.org/10.1080/20002297.2018.1536181

Reshamwala SMS, Lali AM (2020) Exploiting the NADPH pool for xylitol production using recombinant Saccharomyces cerevisiae. Biotechnol Prog. https://doi.org/10.1002/btpr.2972

Rice T, Zannini E, E KA, Coffey A (2019) A review of polyols - biotechnological production, food applications, regulation, labeling and health effects. Crit Rev Food Sci Nutr. https://doi.org/10.1080/10408398.2019.1625859

Riggs E, Kilpatrick N, Slack-Smith L, Chadwick B, Yelland J, Muthu MS, Gomersall JC (2019) Interventions with pregnant women, new mothers and other primary caregivers for preventing early childhood caries. Cochrane Database Syst Rev 2019(11). https://doi.org/10.1002/14651858.CD012155.pub2

Riley P, Moore D, Ahmed F, Sharif MO, Worthington HV (2015) Xylitol-containing products for preventing dental caries in children and adults. Cochrane Database Syst Rev 3:CD010743. https://doi.org/10.1002/14651858.CD010743.pub2

Ruiz-Ojeda FJ, Plaza-Diaz J, Saez-Lara MJ, Gil A (2019) Effects of sweeteners on the gut microbiota: a review of experimental studies and clinical trials. Adv Nutr 10(suppl_1):S31–S48. https://doi.org/10.1093/advances/nmy037

Ruiz-Ojeda FJ, Plaza-Diaz J, Saez-Lara MJ, Gil A (2020) Corrigendum for Ruiz-Ojeda et al. Effects of sweeteners on the gut microbiota: a review of experimental studies and clinical trials. Advances in Nutrition, Volume 10, Issue suppl_1, January 2019, Pages S31-S48. Adv Nutr 11(2):468. https://doi.org/10.1093/advances/nmz112

Sakallioglu O, Guvenc IA, Cingi C (2014) Xylitol and its usage in ENT practice. J Laryngol Otol 128(7):580–585. https://doi.org/10.1017/S0022215114001340

Salli KM, Forssten SD, Lahtinen SJ, Ouwehand AC (2016) Influence of sucrose and xylitol on an early Streptococcus mutans biofilm in a dental simulator. Arch Oral Biol 70:39–46. https://doi.org/10.1016/j.archoralbio.2016.05.020

Salli K, Lehtinen MJ, Tiihonen K, Ouwehand AC (2019) Xylitol's health benefits beyond dental health: a comprehensive review. Nutrients 11(8). https://doi.org/10.3390/nu11081813

Santos MG, Carpinteiro DA, Thomazini M, Rocha-Selmi GA, da Cruz AG, Rodrigues CEC, Favaro-Trindade CS (2014) Coencapsulation of xylitol and menthol by double emulsion followed by complex coacervation and microcapsule application in chewing gum. Food Res Int 66:454–462. https://doi.org/10.1016/j.foodres.2014.10.010

Sarkar P, Mukherjee M, Goswami G, Das D (2020) Adaptive laboratory evolution induced novel mutations in Zymomonas mobilis ATCC ZW658: a potential platform for co-utilization of glucose and xylose. J Ind Microbiol Biotechnol 47(3):329–341. https://doi.org/10.1007/s10295-020-02270-y

Sene L, Arruda PV, Oliveira SM, Felipe MG (2011) Evaluation of sorghum straw hemicellulosic hydrolysate for biotechnological production of xylitol by Candida guilliermondii. Braz J Microbiol 42(3):1141–1146. https://doi.org/10.1590/S1517-838220110002000036

Shanaida M, Kernychna I, Shanaida Y (2017) Chromatographic Analysis of organic acids, amino acids, and sugars in Ocimum americanum L. Acta Pol Pharm 74(2):729–734

Shyama M, Honkala E, Honkala S, Al-Mutawa SA (2006) Effect of xylitol candies on plaque and gingival indices in physically disabled school pupils. J Clin Dent 17(1):17–21

Silva TC, Pereira AFF, Machado MAAM, Buzalaf MAR (2009) The use of xylitol as a strategy for prevention of dental caries. Revista Odonto Ciencia 24(2):205–212

Singh S, Hornick D, Fedler J, Launspach JL, Teresi ME, Santacroce TR, Cavanaugh JE, Horan R, Nelson G, Starner TD, Zabner J, Durairaj L (2020) Randomized controlled study of aerosolized hypertonic xylitol versus hypertonic saline in hospitalized patients with pulmonary exacerbation of cystic fibrosis. J Cyst Fibros 19(1):108–113. https://doi.org/10.1016/j.jcf.2019.06.016

Soderling E (2009a) Controversies around xylitol. Eur J Dent 3(2):81–82

Soderling EM (2009b) Xylitol, mutans streptococci, and dental plaque. Adv Dent Res 21(1):74–78. https://doi.org/10.1177/0895937409335642

Steinberg LM, Odusola F, Mandel ID (1992) Remineralizing potential, antiplaque and antigingivitis effects of xylitol and sorbitol sweetened chewing gum. Clin Prev Dent 14(5):31–34

Stoklosa RJ, Nghiem NP, Latona RJ (2019) Xylose-enriched ethanol fermentation stillage from sweet sorghum for xylitol and astaxanthin production. Fermentation 5(4):84

Storey D, Lee A, Bornet F, Brouns F (2007) Gastrointestinal tolerance of erythritol and xylitol ingested in a liquid. Eur J Clin Nutr 61(3):349–354. https://doi.org/10.1038/sj.ejcn.1602532

Sylvetsky A, Rother KI, Brown R (2011) Artificial sweetener use among children: epidemiology, recommendations, metabolic outcomes, and future directions. Pediatr Clin N Am 58(6):1467–14xi. https://doi.org/10.1016/j.pcl.2011.09.007

Takahashi K, Fukazawa M, Motohira H, Ochiai K, Nishikawa H, Miyata T (2003) A pilot study on antiplaque effects of mastic chewing gum in the oral cavity. J Periodontol 74(4):501–505. https://doi.org/10.1902/jop.2003.74.4.501

Takeuchi K, Asakawa M, Hashiba T, Takeshita T, Saeki Y, Yamashita Y (2018) Effects of xylitol-containing chewing gum on the oral microbiota. J Oral Sci 60(4):588–594. https://doi.org/10.2334/josnusd.17-0446

Talattof Z, Azad A, Zahed M, Shahradnia N (2018) Antifungal activity of xylitol against Candida albicans: an in vitro study. J Contemp Dent Pract 19(2):125–129. https://doi.org/10.5005/jp-journals-10024-2225

Tamura M, Hoshi C, Hori S (2013) Xylitol affects the intestinal microbiota and metabolism of daidzein in adult male mice. Int J Mol Sci 14(12):23993–24007. https://doi.org/10.3390/ijms141223993

Teixeira Essenfelder L, Gomes AA, Miquelutti D, da Silva GF, Magalhães MLB (2019) Effect of xylitol on salivary β-glucosidase in humans. Eur J Oral Sci 127(5):472–475. https://doi.org/10.1111/eos.12649

Tennant DR (2014) Potential intakes of total polyols based on UK usage survey data. Food Addit Contam Part A Chem Anal Control Expo Risk Assess 31(4):574–586. https://doi.org/10.1080/19440049.2014.886132

Thabuis C, Cheng CY, Wang X, Pochat M, Han A, Miller L, Wils D, Guerin-Deremaux L (2013) Effects of maltitol and xylitol chewing-gums on parameters involved in dental caries development. Eur J Paediatr Dent 14(4):303–308

Uebanso T, Kano S, Yoshimoto A, Naito C, Shimohata T, Mawatari K, Takahashi A (2017) Effects of consuming xylitol on gut microbiota and lipid metabolism in mice. Nutrients 9(7). https://doi.org/10.3390/nu9070756

Uhari M, Tapiainen T, Kontiokari T (2000) Xylitol in preventing acute otitis media. Vaccine 19(Suppl 1):S144–S147. https://doi.org/10.1016/s0264-410x(00)00294-2

Ur-Rehman S, Mushtaq Z, Zahoor T, Jamil A, Murtaza MA (2015) Xylitol: a review on bioproduction, application, health benefits, and related safety issues. Crit Rev Food Sci Nutr 55(11):1514–1528. https://doi.org/10.1080/10408398.2012.702288

Vasilescu R, Ionescu A, Mihai A, Carniciu S, Ionescu-Tîrgovişte C (2011) Sweeteners and metabolic diseases: xylitol as a new player. In: Proc Rom Acad Series B 2:125–128

Verkaik MJ, Busscher HJ, Jager D, Slomp AM, Abbas F, van der Mei HC (2011) Efficacy of natural antimicrobials in toothpaste formulations against oral biofilms in vitro. J Dent 39(3):218–224. https://doi.org/10.1016/j.jdent.2010.12.007

Vernacchio L, Vezina RM, Mitchell AA (2007) Tolerability of oral xylitol solution in young children: implications for otitis media prophylaxis. Int J Pediatr Otorhinolaryngol 71(1):89–94. https://doi.org/10.1016/j.ijporl.2006.09.008

Vernacchio L, Corwin MJ, Vezina RM, Pelton SI, Feldman HA, Coyne-Beasley T, Mitchell AA (2014) Xylitol syrup for the prevention of acute otitis media. Pediatrics 133(2):289–295. https://doi.org/10.1542/peds.2013-2373

Wolnerhanssen BK, Meyer-Gerspach AC (2019) Health effects of sugar consumption and possible alternatives. Ther Umsch 76(3):111–116. https://doi.org/10.1024/0040-5930/a001070

Wolnerhanssen BK, Meyer-Gerspach AC, Beglinger C, Islam MS (2019) Metabolic effects of the natural sweeteners xylitol and erythritol: a comprehensive review. Crit Rev Food Sci Nutr. https://doi.org/10.1080/10408398.2019.1623757

Xu Y, Chi P, Bilal M, Cheng H (2019) Biosynthetic strategies to produce xylitol: an economical venture. Appl Microbiol Biotechnol 103(13):5143–5160. https://doi.org/10.1007/s00253-019-09881-1

Yi EY, Kim YJ (2013) Xylitol inhibits in vitro and in vivo angiogenesis by suppressing the NF-kappaB and Akt signaling pathways. Int J Oncol 43(1):315–320. https://doi.org/10.3892/ijo.2013.1917

Yuan X, Tu S, Lin J, Yang L, Shen H, Wu M (2020) Combination of the CRP mutation and ptsG deletion in Escherichia coli to efficiently synthesize xylitol from corncob hydrolysates. Appl Microbiol Biotechnol 104(5):2039–2050. https://doi.org/10.1007/s00253-019-10324-0

Zhou G, Peng H, Wang YS, Huang XM, Xie XB, Shi QS (2019) Enhanced synergistic effects of xylitol and isothiazolones for inhibition of initial biofilm formation by Pseudomonas aeruginosa ATCC 9027 and Staphylococcus aureus ATCC 6538. J Oral Sci 61(2):255–263. https://doi.org/10.2334/josnusd.18-0102
Ethics declarations
Conflict of interest
The authors declare that they have no competing interests.
Ethical approval
This article does not contain any studies with human participants or animals performed by any of the authors.
Additional information
Publisher's note
Springer Nature remains neutral with regard to jurisdictional claims in published maps and institutional affiliations.
About this article
Cite this article
Gasmi Benahmed, A., Gasmi, A., Arshad, M. et al. Health benefits of xylitol. Appl Microbiol Biotechnol 104, 7225–7237 (2020). https://doi.org/10.1007/s00253-020-10708-7
Received:

Revised:

Accepted:

Published:

Issue Date:
Keywords
Xylitol

Artificial sweetener

Oral microbiota

Caries

Metabolic disease

Health care

Preventive effect