Abstract
Starmerella bombicola is a non-conventional yeast commercially used as a microbial cell factory for sophorolipid production. Sophorolipids are glycolipid biosurfactants composed of a glucose disaccharide sophorose and a fatty acid. In de novo sophorolipid synthesis, the fatty acid moiety is derived from the fatty acid synthesis (FAS) complex; therefore, the yeast's lipid metabolism plays a crucial role in sophorolipid biosynthesis. As a fatty acid precursor, citric acid is a key primary metabolite that connects carbohydrate and lipid metabolism, and in S. bombicola, it also has a regulatory effect on sophorolipid composition and productivity. We aimed to identify the mitochondrial transporters involved in citrate shuttling and the ATP citrate lyase (Acl), the enzyme that converts citric acid into acetyl-CoA. Subsequently, we studied their role in the citric acid shuttle and glycolipid synthesis and the potential of citrate metabolism as a genetic manipulation target for increased glycolipid synthesis. Bioinformatics analyses predicted 32 mitochondrial carriers of which two were identified as citrate transporters, named SbCtp1 and SbYhm2. Deletion of these mitochondrial carriers led to a lesser sophorolipid yield and a shift in the lactonic/acidic sophorolipid ratio. However, only the knockout of SbYhm2 caused a decrease of citric and an increase of malic acid extracellular concentrations. Additionally, deletion of SbAcl1 had a negative effect on S. bombicola's specific growth rate and sophorolipid synthesis and contributed to extra- and intracellular citric acid accumulation. Unexpectedly, SbAcl1 overexpression also decreased glycolipid production.
Key Points
• Starmerella bombicola is an industrially relevant microbial cell factory for biosurfactant production.
• There are 32 predicted mitochondrial carriers in S. bombicola.
• Citrate mitochondrial carriers SbYhm2 and SbCtp1 are essential for glycolipid synthesis in S. bombicola.
• Deletion of SbAcl1 negatively affects growth and sophorolipid production in S. bombicola.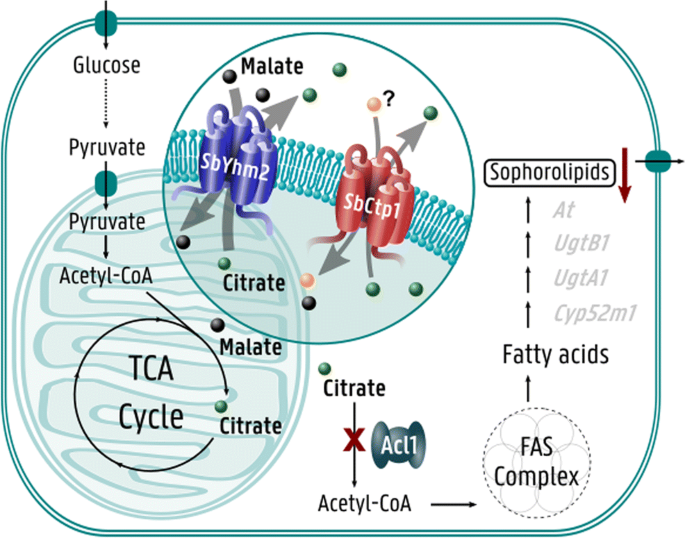 Access options
Buy single article
Instant access to the full article PDF.
USD 39.95
Price includes VAT (USA)
Tax calculation will be finalised during checkout.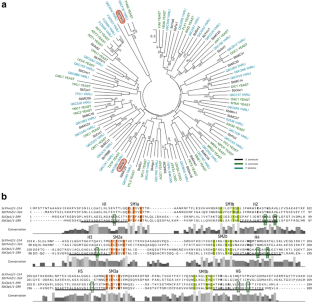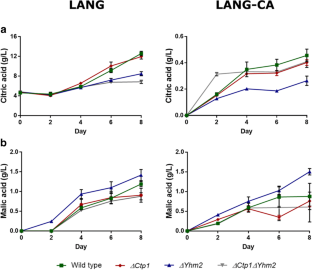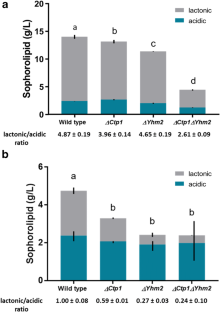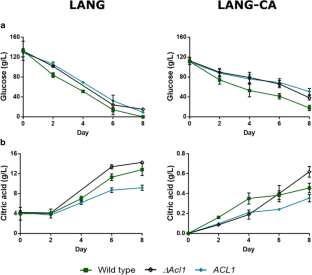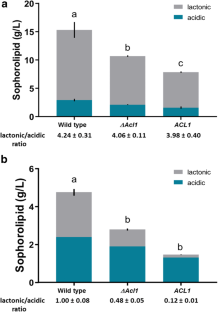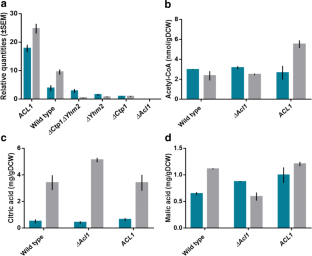 References
Albrecht A, Rau U, Wagner F (1996) Initial steps of sophoroselipid biosynthesis by Candida bombicola ATCC 22214 grown on glucose. Appl Microbiol Biotechnol 46:67–73. https://doi.org/10.1007/s002530050784

Altschul S (1997) Gapped BLAST and PSI-BLAST: a new generation of protein database search programs. Nucleic Acids Res 25:3389–3402. https://doi.org/10.1093/nar/25.17.3389

Aluvila S, Kotaria R, Sun J, Mayor JA, Walters DE, Harrison DHT, Kaplan RS (2010) The yeast mitochondrial citrate transport protein: molecular determinants of its substrate specificity. J Biol Chem 285:27314–27326. https://doi.org/10.1074/jbc.M110.137364

Blazeck J, Hill A, Liu L, Knight R, Miller J, Pan A, Otoupal P, Alper HS (2014) Harnessing Yarrowia lipolytica lipogenesis to create a platform for lipid and biofuel production. Nat Commun 5:1–10. https://doi.org/10.1038/ncomms4131

Castegna A, Scarcia P, Agrimi G, Palmieri L, Rottensteiner H, Spera I, Germinario L, Palmieri F (2010) Identification and functional characterization of a novel mitochondrial carrier for citrate and oxoglutarate in Saccharomyces cerevisiae. J Biol Chem 285:17359–17370. https://doi.org/10.1074/jbc.M109.097188

Chen H, He X, Geng H, Liu H (2014) Physiological characterization of ATP-citrate lyase in Aspergillus niger. J Ind Microbiol Biotechnol 41:721–731. https://doi.org/10.1007/s10295-014-1418-3

Ciesielska K, Li B, Groeneboer S, Van Bogaert INA, Lin YC, Soetaert W, Van De Peer Y, Devreese B (2013) SILAC-based proteome analysis of Starmerella bombicola sophorolipid production. J Proteome Res 12:4376–4392. https://doi.org/10.1021/pr400392a

Cutler AJ, Light RJ (1979) Regulation of hydroxydocosanoic acid sophoroside production in Candida bogoriensis by the levels of glucose and yeast extract in the growth medium. J Biol Chem 254:1944–1950

De Graeve M, De Maeseneire SL, Roelants SLKW, Soetaert W (2018) Starmerella bombicola, an industrially relevant, yet fundamentally underexplored yeast. FEMS Yeast Res 18:1–13. https://doi.org/10.1093/femsyr/foy072

Dulermo T, Lazar Z, Dulermo R, Rakicka M, Haddouche R, Nicaud JM (2015) Analysis of ATP-citrate lyase and malic enzyme mutants of Yarrowia lipolytica points out the importance of mannitol metabolism in fatty acid synthesis. Biochim Biophys Acta Mol Cell Biol Lipids 1851:1107–1117. https://doi.org/10.1016/j.bbalip.2015.04.007

Evans CT, Scragg AH, Ratledge C (1983) A comparative study of citrate efflux from mitochondria of oleaginous and non-oleaginous yeasts. Eur J Biochem 130:195–204. https://doi.org/10.1111/j.1432-1033.1983.tb07136.x

Gnoni GV, Priore P, Geelen MJH, Siculella L (2009) The mitochondrial citrate carrier: metabolic role and regulation of its activity and expression. IUBMB Life 61:987–994. https://doi.org/10.1002/iub.249

Jezierska S, Claus S, Van Bogaert INA (2018) Yeast glycolipid biosurfactants. FEBS Lett 592:1312–1329. https://doi.org/10.1111/ijlh.12426

Jezierska S, Claus S, Ledesma-Amaro R, Van Bogaert INA (2019) Redirecting the lipid metabolism of the yeast Starmerella bombicola from glycolipid to fatty acid production. J Ind Microbiol Biotechnol 46:1697–1706. https://doi.org/10.1007/s10295-019-02234-x

Kadooka C, Izumitsu K, Onoue M, Okutsu K, Yoshizaki Y, Takamine K, Goto M, Tamaki H, Futagami T (2019) Mitochondrial citrate transporters CtpA and YhmA are required for extracellular citric acid accumulation and contribute to cytosolic acetyl coenzyme A generation in Aspergillus luchuensis mut. Kawachii. Appl Environ Microbiol 85:1–19. https://doi.org/10.1128/AEM.03136-18

Kahm M, Hasenbrink G, Lichtenberg-Fraté H, Ludwig J, Kschischo M (2010) Grofit: fitting biological growth curves with R. J. Stat Softw 33:1–21. https://doi.org/10.18637/jss.v033.i07

Kaplan RS, Mayor JA, Gremse DA, Wood DO (1995) High level expression and characterization of the mitochondrial citrate transport protein from the yeast Saccharomyces cerevisiae. J Biol Chem 270:4108–4114

Keller O, Kollmar M, Stanke M, Waack S (2011) A novel hybrid gene prediction method employing protein multiple sequence alignments. Bioinformatics. 27:757–763. https://doi.org/10.1093/bioinformatics/btr010

Kumar S, Stecher G, Li M, Knyaz C, Tamura K (2018) MEGA X : molecular evolutionary genetics analysis across computing platforms. 35:1547–1549. https://doi.org/10.1093/molbev/msy096

Kunji ERS, Robinson AJ (2006) The conserved substrate binding site of mitochondrial carriers. Biochim Biophys Acta Bioenerg 1757:1237–1248. https://doi.org/10.1016/j.bbabio.2006.03.021

Lang S, Brakemeier A, Heckmann R, Spöckner S, Rau U (2000) Production of native and modified sophorose lipids. Chim Oggi 18:76–79. https://doi.org/10.1016/0309-1740(89)90048-X

Liu XY, Chi Z, Liu GL, Madzak C, Chi ZM (2013) Both decrease in ACL1 gene expression and increase in ICL1 gene expression in marine-derived yeast Yarrowia lipolytica expressing INU1 gene enhance citric acid production from inulin. Mar Biotechnol 15:26–36. https://doi.org/10.1007/s10126-012-9452-5

Ochoa-Estopier A, Guillouet SE (2014) D-stat culture for studying the metabolic shifts from oxidative metabolism to lipid accumulation and citric acid production in Yarrowia lipolytica. J Biotechnol 170:35–41. https://doi.org/10.1016/j.jbiotec.2013.11.008

Palmieri F (1994) Mitochondrial carrier proteins. FEBS Lett 346:48–54

Palmieri F, Pierri CL (2010) Mitochondrial metabolite transport. Essays Biochem 47:37–52. https://doi.org/10.1042/BSE0470037

Palmieri L, Agrimi G, Runswick MJ, Fearnley IM, Palmieri F, Walker JE (2001) Identification in Saccharomyces cerevisiae of two isoforms of a novel mitochondrial transporter for 2-oxoadipate and 2-oxoglutarate. J Biol Chem 276:1916–1922. https://doi.org/10.1074/jbc.M004332200

Palmieri F, Pierri CL, De Grassi A, Nunes-Nesi A, Fernie AR (2011) Evolution, structure and function of mitochondrial carriers: a review with new insights. Plant J 66:161–181. https://doi.org/10.1111/j.1365-313X.2011.04516.x

Ratledge C (2002) Regulation of lipid accumulation in oleaginous microorganisms. Biochem Soc Trans 30:47–50

Ratledge C, Wynn JP (2002) The biochemistry and molecular biology of lipid accumulation in oleaginous microorganisms. Adv Appl Microbiol 51:1–51. https://doi.org/10.1016/S0065-2164(02)51000-5

Robinson AJ, Overy C, Kunji ERS (2008) The mechanism of transport by mitochondrial carriers based on analysis of symmetry. Proc Natl Acad Sci U S A 105:17766–17771. https://doi.org/10.1073/pnas.0809580105

Roelants S, Ciesielska K, De Maeseneire SL, Moens H, Everaert B, Verweire S, Denon Q, Vanlerberghe B, Van Bogaert INA, Van der Meeren P, Devreese B, Soetaert W (2016) Towards the industrialization of new biosurfactants: biotechnological opportunities for the lactone esterase gene from Starmerella bombicola. Biotechnol Bioeng 113:550–559. https://doi.org/10.1002/bit.25815

Saerens KMJ (2012) Synthesis of glycolipids by Candida bombicola. PhD, Ghent University. 262p

Saerens KMJ, Saey L, Soetaert W (2011) One-step production of unacetylated sophorolipids by an acetyltransferase negative Candida bombicola. Biotechnol Bioeng 108:2923–2931. https://doi.org/10.1002/bit.23248

Saier MH, Reddy VS, Tsu BV, Ahmed MS, Li C, Moreno-Hagelsieb G (2016) The transporter classification database (TCDB): recent advances. Nucleic Acids Res 44:D372–D379. https://doi.org/10.1093/nar/gkv1103

Stüwer O, Hommel R, Haferburg D, Kleber HP (1987) Production of crystalline surface-active glycolipids by a strain of Torulopsis apicola. J Biotechnol 6:259–269. https://doi.org/10.1016/0168-1656(87)90057-5

Tamano K, Bruno KS, Karagiosis SA, Culley DE, Deng S, Collett JR, Umemura M, Koike H, Baker SE, Machida M (2013) Increased production of fatty acids and triglycerides in Aspergillus oryzae by enhancing expressions of fatty acid synthesis-related genes. Appl Microbiol Biotechnol 97:269–281. https://doi.org/10.1007/s00253-012-4193-y

Van Bogaert INA, De Maeseneire S, Develter D, Soetaert W, Vandamme EJ (2008) Cloning and characterization of the glyceraldehyde 3-phosphate dehydrogenase gene of Candida bombicola and use of its promoter. J Ind Microbiol Biotechnol 35(10):1085–1092. https://doi.org/10.1007/s10295-008-0386-x

Van Bogaert INA, Holvoet K, Roelants SLKW, Li B, Lin YC, Van de Peer Y, Soetaert W (2013) The biosynthetic gene cluster for sophorolipids: a biotechnological interesting biosurfactant produced by Starmerella bombicola. Mol Microbiol 88(3):501–509. https://doi.org/10.1111/mmi.12200

Wu S, Hu C, Jin G, Zhao X, Zhao ZK (2010) Phosphate-limitation mediated lipid production by Rhodosporidium toruloides. Bioresour Technol 101:6124–6129. https://doi.org/10.1016/j.biortech.2010.02.111

Yang J, Li S, Kabir Khan MA, Garre V, Vongsangnak W, Song Y (2019) Increased lipid accumulation in Mucor circinelloides by overexpression of mitochondrial citrate transporter genes. Ind Eng Chem Res 58:2125–2134. https://doi.org/10.1021/acs.iecr.8b05564

Yuzbasheva EY, Agrimi G, Yuzbashev TV, Scarcia P, Vinogradova EB, Palmieri L, Shutov AV, Kosikhina IM, Palmieri F, Sineoky SP (2019) The mitochondrial citrate carrier in Yarrowia lipolytica: its identification, characterization and functional significance for the production of citric acid. Metab Eng 54:264–274. https://doi.org/10.1016/j.ymben.2019.05.002

Zhang H, Zhang L, Chen H, Chen YQ, Chen W, Song Y, Ratledge C (2014) Enhanced lipid accumulation in the yeast Yarrowia lipolytica by over-expression of ATP: citrate lyase from Mus musculus. J Biotechnol 192:78–84. https://doi.org/10.1016/j.jbiotec.2014.10.004

Zhou YJ, Buijs NA, Zhu Z, Qin J, Siewers V, Nielsen J (2016) Production of fatty acid-derived oleochemicals and biofuels by synthetic yeast cell factories. Nat Commun 7:11709. https://doi.org/10.1038/ncomms11709
Acknowledgments
The authors would like to acknowledge Dries Duchi for the excellent technical support during HPLC analysis.
Funding
This work was funded by the Strategic Basic Research grant from the Research Foundation Flanders (FWO), (PhD fellowship of Sylwia Jezierska, Grant No. 151610), the Aspirant Research grant from the FWO (PhD fellowship of Silke Claus, Grant No. 1117519N), and the Flemish Agency for Innovation by Science and Technology (Grant No. IWT80050).
Ethics declarations
Conflict of interest
The authors declare that they have no conflict of interest.
Ethical approval
This article does not contain any studies with human participants or animals performed by any of the authors.
Additional information
Publisher's note
Springer Nature remains neutral with regard to jurisdictional claims in published maps and institutional affiliations.
Electronic supplementary material
About this article
Cite this article
Jezierska, S., Claus, S. & Van Bogaert, I.N. Identification and importance of mitochondrial citrate carriers and ATP citrate lyase for glycolipid production in Starmerella bombicola. Appl Microbiol Biotechnol 104, 6235–6248 (2020). https://doi.org/10.1007/s00253-020-10702-z
Received:

Revised:

Accepted:

Published:

Issue Date:
Keywords
ATP citrate lyase

Mitochondrial carriers

Yeast

Starmerella bombicola

Glycolipid

Sophorolipid