Abstract
The gut microbiota plays an important role in colorectal cancer (CRC), and the use of probiotics might be a promising intervention method. The aim of our study was to investigate the beneficial effect of Bifidobacterium bifidum CGMCC 15068 on an azoxymethane (AOM)/dextran sulphate sodium (DSS)-induced colitis-associated CRC (CAC) mouse model. CAC was induced by an intra-peritoneal injection of AOM (10 mg/kg) and three 7-day cycles of 2% DSS in drinking water with a 14-day recovery period between two consecutive DSS administrations. B. bifidum CGMCC 15068 (3 × 109 CFU/mL) was gavaged once daily during the recovery period. Then, the faecal microbial composition and metabolome were profiled using the 16S rRNA sequencing technology and gas chromatography-mass spectrometry (GC-MS), respectively. The administration of B. bifidum CGMCC 15068 attenuated tumourigenesis in the CAC mouse model. In addition, B. bifidum CGMCC 15068 pre-treatment increased the relative abundance of Akkermansia, Desulfovibrionaceae, Romboutsia, Turicibacter, Verrucomicrobiaceae, Ruminococcaceae_UCG_013, Lachnospiraceae_UCG_004, and Lactobacillus. Meanwhile, B. bifidum CGMCC 15068 altered metabolites involved in the citrate cycle (TCA cycle), glycolysis, butyrate metabolism, fatty acid biosynthesis, and galactose metabolism. Several significant correlations were identified between the differentially abundant microbes and metabolites. These findings supported the beneficial role of B. bifidum CGMCC 15068 in intestinal health by modulating dysbiosis and the gut metabolic profile. The manipulation of the gut microbial composition using probiotics might be a promising prevention strategy for CRC. Long-term and large-scale clinical trials are warranted for the potential clinical applications of this strategy in the future.
Access options
Buy single article
Instant access to the full article PDF.
USD 39.95
Price excludes VAT (USA)
Tax calculation will be finalised during checkout.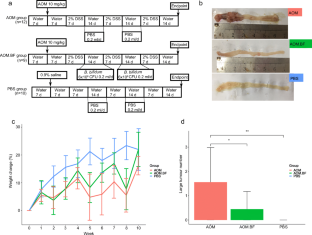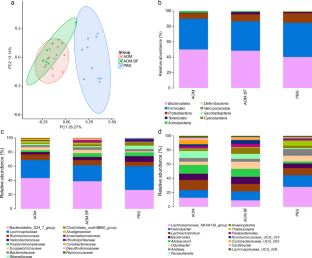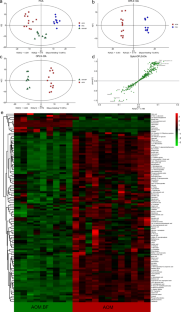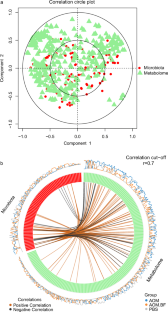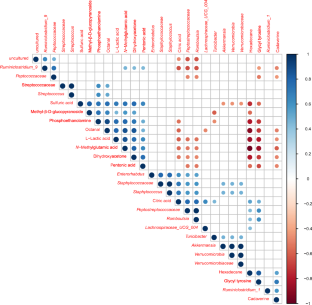 References
Abdelhamid AG, El-Masry SS, El-Dougdoug NK (2019) Probiotic Lactobacillus and Bifidobacterium strains possess safety characteristics, antiviral activities and host adherence factors revealed by genome mining. EPMA J 10:337–350. https://doi.org/10.1007/s13167-019-00184-z

Anderson NM, Mucka P, Kern JG, Feng H (2018) The emerging role and targetability of the TCA cycle in cancer metabolism. Protein Cell 9:216–237. https://doi.org/10.1007/s13238-017-0451-1

Arthur JC, Jobin C (2011) The struggle within: microbial influences on colorectal cancer. Inflamm Bowel Dis 17:396–409. https://doi.org/10.1002/ibd.21354

Bian X, Wu W, Yang L, Lv L, Wang Q, Li Y, Ye J, Fang D, Wu J, Jiang X, Shi D, Li L (2019) Administration of Akkermansia muciniphila ameliorates dextran sulfate sodium-induced ulcerative colitis in mice. Front Microbiol 10: . https://doi.org/10.3389/fmicb.2019.02259

Bolger AM, Lohse M, Usadel B (2014) Trimmomatic: a flexible trimmer for Illumina sequence data. Bioinformatics 30:2114–2120. https://doi.org/10.1093/bioinformatics/btu170

Bray F, Ferlay J, Soerjomataram I, Siegel RL, Torre LA, Jemal A (2018) Global cancer statistics 2018: GLOBOCAN estimates of incidence and mortality worldwide for 36 cancers in 185 countries. CA Cancer J Clin 68:394–424. https://doi.org/10.3322/caac.21492

Canani RB, Costanzo MD, Leone L, Pedata M, Meli R, Calignano A (2011) Potential beneficial effects of butyrate in intestinal and extraintestinal diseases. World J Gastroenterol 17:1519–1528. https://doi.org/10.3748/wjg.v17.i12.1519

Caporaso JG, Kuczynski J, Stombaugh J, Bittinger K, Bushman FD, Costello EK, Fierer N, Peña AG, Goodrich JK, Gordon JI, Huttley GA, Kelley ST, Knights D, Koenig JE, Ley RE, Lozupone CA, McDonald D, Muegge BD, Pirrung M, Reeder J, Sevinsky JR, Turnbaugh PJ, Walters WA, Widmann J, Yatsunenko T, Zaneveld J, Knight R (2010) QIIME allows analysis of high-throughput community sequencing data. Nat Methods 7:335–336. https://doi.org/10.1038/nmeth.f.303

Chen W, Liu F, Ling Z, Tong X, Xiang C (2012) Human intestinal lumen and mucosa-associated microbiota in patients with colorectal cancer. PLoS One 7:e39743. https://doi.org/10.1371/journal.pone.0039743

Chen Y-J, Wu H, Wu S-D, Lu N, Wang Y-T, Liu H-N, Dong L, Liu T-T, Shen X-Z (2018) Parasutterella, in association with irritable bowel syndrome and intestinal chronic inflammation. J Gastroenterol Hepatol 33:1844–1852. https://doi.org/10.1111/jgh.14281

Cole JR, Wang Q, Fish JA, Chai B, McGarrell DM, Sun Y, Brown CT, Porras-Alfaro A, Kuske CR, Tiedje JM (2014) Ribosomal Database Project: data and tools for high throughput rRNA analysis. Nucleic Acids Res 42:D633–D642. https://doi.org/10.1093/nar/gkt1244

Collins JW, Chervaux C, Raymond B, Derrien M, Brazeilles R, Kosta A, Chambaud I, Crepin VF, Frankel G (2014) Fermented dairy products modulate Citrobacter rodentium-induced colonic hyperplasia. J Infect Dis 210:1029–1041. https://doi.org/10.1093/infdis/jiu205

Currie E, Schulze A, Zechner R, Walther TC, Farese RV (2013) Cellular fatty acid metabolism and Cancer. Cell Metab 18:153–161. https://doi.org/10.1016/j.cmet.2013.05.017

de las Rivas B, Marcobal A, Carrascosa AV, Muñoz R (2006) PCR detection of foodborne bacteria producing the biogenic amines histamine, tyramine, putrescine, and cadaverine. J Food Prot 69:2509–2514. https://doi.org/10.4315/0362-028x-69.10.2509

De Robertis M, Massi E, Poeta ML, Carotti S, Morini S, Cecchetelli L, Signori E, Fazio VM (2011) The AOM/DSS murine model for the study of colon carcinogenesis: from pathways to diagnosis and therapy studies. J Carcinog 10:9. https://doi.org/10.4103/1477-3163.78279

Derrien M, Vaughan EE, Plugge CM, De WV (2004) Akkermansia muciniphila gen. nov., sp. nov., a human intestinal mucin-degrading bacterium. Int J Syst Evol Microbiol 54:1469–1476. https://doi.org/10.1099/ijs.0.02873-0

Everard A, Belzer C, Geurts L, Ouwerkerk JP, Druart C, Bindels LB, Guiot Y, Derrien M, Muccioli GG, Delzenne NM, de Vos WM, Cani PD (2013) Cross-talk between Akkermansia muciniphila and intestinal epithelium controls diet-induced obesity. PNAS 110:9066–9071. https://doi.org/10.1073/pnas.1219451110

Foo N-P, Ou Yang H, Chiu H-H, Chan H-Y, Liao C-C, Yu C-K, Wang Y-J (2011) Probiotics prevent the development of 1,2-dimethylhydrazine (DMH)-induced colonic tumorigenesis through suppressed colonic mucosa cellular proliferation and increased stimulation of macrophages. J Agric Food Chem 59:13337–13345. https://doi.org/10.1021/jf203444d

Gao Z, Guo B, Gao R, Zhu Q, Qin H (2015) Microbiota disbiosis is associated with colorectal cancer. Front Microbiol 6: . https://doi.org/10.3389/fmicb.2015.00020

Gareau MG, Sherman PM, Walker WA (2010) Probiotics and the gut microbiota in intestinal health and disease. Nat Rev Gastroenterol Hepatol 7:503–514. https://doi.org/10.1038/nrgastro.2010.117

Grimm V, Radulovic K, Riedel CU (2015) Colonization of C57BL/6 mice by a potential probiotic Bifidobacterium bifidum strain under germ-free and specific pathogen-free conditions and during experimental colitis. PLoS One 10:e0139935. https://doi.org/10.1371/journal.pone.0139935

Hibberd AA, Lyra A, Ouwehand AC, Rolny P, Lindegren H, Cedgård L, Wettergren Y (2017) Intestinal microbiota is altered in patients with colon cancer and modified by probiotic intervention. BMJ Open Gastroenterol 4:e000145. https://doi.org/10.1136/bmjgast-2017-000145

Jacouton E, Chain F, Sokol H, Langella P, Bermúdez-Humarán LG (2017) Probiotic strain Lactobacillus casei BL23 prevents colitis-associated colorectal cancer. Front Immunol 8:1553. https://doi.org/10.3389/fimmu.2017.01553

Jess T, Gamborg M, Matzen P, Munkholm P, Sørensen TIA (2005) Increased risk of intestinal cancer in Crohn's disease: a meta-analysis of population-based cohort studies. Am J Gastroenterol 100:2724–2729. https://doi.org/10.1111/j.1572-0241.2005.00287.x

Kim MJ, Ku S, Kim SY, Lee HH, Jin H, Kang S, Li R, Johnston TV, Park MS, Ji GE (2018) Safety evaluations of Bifidobacterium bifidum BGN4 and Bifidobacterium longum BORI. Int J Mol Sci 19. https://doi.org/10.3390/ijms19051422

Kinross JM, Darzi AW, Nicholson JK (2011) Gut microbiome-host interactions in health and disease. Genome Med 3:14. https://doi.org/10.1186/gm228

Kitaoka M (2012) Bifidobacterial enzymes involved in the metabolism of human milk oligosaccharides123. Adv Nutr 3:422S–429S. https://doi.org/10.3945/an.111.001420

Kovács T, Mikó E, Vida A, Sebő É, Toth J, Csonka T, Boratkó A, Ujlaki G, Lente G, Kovács P, Tóth D, Árkosy P, Kiss B, Méhes G, Goedert JJ, Bai P (2019) Cadaverine, a metabolite of the microbiome, reduces breast cancer aggressiveness through trace amino acid receptors. Sci Rep 9:1–14. https://doi.org/10.1038/s41598-018-37664-7

Langille MGI, Zaneveld J, Caporaso JG, McDonald D, Knights D, Reyes JA, Clemente JC, Burkepile DE, Vega Thurber RL, Knight R, Beiko RG, Huttenhower C (2013) Predictive functional profiling of microbial communities using 16S rRNA marker gene sequences. Nat Biotechnol 31:814–821. https://doi.org/10.1038/nbt.2676

Liberti MV, Locasale JW (2016) The Warburg effect: how does it benefit cancer cells? Trends Biochem Sci 41:211–218. https://doi.org/10.1016/j.tibs.2015.12.001

Lin C-C, Cheng T-L, Tsai W-H, Tsai H-J, Hu K-H, Chang H-C, Yeh C-W, Chen Y-C, Liao C-C, Chang W-T (2012) Loss of the respiratory enzyme citrate synthase directly links the Warburg effect to tumor malignancy. Sci Rep 2:785. https://doi.org/10.1038/srep00785

Louis P, Hold GL, Flint HJ (2014) The gut microbiota, bacterial metabolites and colorectal cancer. Nat Rev Microbiol 12:661–672. https://doi.org/10.1038/nrmicro3344

Macchione IG, Lopetuso LR, Ianiro G, Napoli M, Gibiino G, Rizzatti G, Petito V, Gasbarrini A, Scaldaferri F (2019) Akkermansia muciniphila: key player in metabolic and gastrointestinal disorders. Eur Rev Med Pharmacol Sci 23:8075–8083. https://doi.org/10.26355/eurrev_201909_19024

Magoč T, Salzberg SL (2011) FLASH: fast length adjustment of short reads to improve genome assemblies. Bioinformatics 27:2957–2963. https://doi.org/10.1093/bioinformatics/btr507

Meehan CJ, Beiko RG (2014) A phylogenomic view of ecological specialization in the Lachnospiraceae, a family of digestive tract-associated bacteria. Genome Biol Evol 6:703–713. https://doi.org/10.1093/gbe/evu050

Mendes MCS, Paulino DS, Brambilla SR, Camargo JA, Persinoti GF, Carvalheira JBC (2018) Microbiota modification by probiotic supplementation reduces colitis associated colon cancer in mice. World J Gastroenterol 24:1995–2008. https://doi.org/10.3748/wjg.v24.i18.1995

Milani C, Ticinesi A, Gerritsen J, Nouvenne A, Lugli GA, Mancabelli L, Turroni F, Duranti S, Mangifesta M, Viappiani A, Ferrario C, Maggio M, Lauretani F, De Vos W, van Sinderen D, Meschi T, Ventura M (2016) Gut microbiota composition and Clostridium difficile infection in hospitalized elderly individuals: a metagenomic study. Sci Rep 6:1–12. https://doi.org/10.1038/srep25945

O'Callaghan A, van Sinderen D (2016) Bifidobacteria and their role as members of the human gut microbiota. Front Microbiol 7. https://doi.org/10.3389/fmicb.2016.00925

Quast C, Pruesse E, Yilmaz P, Gerken J, Schweer T, Yarza P, Peplies J, Glöckner FO (2013) The SILVA ribosomal RNA gene database project: improved data processing and web-based tools. Nucleic Acids Res 41:D590–D596. https://doi.org/10.1093/nar/gks1219

R Core Team (2013) R: The R Project for Statistical Computing

Ren J-G, Seth P, Ye H, Guo K, Hanai J, Husain Z, Sukhatme VP (2017) Citrate suppresses tumor growth in multiple models through inhibition of glycolysis, the tricarboxylic acid cycle and the IGF-1R pathway. Sci Rep 7:1–13. https://doi.org/10.1038/s41598-017-04626-4

Rivière A, Selak M, Lantin D, Leroy F, De Vuyst L (2016) Bifidobacteria and butyrate-producing colon bacteria: importance and strategies for their stimulation in the human gut. Front Microbiol 7. https://doi.org/10.3389/fmicb.2016.00979

Rognes T, Flouri T, Nichols B, Quince C, Mahé F (2016) VSEARCH: a versatile open source tool for metagenomics. PeerJ 4:e2584. https://doi.org/10.7717/peerj.2584

Rohart F, Gautier B, Singh A, Cao K-AL (2017) mixOmics: an R package for 'omics feature selection and multiple data integration. PLoS Comput Biol 13:e1005752 . https://doi.org/10.1371/journal.pcbi.1005752

Russell WR, Gratz SW, Duncan SH, Holtrop G, Ince J, Scobbie L, Duncan G, Johnstone AM, Lobley GE, Wallace RJ, Duthie GG, Flint HJ (2011) High-protein, reduced-carbohydrate weight-loss diets promote metabolite profiles likely to be detrimental to colonic health. Am J Clin Nutr 93:1062–1072. https://doi.org/10.3945/ajcn.110.002188

Sato T, Matsumoto K, Okumura T, Yokoi W, Naito E, Yoshida Y, Nomoto K, Ito M, Sawada H (2008) Isolation of lactate-utilizing butyrate-producing bacteria from human feces and in vivo administration of Anaerostipes caccae strain L2 and galacto-oligosaccharides in a rat model. FEMS Microbiol Ecol 66:528–536. https://doi.org/10.1111/j.1574-6941.2008.00528.x

Scharlau D, Borowicki A, Habermann N, Hofmann T, Klenow S, Miene C, Munjal U, Stein K, Glei M (2009) Mechanisms of primary cancer prevention by butyrate and other products formed during gut flora-mediated fermentation of dietary fibre. Mutat Res 682:39–53. https://doi.org/10.1016/j.mrrev.2009.04.001

Segata N, Izard J, Waldron L, Gevers D, Miropolsky L, Garrett WS, Huttenhower C (2011) Metagenomic biomarker discovery and explanation. Genome Biol 12:R60. https://doi.org/10.1186/gb-2011-12-6-r60

Song H, Wang W, Shen B, Jia H, Hou Z, Chen P, Sun Y (2018) Pretreatment with probiotic Bifico ameliorates colitis-associated cancer in mice: transcriptome and gut flora profiling. Cancer Sci 109:666–677. https://doi.org/10.1111/cas.13497

Tan J, Chen Y-X (2016) Dietary and lifestyle factors associated with colorectal cancer risk and interactions with microbiota: fiber, red or processed meat and alcoholic drinks. Gastrointest Tumors 3:17–24. https://doi.org/10.1159/000442831

Tsugawa H, Cajka T, Kind T, Ma Y, Higgins B, Ikeda K, Kanazawa M, VanderGheynst J, Fiehn O, Arita M (2015) MS-DIAL: data independent MS/MS deconvolution for comprehensive metabolome analysis. Nat Methods 12:523–526. https://doi.org/10.1038/nmeth.3393

Turroni F, Peano C, Pass DA, Foroni E, Severgnini M, Claesson MJ, Kerr C, Hourihane J, Murray D, Fuligni F, Gueimonde M, Margolles A, De Bellis G, O'Toole PW, van Sinderen D, Marchesi JR, Ventura M (2012) Diversity of bifidobacteria within the infant gut microbiota. PLoS One 7:e36957. https://doi.org/10.1371/journal.pone.0036957

Wang T-A, Zhang X-D, Guo X-Y, Xian S-L, Lu Y-F (2016) 3-bromopyruvate and sodium citrate target glycolysis, suppress survivin, and induce mitochondrial-mediated apoptosis in gastric cancer cells and inhibit gastric orthotopic transplantation tumor growth. Oncol Rep 35:1287–1296. https://doi.org/10.3892/or.2015.4511

Zarrinpar A, Chaix A, Xu ZZ, Chang MW, Marotz CA, Saghatelian A, Knight R, Panda S (2018) Antibiotic-induced microbiome depletion alters metabolic homeostasis by affecting gut signaling and colonic metabolism. Nat Commun 9:2872. https://doi.org/10.1038/s41467-018-05336-9

Zhu J, Zhu C, Ge S, Zhang M, Jiang L, Cui J, Ren F (2014) Lactobacillus salivarius Ren prevent the early colorectal carcinogenesis in 1, 2-dimethylhydrazine-induced rat model. J Appl Microbiol 117:208–216. https://doi.org/10.1111/jam.12499

Zierer J, Jackson MA, Kastenmüller G, Mangino M, Long T, Telenti A, Mohney RP, Small KS, Bell JT, Steves CJ, Valdes AM, Spector TD, Menni C (2018) The fecal metabolome as a functional readout of the gut microbiome. Nat Genet 50:790–795. https://doi.org/10.1038/s41588-018-0135-7

Zou S, Fang L, Lee M-H (2018) Dysbiosis of gut microbiota in promoting the development of colorectal cancer. Gastroenterol Rep (Oxf) 6:1–12. https://doi.org/10.1093/gastro/gox031
Funding
This study was funded by the National Natural Science Foundation of China (grant nos. 81790631, 81570512), the National Key Research and Development Program of China (2018YFC2000500), and the Natural Science Foundation of Zhejiang Province, China (LQ19H030007).
Ethics declarations
Conflict of interest
The authors declare that they have no conflict of interest.
Ethical approval
This study was approved by the Animal Care and Use Committee of the First Affiliated Hospital, School of Medicine, Zhejiang University (permit number: 2019-1072).
Additional information
Publisher's note
Springer Nature remains neutral with regard to jurisdictional claims in published maps and institutional affiliations.
Electronic supplementary material
About this article
Cite this article
Wang, Q., Wang, K., Wu, W. et al. Administration of Bifidobacterium bifidum CGMCC 15068 modulates gut microbiota and metabolome in azoxymethane (AOM)/dextran sulphate sodium (DSS)-induced colitis-associated colon cancer (CAC) in mice. Appl Microbiol Biotechnol 104, 5915–5928 (2020). https://doi.org/10.1007/s00253-020-10621-z
Received:

Revised:

Accepted:

Published:

Issue Date:

DOI: https://doi.org/10.1007/s00253-020-10621-z
Keywords
Bifidobacterium bifidum CGMCC 15068

Colorectal cancer

Gut microbiota

Metabolome