Abstract
The liver is an important digestive gland, and acute liver failure results in high mortality. Probiotics are considered potential adjuvant therapies for liver disease. This study aimed to investigate the beneficial effects of Lactobacillus helveticus R0052 on acute liver injury and the underlying mechanisms. Sprague-Dawley rats were gavaged with L. helveticus R0052 suspensions (3 × 109 CFU) for 1 week. Subsequently, acute liver injury was induced by intraperitoneal d-galactosamine injection on the eighth day. After 24 h, samples (blood, liver, ileum, faeces) were collected and assessed for histological injury, inflammation, intestinal barrier, gut microbiome and metabolome. L. helveticus R0052 alleviated aminotransferase, bilirubin and total bile acid elevation and histological hepatic injuries. Additionally, L. helveticus R0052 exhibited anti-inflammatory properties by downregulating Toll-like receptors, tumour necrosis factor-α and nuclear factor-κb transcription in liver samples and decreasing proinflammatory cytokine plasma concentrations. Additionally, L. helveticus R0052 ameliorated intestinal abnormalities and regulated Toll-like receptors, claudin2 and mucin3 gene transcription in the intestine. These effects were associated with gut microbiome and metabolome modulation by L. helveticus R0052. Probiotic pretreatment enriched Lactobacillus and Bacteroides and depleted Flavonifractor and Acetatifactor in the gut microbiome. Meanwhile, L. helveticus R0052 improved carbohydrate and fatty acid metabolism and reduced lithocholic acid levels. These results indicate that L. helveticus R0052 is promising for alleviating acute liver injury and provide new insights regarding the correlations among the microbiome, the metabolome, the intestinal barrier and liver disease.
Access options
Buy single article
Instant access to the full article PDF.
US$ 39.95
Tax calculation will be finalised during checkout.
Subscribe to journal
Immediate online access to all issues from 2019. Subscription will auto renew annually.
US$ 119
Tax calculation will be finalised during checkout.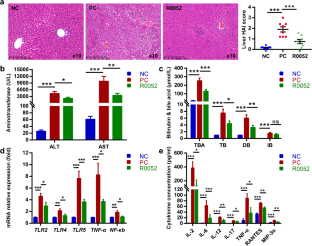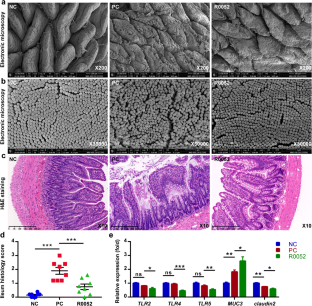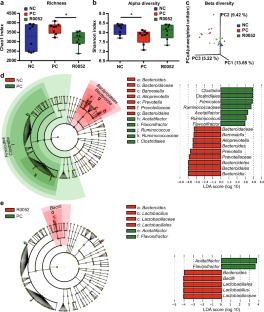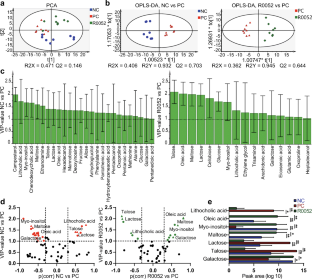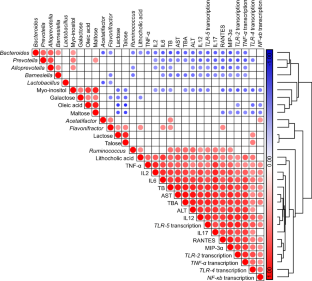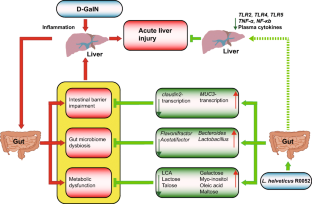 References
Abreu MT (2010) Toll-like receptor signalling in the intestinal epithelium: how bacterial recognition shapes intestinal function. Nat Rev Immunol 10:131–144. https://doi.org/10.1038/nri2707

Afgan E, Baker D, Batut B, van den Beek M, Bouvier D, Cech M, Chilton J, Clements D, Coraor N, Gruning BA, Guerler A, Hillman-Jackson J, Hiltemann S, Jalili V, Rasche H, Soranzo N, Goecks J, Taylor J, Nekrutenko A, Blankenberg D (2018) The Galaxy platform for accessible, reproducible and collaborative biomedical analyses: 2018 update. Nucleic Acids Research 46(W1):W537–W544. https://doi.org/10.1093/nar/gky379

Amasheh S, Meiri N, Gitter AH, Schöneberg T, Mankertz J, Schulzke JD, Fromm M (2002) claudin-2 expression induces cation-selective channels in tight junctions of epithelial cells. J Cell Sci 115:4969–4976. https://doi.org/10.1242/jcs.00165

Antoniades CG, Berry PA, Wendon JA, Vergani D (2008) The importance of immune dysfunction in determining outcome in acute liver failure. J Hepatol 49(5):845–861. https://doi.org/10.1016/j.jhep.2008.08.009

Azcarate-Peril MA, Ritter AJ, Savaiano D, Monteagudo-Mera A, Anderson C, Magness ST, Klaenhammer TR (2017) Impact of short-chain galactooligosaccharides on the gut microbiome of lactose-intolerant individuals. Proc Natl Acad Sci USA 114(3):E367–e375. https://doi.org/10.1073/pnas.1606722113

Backhed F, Ley RE, Sonnenburg JL, Peterson DA, Gordon JI (2005) Host-bacterial Mutualism in the human intestine. Science 307:1915–1920. https://doi.org/10.1126/science.1104816

Bang CS, Hong SH, Suk KT, Kim JB, Han SH, Sung H, Kim EJ, Kim MJ, Kim MY, Baik SK, Kim DJ (2014) Effects of Korean red ginseng (Panax ginseng), urushiol (Rhus vernicifera Stokes), and probiotics (Lactobacillus rhamnosus R0011 and Lactobacillus acidophilus R0052) on the gut–liver axis of alcoholic liver disease. J Ginseng Res 38:167–172. https://doi.org/10.1016/j.jgr.2014.04.002

Bernal W, Auzinger G, Dhawan A, Wendon J (2010) Acute liver failure. Lancet 376:190–201. https://doi.org/10.1016/s0140-6736(10)60274-7

Brüssow H (2013) Nutrition, population growth and disease: a short history of lactose. Environ Microbiol 15:2154–2161. https://doi.org/10.1111/1462-2920.12117

Bubnov RV, Babenko LP, Lazarenko LM, Mokrozub VV, Demchenko OA, Nechypurenko OV, Spivak MY (2017) Comparative study of probiotic effects of and strains on cholesterol levels, liver morphology and the gut microbiota in obese mice. EPMA j 8(4):357–376. https://doi.org/10.1007/s13167-017-0117-3

Bubnov RV, Babenko LP, Lazarenko LM, Mokrozub VV, Spivak MY (2018) Specific properties of probiotic strains: relevance and benefits for the host. EPMA j 9(2):205–223. https://doi.org/10.1007/s13167-018-0132-z

Bubnov RV, Spivak MY, Lazarenko LM, Bomba A, Boyko NV (2015) Probiotics and immunity: provisional role for personalized diets and disease prevention. EPMA j 6(1):14. https://doi.org/10.1186/s13167-015-0036-0

Cani PD (2018) Human gut microbiome: hopes, threats and promises. Gut 67:1716–1725. https://doi.org/10.1136/gutjnl-2018-316723

Caporaso JG, Kuczynski J, Stombaugh J, Bittinger K, Bushman FD, Costello EK, Fierer N, Peña AG, Goodrich JK, Gordon JI, Huttley GA, Kelley ST, Knights D, Koenig JE, Ley RE, Lozupone CA, McDonald D, Muegge BD, Pirrung M, Reeder J, Sevinsky JR, Turnbaugh PJ, Walters WA, Widmann J, Yatsunenko T, Zaneveld J, Knight R (2010) QIIME allows analysis of high-throughput community sequencing data. Nat Methods 7(5):335–336. https://doi.org/10.1038/nmeth.f.303

Chiu C-J (1970) Intestinal mucosal lesion in low-flow states. Arch Surg 101:478–483. https://doi.org/10.1001/archsurg.1970.01340280030009

Cole JR, Wang Q, Fish JA, Chai B, McGarrell DM, Sun Y, Brown CT, Porras-Alfaro A, Kuske CR, Tiedje JM (2014) Ribosomal Database Project: data and tools for high throughput rRNA analysis. Nucleic Acids Res 42(Database issue):D633–D642. https://doi.org/10.1093/nar/gkt1244

Del Chierico F, Nobili V, Vernocchi P, Russo A, Stefanis CD, Gnani D, Furlanello C, Zandonà A, Paci P, Capuani G, Dallapiccola B, Miccheli A, Alisi A, Putignani L (2017) Gut microbiota profiling of pediatric nonalcoholic fatty liver disease and obese patients unveiled by an integrated meta-omics-based approach. Hepatology 65:451–464. https://doi.org/10.1002/hep.28572

Dufour DR, Lott JA, Nolte FS, Gretch DR, Koff RS, Seeff LB (2000) Diagnosis and monitoring of hepatic injury. II. Recommendations for use of laboratory tests in screening, diagnosis, and monitoring. Clin Chem 46:2050–2068

García-Bayona L, Comstock LE (2018) Bacterial antagonism in host-associated microbial communities. Science 361:eaat2456. https://doi.org/10.1126/science.aat2456

Hill C, Guarner F, Reid G, Gibson GR, Merenstein DJ, Pot B, Morelli L, Canani RB, Flint HJ, Salminen S, Calder PC, Sanders ME (2014) The international scientific association for probiotics and prebiotics consensus statement on the scope and appropriate use of the term probiotic. Nat Rev Gastroenterol Hepatol 11:506–514. https://doi.org/10.1038/nrgastro.2014.66

Hofmann AF (2004) Detoxification of lithocholic acid, a toxic bile acid: relevance to drug hepatotoxicity. Drug Metabol Rev 36:703–722. https://doi.org/10.1081/dmr-200033475

Holub B (1986) Metabolism and function of myo-inositol and inositol phospholipids. Annu Rev Nutr 6:563–597. https://doi.org/10.1146/annurev.nutr.6.1.563

Hong M, Kim SW, Han SH, Kim DJ, Suk KT, Kim YS, Kim MJ, Kim MY, Baik SK, Ham YL (2015) Probiotics (Lactobacillus rhamnosus R0011 and Acidophilus R0052) reduce the expression of toll-like receptor 4 in mice with alcoholic liver disease. PLoS One 10:e0117451. https://doi.org/10.1371/journal.pone.0117451

Husted AS, Trauelsen M, Rudenko O, Hjorth SA, Schwartz TW (2017) GPCR-mediated signaling of metabolites. Cell Metabolism 25:777–796. https://doi.org/10.1016/j.cmet.2017.03.008

Johansson MEV, Phillipson M, Petersson J, Velcich A, Holm L, Hansson GC (2008) The inner of the two MUC2 mucin-dependent mucus layers in colon is devoid of bacteria. Proc Natl Acad Sci U S A 105:15064–15069. https://doi.org/10.1073/pnas.0803124105

Kaisho T, Akira S (2006) Toll-like receptor function and signaling. J Allergy Clin Immunol 117:979–987. https://doi.org/10.1016/j.jaci.2006.02.023

Klaenhammer T, Barrangou R, Buck B, Azcarateperil M, Altermann E (2005) Genomic features of lactic acid bacteria effecting bioprocessing and health. FEMS Microbiol Rev 29:393–409. https://doi.org/10.1016/j.femsre.2005.04.007

Knodell RG, Ishak KG, Black WC, Chen TS, Craig R, Kaplowitz N, Kiernan TW, Wollman J (1981) Formulation and application of a numerical scoring system for assessing histological activity in asymptomatic chronic active hepatitis. Hepatology 1:431–435. https://doi.org/10.1016/s0168-8278(03)00005-9

Kovatcheva-Datchary P, Nilsson A, Akrami R, Ying SL, De Vadder F, Arora T, Hallen A, Martens E, Björck I, Bäckhed F (2015) Dietary fiber-induced improvement in glucose metabolism is associated with increased abundance of Prevotella. Cell Metab 22:971–982. https://doi.org/10.1016/j.cmet.2015.10.001

Lebeis SL, Bommarius B, Parkos CA, Sherman MA, Kalman D (2007) TLR signaling mediated by MyD88 is required for a protective innate immune response by neutrophils to Citrobacter rodentium. J Immunol 179:566–577. https://doi.org/10.4049/jimmunol.179.1.566

Lee W (2012) Acute liver failure. Semin Respir Crit Care Med 33:36–45. https://doi.org/10.1055/s-0032-1301733

Leturque A, Brot-Laroche E, Le Gall M (2009) GLUT2 mutations, translocation, and receptor function in diet sugar managing. Am J Physiol Endocrinol Metabol 296:E985–E992. https://doi.org/10.1152/ajpendo.00004.2009

Li Y, Lv L, Ye J, Fang D, Shi D, Wu W, Wang Q, Wu J, Yang L, Bian X, Jiang X, Jiang H, Yan R, Peng C, Li L (2019) Bifidobacterium adolescentis CGMCC 15058 alleviates liver injury, enhances the intestinal barrier and modifies the gut microbiota in D-galactosamine-treated rats. Appl Microbiol Biotechnol 103:375–393. https://doi.org/10.1007/s00253-018-9454-y

Lim KH, Staudt LM (2013) Toll-like receptor signaling. Cold Spring Harb Perspect Biol 5:a011247. https://doi.org/10.1101/cshperspect.a011247

Liu Y, Zhu L, Liang S, Yao S, Li R, Liu S, Ma Y, Zhou X, Zhang J, Zeng H, Wang X (2015) Galactose protects hepatocytes against TNF-α-induced apoptosis by promoting activation of the NF-κB signaling pathway in acute liver failure. Lab Investig 95:504–514. https://doi.org/10.1038/labinvest.2015.34

Lv L-X, Hu X-J, Qian G-R, Zhang H, Lu H-F, Zheng B-W, Jiang L, Li L-J (2014) Administration of Lactobacillus salivarius LI01 or Pediococcus pentosaceus LI05 improves acute liver injury induced by D-galactosamine in rats. Appl Microbiol Biotechnol 98:5619–5632. https://doi.org/10.1007/s00253-014-5638-2

Mack DR, Ahrne S, Hyde L, Wei S, Hollingsworth MA (2003) Extracellular MUC3 mucin secretion follows adherence of Lactobacillus strains to intestinal epithelial cells in vitro. Gut 52:827–833. https://doi.org/10.1136/gut.52.6.827

Maes M, Vinken M, Jaeschke H (2016) Experimental models of hepatotoxicity related to acute liver failure. Toxicol Appl Pharmacol 290:86–97. https://doi.org/10.1016/j.taap.2015.11.016

Magoč T, Salzberg SL (2011) FLASH: fast length adjustment of short reads to improve genome assemblies. Bioinformatics 27(21):2957–2963. https://doi.org/10.1093/bioinformatics/btr507

Mankertz J, Amasheh M, Krug SM, Fromm A, Amasheh S, Hillenbrand B, Tavalali S, Fromm M, Schulzke JD (2009) TNFα up-regulates claudin-2 expression in epithelial HT-29/B6 cells via phosphatidylinositol-3-kinase signaling. Cell Tissue Res 336:67–77. https://doi.org/10.1007/s00441-009-0751-8

Manzano S, De Andrés J, Castro I, Rodríguez JM, Jiménez E, Espinosa-Martos I (2017) Safety and tolerance of three probiotic strains in healthy infants: a multi-centre randomized, double-blind, placebo-controlled trial. Benef Microbes 8:569–578. https://doi.org/10.3920/bm2017.0009

Naser SM, Hagen KE, Vancanneyt M, Cleenwerck I, Swings J, Tompkins TA (2006) Lactobacillus suntoryeus cachat and priest 2005 is a later synonym of Lactobacillus helveticus (Orla-Jensen 1919) Bergey et al. 1925 (approved lists 1980). Int J Syst Evol Microbiol 56:355–360. https://doi.org/10.1099/ijs.0.64001-0

Ozer J, Ratner M, Shaw M, Bailey W, Schomaker S (2008) The current state of serum biomarkers of hepatotoxicity. Toxicology 245:194–205. https://doi.org/10.1016/j.tox.2007.11.021

Pathak P, Xie C, Nichols RG, Ferrell JM, Boehme S, Krausz KW, Patterson AD, Gonzalez FJ, Chiang JYL (2018) Intestine farnesoid X receptor agonist and the gut microbiota activate G-protein bile acid receptor-1 signaling to improve metabolism. Hepatology 68:1574–1588. https://doi.org/10.1002/hep.29857

Reid G, Abrahamsson T, Bailey M, Bindels LB, Bubnov R, Ganguli K, Martoni C, O'Neill C, Savignac HM, Stanton C, Ship N, Surette M, Tuohy K, van Hemert S (2017) How do probiotics and prebiotics function at distant sites? Benef Microbes 8(4):521–533. https://doi.org/10.3920/bm2016.0222

Rognes T, Flouri T, Nichols B, Quince C, Mahé F (2016) VSEARCH: a versatile open source tool for metagenomics. PeerJ 4:e2584

Sales-Campos H, de Souza PR, Peghini BC, da Silva JS, Cardoso CR (2013) An overview of the modulatory effects of oleic acid in health and disease. Mini Rev Med Chem 13:201–210. https://doi.org/10.2174/138955713804805193

Shen F, Zheng R-D, Sun X-Q, Ding W-J, Wang X-Y, Fan J-G (2017) Gut microbiota dysbiosis in patients with non-alcoholic fatty liver disease. Hepatobiliary Pancreat Dis Int 16:375–381. https://doi.org/10.1016/s1499-3872(17)60019-5

Slattery L, O'Callaghan J, Fitzgerald GF, Beresford T, Ross RP (2010) Invited review: Lactobacillus helveticus--a thermophilic dairy starter related to gut bacteria. J Dairy Sci 93(10):4435–4454. https://doi.org/10.3168/jds.2010-3327

Tilg H, Cani PD, Mayer EA (2016) Gut microbiome and liver diseases. Gut 65:2035–2044. https://doi.org/10.1136/gutjnl-2016-312729

Tripathi A, Debelius J, Brenner DA, Karin M, Loomba R, Schnabl B, Knight R (2018) The gut–liver axis and the intersection with the microbiome. Nat Rev Gastroenterol Hepatol 15:397–411. https://doi.org/10.1038/s41575-018-0011-z

Wang Y, Liu Y, Sidhu A, Ma Z, McClain C, Feng W (2012) Lactobacillus rhamnosus GG culture supernatant ameliorates acute alcohol-induced intestinal permeability and liver injury. Am J Physiol Gastrointest Liver Physiol 303:G32–G41. https://doi.org/10.1152/ajpgi.00024.2012

Wexler HM (2007) Bacteroides: the good, the bad, and the nitty-gritty. Clin Microbiol Rev 20:593–621. https://doi.org/10.1128/cmr.00008-07

Ye J, Lv L, Wu W, Li Y, Shi D, Fang D, Guo F, Jiang H, Yan R, Ye W, Li L (2018) Butyrate protects mice against methionine–choline-deficient diet-induced non-alcoholic steatohepatitis by improving gut barrier function, attenuating inflammation and reducing endotoxin levels. Front Microbiol 9:1967. https://doi.org/10.3389/fmicb.2018.01967

Zhang Z, Lv J, Pan L, Zhang Y (2018) Roles and applications of probiotic Lactobacillus strains. Appl Microbiol Biotechnol 102(19):8135–8143. https://doi.org/10.1007/s00253-018-9217-9

Zeng J, Yin P, Tan Y, Dong L, Hu C, Huang Q, Lu X, Wang H, Xu G (2014) Metabolomics study of hepatocellular carcinoma: discovery and validation of serum potential biomarkers by using capillary electrophoresis–mass spectrometry. J Proteome Res 13:3420–3431. https://doi.org/10.1021/pr500390y

Zou W, Roth RA, Younis HS, Malle E, Ganey PE (2011) Neutrophil–cytokine interactions in a rat model of sulindac-induced idiosyncratic liver injury. Toxicology 290:278–285. https://doi.org/10.1016/j.tox.2011.10.005
Funding
This study was supported by the National Natural Science Foundation of China (81790631, 81570512), the National Key Research and Development Program of China (2018YFC2000500), and Natural Science Foundation of Zhejiang Province, China (LQ19H030007).
Ethics declarations
Conflict of interest
The authors declare that they have no conflict of interest.
Ethical approval
This study was approved by the Animal Care and Use Committee of the First Affiliated Hospital, School of Medicine, Zhejiang University (permit no. 2019-1068).
Additional information
Publisher's note
Springer Nature remains neutral with regard to jurisdictional claims in published maps and institutional affiliations.
About this article
Cite this article
Wang, Q., Lv, L., Jiang, H. et al. Lactobacillus helveticus R0052 alleviates liver injury by modulating gut microbiome and metabolome in d-galactosamine-treated rats. Appl Microbiol Biotechnol 103, 9673–9686 (2019). https://doi.org/10.1007/s00253-019-10211-8
Received:

Revised:

Accepted:

Published:

Issue Date:
Keywords
Lactobacillus helveticus R0052

Acute liver injury

Gut microbiome

Metabolome