Abstract
Orange peel waste (OPW) (peels, pulp and seeds) is an underutilised residue coming from the orange juice industry. Its classical applications are cattle feeding and composting, while they cannot ensure a total use of OPW, so landfilling is also common practice. On the other side, OPW is very rich in sugars, polysaccharides, essential oils and polyphenols, so there is a vast literature focused on the development and optimization of technologies and processes to several products from OPW. In this review, papers on OPW-based bioprocesses are visited, discovering a wide landscape that goes from the composting and biogas processes on detoxified OPW (deoiled) to bioprocesses to bioethanol, chemicals, flavours and polymers. All these processes are prone to integration within the 2nd-generation biorefinery framework.
Access options
Buy single article
Instant access to the full article PDF.
USD 39.95
Price excludes VAT (USA)
Tax calculation will be finalised during checkout.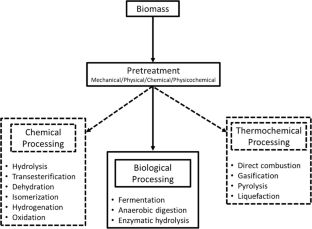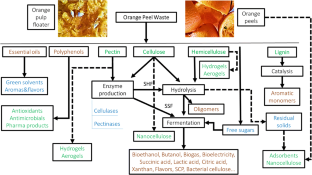 References
Abd-Alla MH, Gabra FA, Danial AW, Abdel-Wahab AM (2018) Enhancement of biohydrogen production from sustainable orange peel wastes using Enterobacter species isolated from domestic wastewater. Int J Energy Res 43(1):391–404

Acedos MG, Ramon A, de la Morena S, Santos VE, Garcia-Ochoa F (2018) Isobutanol production by a recombinant biocatalyst Shimwellia blattae (p424IbPSO): study of the operational conditions. Biochem Eng J 133:21–27

Ahmed I, Zia MA, Hussain MA, Akram Z, Naveed MT, Nowrouzi A (2016) Bioprocessing of citrus waste peel for induced pectinase production by Aspergillus niger; its purification and characterization. J Radiat Res Appl Sci 9(2):148–154

Alvarez J, Hooshdaran B, Cortazar M, Amutio M, Lopez G, Freire FB, Haghshenasfardb M, Hosseini S, Olazar M (2018) Valorization of citrus wastes by fast pyrolysis in a conical spouted bed reactor. Fuel 224:111–120

Arevalo-Gallegos A, Ahmad Z, Asgher M, Parra-Saldivar R, Iqbal HM (2017) Lignocellulose: a sustainable material to produce value-added products with a zero waste approach—a review. Int J Biol Macromol 99:308–318

Athanázio-Heliodoro JC, Okino-Delgado CH, Fernandes CJC, Zanutto MR, Prado DZ, da Silva RA, Facanali R, Zambuzzi WF, Marques MOM, Fleuri LF (2018) Improvement of lipase obtaining system by orange waste-based solid-state fermentation: production, characterization and application. Prep Biochem Biotechnol 48(7):565–573

Attard TM, Watterson B, Budarin VL, Clark JH, Hunt AJ (2014) Microwave assisted extraction as an important technology for valorising orange waste. New J Chem 38(6):2278–2283

Azizi M, Seadavi A, Ragni M, Laudadio V, Tufarelli V (2018) Practical applications of agricultural wastes in poultry feeding in Mediterranean and Middle East regions. Part 1: Citrus, grape, pomegranate and apple wastes. Worlds Poult Sci J 74(3):489–498

Balu AM, Budarin V, Shuttleworth PS, Pfaltzgraff LA, Waldron K, Luque R, Clark JH (2012) Valorisation of orange peel residues: waste to biochemicals and nanoporous materials. ChemSusChem 5:1694–1697

Bampidis V, Robinson P (2006) Citrus by-products as ruminant feeds: a review. Anim Feed Sci Technol 128(3–4):175–217

Boukroufa M, Boutekedjiret C, Petigny L, Rakotomanomana N, Chemat F (2015) Bio-refinery of orange peels waste: a new concept based on integrated green and solvent free extraction processes using ultrasound and microwave techniques to obtain essential oil, polyphenols and pectin. Ultrason Sonochem 24:72–79

Bustamante J, van Stempvoort S, García-Gallarreta M, Houghton JA, Briers HK, Budarin VL, Matharu AS, Clark JH (2016) Microwave assisted hydro-distillation of essential oils from wet citrus peel waste. J Clean Prod 137:598–605

Calabrò PS, Pontoni L, Porqueddu I, Greco R, Pirozzi F, Malpei F (2016) Effect of the concentration of essential oil on orange peel waste biomethanization: preliminary batch results. Waste Manag 48:440–447

Coma M, Martinez-Hernandez E, Abeln F, Raikova S, Donnelly J, Arnot T, Allen M, Hong DD, Chuck CJ (2017) Organic waste as a sustainable feedstock for platform chemicals. Faraday Discuss 202:175–195

Cristobal J, Caldeira C, Corrado S, Sala S (2018) Techno-economic and profitability analysis of food waste biorefineries at European level. Bioresour Technol 259:244–252

Cypriano DZ, da Silva LL, Tasic L (2018) High value-added products from the orange juice industry waste. Waste Manag 79:71–78

Da Z, Niu X, Li X, Zhang W, He Y, Pan J, Qiu F, Yan Y (2017) From moldy orange waste to natural reductant and catalyst support: active palladium/biomass-derived carbonaceous hybrids for promoted methanol electro-oxidation. ChemElectroChem 4(6):1372–1377

Davila JA, Rosenberg M, Cardona CA (2015) Techno-economic and environmental assessment of p-cymene and pectin production from orange peel. Waste Biomass Valoriz 6(2):253–261

De la Torre I, Ravelo M, Segarra S, Tortajada M, Santos VE, Ladero M (2017) Study on the effects of several operational variables on the enzymatic batch saccharification of orange solid waste. Bioresour Technol 245:906–915

De la Torre I, Ladero M, Santos VE (2018) Production of D-lactic acid by Lactobacillus delbrueckii ssp. delbrueckii from orange peel waste: techno-economical assessment of nitrogen sources. Appl Microbiol Biotechnol 102(24):10511–10521

De la Torre I, Acedos MG, Ladero M, Santos VE (2019) On the use of resting L. delbrueckii spp. delbrueckii cells for D-lactic acid production from orange peel wastes hydrolysates. Biochem Eng J 145:162–169

Diaz AB, Blandino A, Caro I (2018) Value added products from fermentation of sugars derived from agro-food residues. Trends Food Sci Technol 71:52–64

Droby S, Eick A, Mararisin D, Cohen L, Rafael G, Stange R, McColum G, Dudai N, Nasser A, Wisniewski M, Shapira R (2008) Role of citrus volatiles in host recognition, germination and growth of Penicillium digitatum and Penicillium italicum. Postharvest Biol Technol 49(3):386–396

El Kantar S, Boussetta N, Rajha HN, Maroun RG, Louka N, Vorobiev E (2018) High voltage electrical discharges combined with enzymatic hydrolysis for extraction of polyphenols and fermentable sugars from orange peels. Food Res Int 107:755–762

Embaby AM, Masoud AA, Marey HS, Shaban NZ, Ghonaim TM (2014) Raw agro-industrial orange peel waste as a low cost effective inducer for alkaline polygalacturonase production from Bacillus licheniformis SHG10. SpringerPlus 3(1):327

Esteban J, Ladero M (2018) Food waste as a source of value-added chemicals and materials: a biorefinery perspective. Int J Food Sci Technol 53(5):1095–1108

FAOstat (2018) URL: http://www.fao.org/faostat/en/#home. Consulted in 22/1/2019

Feng N-C, Guo X-Y (2012) Characterization of adsorptive capacity and mechanisms on adsorption of copper, lead and zinc by modified orange peel. Trans Nonferrous Metals Soc China 22(5):1224–1231

Fenila F, Shastri Y (2016) Optimal control of enzymatic hydrolysis of lignocellulosic biomass. Resour-Eff Technol 2:S96–S104

Fidalgo A, Ciriminna R, Carnaroglio D, Tamburino A, Cravotto G, Grillo G, Ilharco LM, Pagliaro M (2016) Eco-friendly extraction of pectin and essential oils from orange and lemon peels. ACS Sustain Chem Eng 4(4):2243–2251

Fiorentino G, Ripa M, Ulgiati S (2017) Chemicals from biomass: technological versus environmental feasibility. A review. Biofuels Bioprod Biorefin 11(1):195–214

Foo K, Hameed B (2012) Preparation, characterization and evaluation of adsorptive properties of orange peel based activated carbon via microwave induced K2CO3 activation. Bioresour Technol 104:679–686

Gavahian M, Chu YH, Mousavi Khaneghah A (2018) Recent advances in orange oil extraction: an opportunity for the valorisation of orange peel waste: a review. Int J Food Sci Technol 54:925–932

Ghatak H R (2011) Biorefineries from the perspective of sustainability: Feedstocks, products, and processes. Renew Sustain Energy Rev 15(8):4042–4052

Girotto F, Alibardi L, Cossu R (2015) Food waste generation and industrial uses: a review. Waste Manag 45:32–41

Guo X, Han D, Xi H, Rao L, Liao X, Hu X, Wu J (2012) Extraction of pectin from navel orange peel assisted by ultra-high pressure, microwave or traditional heating: a comparison. Carbohydr Polym 88(2):441–448

Gupta V, Nayak A (2012) Cadmium removal and recovery from aqueous solutions by novel adsorbents prepared from orange peel and Fe2O3 nanoparticles. Chem Eng J 180:81–90

Heuzé V, Tran G, Hassoun P, Lebas F (2018) Citrus pulp, dried. Feedipedia, a programme by INRA, CIRAD, AFZ and FAO. 16:58. https://www.feedipedia.org/node/680 Last updated on February 6, 2018

Hosseini SS, Khodaiyan F, Yarmand MS (2016) Optimization of microwave assisted extraction of pectin from sour orange peel and its physicochemical properties. Carbohydr Polym 140:59–65

Inácio FD, Ferreira RO, De Araujo CAV, Peralta RM, De Souza CGM (2015) Production of enzymes and biotransformation of orange waste by oyster mushroom, Pleurotus pulmonarius (Fr.) Quél. Adv Microbiol 5(01):1

Isikgor FH, Becer CR (2015) Lignocellulosic biomass: a sustainable platform for the production of bio-based chemicals and polymers. Polym Chem 6(25):4497–4559

Jin Q, Yang L, Poe N, Huang H (2018) Integrated processing of plant-derived waste to produce value-added products based on the biorefinery concept. Trends Food Sci Technol 74:119–131

Koutinas M, Patsalou M, Stavrinou S, Vyrides I (2016) High temperature alcoholic fermentation of orange peel by the newly isolated thermotolerant Pichia kudriavzevii KVMP10. Lett Appl Microbiol 62(1):75–83. https://doi.org/10.1111/lam.12514

Kuivanen J, Dantas H, Mojzita D, Mallmann E, Biz A, Krieger N, Mitchell D, Richard P (2014) Conversion of orange peel to L-galactonic acid in a consolidated process using engineered strains of Aspergillus niger. AMB Express 4(1):33

Kuo C-H, Huang C-Y, Shieh C-J, Wang H-MD, Tseng C-Y (2017) Hydrolysis of orange peel with cellulase and pectinase to produce bacterial cellulose using Gluconacetobacter xylinus. Waste Biomass Valoriz 10(1):85–93

Lachos-Perez D, Baseggio AM, Mayanga-Torres P, Junior MRM, Rostagno M, Martínez J, Forster-Carneiro T (2018) Subcritical water extraction of flavanones from defatted orange peel. J Supercrit Fluids 138:7–16

Lagunes FG, Winterburn J (2016) Effect of limonene on the heterotrophic growth and polyhydroxybutyrate production by Cupriavidus necator H16. Bioresour Technol 221:336–343

Lalou S, Mantzouridou F, Paraskevopoulou A, Bugarski B, Levic S, Nedovic V (2013) Bioflavour production from orange peel hydrolysate using immobilized Saccharomyces cerevisiae. Appl Microbiol Biotechnol 97(21):9397–9407

Lam SS, Liew RK, Wong YM, Azwar E, Jusoh A, Wahi R (2017) Activated carbon for catalyst support from microwave pyrolysis of orange peel. Waste Biomass Valoriz 8(6):2109–2119

Lasheen MR, Ammar NS, Ibrahim HS (2012) Adsorption/desorption of Cd (II), Cu (II) and Pb (II) using chemically modified orange peel: equilibrium and kinetic studies. Solid State Sci 14(2):202–210

Li Q, Siles JA, Thompson IP (2010) Succinic acid production from orange peel and wheat straw by batch fermentations of Fibrobacter succinogenes S85. Appl Microbiol Biotechnol 88(3):671–678

Li P-J, Xia J-L, Shan Y, Nie Z-Y, Su D-L, Gao Q-R, Zhang C, Ma Y-L (2015) Optimizing production of pectinase from orange peel by Penicillium oxalicum PJ02 using response surface methodology. Waste Biomass Valoriz 6(1):13–22

Li P-j, Xia J-l, Nie Z-y, Shan Y (2016) Saccharification of orange peel wastes with crude enzymes from new isolated Aspergillus japonicus PJ01. Bioprocess Biosyst Eng 39(3):485–492

Lohrasbi M, Pourbafrani M, Niklasson C, Taherzadeh MJ (2010) Process design and economic analysis of a citrus waste biorefinery with biofuels and limonene as products. Bioresour Technol 101(19):7382–7388

Mantzouridou FT, Paraskevopoulou A, Lalou S (2015) Yeast flavour production by solid state fermentation of orange peel waste. Biochem Eng J 101:1–8

Marín M, Sánchez A, Artola A (2019) Production and recovery of cellulases through solid-state fermentation of selected lignocellulosic wastes. J Clean Prod 209:937–946

Martín MA, Siles JA, Chica AF, Martín A (2010) Biomethanization of orange peel waste. Bioresour Technol 101(23):8993–8999

Martín MA, Fernández R, Serrano A, Siles JA (2013) Semi-continuous anaerobic co-digestion of orange peel waste and residual glycerol derived from biodiesel manufacturing. Waste Manag 33(7):1633–1639

Martín M, Fernández R, Gutiérrez M, Siles J (2018) Thermophilic anaerobic digestion of pre-treated orange peel: modelling of methane production. Process Saf Environ Prot 117:245–253

Martin-Dominguez V, Estevez J, Ojembarrena FDB, Santos VE, Ladero M (2018) Fumaric acid production: a biorefinery perspective. Fermentation 4(2):33

Maurya DP, Singla A, Negi S (2015) An overview of key pretreatment processes for biological conversion of lignocellulosic biomass to bioethanol. 3 Biotech 5(5):597–609

Miran W, Nawaz M, Jang J, Lee DS (2016) Conversion of orange peel waste biomass to bioelectricity using a mediator-less microbial fuel cell. Sci Total Environ 547:197–205

Mittal A, Yadav G, Goyal V, Yadav A, Aggarwal N (2012) Production of phytase by acido-thermophilic strain of Klebsiella sp. DB-3FJ711774.1 using orange peel flour under submerged fermentation. Innov Romanian Food Biotechnol 10:18–27

Mohsin A, Zhang K, Hu J, Tariq M, Zaman W Q, Khan I M, Zuang Y, Guo M (2018) Optimized biosynthesis of xanthan via effective valorization of orange peels using response surface methodology: A kinetic model approach. Carbohyd Polym 181:793–800

Mohsin A, Sun J, Khan IM, Hang H, Tariq M, Tian X, Ahmed W, Niazi S, Zhuang Y, Chu J, Mohsin MZ, Salim ur R, Guo M (2019) Sustainable biosynthesis of curdlan from orange waste by using Alcaligenes faecalis: a systematically modeled approach. Carbohydr Polym 205:626–635

Mounaimen O, Mahmoud K (2015) Statistical optimization of cultural conditions of a halophilic α-amylase production by halophilic Streptomyces sp. grown on orange waste powder. Biocatal Agric Biotechnol 4(4):685–693

Negro V, Ruggeri B, Fino D, Tonini D (2017) Life cycle assessment of orange peel waste management. Resour Conserv Recycl 127:148–158

Negro V, Ruggeri B, Fino D (2018) Recovery of energy from orange peels through anaerobic digestion and pyrolysis processes after D-limonene extraction. Waste Biomass Valoriz 9(8):1331–1337

Nizami AS, Rehan M, Waqas M, Naqvi M, Ouda OKM, Shahzad K, Miandad R, Khan MZ, Syamsiro M, Ismail IMI, Pant D (2017) Waste biorefineries: enabling circular economies in developing countries. Bioresour Technol 241:1101–1117

Oberleitner N, Ressmann AK, Bica K, Gärtner P, Fraaije MW, Bornscheuer UT, Rudroff F, Mihovilovic MD (2017) From waste to value – direct utilization of limonene from orange peel in a biocatalytic cascade reaction towards chiral carvolactone. Green Chem 19(2):367–371

Oberoi HS, Vadlani PV, Madl RL, Saida L, Abeykoon JP (2010) Ethanol production from orange peels: two-stage hydrolysis and fermentation studies using optimized parameters through experimental design. J Agric Food Chem 58(6):3422–3429

Ozturk B, Parkinson C, Gonzalez-Miquel M (2018) Extraction of polyphenolic antioxidants from orange peel waste using deep eutectic solvents. Sep Purif Technol 206:1–13

Pandiarajan A, Kamaraj R, Vasudevan S, Vasudevan S (2018) OPAC (orange peel activated carbon) derived from waste orange peel for the adsorption of chlorophenoxyacetic acid herbicides from water: adsorption isotherm, kinetic modelling and thermodynamic studies. Bioresour Technol 261:329–341

Park W-K, Moon M, Kwak M-S, Jeon S, Choi G-G, Yang J-W, Lee B (2014) Use of orange peel extract for mixotrophic cultivation of Chlorella vulgaris: increased production of biomass and FAMEs. Bioresour Technol 171:343–349

Patsalou M, Menikea KK, Makri E, Vasquez MI, Drouza C, Koutinas M (2017) Development of a citrus peel-based biorefinery strategy for the production of succinic acid. J Clean Prod 166:706–716

Pourbafrani M, Talebnia F, Niklasson C, Taherzadeh MJ (2007) Protective effect of encapsulation in fermentation of limonene-contained media and orange peel hydrolyzate. Int J Mol Sci 8(8):777–787

Putnik P, Bursać Kovačević D, Režek Jambrak A, Barba F, Cravotto G, Binello A, Lorenzo J, Shpigelman A (2017) Innovative "green" and novel strategies for the extraction of bioactive added value compounds from citrus wastes-a review. Molecules 22:680

Ravindran R, Hassan S, Williams G, Jaiswal A (2018) A review on bioconversion of agro-industrial wastes to industrially important enzymes. Bioengineering 5(4):93

Rezzadori K, Benedetti S, Amante E (2012) Proposals for the residues recovery: orange waste as raw material for new products. Food Bioprod Process 90(4):606–614

Rivas B, Torrado A, Torre P, Converti A, Domínguez JM (2008) Submerged citric acid fermentation on orange peel autohydrolysate. J Agric Food Chem 56(7):2380–2387

Ruiz B, Flotats X (2014) Citrus essential oils and their influence on the anaerobic digestion process: an overview. Waste Manag 34(11):2063–2079

Ruiz B, Flotats X (2016) Effect of limonene on batch anaerobic digestion of citrus peel waste. Biochem Eng J 109:9–18

Ruiz B, de Benito A, Rivera JD, Flotats X (2016) Assessment of different pre-treatment methods for the removal of limonene in citrus waste and their effect on methane potential and methane production rate. Waste Manag Res 34(12):1249–1257

Santi G, Jasiulewicz J, Crognale S, D'Annibale A, Petruccioli M, Moresi M (2015) High solid loading in dilute acid hydrolysis of orange peel waste improves ethanol production. BioEnergy Res 8(3):1292–1302

Satari B, Karimi K (2018) Citrus processing wastes: environmental impacts, recent advances, and future perspectives in total valorization. Resour Conserv Recycl 129:153–167

Schiewer S, Iqbal M (2010) The role of pectin in Cd binding by orange peel biosorbents: a comparison of peels, depectinated peels and pectic acid. J Hazard Mater 177(1–3):899–907

Siles J, Vargas F, Gutiérrez M, Chica A, Martín M (2016) Integral valorisation of waste orange peel using combustion, biomethanisation and co-composting technologies. Bioresour Technol 211:173–182

Srivastava N, Srivastava M, Manikanta A, Singh P, Ramteke PW, Mishra PK, Malhotra BD (2017) Production and optimization of physicochemical parameters of cellulase using untreated orange waste by newly isolated Emericella variecolor NS3. Appl Biochem Biotechnol 183(2):601–612

Subbaiah VM, Kim D-S (2016) Adsorption of anionic azo dye Congo red from aqueous solution by cationic modified orange peel powder. J Mol Liq 220:540–548

Sukan A, Roy I, Keshavarz T (2014) Agro-industrial waste materials as substrates for the production of poly (3-hydroxybutyric acid). J Biomat Nanobiotech 5(4):229–240

Sy CL, Ubando AT, Aviso KB, Tan RR (2018) Multi-objective target oriented robust optimization for the design of an integrated biorefinery. J Clean Prod 170:496–509

Torrado AM, Cortés S, Manuel Salgado J, Max B, Rodríguez N, Bibbins BP, Converti A, Manuel Domínguez J (2011) Citric acid production from orange peel wastes by solid-state fermentation. Braz J Microbiol 42(1):394–409

Van Dyk JS, Pletschke BI (2012) A review of lignocellulose bioconversion using enzymatic hydrolysis and synergistic cooperation between enzymes—factors affecting enzymes, conversion and synergy. Biotechnol Adv 30(6):1458–1480

Van Heerden I, Cronjé C, Swart S, Kotzé J (2002) Microbial, chemical and physical aspects of citrus waste composting. Bioresour Technol 81(1):71–76

Velasco D, Senit JJ, de la Torre I, Santos TM, Yustos P, Santos VE, Ladero M (2017) Optimization of the enzymatic saccharification process of milled orange wastes. Fermentation 3(3):37

Werpy T, Petersen G, Aden A, Bozell J, Holladay J, White J, Manheim A (2004) Top value added chemicals from biomass. Volume 1-Results of screening for potential candidates from sugars and synthesis gas (no. DOE/GO-102004-1992). Department of Energy Washington DC

Widmer W, Zhou W, Grohmann K (2010) Pretreatment effects on orange processing waste for making ethanol by simultaneous saccharification and fermentation. Bioresour Technol 101(14):5242–5249

Wikandari R, Nguyen H, Millati R, Niklasson C, Taherzadeh MJ (2015) Improvement of biogas production from orange peel waste by leaching of limonene. BioMed Res Int

Wilkins MR, Suryawati L, Maness NO, Chrz D (2007) Ethanol production by Saccharomyces cerevisiae and Kluyveromyces marxianus in the presence of orange-peel oil. World J Microbiol Biotechnol 23(8):1161–1168

Xhaxhiu K, Wenclawiak B (2015) Comparison of supercritical CO2 and ultrasonic extraction of orange peel essential oil from Albanian moro cultivars. J Essent Oil Bear Plants 18(2):289–299

Yang P, Wu Y, Zheng Z, Cao L, Zhu X, Mu D, Jiang S (2018) CRISPR-Cas9 approach constructing cellulase sestc-engineered Saccharomyces cerevisiae for the production of orange peel ethanol. Front Microbiol 9:2436

Zema DA, Fòlino A, Zappia G, Calabrò PS, Tamburino V, Zimbone SM (2018) Anaerobic digestion of orange peel in a semi-continuous pilot plant: an environmentally sound way of citrus waste management in agro-ecosystems. Sci Total Environ 630:401–408

Zhou YM, Chen YP, Guo JS, Shen Y, Yan P, Yang JX (2018) Recycling of orange waste for single cell protein production and the synergistic and antagonistic effects on production quality. J Clean Prod 213:384–392
Funding
The authors gratefully acknowledge the funding provided by MINECO through contracts (CTQ2013-45970-C2-1-R and PCIN-2013-021-C02-01).
Ethics declarations
Conflict of interest
The authors declare that they have no conflict of interest.
This article does not contain any studies with human participants or animals performed by any of the authors.
Additional information
Publisher's note
Springer Nature remains neutral with regard to jurisdictional claims in published maps and institutional affiliations.
About this article
Cite this article
de la Torre, I., Martin-Dominguez, V., Acedos, M.G. et al. Utilisation/upgrading of orange peel waste from a biological biorefinery perspective. Appl Microbiol Biotechnol 103, 5975–5991 (2019). https://doi.org/10.1007/s00253-019-09929-2
Received:

Revised:

Accepted:

Published:

Issue Date:

DOI: https://doi.org/10.1007/s00253-019-09929-2
Keywords