Abstract
Huperzine A (HupA) is a potent acetylcholinesterase (AChE) inhibitor of a great consideration as a prospective drug candidate for Alzheimer's disease treatment. Production of HupA by endophytes offers an alternative challenge to reduce the massive plant harvest needed to meet the increasing demand of HupA. In the current study, some endophytic fungal and actinobacterial isolates from the Chinese herb, Huperzia serrata, underwent liquid fermentation, alkaloid extraction, and screening for AChE inhibition and HupA production. Among these isolates, Alternaria brassicae AGF041 strain was the only positive strain for HupA production with the maximum AChE inhibition of 75.5%. Chromatographic analyses verified the identity of the produced HupA. The HupA production was efficiently maximized up to 42.89 μg/g of dry mycelia, after optimization of thirteen process parameters using multifactorial statistical approaches, Plackett–Burman and central composite designs. The statistical optimization resulted in a 40.8% increase in HupA production. This is the first report to isolate endophytic actinobacteria with anti-AChE activity from H. serrata, and to identify an endophytic fungus A. brassicae as a new promising start strain for a higher HupA yield.
This is a preview of subscription content,
to check access.
Access this article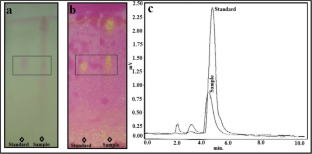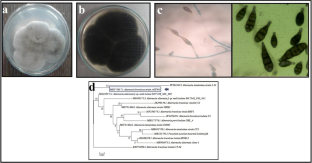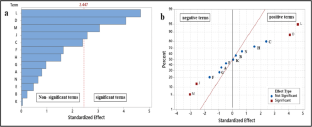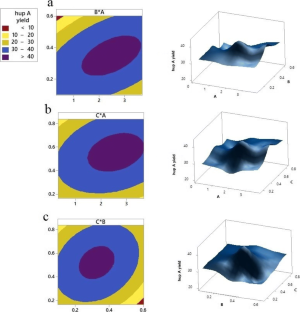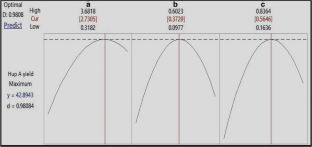 Similar content being viewed by others
References
Abdel-Fattah YR, El Enshasy H, Anwar M, Omar H, Abolmagd E, Abou Zahra R (2007) Application of factorial experimental designs for optimization of cyclosporin a production by Tolypocladium inflatum in submerged culture. J Microbiol Biotechnol 17:1930–1936

Almasi F, Mohammadipanah F, Adhami H, Hamedi J (2018) Introduction of marine-derived Streptomyces sp. UTMC 1334 as a source of pyrrole derivatives with anti-acetylcholinesterase activity. J Appl Microbiol 125:1370–1382

Aly AH, Debbab A, Proksch P (2011) Fungal endophytes: unique plant inhabitants with great promises. Appl Microbiol Biotechnol 90:1829–1845

Bhagat J, Kaur A, Kaur R, Yadav AK, Sharma V, Chadha BS (2016) Cholinesterase inhibitor (Altenuene) from an endophytic fungus Alternaria alternata: optimization, purification and characterization. J Appl Microbiol 121:1015–1025

Chen XY, Sui C, Wei JH, Gan BC, Wang DL, Feng JD (2013) Isolation of endophytic fungi from Huperzia serrata grown in Guangxi Province, China. J Med Plant Res 7:2638–2644

Citron M (2002) Alzheimer's disease: treatments in discovery and development. Nat Neurosci 5:1055–1057

Colovic MB, Krstic DZ, Lazarevic-Pasti TD, Bondzic AM, Vasic VM (2013) Acetylcholinesterase inhibitors: pharmacology and toxicology. Curr Neuropharmacol 11:315–335

Craig LA, Hong NS, McDonald RJ (2011) Revisiting the cholinergic hypothesis in the development of Alzheimer's disease. Neurosci Biobehav Rev 35:1397–1409

Dey A, Bhattacharya R, Mukherjee A, Pandey DK (2017) Natural products against Alzheimer's disease: pharmaco-therapeutics and biotechnological interventions. Biotechnol Adv 35:178–216

Ding R, Sun BF, Lin GQ (2012) An efficient total synthesis of (-)-huperzine A. Org Lett 14:4446–4449

Dong LH, Fan SW, Ling QZ, Huang BB, Wei ZJ (2014) Indentification of huperzine A-producing endophytic fungi isolated from Huperzia serrata. World J Microbiol Biotechnol 30:1011–1017

Ellman T (1978) Modified Ellman procedure for assay of cholinesterases in crude enzymatic preparations. Anal Biochem 86:324–326

Fangfang Z, Mingzi W, Haiyuan L, Yaxuan Z, Shuisheng W (2015) Fermentation optimization of huperzine A produced by endophytic fungi Hypoxylon investiens NX9 from Phlegmariurus phlegmaria. Chinese J Pharm 46:827–832

Garyali S, Kumar A, Reddy MS (2014) Enhancement of taxol production from endophytic fungus Fusarium redolens. Biotechnol Bioprocess Eng 19:908–915

Ishiuchi K, Park JJ, Long RM, Gang DR (2013) Production of huperzine A and other Lycopodium alkaloids in Huperzia species grown under controlled conditions and in vitro. Phytochemistry 91:208–219

Ju Z, Wang J, Pan SL (2009) Isolation and preliminary identification of the endophytic fungi which produce hupzine A from four species in Huperziaceae and determination of huperzine A by HPLC. Fudan Univ J Med Sci 36:445–449

Kang X, Liu C, Liu D, Zeng L, Shi Q, Qian K, Xie B (2016) The complete mitochondrial genome of huperzine A-producing endophytic fungus Penicillium polonicum. Mitochondrial DNA Part B Resour 1:202–203

Khairallah MI, Kassem LAA (2011) Alzheimer's disease: current status of etiopathogenesis and therapeutic strategies. Pakistan J Biol Sci 14:257–272

Koshiba T, Yokoshima S, Fukuyama T (2009) Total synthesis of (−)-huperzine A. Org Lett 11:5354–5356

Kurokawa T, Suzuki K, Hayaoka T, Nakagawa T (1993) Cyclophostin, acetylcholinesterase inhibitor from Streptomyces lavendulae. J Antibiot 46:1315–1318

Li WK, Zhou JY, Lin ZW, Hu Z (2007) Study on fermentation condition for production of huperzine A from endophytic fungus 2F09P03B of Huperzia serrata. Chin Med Biotechnol 2:254–259

Li JL, Huang L, Liu J, Song Y, Gao J, Jung JH, Liu Y, Chen G (2015) Acetylcholinesterase inhibitory dimeric indole derivatives from the marine actinomycetes Rubrobacter radiotolerans. Fitoterapia 102:203–207

Ma X, Gang DR (2008) In vitro production of huperzine A, a promising drug candidate for Alzheimer's disease. Phytochemistry 69:2022–2028

Ma X, Tan C, Zhu D, Gang DR (2007) Xiao (2007) from Huperzia species-an ethnopharmacolgical review. J Ethnopharmacol 113:15–34

Moubasher AH (1993) Soil fungi in Qatar and other Arab countries. The Centre for Scientific and Applied Research, University of Qatar, Doha

Neumann R, Peter HH (1987) Insecticidal organophosphates: nature made them first. Experientia 43:1235–1237

Ohlendorf B, Schulz D, Erhard A, Nagel K, Imhoff JF (2012) Geranylphenazinediol, an acetylcholinesterase inhibitor produced by a Streptomyces Species. J Nat Prod 75:1400–1404

Rakić T, Jančić-Stojanović B, Malenović A, Ivanović D, Medenica M (2012) Demasking large dummy effects approach in revealing important interactions in Plackett–Burman experimental design. J Chemom 26:518–525

Rodrigues L, Teixeira J, Oliveira R, Van Der Mei HC (2006) Response surface optimization of the medium components for the production of biosurfactants by probiotic bacteria. Process Biochem 41:1–10

Shaanker RU, Priti V, Ramesha BT, Singh S, Ravikanth GKNG, Suryanarayanan TS (2009) How promising are endophytic fungi as alternative sources of plant secondary metabolites ? Curr Sci 97:477–478

Shu S, Zhao X, Wang W, Zhang G, Cosoveanu A, Ahn Y, Wang M (2014) Identification of a novel endophytic fungus from Huperzia serrata which produces huperzine A. World J Microbiol Biotechnol 30:3101–3109

Singh B, Thakur A, Kaur S, Chadha BS, Kaur A (2012) Acetylcholinesterase inhibitory potential and insecticidal activity of an endophytic Alternaria sp. from ricinus communis. Appl Biochem Biotechnol 168:991–1002

Strobel GA (2003) Endophytes as sources of bioactive products. Microbes Infect 5:535–544

Su J, Yang M (2015) Huperzine A production by Paecilomyces tenuis YS-13, an endophytic fungus isolated from Huperzia serrata. Nat Prod Res 29:1035–1041

Tang XC, Han YF (1999) Pharmacological profile of huperzine A, a novel acetylcholinesterase inhibitor from Chinese herb. CNS Drug Rev 5:281–300

Thongsandee W, Matsuda Y, Shimizu M, Ehara H, Ito S (2013) Isolation of endophytic streptomycetes from above- and belowground organs of Quercus serrata. J For Res 18:179–189

Uma JLMR, Satyanarayana T (2003) Statistical optimization of a high maltose-forming, hyperthermostable and Ca2+-independent alpha-amylase production by an extreme thermophile Geobacillus thermoleovorans using response surface methodology. J Appl Microbiol 95:712–718

Wang Y, Zeng QG, Zhang ZB, Yan RM, Wang LY, Zhu D (2011) Isolation and characterization of endophytic huperzine A-producing fungi from Huperzia serrata. J Ind Microbiol Biotechnol 38:1267–1278

White TJ, Bruns T, Lee S, Taylor JL (1990) Amplification and direct sequencing of fungal ribosomal RNA genes for phylogenetics. PCR Protoc a Guid to methods Appl 18:315–322

Zangara A (2003) The psychopharmacology of huperzine A: an alkaloid with cognitive enhancing and neuroprotective properties of interest in the treatment of Alzheimer's disease. Pharmacol Biochem Behav 75:675–686

Zhang FF, Wang MZ, Zheng YX, Liu HY, Zhang XQ, Wu SS (2015) Isolation and characterzation of endophytic Huperzine A-producing fungi from Phlegmariurus phlegmaria. Microbiology 84:701–709

Zhao XM, Wang ZQ, Shu SH, Wang WJ, Xu HJ, Ahn YJ, Wang M, Hu X (2013) Ethanol and methanol can improve huperzine A production from endophytic Colletotrichum gloeosporioides ES026. PLoS One 8:4–12

Zhu X, Raina AK, Perry G, Smith MA (2004) Alzheimer's disease: the two-hit hypothesis. Lancet Neurol 3:219–226

Zhu D, Wang J, Zeng Q, Zhang Z, Yan R (2010) A novel endophytic Huperzine A-producing fungus, Shiraia sp. Slf14, isolated from Huperzia serrata. J Appl Microbiol 109:1469–1478
Acknowledgments
The authors are greatly thankful to Dr. M Ayaad, Dr. El-Sayed R. El-Sayed and Dr. Hany Aglan, lecturers in the Egyptian Atomic Energy Authority (EAEA), for the plant sample, and assistance in the TLC and HPLC analysis, respectively. This work was supported in part by the Nuclear Research Center, Atomic Energy Authority, Egypt.
Ethics declarations
Conflict of interest
The authors declare that they have no conflicts of interest.
Ethical approval
This article does not contain any studies with human participants or animals performed by the authors.
Additional information
Publisher's note
Springer Nature remains neutral with regard to jurisdictional claims in published maps and institutional affiliations.
About this article
Cite this article
Zaki, A.G., El-Shatoury, E.H., Ahmed, A.S. et al. Production and enhancement of the acetylcholinesterase inhibitor, huperzine A, from an endophytic Alternaria brassicae AGF041. Appl Microbiol Biotechnol 103, 5867–5878 (2019). https://doi.org/10.1007/s00253-019-09897-7
Received:

Accepted:

Published:

Issue Date:

DOI: https://doi.org/10.1007/s00253-019-09897-7
Keywords