Abstract
Heat-killed probiotics or microbial autologous components show multiple activities on modulating host immune responses towards tolerance or vice versus aggressiveness. Gram-positive enhancer matrix particles (GEMs), the non-genetically modified particles which composed of the cell wall derived from Lactococcus lactis (L. lactis), were used as a typical microbial molecule to investigate the mechanism of opposite immune responses generated in disparate scenarios. The results of stool 16S rRNA Illumina sequencing suggested that the overwhelming number of mice pre-administered with GEMs showed the expansion of Bacteroidetes but contraction of Verrucomicrobia. Co-administration GEMs and antibiotics could preserve the microbial diversity, even though the abundance of gut microbes was largely depleted by antibiotics. Additionally, dendritic cells (DCs) from mice receiving GEMs rather than DCs that in vitro treated with GEMs induced the expansion of regulatory T cells (Tregs), witnessing the critical role of gut flora alteration. Importantly, this alteration provided protection to alleviate dextran sulfate sodium (DSS)-induced intestinal inflammation. On the other hand, in the context of Helicobacter felis (H. felis) infection, the mice pre-administrated with GEMs exhibited a comparably potent gastric immunity with the elevated expression of IFN-γ, IL-17, and multiple anti-microbial factors, leading to the reduced burden of H. felis. However, tolerance for both DSS-induced intestinal inflammation and immunity against H. felis was depleted in a mice model lacking of transforming growth factor-β1 (TGF-β1) in myeloid cells. These findings suggest that GEMs can modulate host immune responses bidirectionally according to context, and may serve as a supplement for antibiotic treatment.
This is a preview of subscription content, log in to check access.
Access options
Buy single article
Instant access to the full article PDF.
US$ 39.95
Tax calculation will be finalised during checkout.
Subscribe to journal
Immediate online access to all issues from 2019. Subscription will auto renew annually.
US$ 199
Tax calculation will be finalised during checkout.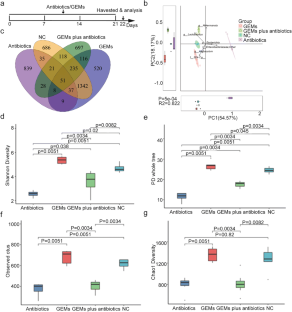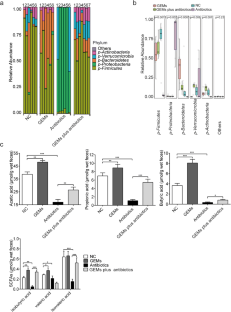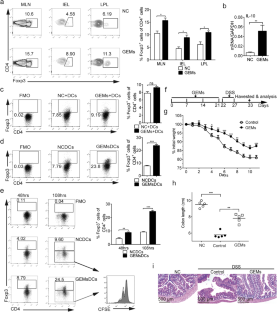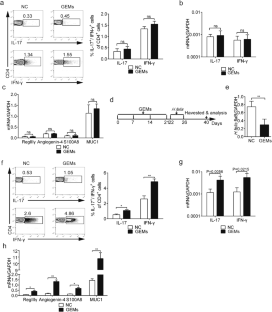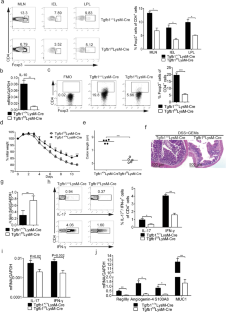 References
Asarat M, Apostolopoulos V, Vasiljevic T, Donkor O (2016) Short-chain fatty acids regulate cytokines and Th17/Treg cells in human peripheral blood mononuclear cells in vitro. Immunol Investig 45(3):205–222. https://doi.org/10.3109/08820139.2015.1122613

Benakis C, Brea D, Caballero S, Faraco G, Moore J, Murphy M, Sita G, Racchumi G, Ling L, Pamer EG, Iadecola C, Anrather J (2016) Commensal microbiota affects ischemic stroke outcome by regulating intestinal gammadelta T cells. Nat Med 22(5):516–523. https://doi.org/10.1038/nm.4068

Blaser MJ (2016) Antibiotic use and its consequences for the normal microbiome. Science 352(6285):544–545. https://doi.org/10.1126/science.aad9358

Bouladoux N, Hall JA, Grainger JR, dos Santos LM, Kann MG, Nagarajan V, Verthelyi D, Belkaid Y (2012) Regulatory role of suppressive motifs from commensal DNA. Mucosal Immunol 5(6):623–634. https://doi.org/10.1038/mi.2012.36

Caporaso JG, Kuczynski J, Stombaugh J, Bittinger K, Bushman FD, Costello EK, Fierer N, Pena AG, Goodrich JK, Gordon JI, Huttley GA, Kelley ST, Knights D, Koenig JE, Ley RE, Lozupone CA, McDonald D, Muegge BD, Pirrung M, Reeder J, Sevinsky JR, Turnbaugh PJ, Walters WA, Widmann J, Yatsunenko T, Zaneveld J, Knight R (2010) QIIME allows analysis of high-throughput community sequencing data. Nat Methods 7(5):335–336. https://doi.org/10.1038/nmeth.f.303

Chen MF, Weng KF, Huang SY, Liu YC, Tseng SN, Ojcius DM, Shih SR (2017) Pretreatment with a heat-killed probiotic modulates monocyte chemoattractant protein-1 and reduces the pathogenicity of influenza and enterovirus 71 infections. Mucosal Immunol 10(1):215–227. https://doi.org/10.1038/mi.2016.31

Cho I, Yamanishi S, Cox L, Methe BA, Zavadil J, Li K, Gao Z, Mahana D, Raju K, Teitler I, Li H, Alekseyenko AV, Blaser MJ (2012) Antibiotics in early life alter the murine colonic microbiome and adiposity. Nature 488(7413):621–626. https://doi.org/10.1038/nature11400

DeSantis TZ, Hugenholtz P, Larsen N, Rojas M, Brodie EL, Keller K, Huber T, Dalevi D, Hu P, Andersen GL (2006) Greengenes, a chimera-checked 16S rRNA gene database and workbench compatible with ARB. Appl Environ Microbiol 72(7):5069–5072. https://doi.org/10.1128/AEM.03006-05

Eckburg PB, Bik EM, Bernstein CN, Purdom E, Dethlefsen L, Sargent M, Gill SR, Nelson KE, Relman DA (2005) Diversity of the human intestinal microbial flora. Science 308(5728):1635–1638. https://doi.org/10.1126/science.1110591

Freedman SB, Williamson-Urquhart S, Farion KJ, Gouin S, Willan AR, Poonai N, Hurley K, Sherman PM, Finkelstein Y, Lee BE, Pang XL, Chui L, Schnadower D, Xie J, Gorelick M, Schuh S, Group PPT (2018) Multicenter trial of a combination probiotic for children with gastroenteritis. N Engl J Med 379(21):2015–2026. https://doi.org/10.1056/NEJMoa1802597

Gareau MG, Sherman PM, Walker WA (2010) Probiotics and the gut microbiota in intestinal health and disease. Nat Rev Gastroenterol Hepatol 7(9):503–514. https://doi.org/10.1038/nrgastro.2010.117

Hall JA, Bouladoux N, Sun CM, Wohlfert EA, Blank RB, Zhu Q, Grigg ME, Berzofsky JA, Belkaid Y (2008) Commensal DNA limits regulatory T cell conversion and is a natural adjuvant of intestinal immune responses. Immunity 29(4):637–649. https://doi.org/10.1016/j.immuni.2008.08.009

Hooper LV, Littman DR, Macpherson AJ (2012) Interactions between the microbiota and the immune system. Science 336(6086):1268–1273. https://doi.org/10.1126/science.1223490

Kashiwagi I, Morita R, Schichita T, Komai K, Saeki K, Matsumoto M, Takeda K, Nomura M, Hayashi A, Kanai T, Yoshimura A (2015) Smad2 and Smad3 inversely regulate TGF-beta autoinduction in Clostridium butyricum-activated dendritic cells. Immunity 43(1):65–79. https://doi.org/10.1016/j.immuni.2015.06.010

Kim SW, Suda W, Kim S, Oshima K, Fukuda S, Ohno H, Morita H, Hattori M (2013) Robustness of gut microbiota of healthy adults in response to probiotic intervention revealed by high-throughput pyrosequencing. DNA Res 20(3):241–253. https://doi.org/10.1093/dnares/dst006

Konkel JE, Chen W (2011) Balancing acts: the role of TGF-beta in the mucosal immune system. Trends Mol Med 17(11):668–676. https://doi.org/10.1016/j.molmed.2011.07.002

Liu W, Tan Z, Xue J, Luo W, Song H, Lv X, Zheng T, Xi T, Xing Y (2016) Therapeutic efficacy of oral immunization with a non-genetically modified Lactococcus lactis-based vaccine CUE-GEM induces local immunity against Helicobacter pylori infection. Appl Microbiol Biotechnol 100(14):6219–6229. https://doi.org/10.1007/s00253-016-7333-y

Liu W, Tan Z, Liu H, Zeng Z, Luo S, Yang H, Zheng L, Xi T, Xing Y (2017) Nongenetically modified Lactococcus lactis-adjuvanted vaccination enhanced innate immunity against Helicobacter pylori. Helicobacter 22(5). https://doi.org/10.1111/hel.12426

Lonnermark E, Friman V, Lappas G, Sandberg T, Berggren A, Adlerberth I (2010) Intake of Lactobacillus plantarum reduces certain gastrointestinal symptoms during treatment with antibiotics. J Clin Gastroenterol 44(2):106–112. https://doi.org/10.1097/MCG.0b013e3181b2683f

Maslowski KM, Vieira AT, Ng A, Kranich J, Sierro F, Yu D, Schilter HC, Rolph MS, Mackay F, Artis D, Xavier RJ, Teixeira MM, Mackay CR (2009) Regulation of inflammatory responses by gut microbiota and chemoattractant receptor GPR43. Nature 461(7268):1282–1286. https://doi.org/10.1038/nature08530

Miyauchi E, Morita H, Tanabe S (2009) Lactobacillus rhamnosus alleviates intestinal barrier dysfunction in part by increasing expression of zonula occludens-1 and myosin light-chain kinase in vivo. J Dairy Sci 92(6):2400–2408. https://doi.org/10.3168/jds.2008-1698

Ng SC, Kamm MA, Stagg AJ, Knight SC (2010) Intestinal dendritic cells: their role in bacterial recognition, lymphocyte homing, and intestinal inflammation. Inflamm Bowel Dis 16(10):1787–1807. https://doi.org/10.1002/ibd.21247

Nicholson JK, Holmes E, Kinross J, Burcelin R, Gibson G, Jia W, Pettersson S (2012) Host-gut microbiota metabolic interactions. Science 336(6086):1262–1267. https://doi.org/10.1126/science.1223813

Niess JH, Brand S, Gu X, Landsman L, Jung S, McCormick BA, Vyas JM, Boes M, Ploegh HL, Fox JG, Littman DR, Reinecker HC (2005) CX3CR1-mediated dendritic cell access to the intestinal lumen and bacterial clearance. Science 307(5707):254–258. https://doi.org/10.1126/science.1102901

Ramirez K, Ditamo Y, Rodriguez L, Picking WL, van Roosmalen ML, Leenhouts K, Pasetti MF (2010) Neonatal mucosal immunization with a non-living, non-genetically modified Lactococcus lactis vaccine carrier induces systemic and local Th1-type immunity and protects against lethal bacterial infection. Mucosal Immunol 3(2):159–171. https://doi.org/10.1038/mi.2009.131

Round JL, Mazmanian SK (2010) Inducible Foxp3+ regulatory T-cell development by a commensal bacterium of the intestinal microbiota. Proc Natl Acad Sci U S A 107(27):12204–12209. https://doi.org/10.1073/pnas.0909122107

Schnadower D, Tarr PI, Casper TC, Gorelick MH, Dean JM, O'Connell KJ, Mahajan P, Levine AC, Bhatt SR, Roskind CG, Powell EC, Rogers AJ, Vance C, Sapien RE, Olsen CS, Metheney M, Dickey VP, Hall-Moore C, Freedman SB (2018) Lactobacillus rhamnosus GG versus placebo for acute gastroenteritis in children. N Engl J Med 379(21):2002–2014. https://doi.org/10.1056/NEJMoa1802598

Shimada T, Cheng L, Shi HB, Hayashi A, Motonaga C, Tang J, Enomoto K, Enomoto T (2007) Effect of lysed Enterococcus faecalis FK-23 on allergen-induced immune responses and intestinal microflora in antibiotic-treated weaning mice. J Investig Allergol Clin Immunol 17(2):70–76

Smith PM, Howitt MR, Panikov N, Michaud M, Gallini CA, Bohlooly YM, Glickman JN, Garrett WS (2013) The microbial metabolites, short-chain fatty acids, regulate colonic Treg cell homeostasis. Science 341(6145):569–573. https://doi.org/10.1126/science.1241165

Tamburini S, Shen N, Wu HC, Clemente JC (2016) The microbiome in early life: implications for health outcomes. Nat Med 22(7):713–722. https://doi.org/10.1038/nm.4142

Tan Z, Liu W, Liu H, Li C, Zhang Y, Meng X, Tang T, Xi T, Xing Y (2017) Oral Helicobacter pylori vaccine-encapsulated acid-resistant HP55/PLGA nanoparticles promote immune protection. Eur J Pharm Biopharm 111:33–43. https://doi.org/10.1016/j.ejpb.2016.11.007

Tanaka A, Seki M, Yamahira S, Noguchi H, Kosai K, Toba M, Morinaga Y, Miyazaki T, Izumikawa K, Kakeya H, Yamamoto Y, Yanagihara K, Tashiro T, Kohda N, Kohno S (2011) Lactobacillus pentosus strain b240 suppresses pneumonia induced by Streptococcus pneumoniae in mice. Lett Appl Microbiol 53(1):35–43. https://doi.org/10.1111/j.1472-765X.2011.03079.x

Travis MA, Sheppard D (2014) TGF-beta activation and function in immunity. Annu Rev Immunol 32:51–82. https://doi.org/10.1146/annurev-immunol-032713-120

Ueno N, Fujiya M, Segawa S, Nata T, Moriichi K, Tanabe H, Mizukami Y, Kobayashi N, Ito K, Kohgo Y (2011) Heat-killed body of lactobacillus brevis SBC8803 ameliorates intestinal injury in a murine model of colitis by enhancing the intestinal barrier function. Inflamm Bowel Dis 17(11):2235–2250. https://doi.org/10.1002/ibd.21597

White LS, Van den Bogaerde J, Kamm M (2018) The gut microbiota: cause and cure of gut diseases. Med J Aust 209(7):312–317

Zhou L, Chong MM, Littman DR (2009) Plasticity of CD4+ T cell lineage differentiation. Immunity 30(5):646–655. https://doi.org/10.1016/j.immuni.2009.05.001
Acknowledgements
We thank Mr. Lufeng Zheng for his careful revision of this paper.
Funding
This work was supported by the National Key R&D Program of China (No.2017YFD0400303), the National Natural Science Foundation of China (No. 81502970), and the Priority Academic Program Development (PAPD) of Jiangsu Higher Education Institutions.
Ethics declarations
Conflict of interest
The authors declare that they have no conflict of interests.
Ethical approval
All animal experimental procedures were performed in accordance with guidelines of the Animal Ethical and Experimental Committee of China Pharmaceutical University.
Additional information
Publisher's note
Springer Nature remains neutral with regard to jurisdictional claims in published maps and institutional affiliations.
Electronic supplementary material
About this article
Cite this article
Zeng, Z., Liu, W., Luo, S. et al. Shape of gastrointestinal immunity with non-genetically modified Lactococcus lactis particles requires commensal bacteria and myeloid cells-derived TGF-β1. Appl Microbiol Biotechnol 103, 3847–3861 (2019). https://doi.org/10.1007/s00253-019-09716-z
Received:

Revised:

Accepted:

Published:

Issue Date:
Keywords
Lactococcus lactis

Gram-positive enhancer matrix particles

Microbiome

Regulatory T cells

Transforming growth factor-β1