Abstract
Iodine is an important trace element involved in thyroid hormone biosynthesis, while diet-induced obesity is reported to disturb the trace element metabolic balance. Herein, we studied the host-specific responses involved in modulating thyroid function and gut microbiota in obese mice after the iodine treatment and analyzed the possible causes for these responses. Obesity in the mice was induced by a high-fat diet, and the obese and normal mice were treated with the same iodine dosage (18 μg/kg/day) continuously for 8 weeks. Iodine treatment in the obese mice showed a weight-reducing effect, increased the thyroid hormone concentrations, altered the transcriptions of genes involved in thyroid hormone biosynthesis, and modulated the gut microbiota with an increased abundance of pathogenic bacteria and decreased the proportion of beneficial bacteria. However, completely different or even opposite response profiles were observed in the normal hosts. Our work indicated that obesity may exacerbate the risk of thyroid disease with a relatively safe dose of iodine, and individual differences should be considered with trace element supplementation.
Access options
Buy single article
Instant access to the full article PDF.
USD 39.95
Price excludes VAT (USA)
Tax calculation will be finalised during checkout.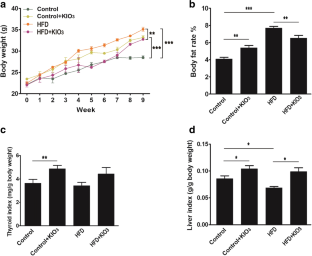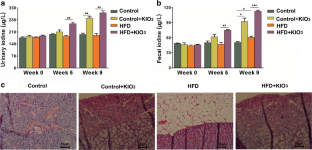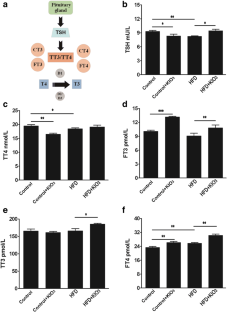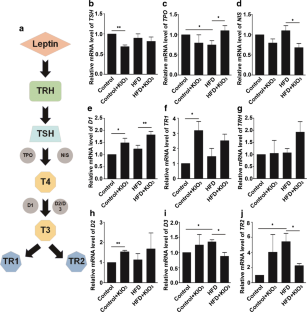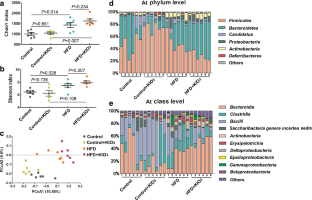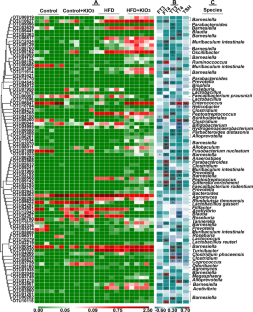 References
Amirkhizi F, Siassi F, Djalali M, Shahraki S (2014) Impaired enzymatic antioxidant defense in erythrocytes of women with general and abdominal obesity. Obes Res Clin Pract 8(1):e26–e34

Arumugam M, Raes J, Pelletier E, Le PD, Yamada T, Mende D, Fernandes G, Tap J, Bruls T, Batto J (2011) Enterotypes of the human gut microbiome. Nature 473(7346):174–180

Bianco A, Kim B (2006) Deiodinases: implications of the local control of thyroid hormone action. J Clin Invest 116(10):2571–2579

Brito P, Ramos C, Passos M, Moura E (2006) Adaptive changes in thyroid function of female rats fed a high-fat and low-protein diet during gestation and lactation. Braz J Med Biol Res 39(6):809–816

Cani P, Delzenne N (2009) The role of the gut microbiota in energy metabolism and metabolic disease. Curr Pharm Des 15(13):1546–1558

Caporaso J, Bittinger K, Bushman F, DeSantis T, Andersen G, Knight R (2010) PyNAST: a flexible tool for aligning sequences to a template alignment. Bioinformatics 26(2):266–267

Caporaso J, Lauber C, Walters W, Berg-Lyons D, Huntley J, Fierer N, Owens S, Betley J, Fraser L, Bauer M, Gormley N, Gilbert J, Smith G, Knight R (2012) Ultra-high-throughput microbial community analysis on the Illumina HiSeq and MiSeq platforms. ISME J 6(8):1621–1624

Chaplin A, Parra P, Serra F, Palou A (2015) Conjugated linoleic acid supplementation under a high-fat diet modulates stomach protein expression and intestinal microbiota in adult mice. PLoS One 10(4):e0125091

Cui C, Li Y, Gao H, Zhang H, Han J, Zhang D, Zhou J, Lu C, Su X (2017) Modulation of the gut microbiota by the mixture of fish oil and krill oil in high-fat diet-induced obesity mice. PLoS One 12(10):e0186216

Duntas L (2002) Thyroid disease and lipids. Thyroid 12(4):287–293

Escalona-Benz E, Jockovich M, Murray T, Hayden B, Hernandez E, Feuer W, Windle J (2005) Combretastatin A-4 prodrug in the treatment of a murine model of retinoblastoma. Invest Ophthalmol Vis Sci 46(1):8–11

Fei N, Zhao L (2013) An opportunistic pathogen isolated from the gut of an obese human causes obesity in germfree mice. ISME J 7(4):880–884

Fisher K, Phillips C (2009) The ecology, epidemiology and virulence of Enterococcus. Microbiology 155(6):1749–1757

Hannoush Z, Weiss R (2017) Defects of thyroid hormone synthesis and action. Endocrinol Metab Clin N Am 46(2):375–388

Jung M, Lee J, Shin N, Kim M, Hyun D, Yun J, Kim P, Whon T, Bae J (2016) Chronic repression of mTOR complex 2 induces changes in the gut microbiota of diet-induced obese mice. Sci Rep-UK 6:30887

Kiilerich P, Myrmel L, Fjære E, Hao Q, Hugenholtz F, Sonne S, Derrien M, Pedersen L, Petersen R, Mortensen A, Licht T, Rømer M, Vogel U, Waagbø L, Giallourou N, Feng Q, Xiao L, Liu C, Liaset B, Kleerebezem M, Wang J, Madsen L, Kristiansen K (2016) Effect of a long-term high-protein diet on survival, obesity development, and gut microbiota in mice. Am J Physiol Endocrinol Metab 310(11):E886–E899

Koleva P, Bridgman S, Kozyrskyj A (2015) The infant gut microbiome: evidence for obesity risk and dietary intervention. Nutrients 7(4):2237–2260

Kuczynski J, Stombaugh J, Walters W, González A, Caporaso J, Knight R (2011) Using QIIME to analyze 16S rRNA gene sequences from microbial communities. Curr Protoc Bioinformatics 10(7). https://doi.org/10.1002/0471250953.bi1007s36.

Luciano-Mateo F, Cabré N, Nadal M, García-Heredia A, Baiges-Gaya G, Hernández-Aguilera A, Camps J, Joven J, Domingo J (2018) Serum concentrations of trace elements and their relationships with paraoxonase-1 in morbidly obese women. J Trace Elem Med Biol 48:8–15

Merrill S, Mu Y (2015) Thyroid autoimmunity as a window to autoimmunity: an explanation for sex differences in the prevalence of thyroid autoimmunity. J Theor Biol 375:95–100

Nair A, Jacob S (2016) A simple practice guide for dose conversion between animals and human. J Basic Clin Pharm 7(2):27–31

O'Keefe S (2008) Nutrition and colonic health: the critical role of the microbiota. Curr Opin Gastroenterol 24(1):51–58

Reyon D, Tsai S, Khayter C, Foden J, Sander J, Joung J (2012) FLASH assembly of TALENs for high-throughput genome editing. Nat Biotechnol 30(5):460–465

Rognes T, Flouri T, Nichols B, Quince C, Mahé F (2016) VSEARCH: a versatile open source tool for metagenomics. Peer J 4(10):e2584

Serrano-Nascimento C, Salgueiro R, Vitzel K, Pantaleao T, Corrêa da Costa V, Nunes M (2017) Iodine excess exposure during pregnancy and lactation impairs maternal thyroid function in rats. Endocr Connect 6(7):EC-17-0106):510–521

Shen J, Obin M, Zhao L (2013) The gut microbiota, obesity and insulin resistance. Mol Asp Med 34(1):39–58

Tascilar M, Ozgen I, Abaci A, Serdar M, Aykut O (2011) Trace elements in obese turkish children. Biol Trace Elem Res 143(1):188–195

Turnbaugh P, Bäckhed F, Fulton L, Gordon J (2008) Diet-induced obesity is linked to marked but reversible alterations in the mouse distal gut microbiome. Cell Host Microbe 3(4):213–223

Valdecantos M, Pérez-Matute P, Martínez J (2009) Obesity and oxidative stress: role of antioxidant supplementation. Rev Investig Clin 61(2):127–139

Virili C, Centanni M (2017) "With a little help from my friends" - the role of microbiota in thyroid hormone metabolism and enterohepatic recycling. Mol Cell Endocrinol 458(15):39–43

Wang J, Du W, Xu Y, Cheng S, Liu Z (2017a) Gut microbiome-based medical methodologies for early-stage disease prevention. Microb Pathog 105:122–130

Wang J, Kim B, Han K, Kim H (2017b) Ephedra-treated donor-derived gut microbiota transplantation ameliorates high fat diet-induced obesity in rats. Int J Environ Res Public Health 14(6):555

Wei X, Tao J, Xiao S, Jiang S, Shang E, Zhu Z, Qian D, Duan J (2018) Xiexin Tang improves the symptom of type 2 diabetic rats by modulation of the gut microbiota. Sci Rep-UK 8(1):3685

Wen G, Ringseis R, Eder K (2017) Endoplasmic reticulum stress inhibits expression of genes involved in thyroid hormone synthesis and their key transcriptional regulators in FRTL-5 thyrocytes. PLoS One 12(11):e0187561

Xie Z, Xia S, Le G (2014) Gamma-aminobutyric acid improves oxidative stress and function of the thyroid in high-fat diet fed mice. J Funct Foods 8(1):76–86

Yerlikaya F, Toker A, Arıbaş A (2013) Serum trace elements in obese women with or without diabetes. Indian J Med Res 137(2):339–345

Zhang X, Chen W, Shao S, Xu G, Song Y, Xu C, Gao L, Hu C, Zhao J (2018) A high fat diet rich in saturated and mono-unsaturated fatty acids induces disturbance of thyroid lipid profile and hypothyroxinemia in male rats. Mol Nutr Food Res 62(6):1700599

Zhao S, Ye Y, Sun F, Tian E, Chen Z (2011) The impact of dietary iodine intake on lipid metabolism in mice. Biol Trace Elem Res 142(3):581–588

Zhou L, Li X, Ahmed A, Wu D, Liu L, Qiu J, Yan Y, Jin M, Xin Y (2014) Gut microbe analysis between hyperthyroid and healthy individuals. Curr Microbiol 69(5):675–680
Acknowledgements
We thank Wiley Editing Service for English language editing.
Funding
This work was sponsored by K.C. Wong Magna Fund in Ningbo University.
Ethics declarations
Conflict of interest
The authors declare that they have no conflict of interest.
Ethical approval
All experimental procedures and animal care were in accordance with the experimental animal care and use guidelines prepared by the Ningbo University Experimental Animal Center (affiliated with Zhejiang Laboratory Animal Common Service Platform), and all animal programs received approval from the Ningbo University Laboratory Animals Center under permit number No. SCXK (ZHE 2014-0001).
Additional information
Publisher's note
Springer Nature remains neutral with regard to jurisdictional claims in published maps and institutional affiliations.
Electronic supplementary material
About this article
Cite this article
Shen, H., Han, J., Li, Y. et al. Different host-specific responses in thyroid function and gut microbiota modulation between diet-induced obese and normal mice given the same dose of iodine. Appl Microbiol Biotechnol 103, 3537–3547 (2019). https://doi.org/10.1007/s00253-019-09687-1
Received:

Revised:

Accepted:

Published:

Issue Date:

DOI: https://doi.org/10.1007/s00253-019-09687-1
Keywords
Obesity

Iodine

Thyroid dysfunction

Gut microbiota