Abstract
A total of 88 lactic acid bacteria (LAB) strains were isolated from Chinese traditional sourdough and five of them were selected based on their bile resistance. All the five strains were identified as Lactobacillus plantarum by 16S rRNA gene sequencing. In vitro probiotic properties of the L. plantarum strains including tolerance to simulated gastrointestinal conditions, aggregation activity, and cholesterol removal ability were assessed. Two representatives, L. plantarum ZJUFT34 and L. plantarum ZJUFT17, were intragastrically administered to male C57BL/6J mice of 4-week age for 6 weeks to evaluate their in vivo health-promoting effects. The results indicated that L. plantarum ZJUFT34, L. plantarum ZJUFHN9, and L. plantarum ZJUFAH5 could survive the 3-h incubation in simulated gastric juice with a pH value of 2.0, while L. plantarum ZJUFT32 and L. plantarum ZJUFT17 exhibited better autoaggregation activities and coaggregation activities with pathogens. All the strains showed a cholesterol removal ability in vitro. However, L. plantarum ZJUFT34 or L. plantarum ZJUFT17 administration did not significantly change the serum total cholesterol in vivo. But the ratio of high-density lipoprotein cholesterol to low-density lipoprotein cholesterol was significantly increased by the L. plantarum administration. Besides, L. plantarum ZJUFT17 significantly lowered serum tumor necrosis factor (TNF)-α concentrations. Furthermore, the administration of the LAB strains showed significant influences on lipid metabolism-related gut microbiota. These findings suggested that the L. plantarum strains may benefit the prevention of metabolic syndrome.
Access options
Buy single article
Instant access to the full article PDF.
US$ 39.95
Tax calculation will be finalised during checkout.
Subscribe to journal
Immediate online access to all issues from 2019. Subscription will auto renew annually.
US$ 119
Tax calculation will be finalised during checkout.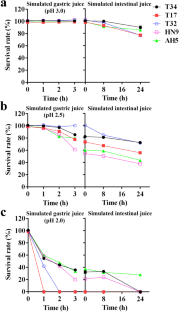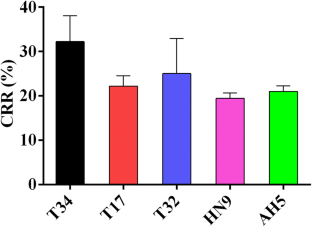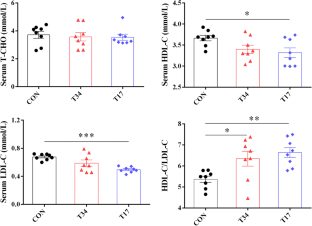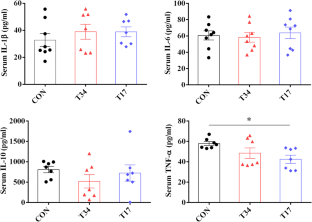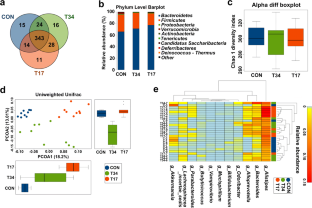 References
Angmo K, Kumari A, Savitri BTC (2016) Probiotic characterization of lactic acid bacteria isolated from fermented foods and beverage of Ladakh. Lwt-Food Sci Technol 66:428–435. https://doi.org/10.1016/j.lwt.2015.10.057

Bao Y, Zhang Y, Zhang Y, Liu Y, Wang S, Dong X, Wang Y, Zhang H (2010) Screening of potential probiotic properties of Lactobacillus fermentum isolated from traditional dairy products. Food Control 21:695–701. https://doi.org/10.1016/j.foodcont.2009.10.010

Barreto FM, Simão ANC, Morimoto HK, Lozovoy MAB, Dichi I, da Silva Miglioranza LH (2014) Beneficial effects of Lactobacillus plantarum on glycemia and homocysteine levels in postmenopausal women with metabolic syndrome. Nutrition 30(7–8):939–942

Bernini LJ, Simão ANC, Alfieri DF, Lozovoy MAB, Mari NL, de Souza CHB, Dichi I, Costa GN (2016) Beneficial effects of Bifidobacterium lactis on lipid profile and cytokines in patients with metabolic syndrome: a randomized trial. Effects of probiotics on metabolic syndrome. Nutrition 32(6):716–719

Bordoni A, Amaretti A, Leonardi A, Boschetti E, Danesi F, Matteuzzi D, Roncaglia L, Raimondi S, Rossi M (2013) Cholesterol-lowering probiotics: in vitro selection and in vivo testing of bifidobacteria. Appl Microbiol Biotechnol 97(18):8273–8281

Cani PD, Van Hul M (2015) Novel opportunities for next-generation probiotics targeting metabolic syndrome. Curr Opin Biotechnol 32:21–27

Charteris W, Kelly P, Morelli L, Collins J (1998) Development and application of an in vitro methodology to determine the transit tolerance of potentially probiotic Lactobacillus and Bifidobacterium species in the upper human gastrointestinal tract. J Appl Microbiol 84(5):759–768

Collado MC, Meriluoto J, Salminen S (2008) Adhesion and aggregation properties of probiotic and pathogen strains. Eur Food Res Technol 226:1065–1073. https://doi.org/10.1007/s00217-007-0632-x

Costabile A, Buttarazzi I, Kolida S, Quercia S, Baldini J, Swann JR, Brigidi P, Gibson GR (2017) An in vivo assessment of the cholesterol-lowering efficacy of Lactobacillus plantarum ECGC 13110402 in normal to mildly hypercholesterolaemic adults. PLoS One 12:e0187964. https://doi.org/10.1371/journal.pone.0187964

De Vuyst L, Van Kerrebroeck S, Harth H, Huys G, Daniel HM, Weckx S (2014) Microbial ecology of sourdough fermentations: diverse or uniform? Food Microbiol 37:11–29. https://doi.org/10.1016/j.fm.2013.06.002

Derrien M, Belzer C, de Vos WM (2017) Akkermansia muciniphila and its role in regulating host functions. Microb Pathog 106:171–181. https://doi.org/10.1016/j.micpath.2016.02.005

Eckel RH, Grundy SM, Zimmet PZ (2005) The metabolic syndrome. Lancet 365(9468):1415–1428

Everard A, Belzer C, Geurts L, Ouwerkerk JP, Druart C, Bindels LB, Guiot Y, Derrien M, Muccioli GG, Delzenne NM, de Vos WM, Cani PD (2013) Cross-talk between Akkermansia muciniphila and intestinal epithelium controls diet-induced obesity. Proc Natl Acad Sci U S A 110(22):9066–9071. https://doi.org/10.1073/pnas.1219451110

FAO/WHO (2002) Working group report on drafting guidelines for the evaluation of probiotics in food. Ontario, London

Feng HW, Pi CM, Wang R, Chen LC (1973) Use of ferric ammonium sulfate in serum-cholesterol determination. Clin Chem 19:121–122

Gobbetti M, Gänzle M (2012) Handbook on sourdough biotechnology. Springer Science & Business Media

Gobbetti M, Minervini F, Pontonio E, Di Cagno R, De Angelis M (2016) Drivers for the establishment and composition of the sourdough lactic acid bacteria biota. Int J Food Microbiol 239:3–18. https://doi.org/10.1016/j.ifoodmicro.2015.05.022

Guo Z, Wang JC, Yan LY, Chen W, Liu XM, Zhang HP (2009) In vitro comparison of probiotic properties of Lactobacillus casei Zhang, a potential new probiotic, with selected probiotic strains. Lwt-Food Sci Technol 42:1640–1646. https://doi.org/10.1016/j.lwt.2009.05.025

Hotamisligil GkS, Peraldi P, Budavari A, Ellis R, White MF, Spiegelman BM (1996) IRS-1-mediated inhibition of insulin receptor tyrosine kinase activity in TNF-alpha- and obesity-induced insulin resistance. Science 271(5249):665–670

Kadooka Y, Sato M, Imaizumi K, Ogawa A, Ikuyama K, Akai Y, Okano M, Kagoshima M, Tsuchida T (2010) Regulation of abdominal adiposity by probiotics (Lactobacillus gasseri SBT2055) in adults with obese tendencies in a randomized controlled trial. Eur J Clin Nutr 64(6):636–643

Kelly TN, Bazzano LA, Ajami NJ, He H, Zhao J, Petrosino JF, Correa A, He J (2016) Gut microbiome associates with lifetime cardiovascular disease risk profile among Bogalusa Heart Study participants. Circ Res 119:956–964. https://doi.org/10.1161/CIRCRESAHA.116.309219

Kemp PF, Aller JY (2004) Bacterial diversity in aquatic and other environments: what 16S rDNA libraries can tell us. FEMS Microbiol Ecol 47(2):161–177. https://doi.org/10.1016/S0168-6496(03)00257-5

Kilic GB, Kuleasan H, Somer VF, Akpinar D (2013) Determining potential probiotic properties of human originated Lactobacillus plantarum strains. Biotechnol Bioproc E 18:479–485. https://doi.org/10.1007/s12257-012-0785-8

Kobayashi T, Taniguchi S, Ye Y, Niekrasz M, Nour B, Cooper DKC (1998) Comparison of bile chemistry between humans, baboons, and pigs: implications for clinical and experimental liver xenotransplantation. Lab Anim Sci 48(2):197–200

LaDuca JR, Gaspari AA (2001) Targeting tumour necrosis factor alpha: new drugs used to modulate inflammatory diseases. Dermatol Clin 19:617–635. https://doi.org/10.1016/S0733-8635(05)70304-1

Legrand-Defretin V, Juste C, Henry R, Corring T (1991) Ion-pair high-performance liquid chromatography of bile salt conjugates: application to pig bile. Lipids 26(8):578–583

Liu S-N, Han Y, Z-j Z (2011) Lactic acid bacteria in traditional fermented Chinese foods. Food Res Int 44:643–651. https://doi.org/10.1016/j.foodres.2010.12.034

Liu T, Li Y, Chen J, Sadiq FA, Zhang G, Li Y, He G (2016) Prevalence and diversity of lactic acid bacteria in Chinese traditional sourdough revealed by culture dependent and pyrosequencing approaches. Lwt-Food Sci Technol 68:91–97. https://doi.org/10.1016/j.lwt.2015.12.025

Lu C, Sun T, Li Y, Zhang D, Zhou J, Su X (2018) Microbial diversity and composition in different gut locations of hyperlipidemic mice receiving krill oil. Appl Microbiol Biotechnol 102:355–366. https://doi.org/10.1007/s00253-017-8601-1

Malik S, Petrova MI, Claes IJJ, Verhoeven TLA, Busschaert P, Vaneechoutte M, Lievens B, Lambrichts I, Siezen RJ, Balzarini J, Vanderleyden J, Lebeer S (2013) The highly autoaggregative and adhesive phenotype of the vaginal Lactobacillus plantarum strain CMPG5300 is sortase dependent. Appl Environ Microbiol 79(15):4576–4585

Manini F, Casiraghi M, Poutanen K, Brasca M, Erba D, Plumed-Ferrer C (2016) Characterization of lactic acid bacteria isolated from wheat bran sourdough. Lwt-Food Sci Technol 66:275–283. https://doi.org/10.1016/j.lwt.2015.10.045

Minami J-I, Kondo S, Yanagisawa N, Odamaki T, Xiao J-z, Abe F, Nakajima S, Hamamoto Y, Saitoh S, Shimoda T (2015) Oral administration of Bifidobacterium breve B-3 modifies metabolic functions in adults with obese tendencies in a randomised controlled trial. J Nutr Sci 4

Papadimitriou K, Zoumpopoulou G, Foligne B, Alexandraki V, Kazou M, Pot B, Tsakalidou E (2015) Discovering probiotic microorganisms: in vitro, in vivo, genetic and omics approaches. Front Microbiol 6:58. https://doi.org/10.3389/fmicb.2015.00058

Pena JA, Versalovic J (2003) Lactobacillus rhamnosus GG decreases TNF-α production in lipopolysaccharide-activated murine macrophages by a contact-independent mechanism. Cell Microbiol 5:277–285. https://doi.org/10.1046/j.1462-5822.2003.t01-1-00275.x

Ramos CL, Thorsen L, Schwan RF, Jespersen L (2013) Strain-specific probiotics properties of Lactobacillus fermentum, Lactobacillus plantarum and Lactobacillus brevis isolates from Brazilian food products. Food Microbiol 36:22–29. https://doi.org/10.1016/j.fm.2013.03.010

Sanchez B, Delgado S, Blanco-Miguez A, Lourenco A, Gueimonde M, Margolles A (2017) Probiotics, gut microbiota, and their influence on host health and disease. Mol Nutr Food Res 61(1). https://doi.org/10.1002/mnfr.201600240

Sekiguchi H, Kawada-Watanabe E, Arashi H, Yamaguchi J, Ogawa H, Hagiwara N (2018) Association between the low-density lipoprotein-cholesterol/high-density lipoprotein-cholesterol ratio and clinical outcomes in patients with acute coronary syndrome and dyslipidemia: a subanalysis of the HIJ-PROPER study. J Am Coll Cardiol 71:A1757. https://doi.org/10.1016/S0735-1097(18)32298-8

Shang Q, Song G, Zhang M, Shi J, Xu C, Hao J, Li G, Yu G (2017) Dietary fucoidan improves metabolic syndrome in association with increased Akkermansia population in the gut microbiota of high-fat diet-fed mice. J Funct Foods 28:138–146. https://doi.org/10.1016/j.jff.2016.11.002

Suez J, Zmora N, Zilberman-Schapira G, Mor U, Dori-Bachash M, Bashiardes S, Zur M, Regev-Lehavi D, Ben-Zeev Brik R, Federici S, Horn M, Cohen Y, Moor AE, Zeevi D, Korem T, Kotler E, Harmelin A, Itzkovitz S, Maharshak N, Shibolet O, Pevsner-Fischer M, Shapiro H, Sharon I, Halpern Z, Segal E, Elinav E (2018) Post-antibiotic gut mucosal microbiome reconstitution is impaired by probiotics and improved by autologous FMT. Cell 174(6):1406–1423 e16. https://doi.org/10.1016/j.cell.2018.08.047

Tan Q, Xu H, Aguilar ZP, Peng S, Dong S, Wang B, Li P, Chen T, Xu F, Wei H (2013) Safety assessment and probiotic evaluation of Enterococcus faecium YF5 isolated from sourdough. J Food Sci 78:M587–M593. https://doi.org/10.1111/1750-3841.12079

Thornton GM (1996) Probiotic bacteria: selection of Lactobacillus and Bifidobacterium strains from the healthy human gastrointestinal tract; characterisation of a novel Lactobacillus-derived antibacterial protein. NUI

Trivedi D, Jena PK, Patel JK, Seshadri S (2013) Partial purification and characterization of a bacteriocin DT24 produced by probiotic vaginal Lactobacillus brevis DT24 and determination of its anti-uropathogenic Escherichia coli potential. Probiotics Antimicrob 5:142–151. https://doi.org/10.1007/s12602-013-9132-4

Tse MCL, Herlea-Pana O, Brobst D, Yang X, Wood J, Hu X, Liu Z, Lee CW, Zaw AM, Chow BKC, Ye K, Chan CB (2017) Tumor necrosis factor-alpha promotes phosphoinositide 3-kinase enhancer a and AMP-activated protein kinase interaction to suppress lipid oxidation in skeletal muscle. Diabetes 66:1858–1870. https://doi.org/10.2337/db16-0270

Walker DK, Gilliland SE (1993) Relationships among bile tolerance, bile salt deconjugation, and assimilation of cholesterol by Lactobacillus acidophilus. J Dairy Sci 76(4):956–961

Weisburg WG, Barns SM, Pelletier DA, Lane DJ (1991) 16S ribosomal DNA amplification for phylogenetic study. J Bacteriol 173(2):697–703

Yang D, Yu X, Wu Y, Chen X, Wei H, Shah NP, Xu F (2016) Enhancing flora balance in the gastrointestinal tract of mice by lactic acid bacteria from Chinese sourdough and enzyme activities indicative of metabolism of protein, fat, and carbohydrate by the flora. J Dairy Sci 99(10):7809–7820

Zmora N, Zilberman-Schapira G, Suez J, Mor U, Dori-Bachash M, Bashiardes S, Kotler E, Zur M, Regev-Lehavi D, Brik RB, Federici S, Cohen Y, Linevsky R, Rothschild D, Moor AE, Ben-Moshe S, Harmelin A, Itzkovitz S, Maharshak N, Shibolet O, Shapiro H, Pevsner-Fischer M, Sharon I, Halpern Z, Segal E, Elinav E (2018) Personalized gut mucosal colonization resistance to empiric probiotics is associated with unique host and microbiome features. Cell 174(6):1388–1405 e21. https://doi.org/10.1016/j.cell.2018.08.041
Funding
This research was supported by the Hangzhou industry-university cooperation project [grant number 20161631E01] and Agricultural Technology Promotion Special Fund of Zhejiang University New Rural Development Institute [grant number 2017006].
Ethics declarations
All institutional and national guidelines for the care and use of laboratory animals were followed.
Conflict of interest
The authors declare that they have no conflict of interest.
Additional information
Publisher's Note
Springer Nature remains neutral with regard to jurisdictional claims in published maps and institutional affiliations.
Electronic supplementary material
About this article
Cite this article
Li, Y., Liu, T., Zhao, M. et al. In vitro and in vivo investigations of probiotic properties of lactic acid bacteria isolated from Chinese traditional sourdough. Appl Microbiol Biotechnol 103, 1893–1903 (2019). https://doi.org/10.1007/s00253-018-9554-8
Received:

Revised:

Accepted:

Published:

Issue Date:
Keywords
Sourdough

L. plantarum

Serum cholesterol

Tumor necrosis factor-α

Gut microbiota