Abstract
Bacterial community in activated sludge (AS) is diverse and highly dynamic. Little is known about the mechanism shaping bacterial community composition and dynamics of AS and no study had quantitatively compared the contribution of abiotic environmental factors and biotic associations to the temporal dynamics of AS microbial communities with significantly different diversity. In this study, two full-scale sewage treatment plants (STPs) with distinct operational parameters and influent composition were sampled biweekly over 1 year to reveal the correlating factors to whole and sub-groups of AS bacterial community diversity and dynamics. The results show that the bacterial communities of the two STPs were entirely different and correlated with the influent composition and operating configurations. Bacterial associations represented by cohesion metrics and the environmental factor temperature were the primary correlated factors to the temporal bacterial community dynamics within each STP. The STP with high diversity and evenness could treat influent with higher suspended solid and a shorter sludge retention time, and was less correlated with environmental factors, implying the importance of diversity for AS system.
This is a preview of subscription content, log in to check access.
Access options
Buy single article
Instant access to the full article PDF.
US$ 39.95
Price includes VAT for USA
Subscribe to journal
Immediate online access to all issues from 2019. Subscription will auto renew annually.
US$ 199
This is the net price. Taxes to be calculated in checkout.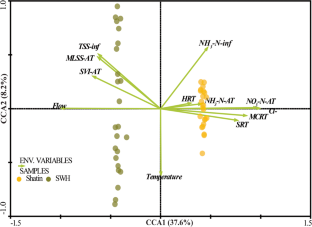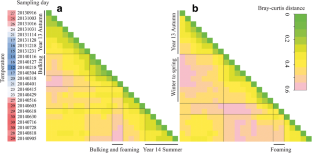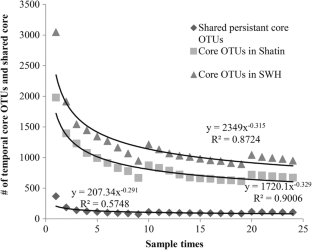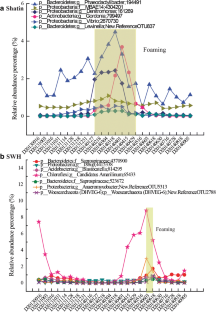 References
Blanchet FG, Legendre P, Borcard D (2008) Forward selection of explanatory variables. Ecology 89(9):2623–2632

Caporaso JG, Kuczynski J, Stombaugh J, Bittinger K, Bushman FD, Costello EK, Fierer N, Pena AG, Goodrich JK, Gordon JI (2010) QIIME allows analysis of high-throughput community sequencing data. Nat Methods 7(5):335–336

Chen Y, Lan S, Wang L, Dong S, Zhou H, Tan Z, Li X (2017) A review: driving factors and regulation strategies of microbial community structure and dynamics in wastewater treatment systems. Chemosphere 174:173e182

Edgar RC, Haas BJ, Clemente JC, Quince C, Knight R (2011) UCHIME improves sensitivity and speed of chimera detection. Bioinformatics 27(16):2194–2200

Francis L III, Raskin L (2002) Role of filamentous microorganisms in activated sludge foaming: relationship of mycolata levels to foaming initiation and stability. Water Res 36(2):445–459

Griffin JS, Wells GF (2016) Regional synchrony in full-scale activated sludge bioreactors due to deterministic microbial community assembly. ISME J 11(2):500–511

Guo J, Peng Y, Wang S, Zheng Y, Huang H, Wang Z (2009) Long-term effect of dissolved oxygen on partial nitrification performance and microbial community structure. Bioresour Technol 100(11):2796–2802

Guo Y, Guo L, Sun M, Zhao Y, Gao M, She Z (2017) Effects of hydraulic retention time (HRT) on denitrification using waste activated sludge thermal hydrolysis liquid and acidogenic liquid as carbon sources. Bioresour Technol 224:147–156

Harrell Jr FE (2013) Hmisc: Harrell miscellaneous. R package version 3.12–2. Computer software] Available from http://cran.r-project.org/web/packages/Hmisc

Herren C, McMahon K (2017) Cohesion: a method for quantifying the connectivity of microbial communities. bioRxiv:112391

Jo SJ, Kwon H, Jeong S-Y, Lee C-H, Kim TG (2016) Comparison of microbial communities of activated sludge and membrane biofilm in 10 full-scale membrane bioreactors. Water Res 101:214–225

Ju F, Zhang T (2014) Bacterial assembly and temporal dynamics in activated sludge of a full-scale municipal wastewater treatment plant. ISME J 9(3):683–695

Ju F, Xia Y, Guo F, Wang Z, Zhang T (2013) Taxonomic relatedness shapes bacterial assembly in activated sludge of globally distributed wastewater treatment plants. Environ Microbiol 16(8):2421–2432

Kang S, Ma W, Li FY, Zhang Q, Niu J, Ding Y, Han F, Sun X (2015) Functional redundancy instead of species redundancy determines community stability in a typical steppe of Inner Mongolia. PLoS One 10(12):e0145605

Kim T-S, Jeong J-Y, Wells GF, Park H-D (2013) General and rare bacterial taxa demonstrating different temporal dynamic patterns in an activated sludge bioreactor. Appl Microbiol Biotechnol 97(4):1755–1765

Kozich JJ, Westcott SL, Baxter NT, Highlander SK, Schloss PD (2013) Development of a dual-index sequencing strategy and curation pipeline for analyzing amplicon sequence data on the MiSeq Illumina sequencing platform. Appl Environ Microbiol 79(17):5112–5120

Madoni P, Davoli D, Gibin G (2000) Survey of filamentous microorganisms from bulking and foaming activated-sludge plants in Italy. Water Res 34(6):1767–1772

Meerburg FA, Vlaeminck SE, Roume H, Seuntjens D, Pieper DH, Jauregui R, Vilchez-Vargas R, Boon N (2016) High-rate activated sludge communities have a distinctly different structure compared to low-rate sludge communities, and are less sensitive towards environmental and operational variables. Water Res 100:137–145

McIlroy SJ, Saunders AM, Albertsen M, Nierychlo M, McIlroy B, Hansen AA, Karst SM, Nielsen JL, Nielsen PH (2015) MiDAS: the field guide to the microbes of activated sludge. Database 2015:bav062

Nielsen PH, Mielczarek AT, Kragelund C, Nielsen JL, Saunders AM, Kong Y, Hansen AA, Vollertsen J (2010) A conceptual ecosystem model of microbial communities in enhanced biological phosphorus removal plants. Water Res 44(17):5070–5088

Nierychlo M, Miłobędzka A, Petriglieri F, McIlroy B, Nielsen PH, McIlroy SJ (2018) The ecology of the Chloroflexi in full-scale activated sludge wastewater treatment plants. bioRxiv. https://doi.org/10.1101/335752

Pal P, Khairnar K, Paunikar W (2014) Causes and remedies for filamentous foaming in activated sludge treatment plant. Global Nest J 16(4):762–772

Sato Y, Hori T, Navarro RR, Naganawa R, Habe H, Ogata A (2016) Effects of organic-loading-rate reduction on sludge biomass and microbial community in a deteriorated pilot-scale membrane bioreactor. Microbes Environ 31(3):361–364

Saunders AM, Albertsen M, Vollertsen J, Nielsen PH (2015) The activated sludge ecosystem contains a core community of abundant organisms. ISME J 10:11–20

Schloss PD, Westcott SL, Ryabin T, Hall JR, Hartmann M, Hollister EB, Lesniewski RA, Oakley BB, Parks DH, Robinson CJ (2009) Introducing mothur: open-source, platform-independent, community-supported software for describing and comparing microbial communities. Appl Environ Microbiol 75(23):7537–7541

Segata N, Izard J, Waldron L, Gevers D, Miropolsky L, Garrett WS, Huttenhower C (2011) Metagenomic biomarker discovery and explanation. Genome Biol 12(6):R60

Shade A, Handelsman J (2012) Beyond the Venn diagram: the hunt for a core microbiome. Environ Microbiol 14(1):4–12

Soddell JA, Seviour RJ (1990) Microbiology of foaming in activated-sludge plants. J Appl Microbiol 69(2):145–176

Team RC (2014) R: a language and environment for statistical computing. R Foundation for Statistical Computing, Vienna, Austria 2013

ter Braak CJ, Smilauer P (2002) Canoco 4.5: reference manual and canodraw for windows. User's guide: software form canonical community ordination (version 4.5). Microcomputer Power, Ithaca, New York

Vuono DC, Benecke J, Henkel J, Navidi WC, Cath TY, Munakata-Marr J, Spear JR, Drewes JE (2014) Disturbance and temporal partitioning of the activated sludge metacommunity. ISME J 9(2):425–435

Wagner M, Loy A (2002) Bacterial community composition and function in sewage treatment systems. Curr Opin Biotechnol 13(3):218–227

Wang Z, Gao M, Wang S, Chang Q, Wang Z (2015) Effects of salinity on performance and microbial community structure of an anoxic-aerobic sequencing batch reactor. Sep Purif Technol 144:223–231

Zhang T, Shao M-F, Ye L (2012) 454 pyrosequencing reveals bacterial diversity of activated sludge from 14 sewage treatment plants. ISME J 6(6):1137–1147
Acknowledgments
Xiao-Tao Jiang thanks The University of Hong Kong for its Postgraduate Studentships. FJ, LY, BL, and LPM thank The University of Hong Kong for postdoctoral fellowship. We thank the Drainage Services Department (DSD) of Hong Kong for the help by supplying data on the sewage characteristics and operational parameters. We thank Miss Vicky Fung for her help in sampling and for her experimental help. We thank the computer center of the University of Hong Kong.
Funding
This study was funded by Innovation and Technology Fund (ITS/304/12) of Hong Kong.
Ethics declarations
Conflict of interest
The authors declare that they have no conflict of interest.
Ethical approval
This article does not contain any studies with human participants or animals performed by any of the authors.
Electronic supplementary material
About this article
Cite this article
Jiang, X., Ye, L., Ju, F. et al. Temporal dynamics of activated sludge bacterial communities in two diversity variant full-scale sewage treatment plants. Appl Microbiol Biotechnol 102, 9379–9388 (2018). https://doi.org/10.1007/s00253-018-9287-8
Received:

Revised:

Accepted:

Published:

Issue Date:
Keywords
Activated sludge

Bacterial community

Time series

Sludge foaming