Abstract
Most wine aroma compounds, including the varietal fraction, are produced or released during wine production and derived from microbial activity. Varietal aromas, typically defined as terpenes and thiols, have been described as derived from their non-volatile precursors, released during wine fermentation by different yeast hydrolytic enzymes. The perception of these minority aroma compounds depends on the chemical matrix of the wine, especially on the presence of majority aroma compounds, such as esters or higher alcohols. Strategies aiming to reduce the production of these masking flavors are on the spotlight of enology research as a way to better define varietal standard profiles for the global market. Using a natural white must from Verdejo variety (defined as a thiol grape variety), here we describe the analytical and sensorial impact of using, in sequential inoculations, a selected strain of Metschnikowia pulcherrima, in combination with two different Saccharomyces cerevisiae strains. An increase in the levels of the thiol 4-MSP (4-methyl-4-sulfanylpentan-2-one) over its sensory threshold, together with a decrease in higher alcohol production, was observed when M. pulcherrima was used. This has an important impact on these wines, making them fruitier and fresher, always preferred by the sensory panel.
Access options
Buy single article
Instant access to the full article PDF.
US$ 39.95
Tax calculation will be finalised during checkout.
Subscribe to journal
Immediate online access to all issues from 2019. Subscription will auto renew annually.
US$ 119
Tax calculation will be finalised during checkout.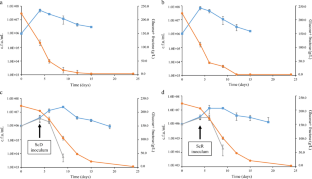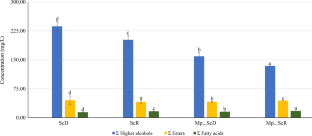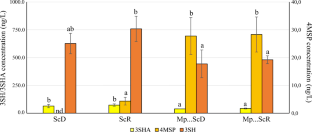 References
Barbosa C, Lage P, Esteves M, Chambel L, Mendes-Faia A, Mendes-Ferreira A (2018) Molecular and phenotypic characterization of Metschnikowia pulcherrima strains from Douro wine region. Fermentation 4:1–19

Baumes R (2009) Wine aroma precursors. In: Moreno-Arribas MV, Polo MC (eds) Wine chemistry and biochemistry. Springer-Verlag, New York, pp 251–265

Beckner-Whitener ME, Stanstrup J, Panzeri V, Carlin S, Divol B, Du Toit M, Vrhovsek U (2016) Untangling the wine metabolome by combining untargeted SPME GCxGC-TOF-MS and sensory analysis to profile sauvignon blanc co-fermented with seven different yeasts. Metabolomics 12:53

Belda I, Navascués E, Marquina D, Santos A, Calderón F, Benito S (2015) Dynamic analysis of physiological properties of Torulaspora delbrueckii in wine fermentations and its incidence on wine quality. Appl Microbiol Biotechnol 99:1911–1922

Belda I, Ruiz J, Navascués E, Marquina D, Santos A (2016a) Improvement of aromatic thiol release through the selection of yeasts with increased β-lyase activity. Int J Food Microbiol 225:1–8

Belda I, Ruiz J, Alastruey-Izquierdo A, Navascués E, Marquina D, Santos A (2016b) Unraveling the enzymatic basis of wine "flavorome": a phylo-functional study of wine related yeast species. Front Microbiol 7:12

Belda I, Conchillo LB, Ruiz J, Navascués E, Marquina D, Santos A (2016c) Selection and use of pectinolytic yeasts for improving clarification and phenolic extraction in winemaking. Int J Food Microbiol 223:1–8

Belda I, Ruiz J, Esteban-Fernández A, Navascués E, Marquina D, Santos A, Moreno-Arribas MV (2017a) Microbial contribution to wine aroma and its intended use for wine quality improvement. Molecules 22:189–218

Belda I, Ruiz J, Besiert B, Navascués E, Marquina D, Calderón F, Rauhut D, Benito S, Santos A (2017b) Influence of Torulaspora delbrueckii in varietal thiol (3-SH and 4-MSP) release in wine sequential fermentation. Int J Food Microbiol 257:183–191

Benito S, Palomero F, Morata A, Calderón F, Suárez-Lepe JA (2012) New applications for Schizosaccharomyces pombe in the alcoholic fermentation of red wines. Int J Food Sci Technol 47:2101–2108

Benito S, Hofmann T, Laier M, Lochbühler B, Schüttler A, Ebert K, Fritsch S, Röcker J, Rauhut D (2015) Effect on quality and composition of Riesling wines fermented by sequential inoculation with non-Saccharomyces and Saccharomyces cerevisiae. Eur Food Res Technol 241:707–717

Chen K, Escott C, Loira I, del Fresno JM, Morata A, Tesfaye W, Calderon F, Suárez-Lepe JA, Han S, Benito S (2018) Use of non-Saccharomyces yeasts and oenological tannin in red winemaking: influence on colour, aroma and sensorial properties of young wines. Food Microbiol 69:51–63

Clemente-Jiménez JF, Mingorance-Cazorla L, Martínez-Rodríguez S, Las Heras-Vázquez FJ, Rodríguez-Vico F (2004) Molecular characterization and oenological properties of wine yeasts isolated during spontaneous fermentation of six varieties of grape must. Food Microbiol 21:149–155

Comitini F, Gobbi M, Domizio P, Romani C, Lencioni L, Mannazzu I, Ciani M (2011) Selected non-Saccharomyces wine yeasts in controlled multistarter fermentations with Saccharomyces cerevisiae. Food Microbiol 28:873–882

Contreras A, Hidalgo C, Henschke PA, Chambers PJ, Curtin C, Varela C (2014) Evaluation of non-Saccharomyces yeasts for the reduction of alcohol content in wine. Appl Environ Microbiol 80:1670–1678

Contreras A, Curtin C, Varela C (2015) Yeast population dynamics reveal a potential 'collaboration' between Metschnikowia pulcherrima and Saccharomyces uvarum for the production of reduced alcohol wines during shiraz fermentation. Appl Microbiol Biotechnol 99:1185–1895

Dubourdieu D, Tominaga T, Masneuf I, des Gachons CP, Murat ML (2006) The role of yeasts in grape flavor development during fermentation: the example of sauvignon blanc. Am J Enol Vitic 57:81–88

Fedrizzi B, Pardon KH, Sefton MA, Elsey GM, Jeffery DW (2009) First identification of 4-S-glutathionyl-4-methylpentan-2-one, a potential precursor of 4-mercapto- 4-methylpentan-2-one, in sauvignon blanc juice. J Agric Food Chem 57:991–995

Ferreira V, Ortin N, Cacho JF (2007) Optimization of a procedure for the selective isolation of some powerful aroma thiols. Development and validation of a quantitative method for the determination in wine. J Chromatogr A 1143:190–198

Frost R, Quiñones I, Veldhuizen M, Alava JI, Small D, Carreiras M (2015) What can the brain teach us about winemaking? An fMRI study of alcohol level preferences. PLoS One 10:e0119220

García M, Esteve-Zarzoso B, Crespo J, Cabellos JM, Arroyo T (2017) Yeast monitoring of wine mixed or sequential fermentations made by native strains from D.O. "Vinos de Madrid" using real-time quantitative PCR. Front Microbiol 8:2520

González-Royo E, Pascual O, Kontoudakis N, Esteruelas M, Esteve-Zarzoso B, Mas A, Canals JM, Zamora F (2015) Oenological consequences of sequential inoculation with non-Saccharomyces yeasts (Torulaspora delbrueckii or Metschnikowia pulcherrima) and Saccharomyces cerevisiae in base wine for sparkling wine production. Eur Food Res Technol 240:999–1012

Kapaklis A (2014) Impact of specific volatile thiols on varietal aroma of wines produced from Greek and some international grape varieties. Ph.D. thesis, Justus- Liebig-University Gießen, Germany, URN: urn: nbn: de: hebis: 26- opus-122144. http://geb.uni-giessen.de/geb/volltexte/2016/12214/

Knight SJ, Klaere S, Morrison-Whittle P, Goddard MR (2018) Fungal diversity during fermentation correlates with thiol concentration in wine. Aust J Grape Wine Res 24:105–112

Lambrechts MG, Pretorius IS (2000) Yeast and its importance to wine aroma. A review. S Afr J Enol Vitic 21:97–129

Mateo JJ, Jiménez M (2000) Monoterpenes in grape juice and wines. J Chromatogr A 881:557–567

Rapp A, Yavas I, Hastrich U (1994) Einfache und schnelle Anreicherung (Kaltronmethode) von Aromastoffen des Weines und deren quantitative Bestimmung mittels Kapillargaschromatographie. Deutsche Lebensmittel-Rundschau 90:171–174

Renault P, Coulon J, Moine V, Thibon C, Bely M (2016) Enhanced 3-sulfanylhexan-1-ol production in sequential mixed fermentation with Torulaspora delbrueckii/Saccharomyces cerevisiae reveals a situation of synergistic interaction between two industrial strains. Front Microbiol 7:293

Romano P, Suzzi G (1993) Higher alcohol and acetoin production by Zygosaccharomyces wine yeasts. J Appl Bacteriol 75:541–545

Sadoudi M, Tourdot-Maréchal R, Rousseaux S, Steyer D, Gallardo-Chacón JJ, Ballester J, Vichi S, Guerin-Schneider R, Caixach J, Alexandre H (2012) Yeast-yeast interactions revealed by aromatic profile analysis of sauvignon blanc wine fermented by single or co-culture of non-Saccharomyces and Saccharomyces yeasts. Food Microbiol 32:243–253

Sadoudi M, Rousseaux S, David V, Alexandre H, Tourdot-Maréchal R (2017) Metschnikowia pulcherrima influences the expression of genes involved in PDH bypass and glyceropyruvic fermentation in Saccharomyces cerevisiae. Front Microbiol 8:1137

Swiegers H, Bartowsky E, Henschke P, Pretorius I (2005) Yeast and bacterial modulation of wine aroma and flavour. Aust J Grape Wine Res 11:139–173

Tominaga T, Masneuf I, Dubourdieu D (1995) A S-cysteine conjugate precursor of aroma of white sauvignon. J Int Sci Vigne Vin 29:227–232

Tominaga T, Furrer A, Henry R, Dubourdieu D (1998) Identification of new volatile thiols in aroma of Vitis vinifera L. var. sauvignon blanc wines. Flavour Frag J 13:159–162

Varela C, Sengler F, Solomon M, Curtin C (2016) Volatile flavour profile of reduced alcohol wines fermented with the non-conventional yeast species Metschnikowia pulcherrima and Saccharomyces uvarum. Food Chem 209:57–64

Varela C, Barker A, Tran T, Borneman A, Curtin C (2017) Sensory profile and volatile aroma composition of reduced alcohol merlot wines fermented with Metschnikowia pulcherrima and Saccharomyces uvarum. Int J Food Microbiol 252:1–9

Whitener MEB, Stanstrup J, Carlin S, Divol B, Du Toit M, Vrhovsek U (2017) Effect of non-Saccharomyces yeasts on the volatile chemical profile of shiraz wine. Aust J Grape Wine Res 23:179–192

Zott K, Thibon C, Bely M, Lonvaud-Funel A, Dubourdieu D, Masneuf-Pomarede I (2011) The grape must non-Saccharomyces microbial community: impact on volatile thiol release. Int J Food Microbiol 151:210–215
Funding
Funding for the research in this paper was provided by Agrovin S.A, under the framework of the CDTI-financed project IDI-20160102 and by Pago de Carraovejas S.L. CDTI-financed project IDI-20160750 (Centre for Industrial Technological Development, Spanish Ministry of Economy, Industry and Competitiveness, Spain).
Ethics declarations
Ethical statement
Ten experienced wine tasters were involved in the study.
Conflict of interest
I. Belda is now working at Biome Makers Inc.; E. Navascués is employee of Agrovin S.A.; all other authors declare that they have no conflict of interest.
Electronic supplementary material
About this article
Cite this article
Ruiz, J., Belda, I., Beisert, B. et al. Analytical impact of Metschnikowia pulcherrima in the volatile profile of Verdejo white wines. Appl Microbiol Biotechnol 102, 8501–8509 (2018). https://doi.org/10.1007/s00253-018-9255-3
Received:

Revised:

Accepted:

Published:

Issue Date:
Keywords
Non-Saccharomyces
Metschnikowia pulcherrima

Polyfunctional thiols

Verdejo wine

Varietal profile