Abstract
This study aimed to evaluate the effects of three treatments, i.e., Bifidobacterium longum BB-46 (T1), B. longum BB-46 combined with the pectin (T2), and harsh extracted pectin from lemon (T3) on obesity-related microbiota using the Simulator of the Human Intestinal Microbial Ecosystem (SHIME®). The effects of the treatments were assessed by the analysis of the intestinal microbial composition (using 16S rRNA gene amplicon sequencing) and the levels of short-chain fatty acids (SCFAs) and ammonium ions (NH4+). Treatments T2 and T3 stimulated members of the Ruminococcaceae and Succinivibrionaceae families, which were positively correlated with an increase in butyric and acetic acids. Proteolytic bacteria were reduced by the two treatments, concurrently with a decrease in NH4+. Treatment T1 stimulated the production of butyric acid in the simulated transverse and descending colon, reduction of NH4+ as well as the growth of genera Lactobacillus, Megamonas, and members of Lachnospiracea. The results indicate that both B. longum BB-46 and pectin can modulate the obesity-related microbiota; however, when the pectin is combined with B. longum BB-46, the predominant effect of the pectin can be observed. This study showed that the citric pectin is able to stimulate butyrate-producing bacteria as well as genera related with anti-inflammatory effects. However, prospective clinical studies are necessary to evaluate the anti/pro-obesogenic and inflammatory effects of this pectin for future prevention of obesity.
Access options
Buy single article
Instant access to the full article PDF.
US$ 39.95
Tax calculation will be finalised during checkout.
Subscribe to journal
Immediate online access to all issues from 2019. Subscription will auto renew annually.
US$ 119
Tax calculation will be finalised during checkout.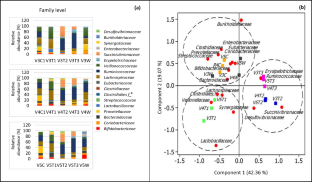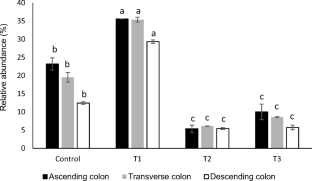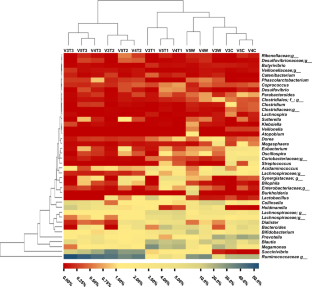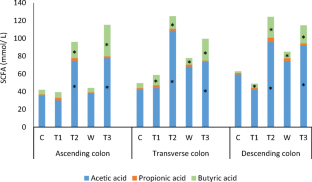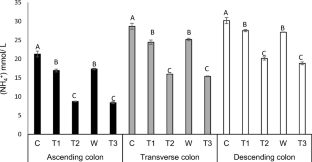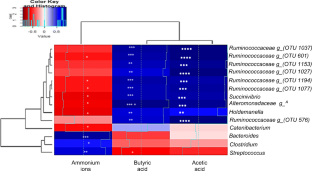 References
Adorno MAT, Hirasawa JS, Varesche MBA (2014) Development and validation of two methods to quantify volatile acids (C2-C6) by GC/FID: headspace (automatic and manual) and liquid-liquid extraction (LLE). Am J Anal Chem 05:406–414. https://doi.org/10.4236/ajac.2014.57049

An HM, Park SY, Lee DK, Kim JR, Cha MK, Lee S, Lim H, Kim K, Ha N (2011) Antiobesity and lipid-lowering effects of Bifidobacterium spp. in high fat diet-induced obese rats. Lipids Health Dis 10:116. https://doi.org/10.1186/1476-511X-10-116

Anderson JW, Baird P, Davis RH, Ferreri S, Knudtson M, Koraym A, Waters V, Williams CL (2009) Health benefits of dietary fiber. Nutr Rev 67:188–205

Arumugam M, Raes J, Pelletier E, Le Paslier D, Batto J-M, Bertalan M, Borruel N, Casellas F (2011) Enterotypes of the human gut microbiome. Nature 473:174–180. https://doi.org/10.1038/nature09944.Enterotypes

Ayres M, Ayres JM, Ayres DL, Santos AAS (2007) Bioestat 5.0: Aplicações estatísticas nas áreas das ciências biomédicas. Instituto de Desenvolvimento Sustentável Mamirauá, Belém.

Bäckhed F, Manchester JK, Semenkovich CF, Gordon JI (2007) Mechanisms underlying the resistance to diet-induced obesity in germ-free mice. Proc Natl Acad Sci 104:979–984. https://doi.org/10.1073/pnas.0605374104

Bomhof MR, Reimer RA (2015) Pro- and prebiotics: the role of gut microbiota in obesity. In: Venema K, do Carmo AP (eds) Probiotics and prebiotics: current research and future trends. Caister Academic Press, Poole, pp 363–380

Cani PD, Bibiloni R, Knauf C, Neyrinck AM, Delzenne NM (2008) Changes in gut microbiota control metabolic diet-induced obesity and diabetes in mice. Diabetes 57:1470–1481. https://doi.org/10.2337/db07-1403

Caporaso JG, Lauber CL, Walters WA, Berg-Lyons D, Lozupone CA, Turnbaugh PJ, Fierer N, Knight R (2011) Global patterns of 16S rRNA diversity at a depth of millions of sequences per sample. Proc Natl Acad Sci 108:4516–4522. https://doi.org/10.1073/pnas.1000080107

Chakraborti CK (2015) New-found link between microbiota and obesity. World J Gastrointest Pathophysiol 6:110–119. https://doi.org/10.4291/wjgp.v6.i4.110

Davila AM, Blachier F, Gotteland M, Andriamihaja M, Benetti PH, Sanz Y, Tomé D (2013) Intestinal luminal nitrogen metabolism: role of the gut microbiota and consequences for the host. Pharmacol Res 68:95–107

De Maesschalck C, Van Immerseel F, Eeckhaut V, De Baere SD, Cnockaert M, Croubels S, Haesebrouck F, Ducatelle R, Vandamme P (2014) Faecalicoccus acidiformans gen. nov., sp. nov., isolated from the chicken caecum, and reclassification of Streptococcus pleomorphus (Barnes et al. 1977), Eubacterium biforme (Eggerth 1935) and Eubacterium cylindroides (Cato et al. 1974) as Faecalicoccus pleomorphus comb. nov., Holdemanella biformis gen. nov., comb. nov. and Faecalitalea cylindroides gen. nov., comb. nov., respectively, within the family Erysipelotrichaceae. Int J Syst Evol Microbiol 64:3877–3884. https://doi.org/10.1099/ijs.0.064626-0

DeVries JW, Camire ME, Cho S, Craig S, Gordon D, Jones JM, Li B, Lineback D, Prosky L, Tungland BC (2001) The definition of dietary fiber. Cereal Foods World 46:112–126. https://doi.org/10.3402/fnr.v54i0.5750

Duncan SH, Louis P, Flint HJ (2004) Lactate-utilizing bacteria, isolated from human feces, that produce butyrate as a major fermentation product. Appl Environ Microbiol 70:5810–5817. https://doi.org/10.1128/AEM.70.10.5810-5817.2004

Duncan SH, Louis P, Flint HJ (2007) Cultivable bacterial diversity from the human colon. Lett Appl Microbiol 44:343–350

Falony G, Vlachou A, Verbrugghe K, De Vuyst L (2006) Cross-feeding between Bifidobacterium longum BB536 and acetate-converting, butyrate-producing colon bacteria during growth on oligofructose. Appl Environ Microbiol 72:7835–7841. https://doi.org/10.1128/AEM.01296-06

Flegal KM, Panagiotou OA, Graubard BI (2015) Estimating population attributable fractions to quantify the health burden of obesity. Ann Epidemiol 25:201–207. https://doi.org/10.1016/j.annepidem.2014.11.010

Fleissner CK, Huebel N, Abd El-Bary MM, Loh G, Klaus S, Blaut M (2010) Absence of intestinal microbiota does not protect mice from diet-induced obesity. Br J Nutr 104:919–929. https://doi.org/10.1017/S0007114510001303

Gómez B, Gullón B, Yáñez R, Schols H, Alonso JL (2016) Prebiotic potential of pectins and pectic oligosaccharides derived from lemon peel wastes and sugar beet pulp: a comparative evaluation. J Funct Foods 20:108–121. https://doi.org/10.1016/j.jff.2015.10.029

Hughes R, Kurth MJ, McGilligan V, McGlynn H, Rowland I (2008) Effect of colonic bacterial metabolites on caco-2 cell paracellular permeability in vitro. Nutr Cancer 60:259–266. https://doi.org/10.1080/01635580701649644

Ichikawa H, Sakata T (1998) Stimulation of epithelial cell proliferation of isolated distal colon of rats by continuous colonic infusion of ammonia or short-chain fatty acids is nonadditive. J Nutr 128:843–847

Ito M, Kimura M, Deguchi Y, Yajima T, Kan T (1993) Effects of transgalactosylated intestinal microflora and their on the human metabolism. J Nutr Sci Vitaminol (Tokyo) 39:279–288

Kameyama K, Itoh K (2014) Intestinal colonization by a Lachnospiraceae bacterium contributes to the development of diabetes in obese mice. Microbes Environ 29:427–430. https://doi.org/10.1264/jsme2.ME14054

Kontula P, Nollet L, Saarela M, Vilpponen-Salmela T, Verstraete W, Mattila-Sandholm T, Von Wright A (2002) The effect of lactulose on the survival of Lactobacillus rhamnosus in the Simulator of the Human Intestinal Microbial Ecosystem (SHIME) and in vivo. Microb Ecol Health Dis 14:90–96. https://doi.org/10.1080/08910600260081739

Kushner RF, Choi SW (2010) Prevalence of unhealthy lifestyle patterns among overweight and obese adults. Obesity 18:1160–1167. https://doi.org/10.1038/oby.2009.376

Ley RE, Turnbaugh PJ, Klein S, Gordon JI (2006) Microbial ecology: human gut microbes associated with obesity. Nature 444:1022–1023. https://doi.org/10.1038/4441022a

Li RW, Wu S, Li W, Navarro K, Couch RD, Hill D, Joseph F, Urban J (2012) Alterations in the porcine colon microbiota induced by the gastrointestinal nematode Trichuris suis. Infect Immun 80:2150–2157. https://doi.org/10.1128/IAI.00141-12

López-pérez M, Rodriguez-Valera F (2014) The family Alteromonadaceae. In: Rosenberg E, EF DL, Lory S, Stackebrandt E, Thompson F (eds) The prokaryotes. Springer-Verlag Berlin Heidelberg, Berlin, pp 69–92

Louis P, Young P, Holtrop G, Flint HJ (2010) Diversity of human colonic butyrate-producing bacteria revealed by analysis of the butyryl-CoA: acetate CoA-transferase gene. Environ Microbiol 12:304–314. https://doi.org/10.1111/j.1462-2920.2009.02066.x

Lu Y, Fan C, Li P, Lu Y, Chang X, Qi K (2016) Short chain fatty acids prevent high-fat-diet-induced obesity in mice by regulating G protein-coupled receptors and gut microbiota. Sci Rep 6:1–13. https://doi.org/10.1038/srep37589

Macfarlane GT, Cummings JP (1991) The colonic flora, fermentation and large bowel digestive function. In: Phillips SF, Pemberton JH, Shorter GR (eds) The large intestine: physiology, pathophysiology and disease. Raven Press, New York, p 923

Macfarlane GT, Macfarlane S (2007) Models for intestinal fermentation: association between food components, delivery systems, bioavailability and functional interactions in the gut. Curr Opin Biotechnol 18:156–162. https://doi.org/10.1016/j.copbio.2007.01.011

Mao S, Zhang R, Wang D, Zhu W (2012) The diversity of the fecal bacterial community and its relationship with the concentration of volatile fatty acids in the feces during subacute rumen acidosis in dairy cows. BMC Vet Res 8:237. https://doi.org/10.1186/1746-6148-8-237

McDonald D, Price MN, Goodrich J, Nawrocki EP, DeSantis TZ, Probst A, Andersen GL, Knight R, Hugenholtz P (2012) An improved Greengenes taxonomy with explicit ranks for ecological and evolutionary analyses of bacteria and archaea. ISME J 6:610–618. https://doi.org/10.1038/ismej.2011.139

Menni C, Jackson MA, Pallister T, Steves CJ, Spector TD, Valdes AM (2017) Gut microbiome diversity and high-fibre intake are related to lower long-term weight gain. Int J Obes 41:1099–1105. https://doi.org/10.1038/ijo.2017.66

Minitab (2010) Minitab 17 Statistical Software [Computer software]. Minitab, Inc., State College. http://www.minitab.com. Accessed 26 Oct 2017

Molly K, Woestyne MV, Verstraete W (1993) Development of a 5-step multi-chamber reactor as a simulation of the human intestinal microbial ecosystem. Appl Microbiol Biotechnol 39:254–258. https://doi.org/10.1007/BF00228615

Molly K, Woestyne MV, De SI, Verstraete W (1994) Validation of the Simulator of the Human Intestinal Microbial Ecosystem (SHIME) reactor using microorganism-associated activities. Microb Ecol Health Dis 7:191–200. https://doi.org/10.3109/08910609409141354

Morrison DJ, Preston T (2016) Formation of short chain fatty acids by the gut microbiota and their impact on human metabolism. Gut Microbes 7:189–200. https://doi.org/10.1080/19490976.2015.1134082

Nakayama J, Yamamoto A, Palermo-Conde LA, Higashi K, Sonomoto K, Tan J, Lee YK (2017) Impact of westernized diet on gut microbiota in children on Leyte island. Front Microbiol 8:1–18. https://doi.org/10.3389/fmicb.2017.00197

Olano-Martin E, Gibson GR, Rastall RA (2002) Comparison of the in vitro bifidogenic properties of pectins and pectic-oligosaccharides. J Appl Microbiol 93:505–511. https://doi.org/10.1046/j.1365-2672.2002.01719.x

Onrust L, Ducatelle R, Van Driessche K, De Maesschalck C, Vermeulen K, Haesebrouck F, Eeckhaut V, Van Immerseel F (2015) Steering endogenous butyrate production in the intestinal tract of broilers as a tool to improve gut health. Front Vet Sci 2:1–8. https://doi.org/10.3389/fvets.2015.00075

Parvova I, Danchev N, Hristov E (2011) Animal models of human diseases and their significance for clinical studies of new drugs. J Clin Med 4:19–29

Perry RJ, Peng L, Barry NA, Cline GW, Zhang D, Cardone RL, Petersen KF, Kibbey RG, Goodman AL (2016) Acetate mediates a microbiome-brain-β cell axis promoting metabolic syndrome. Nature 534:213–217. https://doi.org/10.1038/nature18309

Possemiers S, Verthé K, Uyttendaele S, Verstraete W (2004) PCR-DGGE-based quantification of stability of the microbial community in a simulator of the human intestinal microbial ecosystem. FEMS Microbiol Ecol 49:495–507. https://doi.org/10.1016/j.femsec.2004.05.002

Rahat-Rozenbloom S, Fernandes J, Gloor GB, Wolever TMS (2014) Evidence for greater production of colonic short-chain fatty acids in overweight than lean humans. Int J Obes 38:1525–1531. https://doi.org/10.1038/ijo.2014.46

Ravussin Y, Koren O, Spor A, LeDuc C, Gutman R, Stombaugh J, Knight R, Ley RE, Leibel RL (2012) Responses of gut microbiota to diet composition and weight loss in lean and obese mice. Obesity 20:738–747. https://doi.org/10.1038/oby.2011.111

Ríos-Covián D, Ruas-Madiedo P, Margolles A, Gueimonde M, De los Reyes-Gavilán CG, Salazar N (2016) Intestinal short chain fatty acids and their link with diet and human health. Front Microbiol 7:1–9. https://doi.org/10.3389/fmicb.2016.00185

Rosenbaum M, Knight R, Leibel RL (2015) The gut microbiota in human energy homeostasis and obesity. Trends Endocrinol Metab 26:493–501

RStudio (2017) RStudio: integrated development environment for R (Version 1.1.383) [Computer software]. Boston, MA. http://www.rstudio.org/. Accessed 16 Sept 2017

Santos EO, Thompson FE (2014) The family Succinivibrionaceae. In: Rosenberg E, DeLong EF, Lory S, Stackebrandt E, Thompson F (eds) The prokaryotes: Gammaproteobacteria, 4th edn. Springer-Verlag, Berlin Heidelberg, pp 639–648

Schwiertz A, Taras D, Schäfer K, Beijer S, Bos NA, Donus C, Hardt PD (2010) Microbiota and SCFA in lean and overweight healthy subjects. Obesity 18:190–195. https://doi.org/10.1038/oby.2009.167

Smith EA, MacFarlane GT (1998) Enumeration of amino acid fermenting bacteria in the human large intestine: effects of pH and starch on peptide metabolism and dissimilation of amino acids. FEMS Microbiol Ecol 25:355–368. https://doi.org/10.1016/S0168-6496(98)00004-X

Tachedjian G, Aldunate M, Bradshaw CS, Cone RA (2017) The role of lactic acid production by probiotic Lactobacillus species in vaginal health. Res Microbiol 168:782–792. https://doi.org/10.1016/j.resmic.2017.04.001

Tian L, Bruggeman G, van den Berg M, Borewicz K, Scheurink AJW, Bruininx E, de Vos P, Smidt H, Schols HA, Gruppen H (2017) Effects of pectin on fermentation characteristics, carbohydrate utilization, and microbial community composition in the gastrointestinal tract of weaning pigs. Mol Nutr Food Res 61:10–10. https://doi.org/10.1002/mnfr.201600186

Trepel F (2004) Dietary fibre: more than a matter of dietetics. I. Compounds, properties, physiological effects. Wien Klin Wochenschr 116:465–476

Turnbaugh PJ, Ley RE, Mahowald MA, Magrini V, Mardis ER, Gordon JI (2006) An obesity-associated gut microbiome with increased capacity for energy harvest. Nature 444:1027–1031. https://doi.org/10.1038/nature05414

Voragen AGJ, Coenen GJ, Verhoef RP, Schols HA (2009) Pectin, a versatile polysaccharide present in plant cell walls. Struct Chem 20:263–275. https://doi.org/10.1007/s11224-009-9442-z

Wicker L, Kim YK (2015) Pectin and health. In: Caballero B, Finglas P, Toldra F (eds) Encyclopedia of food and health. Academic, Cambridge, pp 289–293

Williams AR, Hansen TVA, Krych L, Ahmad HFB, Nielsen DS, Skovgaard K, Thamsborg SM (2017) Dietary cinnamaldehyde enhances acquisition of specific antibodies following helminth infection in pigs. Vet Immunol Immunopathol 189:43–52. https://doi.org/10.1016/j.vetimm.2017.06.004

Wren AM, Bloom SR (2007) Gut hormones and appetite control. Gastroenterology 132:2116–2130. https://doi.org/10.1053/j.gastro.2007.03.048

Zaibi MS, Stocker CJ, O'Dowd J, Davies A, Bellahcene M, Cawthorne MA, Brown AJH, Smith DM, Arch JRS (2010) Roles of GPR41 and GPR43 in leptin secretory responses of murine adipocytes to short chain fatty acids. FEBS Lett 584:2381–2386. https://doi.org/10.1016/j.febslet.2010.04.027

Zhou J, Martin RJ, Tulley RT, Raggio AM, McCutcheon KL, Shen L, Danna SC, Tripathy S, Hegsted M, Keenan MJ (2008) Dietary resistant starch upregulates total GLP-1 and PYY in a sustained day-long manner through fermentation in rodents. Am J Physiol Endocrinol Metab 295:1160–1166. https://doi.org/10.1152/ajpendo.90637.2008
Acknowledgments
The study is part of the "Bioactive components from by-products of food processing used in a synbiotic approach for improving human health and well-being (BioSyn)" project, within the frame of the international thematic project "Strategic Research Collaboration in Food Science in the State of São Paulo, Brazil and Denmark – 2013" FAPESP/DCSR. The authors wish to thank Fundação de Amparo à Pesquisa do Estado de São Paulo and DCSR for the financial support and fellowships. The authors also wish to thank Thomas Lesser (Chr. Hansen, Denmark) and Karin Meyer Hansen (CP Kelco, Denmark) for providing, respectively, the B. longum BB-46 strain and the pectin from lemon and for the valuable discussions of the study results.
Funding
This article was supported by the Fundação de Amparo à Pesquisa do Estado de São Paulo (FAPESP) (Projects 2013/50506-8; 2015/13965-0; 2015/08228-6; 2016/20336-1), Coordenação de Aperfeiçoamento de Pessoal de Nível Superior (CAPES), Conselho Nacional de Desenvolvimento Científico e Tecnológico (CNPq), and the Danish Council for Strategic Research (DCSR) (project BioSyn, no. 3050-00005B).
Ethics declarations
Conflict of interest
The authors declare that they have no conflict of interest.
Ethical approval
Studies using fecal donations from human volunteers do not require medical ethical committee approval in Brazil since they are considered as noninvasive.
Electronic supplementary material
About this article
Cite this article
Bianchi, F., Larsen, N., de Mello Tieghi, T. et al. Modulation of gut microbiota from obese individuals by in vitro fermentation of citrus pectin in combination with Bifidobacterium longum BB-46. Appl Microbiol Biotechnol 102, 8827–8840 (2018). https://doi.org/10.1007/s00253-018-9234-8
Received:

Revised:

Accepted:

Published:

Issue Date:
Keywords
Bifidobacterium longum BB-46

Obese microbiota

Pectin

SHIME® model

16S rRNA sequencing