Abstract
We conducted single-cell analyses of the methylotrophic yeast Pichia pastoris to develop a biosensor for the detection of methanol produced by heterologous enzymes. In this biosensor, methanol and its subsequent metabolism induce expression of a gene encoding a fluorescent protein that was placed under the control of a methanol-inducible promoter. Using quantitative analyses of fluorescence microscopy images, a methanol-inducible promoter and a host strain were selected, and preculture and assay conditions were optimized to improve the methanol detection limit. Fluorescence-activated cell sorting (FACS) analysis of the distribution and geometric mean of cellular fluorescence intensity against various concentrations of methanol revealed a detection limit of 2.5 μM. Finally, this biosensor was applied to evaluate the activity of a heterologously expressed pectin methylesterase (PME). The cellular fluorescence intensity was proportional to the copy number of the PME expression cassette, the protein level, and the enzyme activity. This biosensor can be used for high-throughput screening of single cells harboring high methanol-producing activity, and thereby, the development of a bioconversion process using methanol-producing enzymes.
Access options
Buy single article
Instant access to the full article PDF.
USD 39.95
Price excludes VAT (USA)
Tax calculation will be finalised during checkout.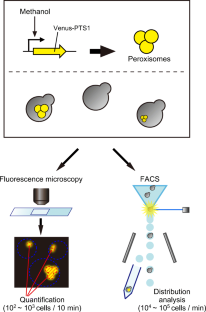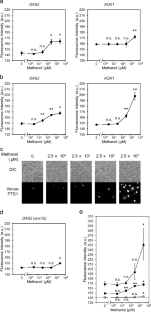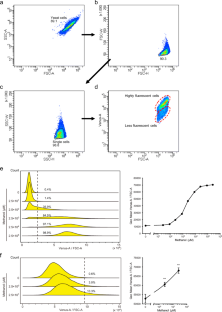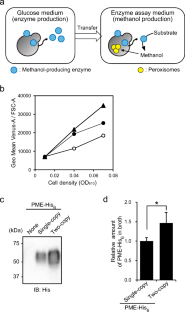 References
Abanda-Nkpwatt D, Müsch M, Tschiersch J, Boettner M, Schwab W (2006) Molecular interaction between Methylobacterium extorquens and seedlings: growth promotion, methanol consumption, and localization of the methanol emission site. J Exp Bot 57:4025–4032. https://doi.org/10.1093/jxb/erl173

Ahmad M, Hirz M, Pichler H, Schwab H (2014) Protein expression in Pichia pastoris: recent achievements and perspectives for heterologous protein production. Appl Microbiol Biotechnol 98:5301–5317. https://doi.org/10.1007/s00253-014-5732-5

Anthon GE, Barrett DM (2004) Comparison of three colorimetric reagents in the determination of methanol with alcohol oxidase. Application to the assay of pectin methylesterase. J Agric Food Chem 52:3749–3753. https://doi.org/10.1021/jf035284w

Clomburg JM, Crumbley AM, Gonzalez R (2017) Industrial biomanufacturing: the future of chemical production. Science 355:aag0804. https://doi.org/10.1126/science.aag0804

DeLoache WC, Russ ZN, Narcross L, Gonzales AM, Martin VJ, Dueber JE (2015) An enzyme-coupled biosensor enables (S)-reticuline production in yeast from glucose. Nat Chem Biol 11:465–471. https://doi.org/10.1038/nchembio.1816

Gellissen G (2000) Heterologous protein production in methylotrophic yeasts. Appl Microbiol Biotechnol 54:741–750. https://doi.org/10.1007/s002530000464

Gould SJ, McCollum D, Spong AP, Heyman JA, Subramani S (1992) Development of the yeast Pichia pastoris as a model organism for a genetic and molecular analysis of peroxisome assembly. Yeast 8:613–628. https://doi.org/10.1002/yea.320080805

Guilbault GG, Danielsson B, Mandenius CF, Mosbach K (1983) Enzyme electrode and thermistor probes for determination of alcohols with alcohol oxidase. Anal Chem 55:1582–1585

Ho JCH, Pawar SV, Hallam SJ, Yadav VG (2017) An improved whole-cell biosensor for the discovery of lignin-transforming enzymes in functional metagenomic screens. ACS Synth Biol 7:392–398. https://doi.org/10.1021/acssynbio.7b00412

Jha RK, Kern TL, Fox DT, MS CE (2014) Engineering an Acinetobacter regulon for biosensing and high-throughput enzyme screening in E. coli via flow cytometry. Nucleic Acids Res 42:8150–8160. https://doi.org/10.1093/nar/gku444

Kawaguchi K, Yurimoto H, Oku M, Sakai Y (2011) Yeast methylotrophy and autophagy in a methanol-oscillating environment on growing Arabidopsis thaliana leaves. PLoS One 6:e25257. https://doi.org/10.1371/journal.pone.0025257

Kawaguchi K, Yurimoto H, Sakai Y (2014) Expression of a codon-optimized Aspergillus niger pectin methylesterase gene in the methylotrophic yeast Candida boidinii. Biosci Biotechnol Biochem 78:718–721. https://doi.org/10.1080/09168451.2014.891936

Liang S, Wang B, Pan L, Ye Y, He M, Han S, Zheng S, Wang X, Lin Y (2012) Comprehensive structural annotation of Pichia pastoris transcriptome and the response to various carbon sources using deep paired-end RNA sequencing. BMC Genomics 13:738. https://doi.org/10.1186/1471-2164-13-738

Michener JK, Thodey K, Liang JC, Smolke CD (2012) Applications of genetically-encoded biosensors for the construction and control of biosynthetic pathways. Metab Eng 14:212–222. https://doi.org/10.1016/j.ymben.2011.09.004

Mustafi N, Grunberger A, Kohlheyer D, Bott M, Frunzke J (2012) The development and application of a single-cell biosensor for the detection of L-methionine and branched-chain amino acids. Metab Eng 14:449–457. https://doi.org/10.1016/j.ymben.2012.02.002

Nagai T, Ibata K, Park ES, Kubota M, Mikoshiba K, Miyawaki A (2002) A variant of yellow fluorescent protein with fast and efficient maturation for cell-biological applications. Nat Biotechnol 20:87–90. https://doi.org/10.1038/nbt0102-87

Nakagawa T, Yamada K, Fujimura S, Ito T, Miyaji T, Tomizuka N (2005) Pectin utilization by the methylotrophic yeast Pichia methanolica. Microbiology 151:2047–2052. https://doi.org/10.1099/mic.0.27895-0

Ohsawa S, Yurimoto H, Sakai Y (2017) Novel function of Wsc proteins as a methanol-sensing machinery in the yeast Pichia pastoris. Mol Microbiol 104:349–363. https://doi.org/10.1111/mmi.13631

Olah GA, Goeppert A, Prakash GS (2009) Beyond oil and gas: the methanol economy, 2nd edn. Wiley-VCH, Weinheim

Pontes H, Guedes de Pinho P, Casal S, Carmo H, Santos A, Magalhães T, Remião F, Carvalho F, Bastos ML (2009) GC determination of acetone, acetaldehyde, ethanol, and methanol in biological matrices and cell culture. J Chromatogr Sci 47:272–278. https://doi.org/10.1093/chromsci/47.4.272

Sakai Y, Saiganji A, Yurimoto H, Takabe K, Saiki H, Kato N (1996) The absence of Pmp47, a putative yeast peroxisomal transporter, causes a defect in transport and folding of a specific matrix enzyme. J Cell Biol 134:37–51

Sakai Y, Yoshida H, Yurimoto H, Yoshida N, Fukuya H, Takabe K, Kato N (1999) Production of fungal fructosyl amino acid oxidase useful for diabetic diagnosis in the peroxisome of Candida boidinii. FEBS Lett 459:233–237. https://doi.org/10.1016/S0014-5793(99)01245-4

Schrader J, Schilling M, Holtmann D, Sell D, Filho MV, Marx A, Vorholt JA (2009) Methanol-based industrial biotechnology: current status and future perspectives of methylotrophic bacteria. Trends Biotechnol 27:107–115. https://doi.org/10.1016/j.tibtech.2008.10.009

Sears IB, O'Connor J, Rossanese OW, Glick BS (1998) A versatile set of vectors for constitutive and regulated gene expression in Pichia pastoris. Yeast 14:783–790. https://doi.org/10.1002/(SICI)1097-0061(19980615)14:8<783::AID-YEA272>3.0.CO;2-Y

Stewart MQ, Esposito RD, Gowani J, Goodman JM (2001) Alcohol oxidase and dihydroxyacetone synthase, the abundant peroxisomal proteins of methylotrophic yeasts, assemble in different cellular compartments. J Cell Sci 114:2863–2868

Tamura N, Oku M, Sakai Y (2010) Atg8 regulates vacuolar membrane dynamics in a lipidation-independent manner in Pichia pastoris. J Cell Sci 123:4107–4116. https://doi.org/10.1242/jcs.070045

Tschopp JF, Brust PF, Cregg JM, Stillman CA, Gingeras TR (1987) Expression of the lacZ gene from two methanol-regulated promoters in Pichia pastoris. Nucleic Acids Res 15:3859–3876. https://doi.org/10.1093/nar/15.9.3859

Vogl T, Sturmberger L, Kickenweiz T, Wasmayer R, Schmid C, Hatzl A-M, Gerstmann MA, Pitzer J, Wagner M, Thallinger GG, Geier M, Glieder A (2016) A toolbox of diverse promoters related to methanol utilization: functionally verified parts for heterologous pathway expression in Pichia pastoris. ACS Synth Biol 5:172–186. https://doi.org/10.1021/acssynbio.5b00199

Wen G, Wen X, Shuang S, Choi MMF (2014) Whole-cell biosensor for determination of methanol. Sensors Actuators B Chem 201:586–591. https://doi.org/10.1016/j.snb.2014.04.107

Wu S, Letchworth GJ (2004) High efficiency transformation by electroporation of Pichia pastoris pretreated with lithium acetate and dithiothreitol. Biotechniques 36:152–154

Yurimoto H, Komeda T, Lim CR, Nakagawa T, Kondo K, Kato N, Sakai Y (2000) Regulation and evaluation of five methanol-inducible promoters in the methylotrophic yeast Candida boidinii. Biochim Biophys Acta 1493:56–63. https://doi.org/10.1016/S0167-4781(00)00157-3

Yurimoto H, Oku M, Sakai Y (2011) Yeast methylotrophy: metabolism, gene regulation and peroxisome homeostasis. Int J Microbiol 2011:101298–101298. https://doi.org/10.1155/2011/101298
Funding
This research was supported in part by CREST (JPMJCR15P2 to YS) from Japan Science and Technology Agency. It was also supported in part by Grant-in-Aid for Scientific Research (B) (16H02997 to HY) from the Japan Society for the Promotion of Science.
Ethics declarations
Conflict of interest
The authors declare that they have no conflict of interest.
Ethical approval
This article does not contain any studies with human participants or animals performed by any of the authors.
Electronic supplementary material
About this article
Cite this article
Takeya, T., Yurimoto, H. & Sakai, Y. A Pichia pastoris single-cell biosensor for detection of enzymatically produced methanol. Appl Microbiol Biotechnol 102, 7017–7027 (2018). https://doi.org/10.1007/s00253-018-9144-9
Received:

Revised:

Accepted:

Published:

Issue Date:

DOI: https://doi.org/10.1007/s00253-018-9144-9
Keywords