Abstract
We evaluated the ability of a novel lithium niobate (LN) thickness-mode device to atomize disinfectants and reduce microbial burden on model surface materials. A small-scale plastic model housed the LN thickness-mode device and circular coupon surface materials including polycarbonate, polyethylene terephthalate, stainless steel, borosilicate glass, and natural rubber. Coupon surfaces were coated with methicillin-resistant Staphylococcus aureus (MRSA) or multidrug-resistant (MDR) strains of Gram-negative bacterial pathogens (Klebsiella pneumoniae, Escherichia coli, and Acinetobacter baumannii), atomized with disinfectant solutions of varying viscosity (including 10% bleach, 70% ethanol (EtOH), or 25% triethylene glycol (TEG)) using the LN thickness-mode device, and assessed for surviving bacteria. The LN thickness-mode device effectively atomized disinfectants ranging from low viscosity 10% bleach solution or 70% EtOH to highly viscous 25% TEG. Coupons harboring MDR bacteria and atomized with 10% bleach solution or 70% EtOH were effectively decontaminated with ~ 100% bacterial elimination. Atomized 25% TEG effectively eliminated 100% of K. pneumoniae (CRE) from contaminated coupon surfaces but not MRSA. The enclosed small-scale plastic model established proof-of-principle that the LN thickness-mode device could atomize disinfectants of varying viscosities and decontaminate coupon surface materials harboring MDR organisms. Future studies evaluating scaled devices for patient rooms are warranted to determine their utility in hospital environmental decontamination.
Access options
Buy single article
Instant access to the full article PDF.
US$ 39.95
Tax calculation will be finalised during checkout.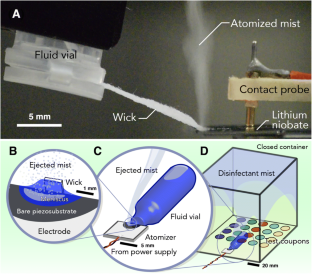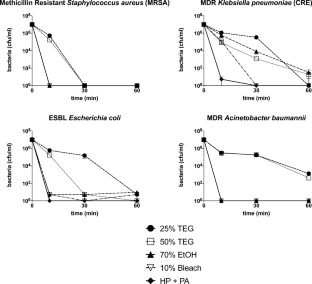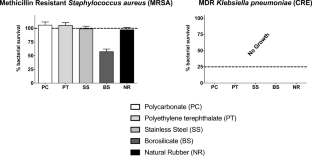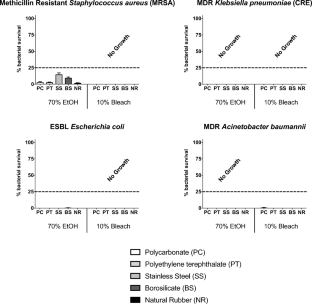 References
Boyce JM (2016) Modern technologies for improving cleaning and disinfection of environmental surfaces in hospitals. Antimicrob Resist Infect Control 5:10. https://doi.org/10.1186/s13756-016-0111-x

Campbell C (1998) Surface acoustic wave devices for mobile and wireless communications. Academic press, Cambridge

Carling PC, Briggs JL, Perkins J, Highlander D (2006) Improved cleaning of patient rooms using a new targeting method. Clin Infect Dis 42(3):385–388. https://doi.org/10.1086/499361

Collignon S, Manor O, Friend J (2017) Improving and predicting fluid atomization via hysteresis-free thickness vibration of lithium niobate. Adv Funct Mater 28(8):1–9. https://doi.org/10.1002/adfm.201704359

Dancer SJ, White LF, Lamb J, Girvan EK, Robertson C (2009) Measuring the effect of enhanced cleaning in a UK hospital: a prospective cross-over study. BMC Med 7:28. https://doi.org/10.1186/1741-7015-7-28

Drees M, Snydman DR, Schmid CH, Barefoot L, Hansjosten K, Vue PM, Cronin M, Nasraway SA, Golan Y (2008) Prior environmental contamination increases the risk of acquisition of vancomycin-resistant enterococci. Clin Infect Dis 46(5):678–685. https://doi.org/10.1086/527394

Eckstein BC, Adams DA, Eckstein EC, Rao A, Sethi AK, Yadavalli GK, Donskey CJ (2007) Reduction of Clostridium difficile and vancomycin-resistant Enterococcus contamination of environmental surfaces after an intervention to improve cleaning methods. BMC Infect Dis 7:61. https://doi.org/10.1186/1471-2334-7-61

Fair RJ, Hensler ME, Thienphrapa W, Dam QN, Nizet V, Tor Y (2012) Selectively guanidinylated aminoglycosides as antibiotics. ChemMedChem 7(7):1237–1244. https://doi.org/10.1002/cmdc.201200150

Friend JR, Yeo LY (2011) Microscale acoustofluidics: microfluidics driven via acoustics and ultrasonics. Rev Mod Phys 83:647–704

Hayden MK, Bonten MJ, Blom DW, Lyle EA, van de Vijver DA, Weinstein RA (2006) Reduction in acquisition of vancomycin-resistant Enterococcus after enforcement of routine environmental cleaning measures. Clin Infect Dis 42(11):1552–1560. https://doi.org/10.1086/503845

Health DO (2003) Winning ways: working together to reduce healthcare associated infection in England. In: report from the Chief Medical Officer L (ed)

Huang SS, Datta R, Platt R (2006) Risk of acquiring antibiotic-resistant bacteria from prior room occupants. Arch Intern Med 166(18):1945–1951. https://doi.org/10.1001/archinte.166.18.1945

Kramer A, Schwebke I, Kampf G (2006) How long do nosocomial pathogens persist on inanimate surfaces? A systematic review. BMC Infect Dis 6:130. https://doi.org/10.1186/1471-2334-6-130

Magill SS, Edwards JR, Bamberg W, Beldavs ZG, Dumyati G, Kainer MA, Lynfield R, Maloney M, McAllister-Hollod L, Nadle J, Ray SM, Thompson DL, Wilson LE, Fridkin SK, Emerging Infections Program Healthcare-Associated I, Antimicrobial Use Prevalence Survey T (2014) Multistate point-prevalence survey of health care-associated infections. N Engl J Med 370(13):1198–1208. https://doi.org/10.1056/NEJMoa1306801

Muto CA, Jernigan JA, Ostrowsky BE, Richet HM, Jarvis WR, Boyce JM, Farr BM, Shea (2003) SHEA guideline for preventing nosocomial transmission of multidrug-resistant strains of Staphylococcus aureus and Enterococcus. Infect Control Hosp Epidemiol 24(5):362–386 https://doi.org/10.1086/502213

Qi A, Yeo L, Friend J, Ho J (2010) The extraction of liquid, protein molecules and yeast cells from paper through surface acoustic wave atomization. Lab Chip 10(4):470–476

Rutala WA, Weber DJ (2013) Current principles and practices; new research; and new technologies in disinfection, sterilization, and antisepsis. Am J Infect Control 41(5 Suppl):S1. https://doi.org/10.1016/j.ajic.2012.12.003

Rutala WA, Weber DJ, Committee HICA (2008) Guideline for disinfection and sterilization in healthcare facilities, 2008. Centers for Disease Control

USEPA (2003) Reregistration eligibility decision for triethylene glycol

Zimlichman E, Henderson D, Tamir O, Franz C, Song P, Yamin CK, Keohane C, Denham CR, Bates DW (2013) Health care-associated infections: a meta-analysis of costs and financial impact on the US health care system. JAMA Intern Med 173(22):2039–2046. https://doi.org/10.1001/jamainternmed.2013.9763

Zurawski DV, Thompson MG, McQueary CN, Matalka MN, Sahl JW, Craft DW, Rasko DA (2012) Genome sequences of four divergent multidrug-resistant Acinetobacter baumannii strains isolated from patients with sepsis or osteomyelitis. J Bacteriol 194(6):1619–1620. https://doi.org/10.1128/JB.06749-11
Acknowledgements
We thank Dr. Mike Austin (Royal Melbourne Institute of Technology University) for his advice and support.
Funding
This work was supported by the National Institutes of Health grants U01 AI124316 and U54 HD090259 (to M. K. and V.N), National Science Foundation grant 1542148 (to S. C. and J. F.), Office of Naval Research grant 12368098 (to S. C. and J. F.), and the Belmay Corporation (to S.C. and J.F.). Additionally, this work was performed in part at the San Diego Nanotechnology Infrastructure (SDNI) of the University of California San Diego support by National Science Foundation grant ECCS – 1542148.
Ethics declarations
Competing interests
The authors declare that they have no competing interests.
Ethical approval
Not required.
About this article
Cite this article
Kumaraswamy, M., Collignon, S., Do, C. et al. Decontaminating surfaces with atomized disinfectants generated by a novel thickness-mode lithium niobate device. Appl Microbiol Biotechnol 102, 6459–6467 (2018). https://doi.org/10.1007/s00253-018-9088-0
Received:

Revised:

Accepted:

Published:

Issue Date:
Keywords
Lithium niobate thickness-mode device

Disinfection

Multidrug-resistant bacteria